Camp-HBE: How Good Is It?
May 22, 2022
While we absolutely enjoyed our previous camper, the Camp-X from Overland Explorer Vehicles (OEV), we decided to improve our life on the road by upgrading to their flatbed model, the Camp-HBE. Our new camper was installed by Boulder Vehicle Outfitters (BVO) in February 2022, and we have been using it extensively since then.
So how good is it?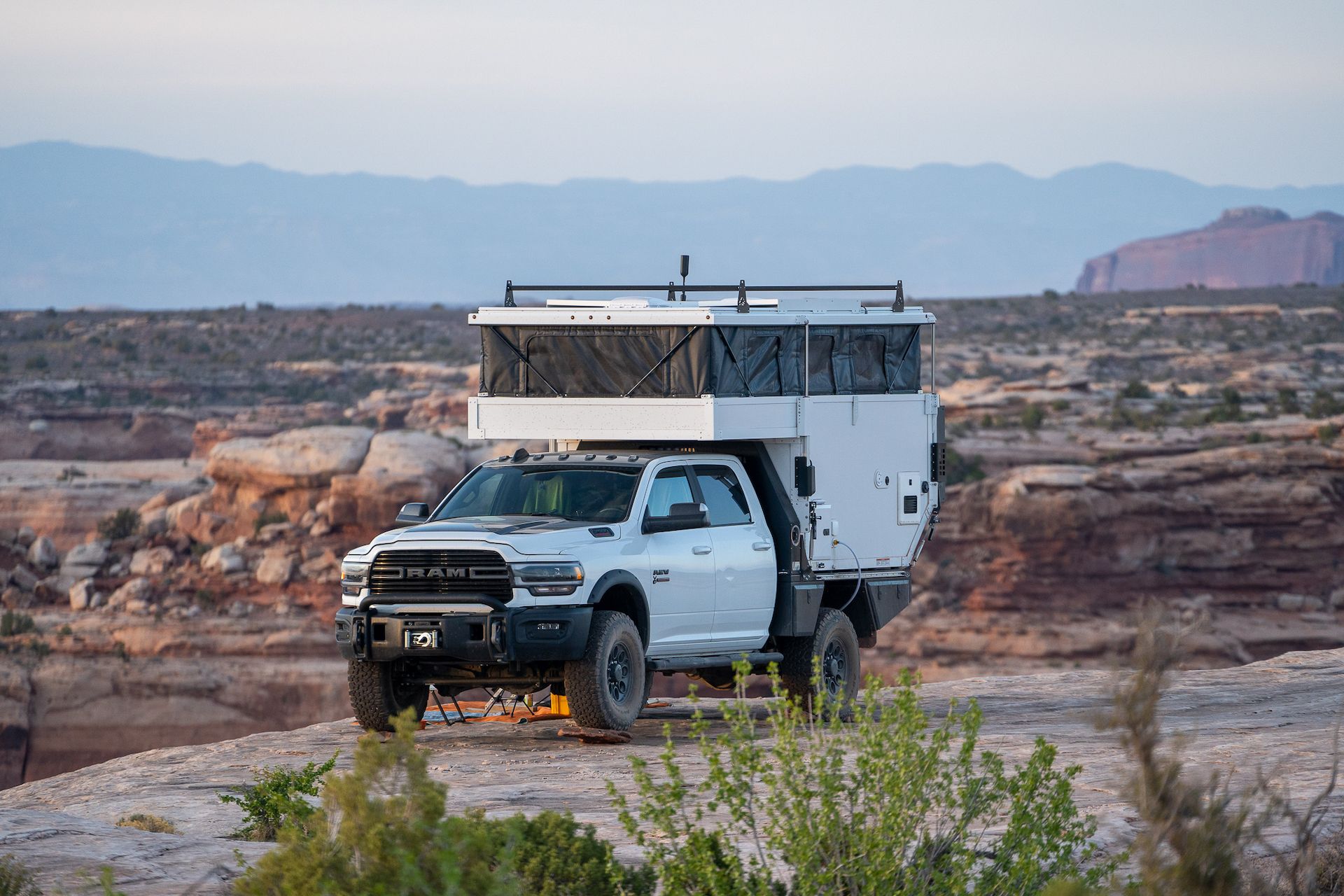 Chemin Blanc, our rig, throning in the Utah desert
The Big Picture
Our previous camper, the Camp-X, was indisputably one of the most rugged popup camper in the US. Overland Explorer Vehicles has been around for quite a few years and is known to build premium "off-road" truck campers for the North American market. So when we decided it was time for an upgrade, we did not hesitate to order their flatbed model, the Camp-HBE. We trusted the company to build a robust, roomy camper that would take us from Alaska to South America without issues and in all weather conditions.
Specs of Our Camp-HBE
Electric:

400W

roof mounted solar panels, Redarc manager 30,

1800W

Xantrex inverter, and 2 x Antigravity DC-100-V2 Deep Cycle Battery
Kitchen:

164L

DC

compressor fridge/freezer, dual burner cooktop and sink
Water capacity: 38 gallons
Propane Tank: 20 lbs
Heater: Truma Vario propane heater with hot water on demand
Dry Weight: 1,550 lbs. (empty propane tank and water jug, sans batteries)
Other factory options: 2 roof vents, auto roof lifting system with 4 electric actuators, inside and outside showers, spare tire carrier, molle panel and aluminium ladder
A Few of Our Favorite Features
Exterior
Switching to the Camp-HBE allowed for several upgrades we wish we had on our previous setup. One of them was having the spare tire not blocking the entrance of the camper.
Now, with the Camp-HBE, the spare is directly mounted on the back of the camper, and the entrance is on the passenger side rather than being in the back. Note that having the spare mounted in the back has some drawbacks, such as that our center of gravity is now higher than before and we need to be more vigilant on rough roads.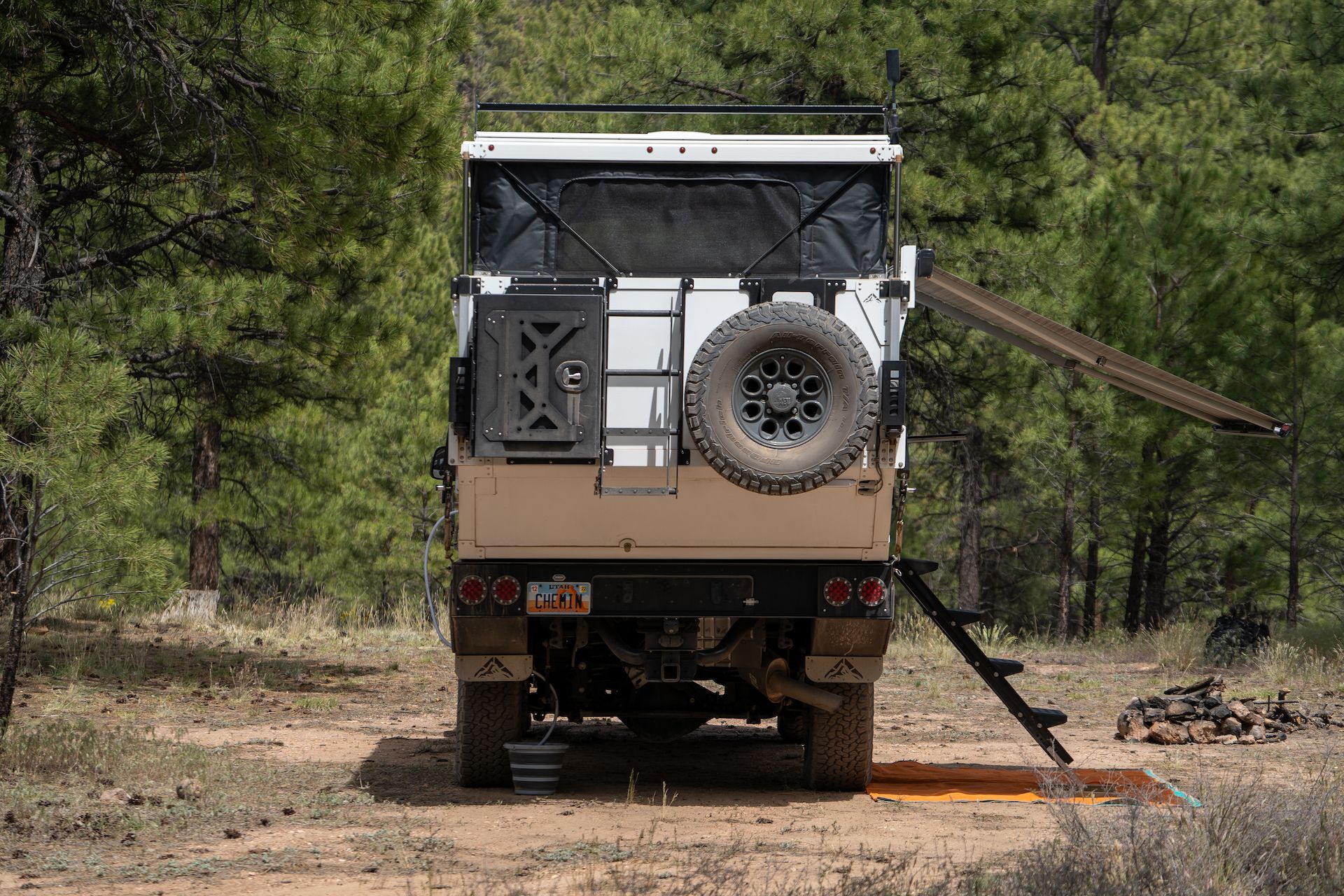 The spare tire mounted on the back of the camper
We also decided to replace our Alu-Cab 270 Shadow awning with the Fiamma F45S, and we could not be happier!
The Alu-Cab is designed to be installed within arm's reach. But with our lifted truck and Camp-X, it was installed approximately 9ft above the ground so it was impossible to operate without a step ladder. It also didn't provide great weather protection because it extends rather horizontally. Now with the Fiamma, we can use the crank handle to open it within seconds and the awning offers fantastic protection with a more downward angle.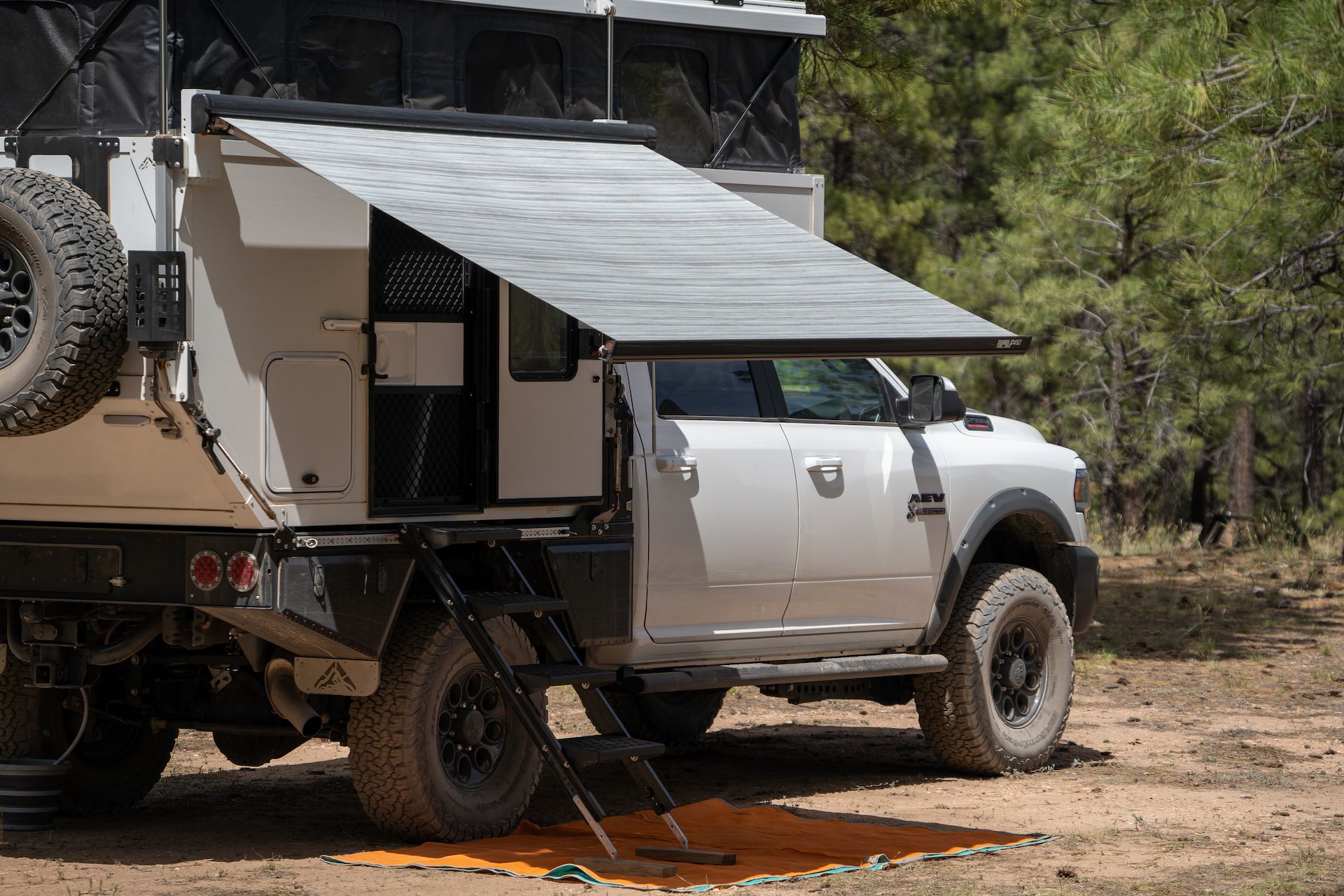 The Fiamma doing its job
Finally, the most important factor for us to switch to the HBE was the auto-roof lifting system. Now, we don't have to climb on all corners of the camper to unlock the latches, or use our muscles when lifting the roof. We can enjoy the camper with a press of a button, as simple as that!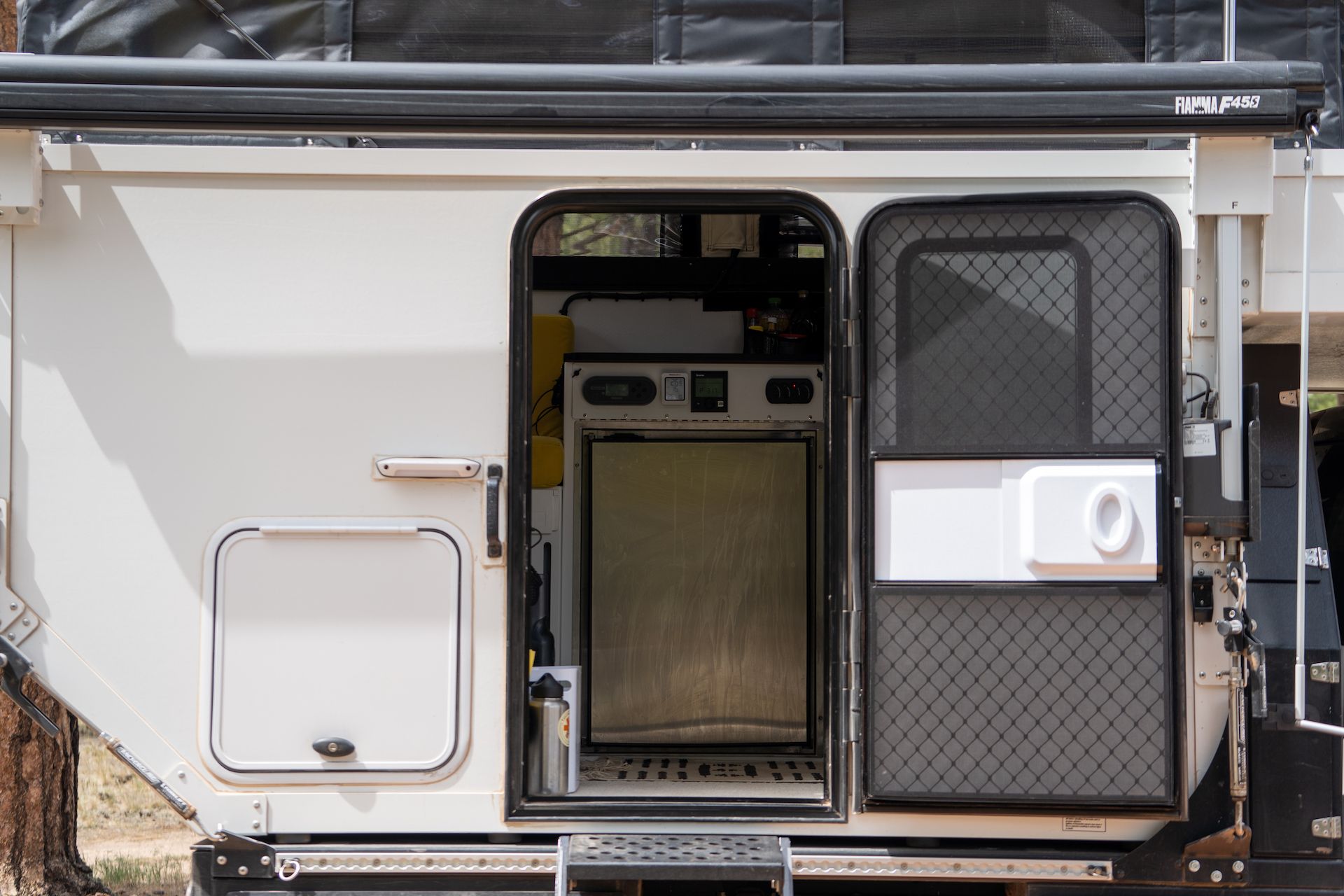 Time to hop inside
Interior
When you enter the camper you are greeted with a huge and comfortable dinette area on your left, a spacious closet on your right and a large cooking station in front of you. The interior of the HBE feels much larger and spacious than the Camp-X for obvious reasons: it's 15″ longer and has more cubic space.
A delightful surprise that came with the auto-roof lift is two extra windows, in the front and back of the camper, so now we have a 360-degree view. 😍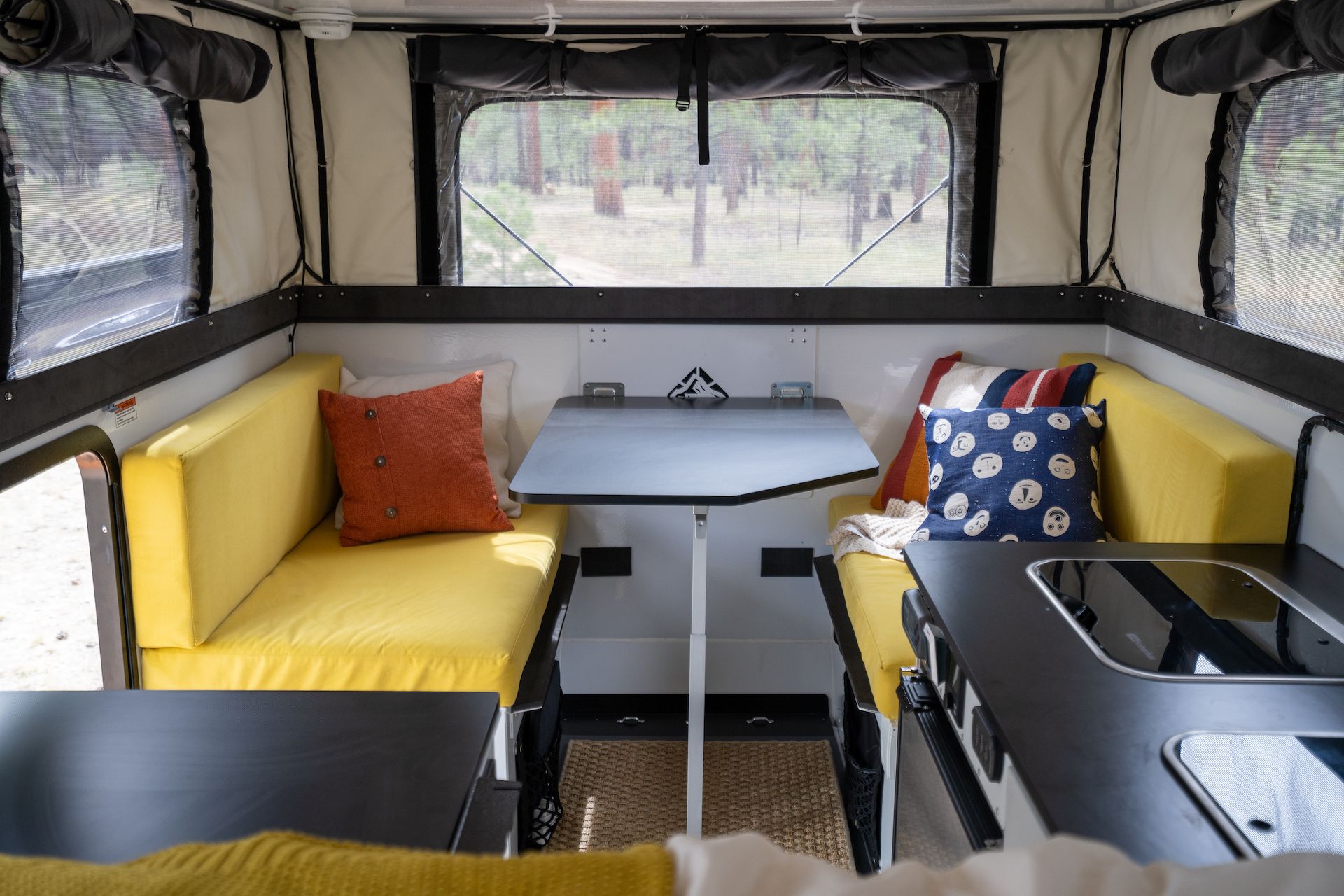 The dinette became our favorite part of this new interior!
The dinette is another reason why we upgraded. We never felt quite comfortable sitting in the Camp-X because the leg of the lagoon table was always in our way, the seats too small, and the bench by the window pretty much unusable. Now, we both can sit comfortably, and the sturdy table is big enough for two laptops. We also really like having the windows at eyes level, and be able to see outside without standing or crouching like in the Camp-X.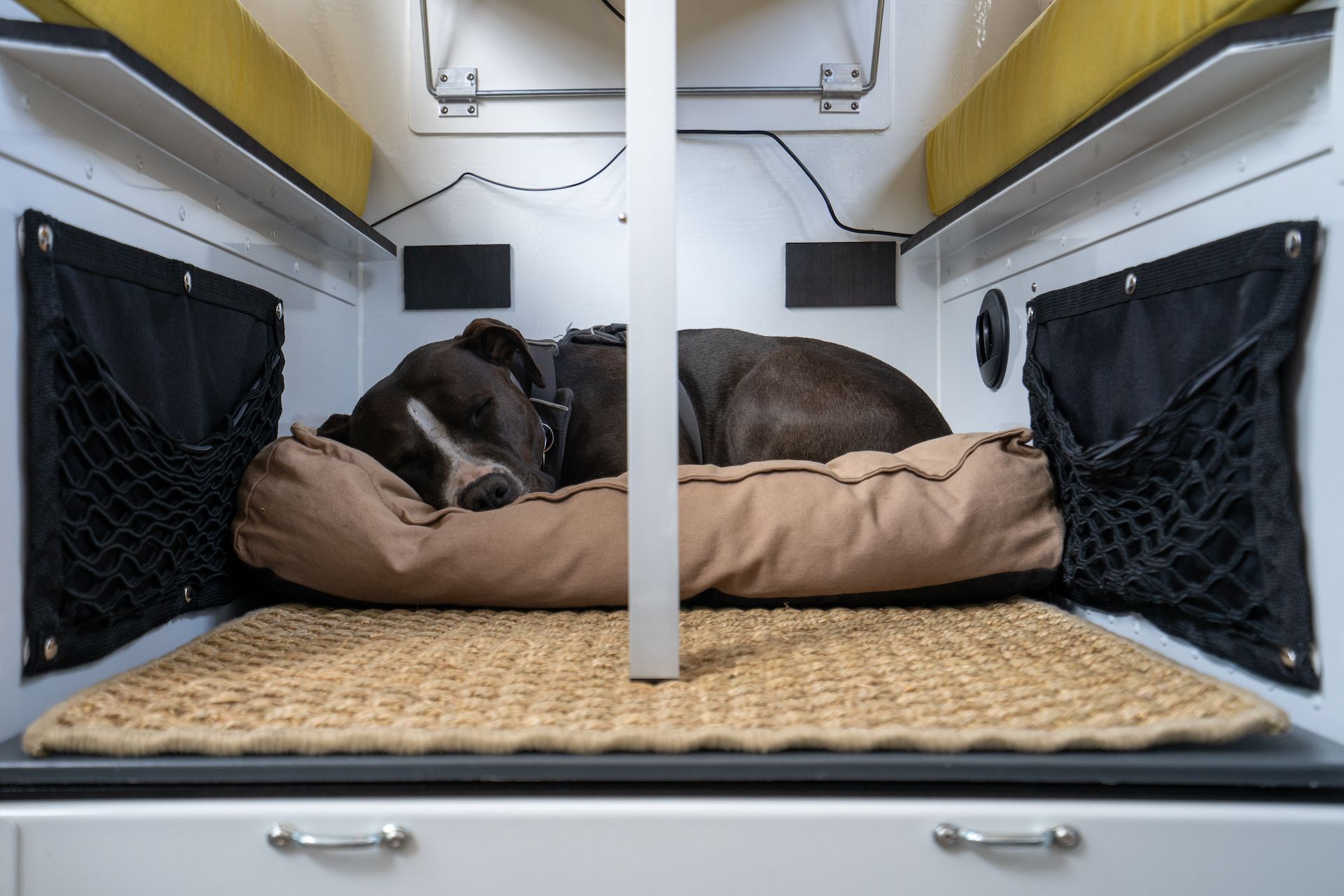 Even Margo, our dog, has a dedicated space just under the table!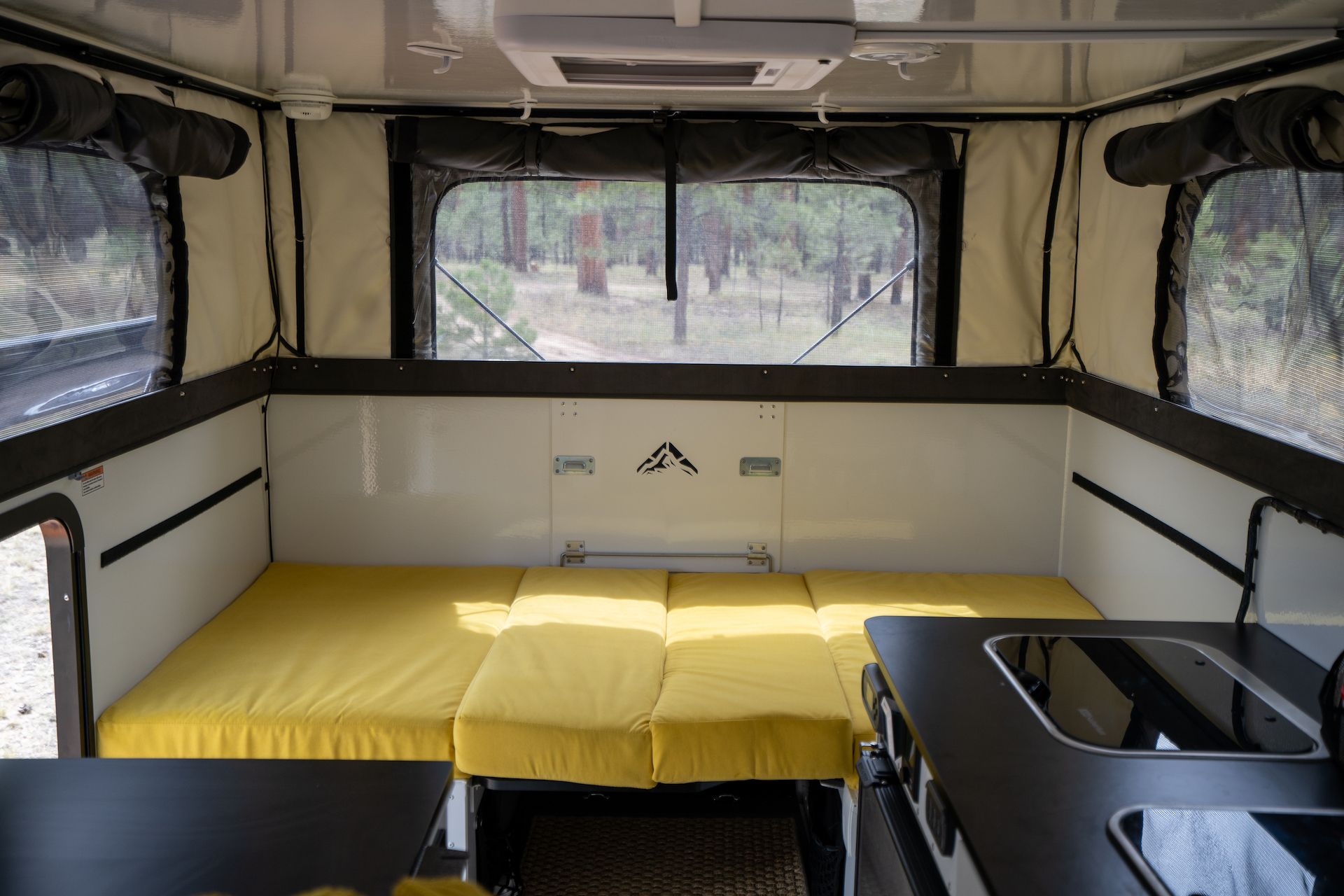 According to our first guest, the convertible bed is way more comfortable than in the Camp-X
The interior shower is quick and easy to setup
We have been asked a few time if we were missing all the storage space we had with our previous setup. The answer is no. We find the storage space in the HBE to be more than enough for two adults. Especially if you order the camper without the cassette toilet option, it gives you a huge closet space to store all our clothes, dry food and a compact portable toilet.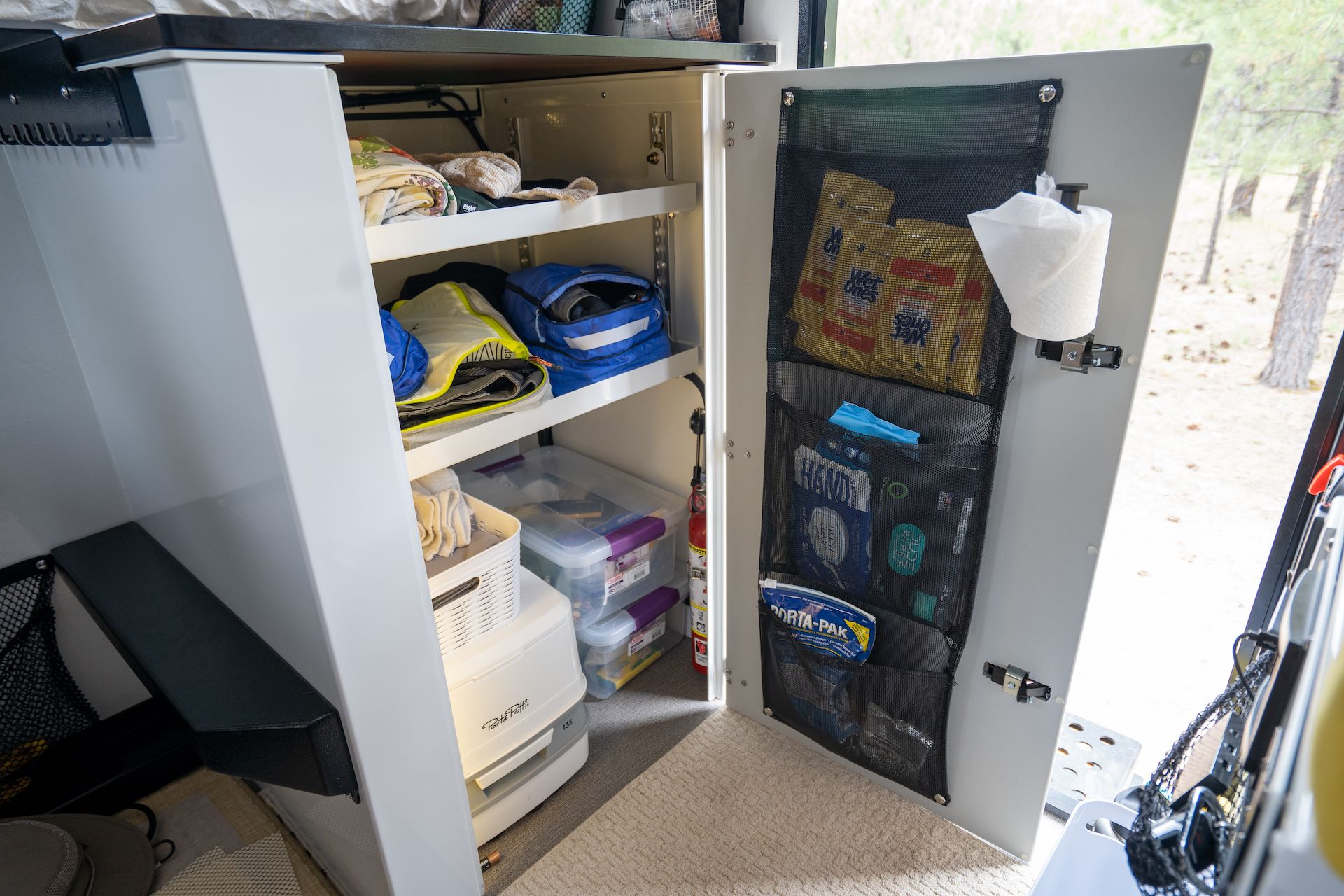 Ample storage for two adults traveling full time
One last thing to note about the interior, the canvas fabric is a bit different than in our 2020 Camp-X. We like the new one better even if it feels more plastic-y as it is easier to clean, and seems to improve insulation.
What Other Upgrades Did We Made?
In addition to the options we ordered from the factory, we worked with BVO on several other upgrades that were essential to us.
Guzzle

H2O

Stealth: During our last trip to Mexico, we wished for an onboard water purifier system to be able to drink from any water source. Now that we have this filter, we can drink from the sink with ease.
WeBoost: We like being offline, but we also like being able to have a stable and reliable connection to get some work done when we are in the backcountry. The WeBoost helps us with that.
Aluminum Cabinet Storage Box: We were worried about losing too much storage space with our new setup until we found this box from Backwoods Adventure Mods, which fits perfectly on the molle panel in the back of the camper. It's been great to keep sporting goods, such as our climbing gear, outside of the camper.
Keyless entry handle: This keyless entry lock was by far our favorite upgrade on the Camp-X.
ObeCo Mesh Pockets: When living in such a small space, efficiency is key! We love using mesh pockets to store items that we frequently need. We also got two custom kitchen organizers from the Overland Gear Guy.
Additional

USB

outlets: The camper came with only two

USB

ports which are not enough to charge our smartphones, tablet, portable Wi-Fi device, etc. We added four additional ports.
Froli Bed Systems: While condensation inside the camper has never really been an issue, protecting the mattress from mold is never a bad idea. The Froli system slightly raise the mattress to allow airflow and prevent mold.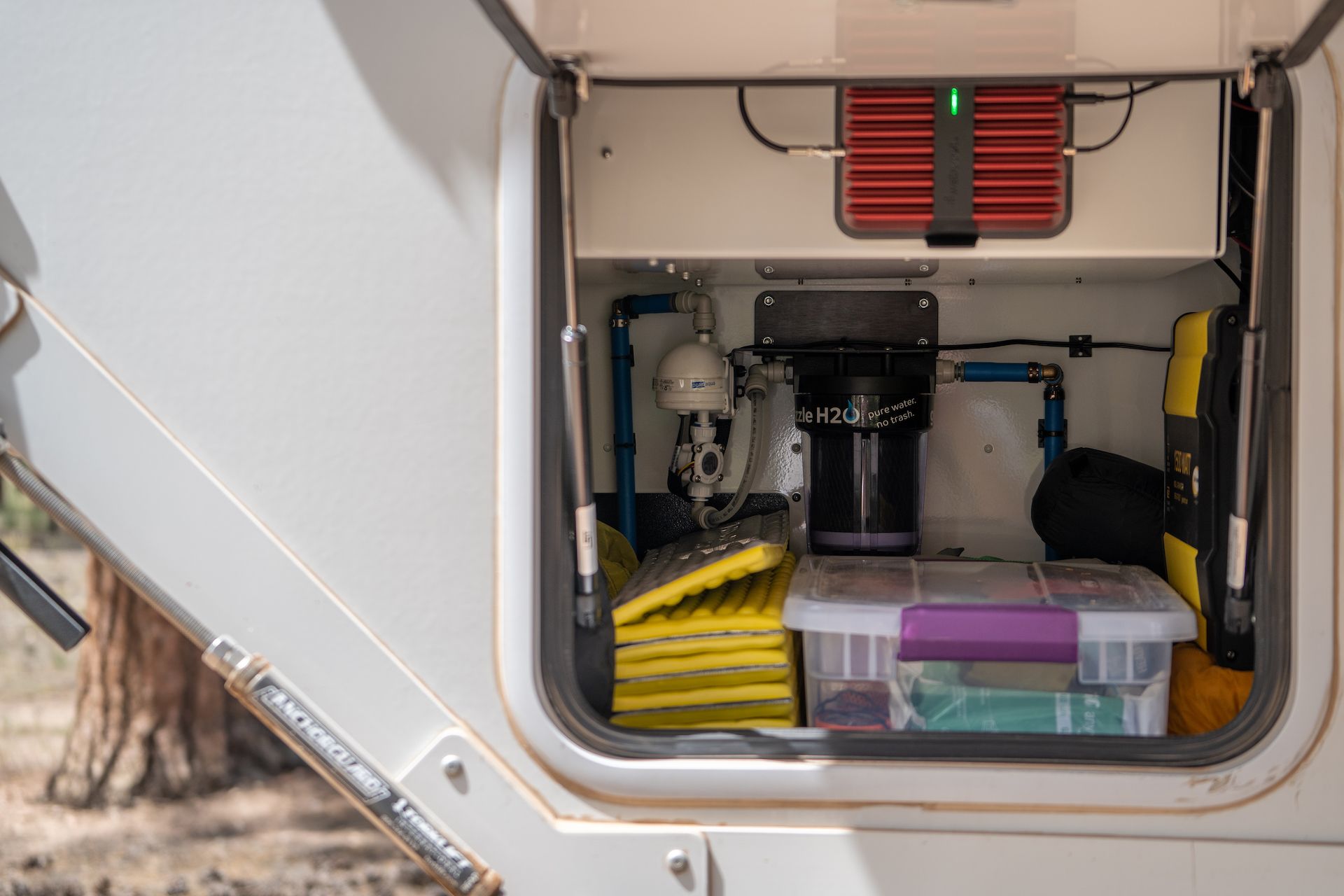 The water purification system from Guzzle H2O installed in the back of our exterior rear storage by BVO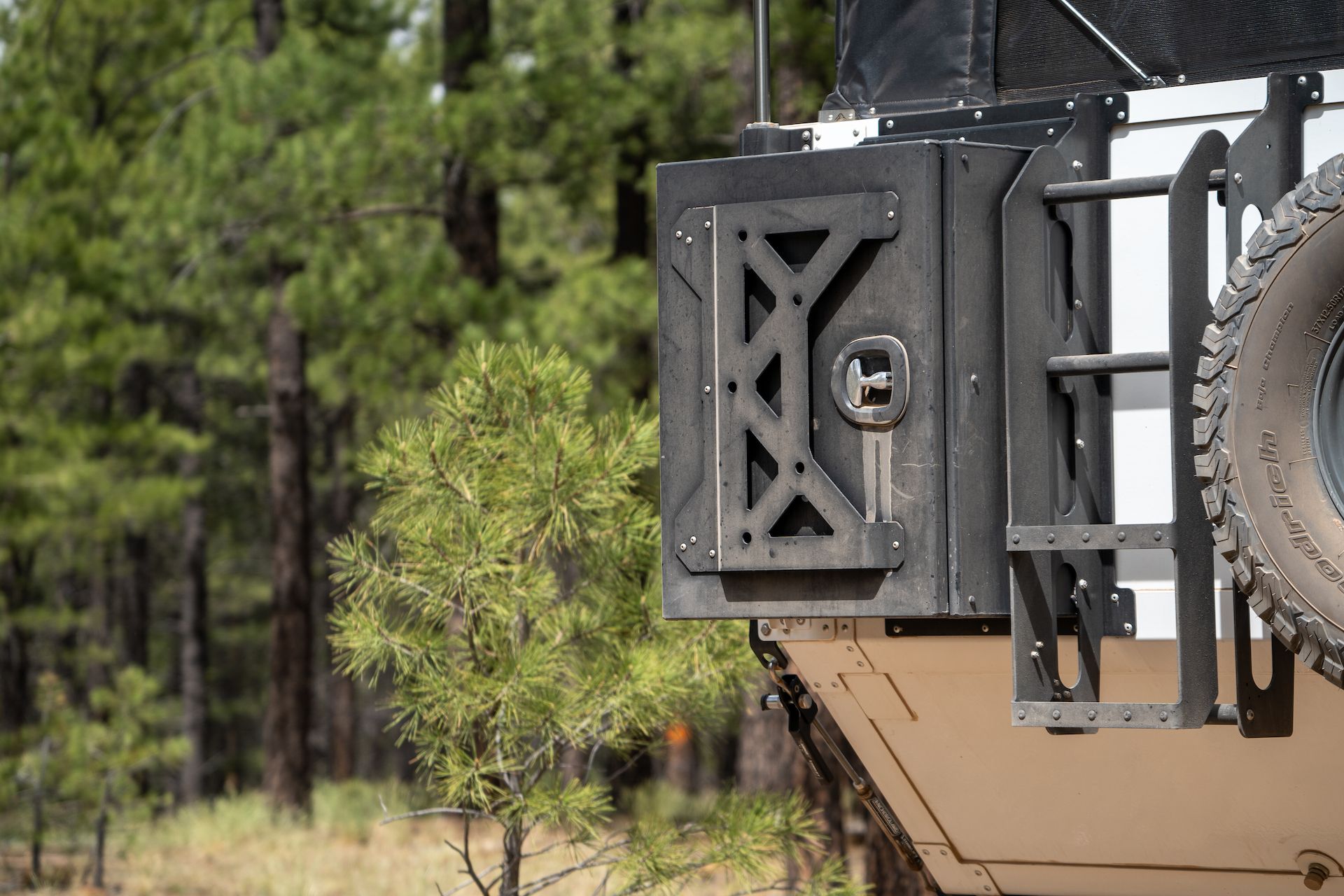 Additional exterior storage with the Backwoods Adventures Mods box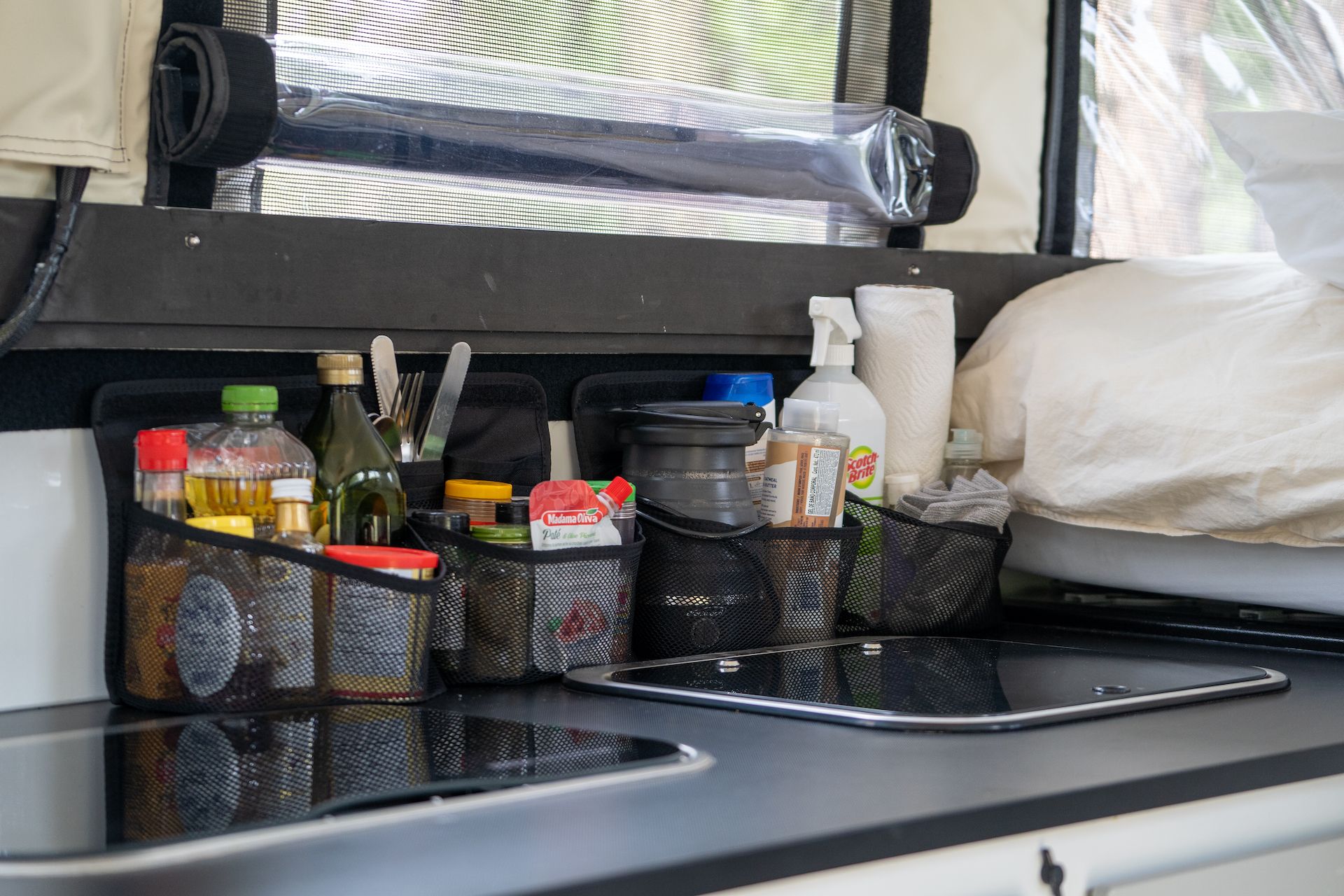 Our custom kitchen organizers from the Overland Gear Guy
Still Room for Improvement
The Camp-HBE is close to be the perfect camper, but we also have some ideas and feedback on how it can be even better.
Improve the quality assessment process: Our camper came with a few issues that could have been easily spotted before it was delivered: a missing fuse, a wobbly table, drawers that won't open all the way, vent cover that pops out of place when driving on rough roads, latches that don't lock, etc. These are obviously not dealbreakers and we fixed most of them ourselves easily. But we were quite surprised this time as we literally had zero issues like that with the Camp-X.
Improve the design of the ladder so it works with lifted trucks: The ladder that stores in the rack between the camper and the cab is convenient, but is too short if you truck has big tires and a lift. We have to use a set of leg extension as well as a few blocks of wood to make it usable. Given that most people lift their trucks and run big tires, the ladder and its attachments could be redesigned to fit lifted trucks.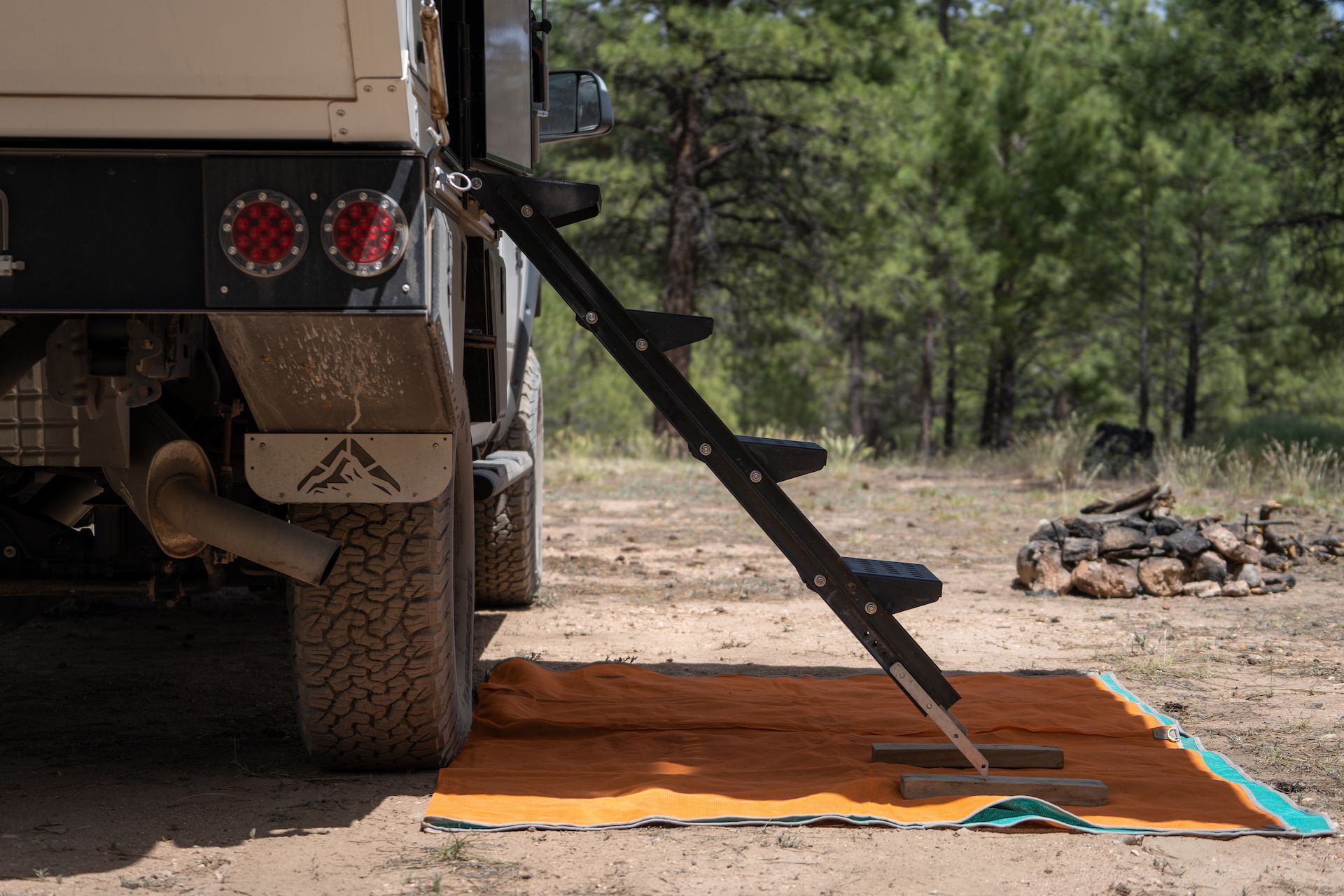 Leg extensions + block of wood to make the ladder usuable
Let customers choose the color of the seat covers: Unless you like army green, you will likely want to replace the seat covers at your local upholstery shop like we did. It would be great if customers can pick the color of the seat covers, or even better, choose from a range of "themes" for the interior of the camper like what Four Wheel Campers offers.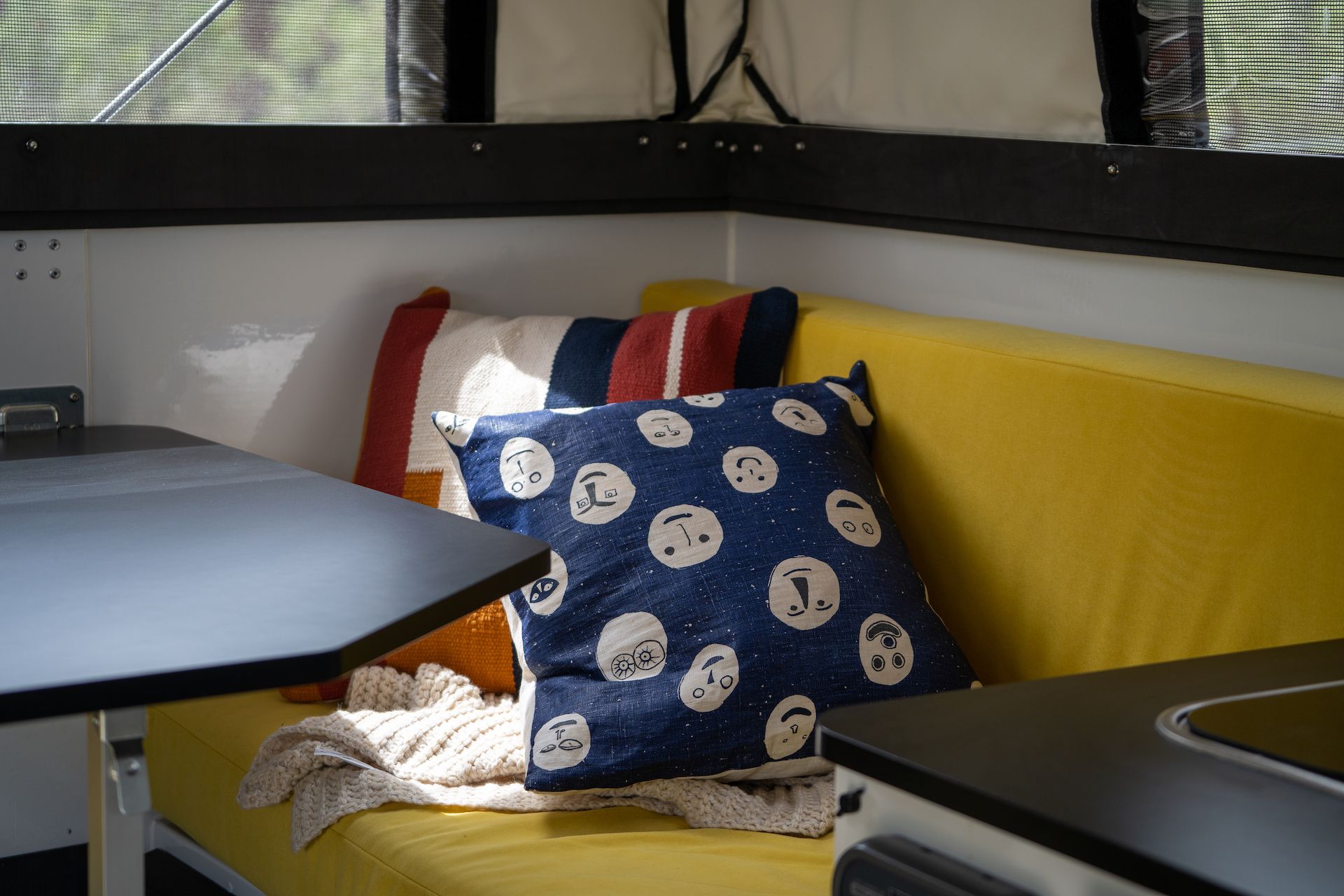 Our custom seat covers - we are also planning to replace all countertops this Summer
Use better switches and proper labeling: We are both product designers and bad experience design makes our skin crawl. Look at the following picture, and we bet you will have no idea what button you need to press to turn the "cockpit lights" off. Also, spending a little bit of effort to rename the labels instead of using the original marine labels would go a long way in improving usability.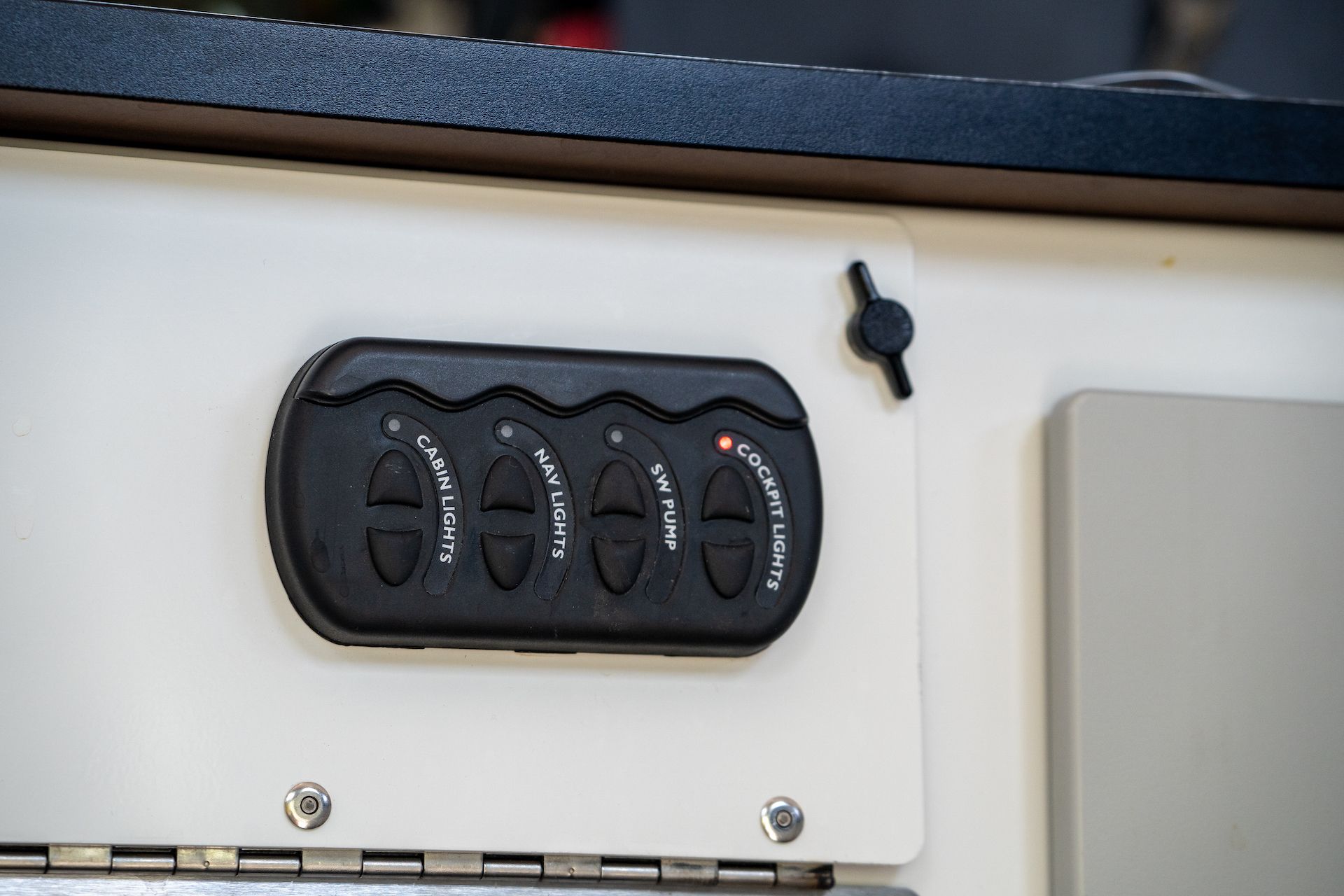 Cockpit lights? 🤔
Keep the mattress from sliding: It's not uncommon after driving through some rough terrain to find our mattress over the sink, or to wake up with a few inches of the mattress outside of the bed when we don't sleep on a perfectly flat surface. Having the mattress in some sort of enclosed box or adding rails would solve this issue.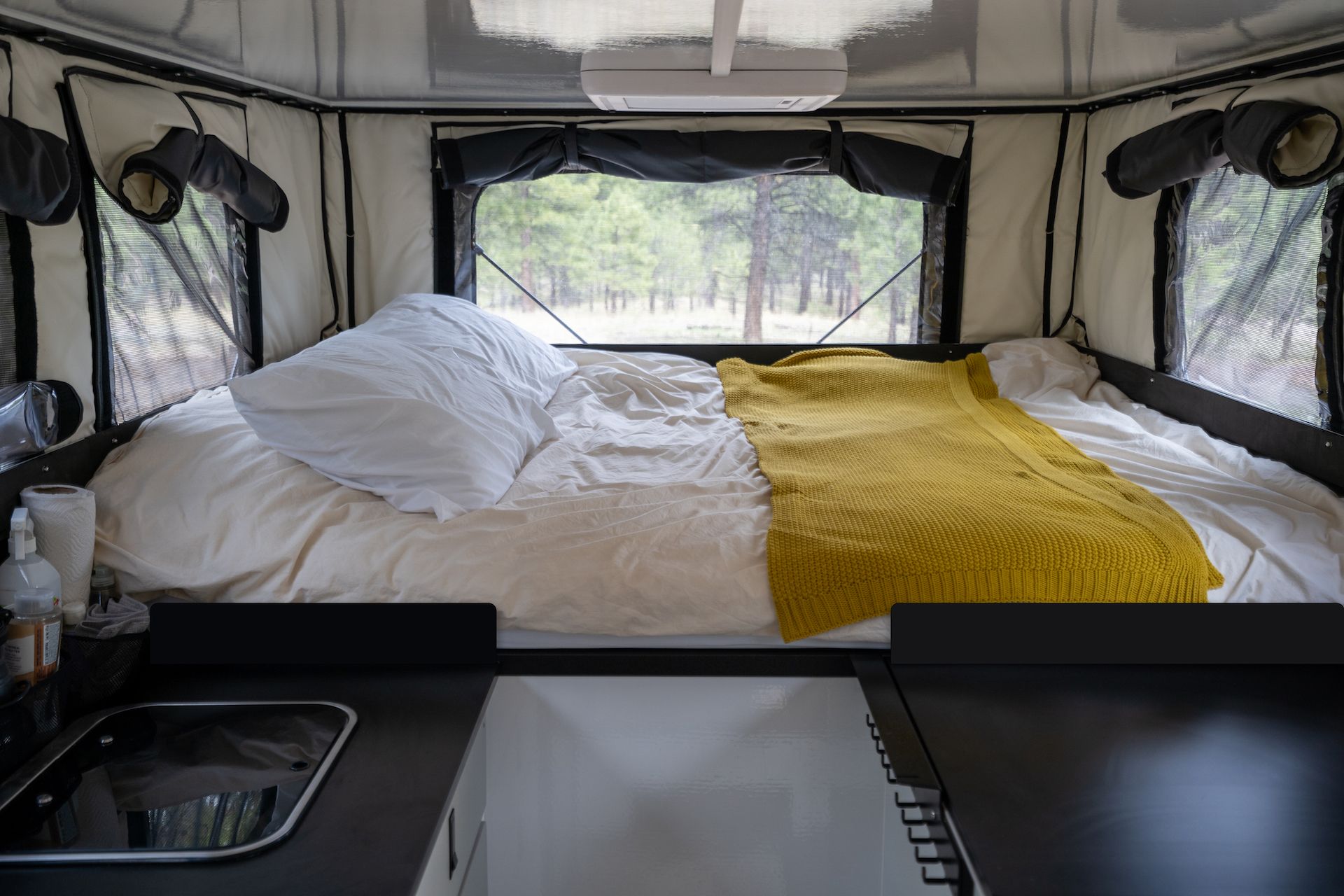 Quick and dirty drawing of rails added to the bed to prevent it from moving
Turn the outside storage compartments into tables when opened: We love the two storage compartments on the passenger side of the camper. It would be even better if the door opens downward so we can use them as a table for outdoor cooking.
That's something we have asked OEV to do in the past when they worked on the upper tray boxes for our previous setup. We wanted the boxes to be very versatile so they could also be used as a prepping table, cooking table, standing desk, etc. We miss this feature!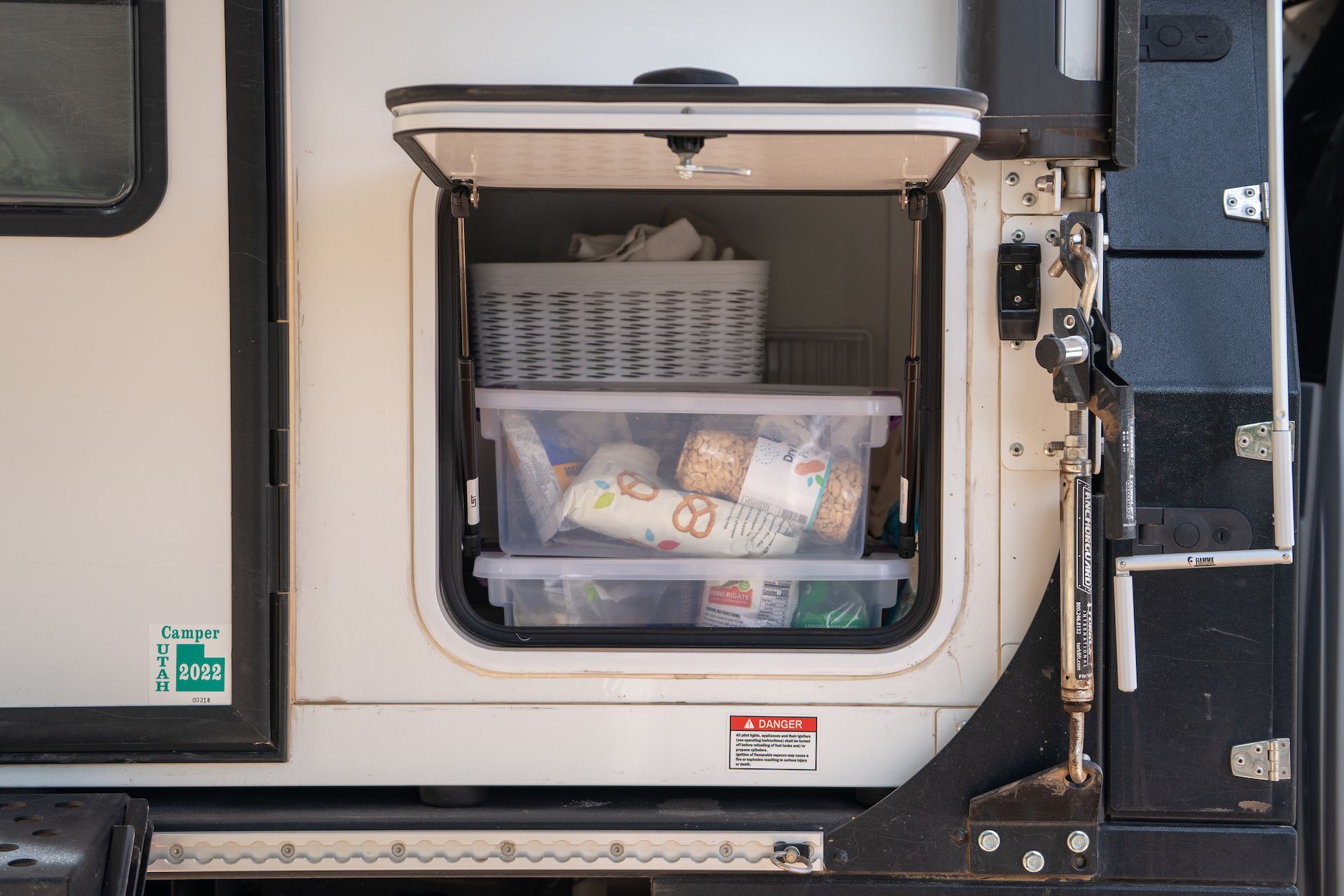 We wish the door of this exterior storage box could also have been used as an outside table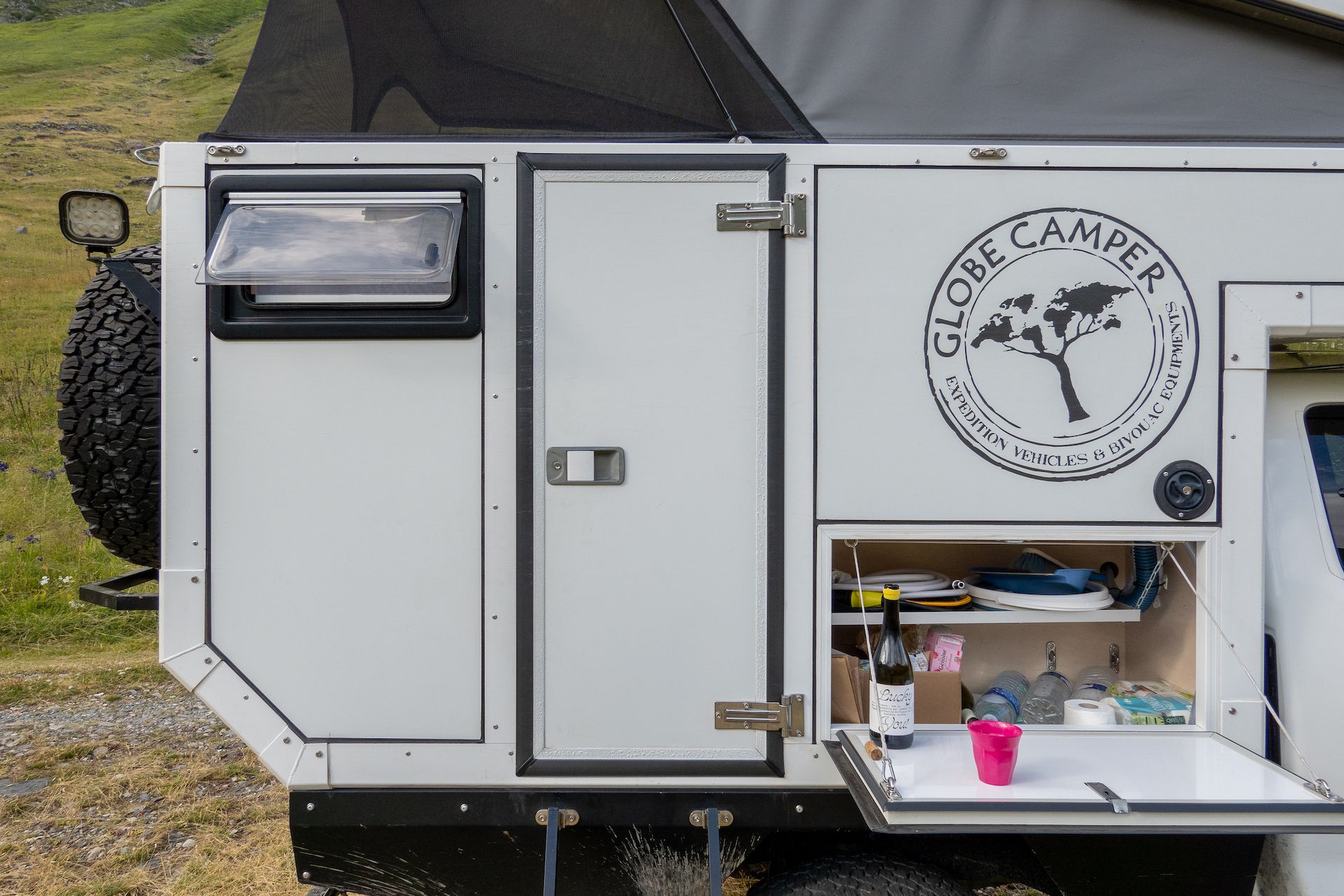 Food for thought: A very convenient feature on the Globe Camper we borrowed in France last Summer
Refine the interior and exterior lighting: Long and dimmable light bars could spread the light more evenly inside the camper, and if placed differently, the light would not be blocked by the vents and casts harsh shadows. Outside the camper, we aren't sure why the exterior passenger side light is warm and yellow while the back and driver side lights are cold and white. Some consistency would be welcomed: we vote for warm and yellow!
Add a cap leash for the shower evacuation drain: One thing we like with the sink evacuation drain is having the cap attached to a leash. It is solid, durable and you can't loose it. For some reasons, the shower evacuation drain is different, and the cap did not come with a leash. So unless we decide to add one by ourselves, we know we will likely lose it at some point.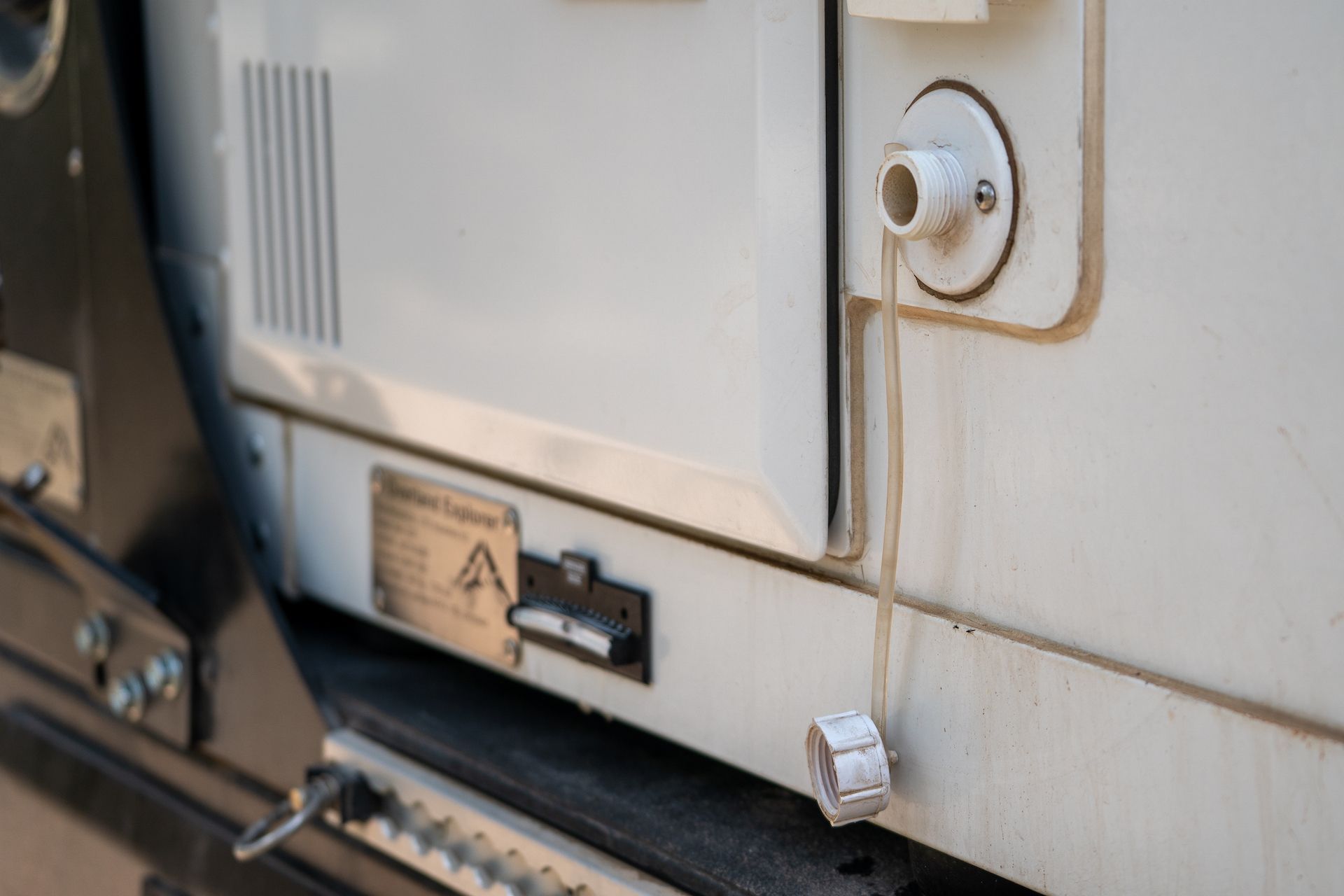 The sink drain cap attached to its little leash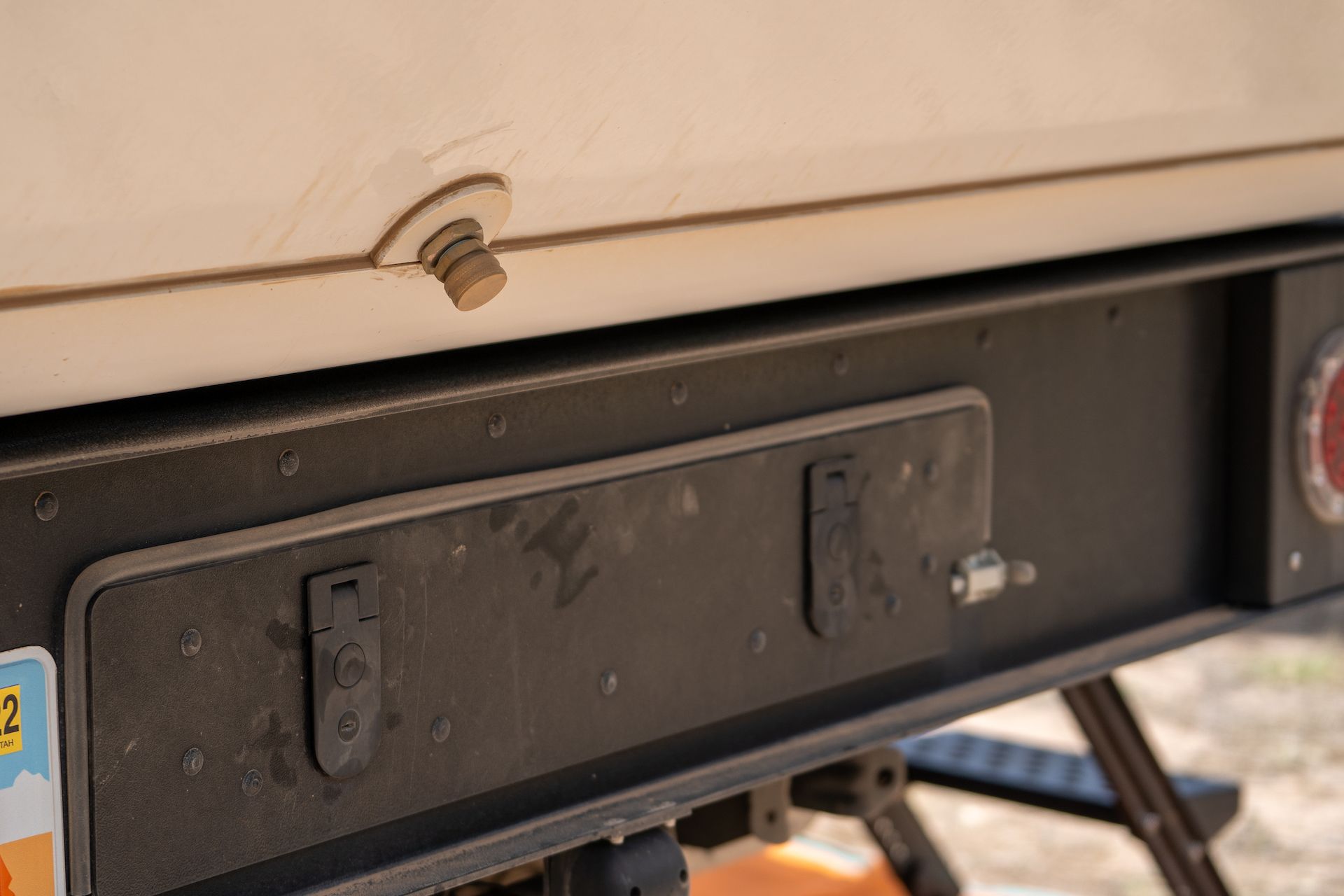 The shower drain
Let customers order their custom camper without decals: We like having our rigs free of stickers or logos. When we ordered our HBE, we requested to have it delivered without decals but were told it would not be possible. So we removed them shortly after taking delivery of the camper.
Conclusion
We are extremely happy with our new camper and think it is absolutely perfect for two persons traveling full time off the beaten path. The quality of the build is up to European standards and we are confident that we will be more than comfortable traveling to Alaska this summer and later to Central America this fall.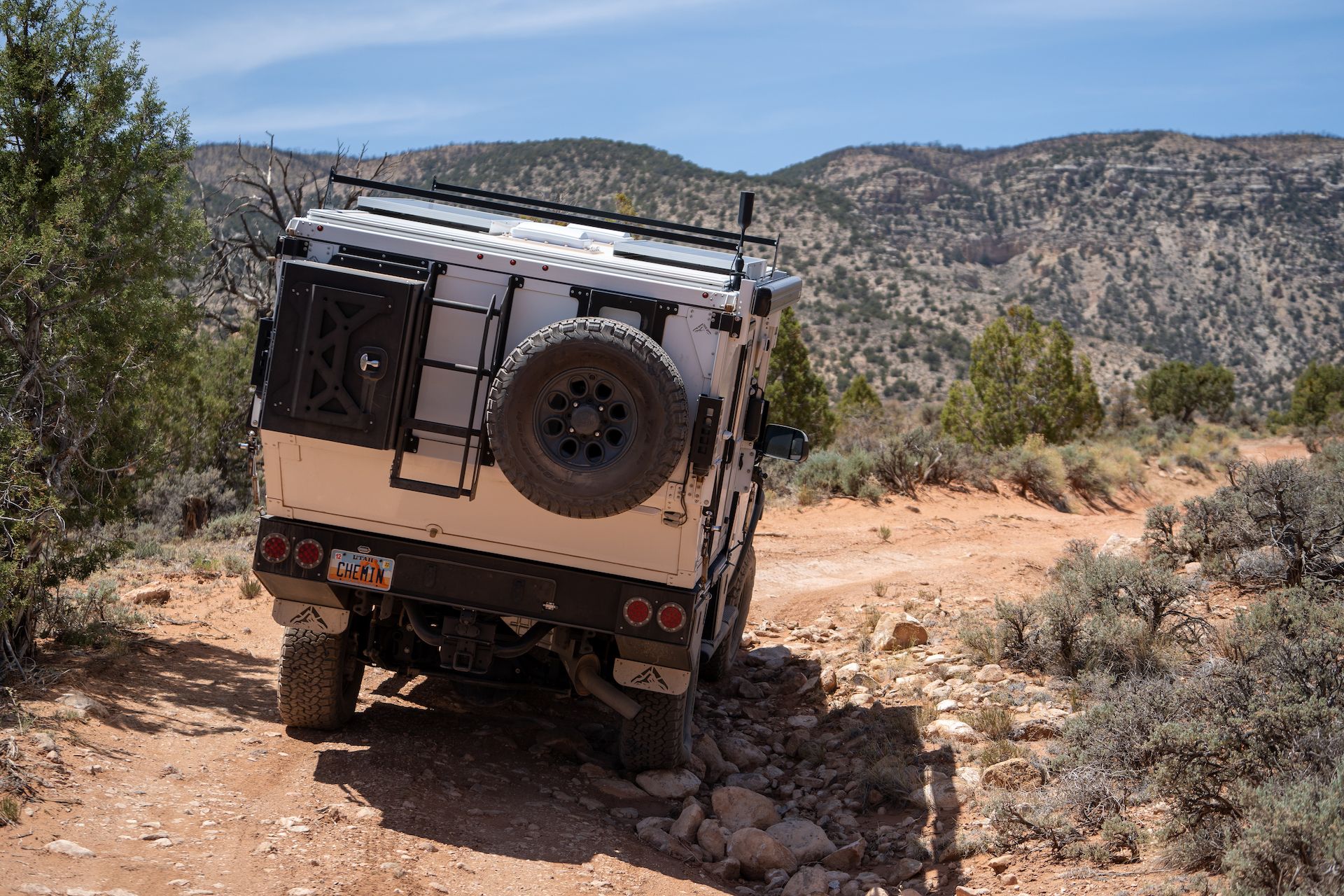 Off to new adventures!
---