Alaska - Week 5
July 24, 2022
Breaking news: blue sky and sunny days are back in Alaska, and we finally saw the the peak of Denali. Compared to last week, our 5th week in Alaska was chill and filled with fuzzy feelings since we united with old friends (and met new ones!) in this remote part of the world.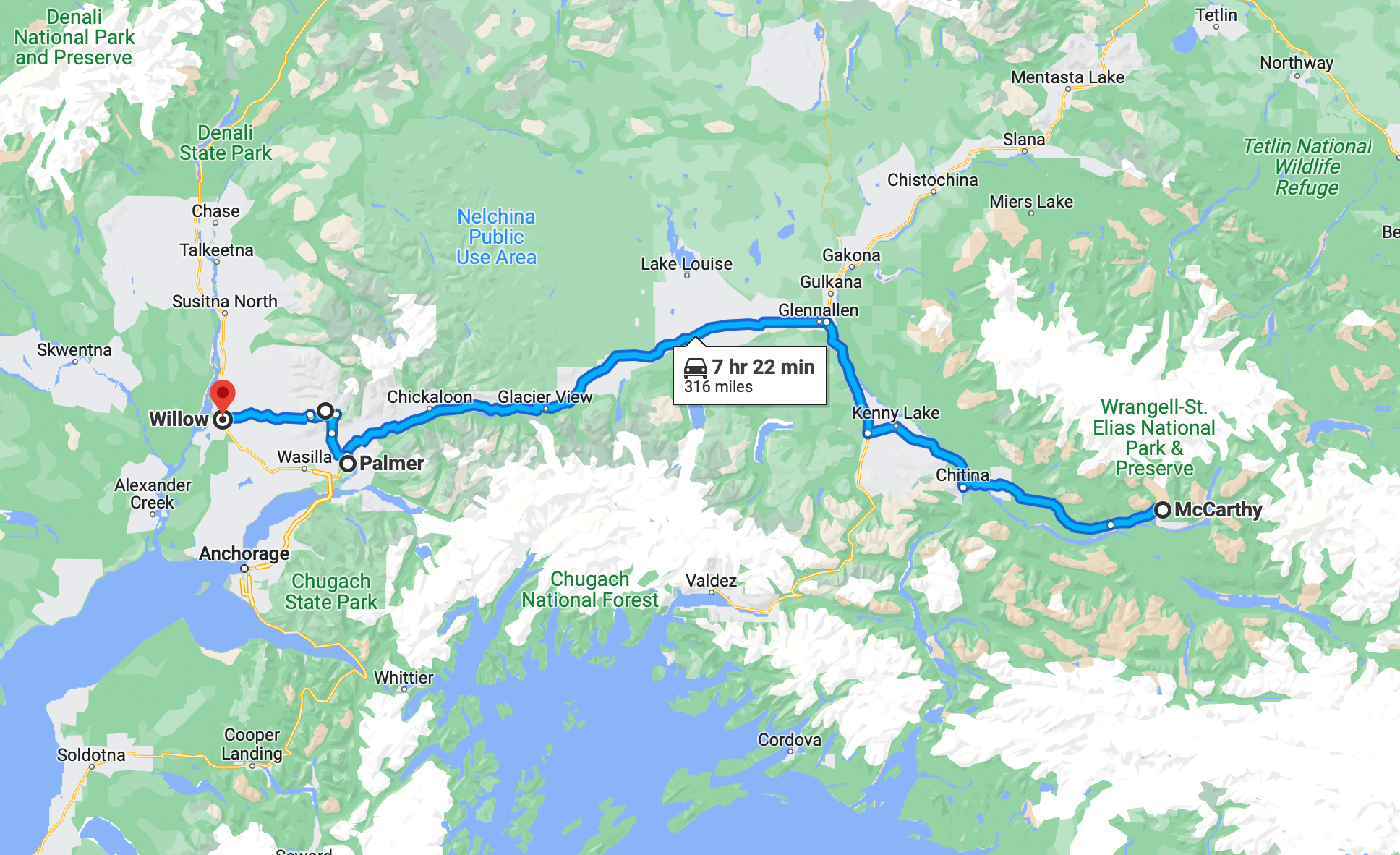 Our route for the 5th week in Alaska
Monday: McCarthy
We started the week by taking the free shuttle from our camp in McCarty to the Kennecott Mines National Historic Landmark.
The landmark is located 5 miles north of McCarty and is considered the best remaining example of early 20th Century copper mining! Many of the buildings in Kennecott have been abandoned for decades, and while some structures have deteriorated beyond the point of saving, some others have been stabilized and are open for visitors.
We opted for a 2-hour guided tour with the Kennicott Wilderness Guides and we did not regret as the tour gave us access inside the mill.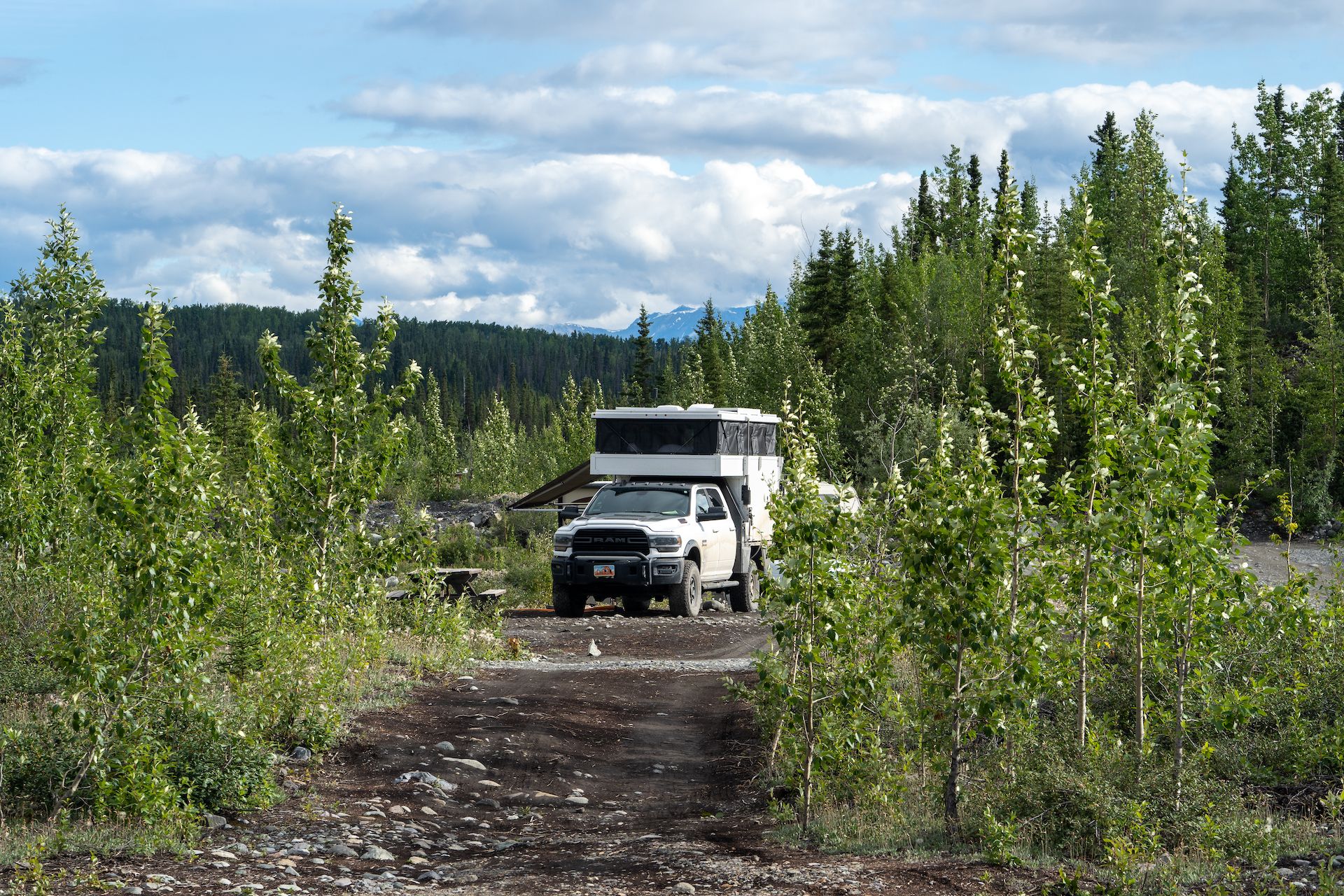 While the weather is still chilly and rainy, we had some glimpses of blue sky this week!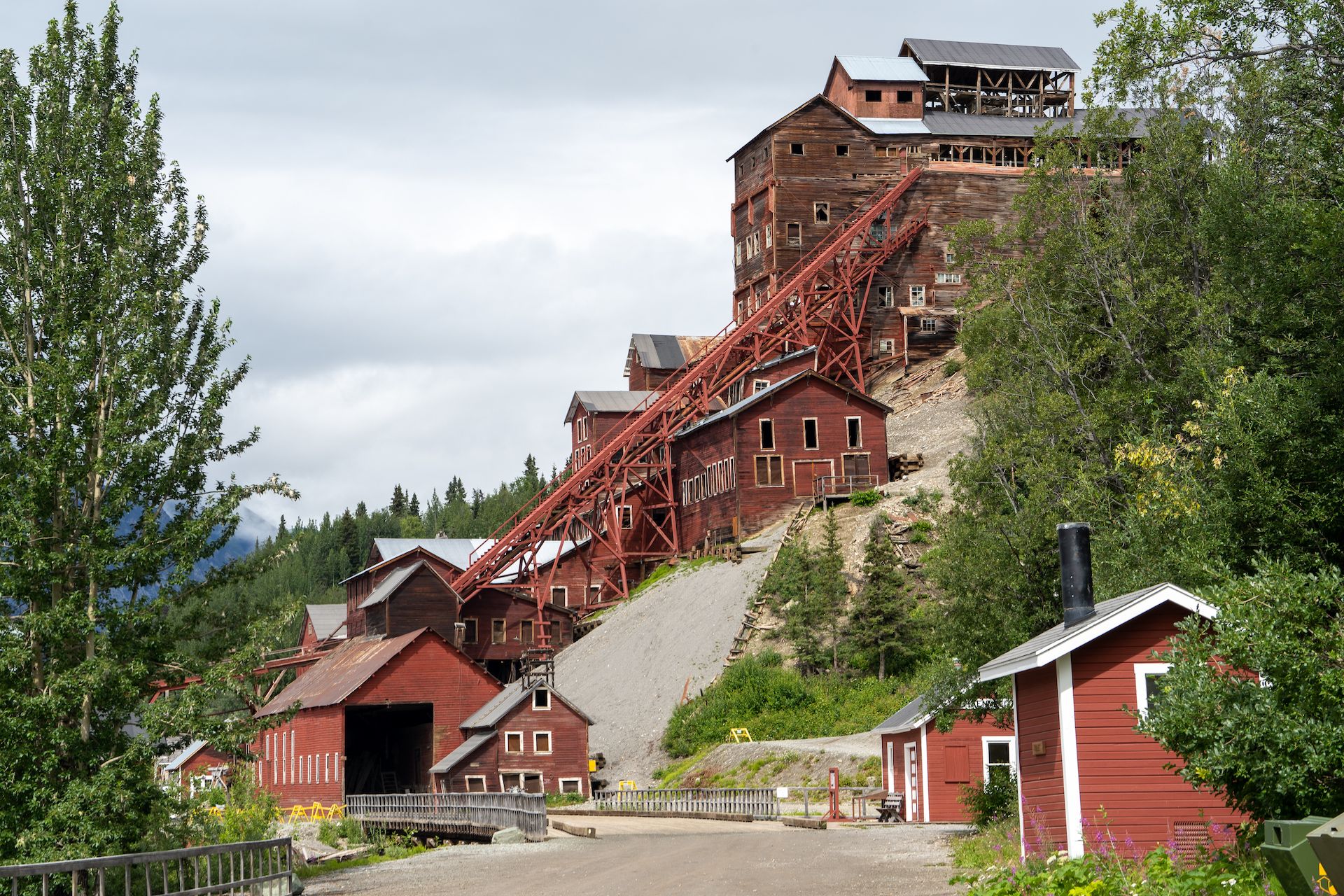 Kennecott Mines National Historic Landmark, an incredible place to visit on your own or with a tour guide like we did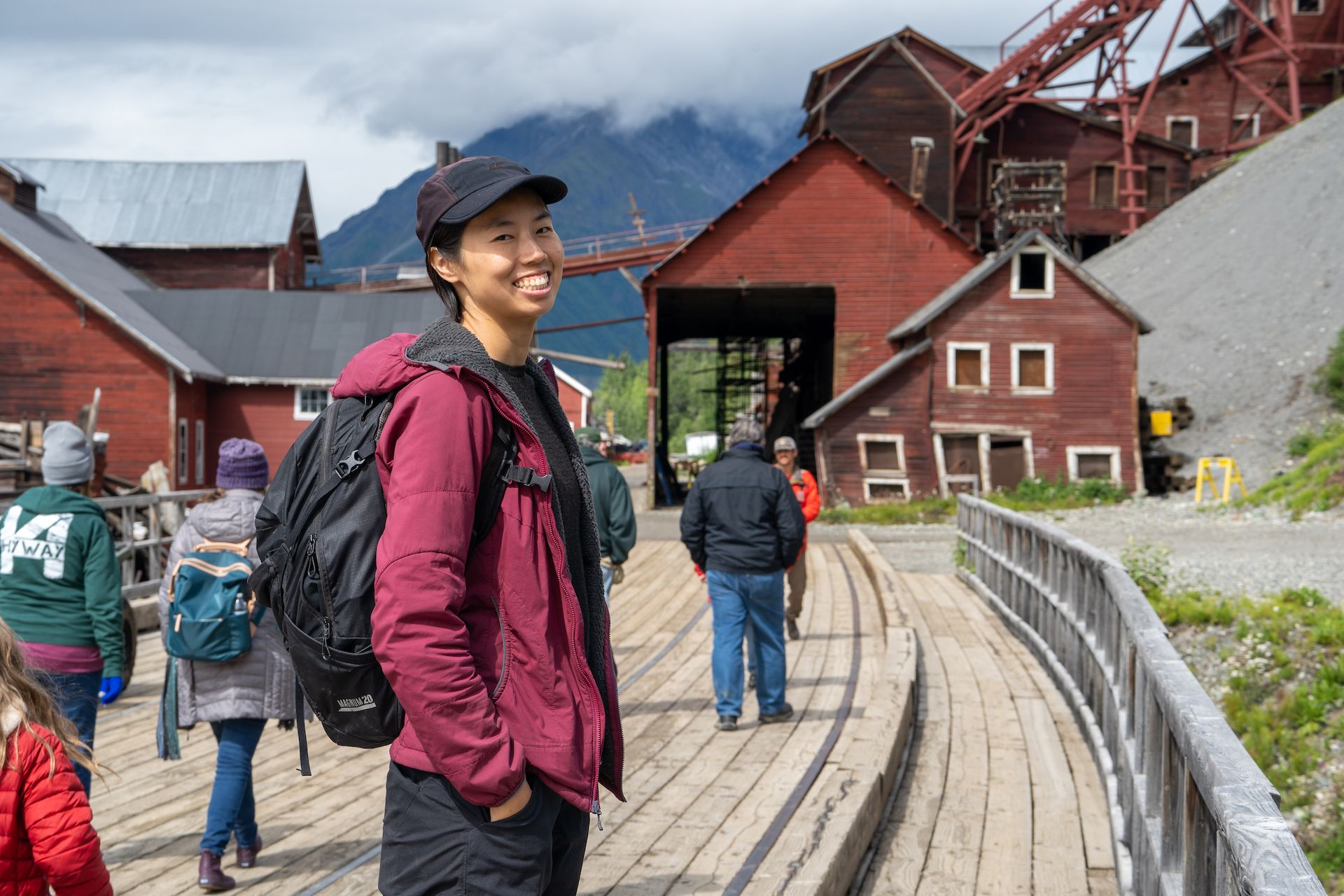 Kuan happily following the tour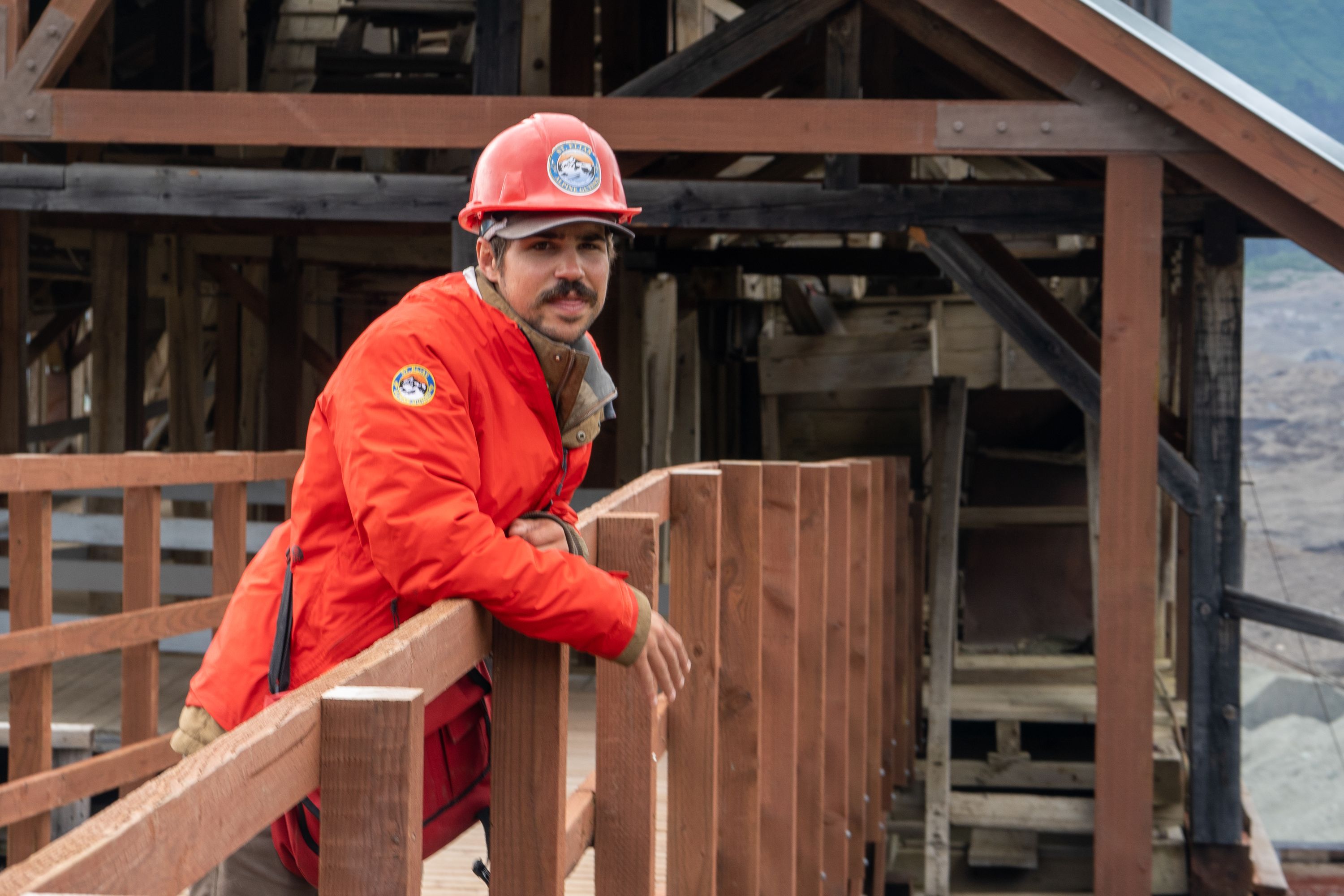 Our tour guide Landon and his beautiful mustache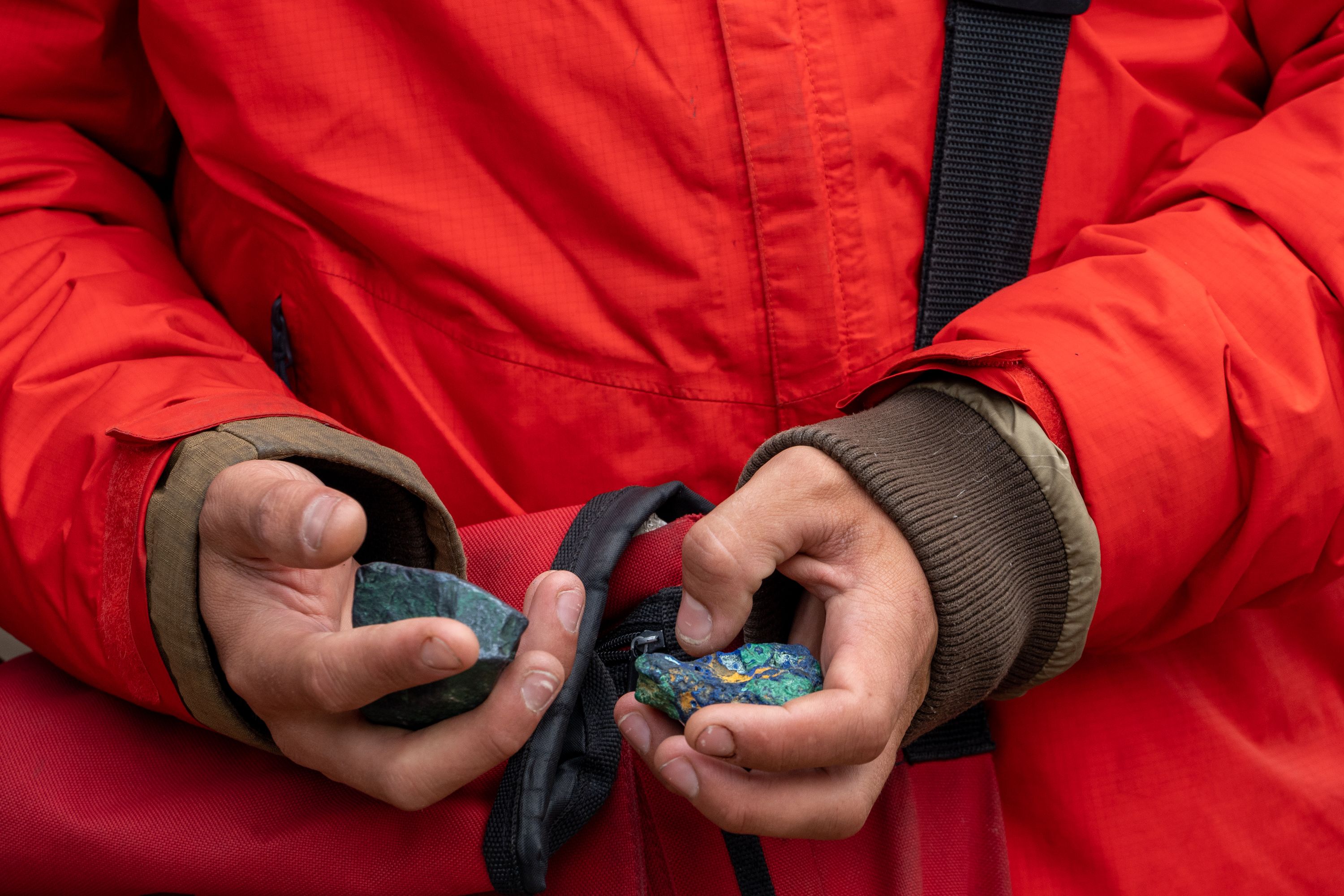 Rocks that are rich with copper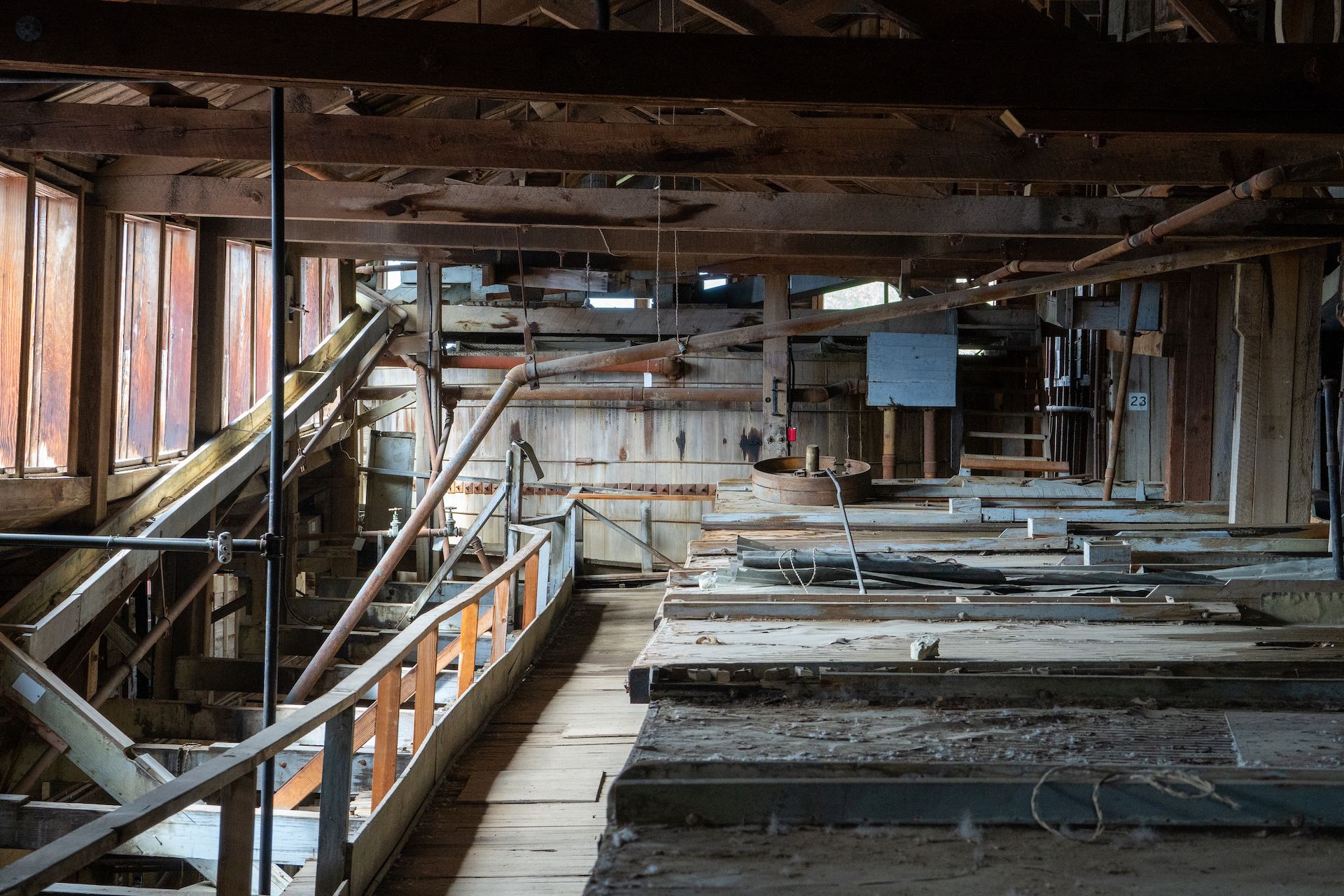 Interior of the factory where everything is very well preserved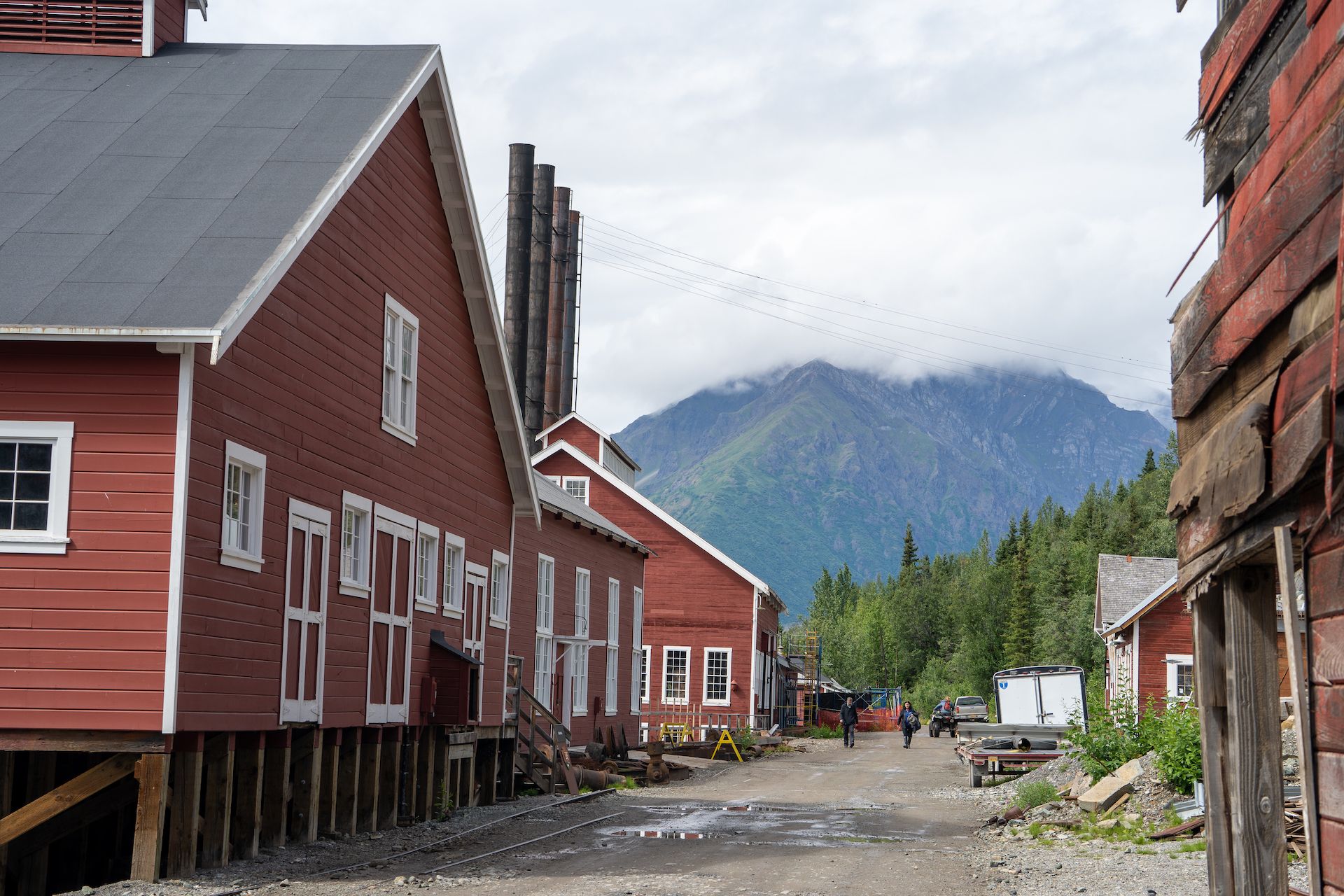 The power station outside the factory
Since there was never a final plan for the construction of the factory, beams and windows were made as needed, adding to the quirkiness of the architecture.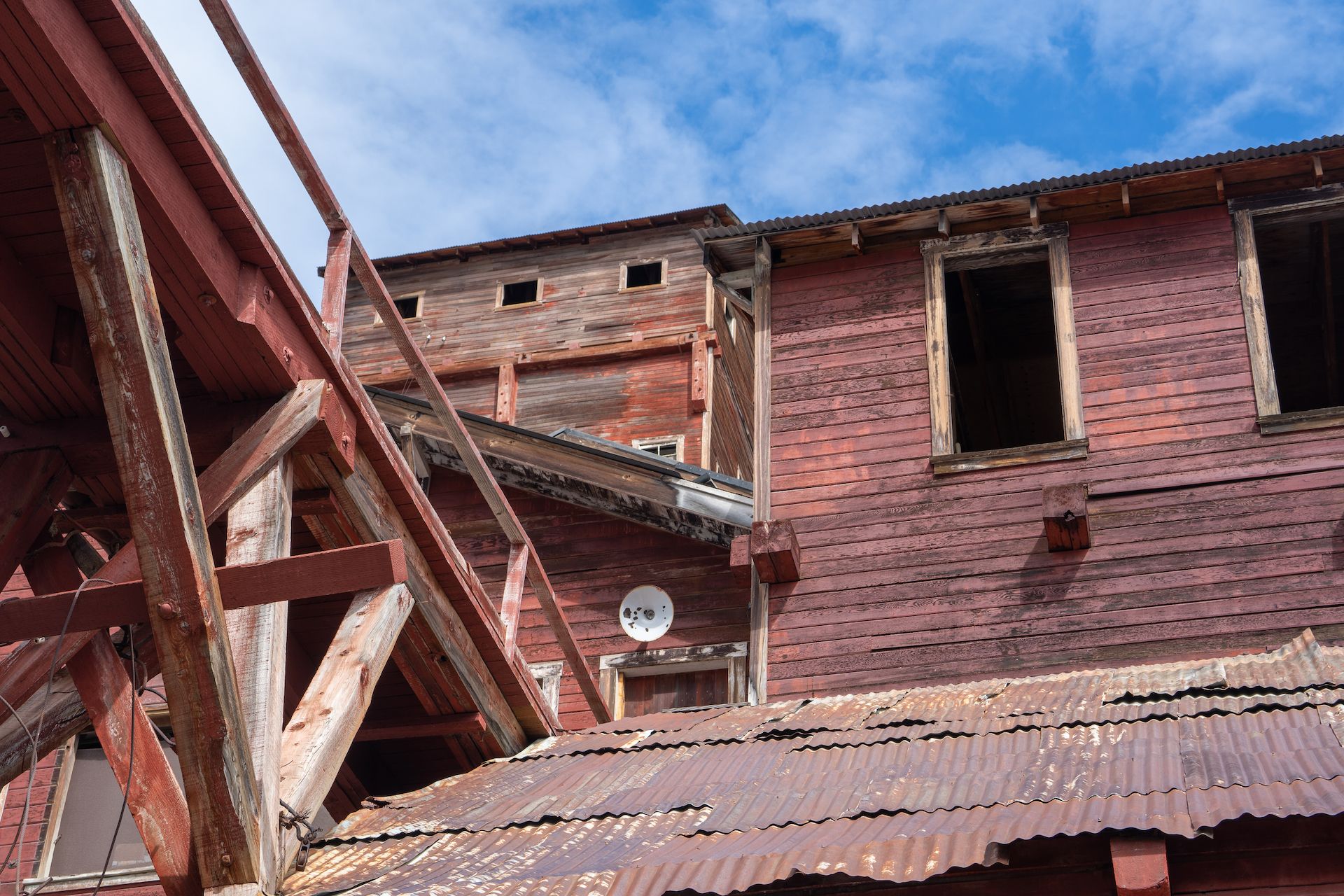 Architecture details of the building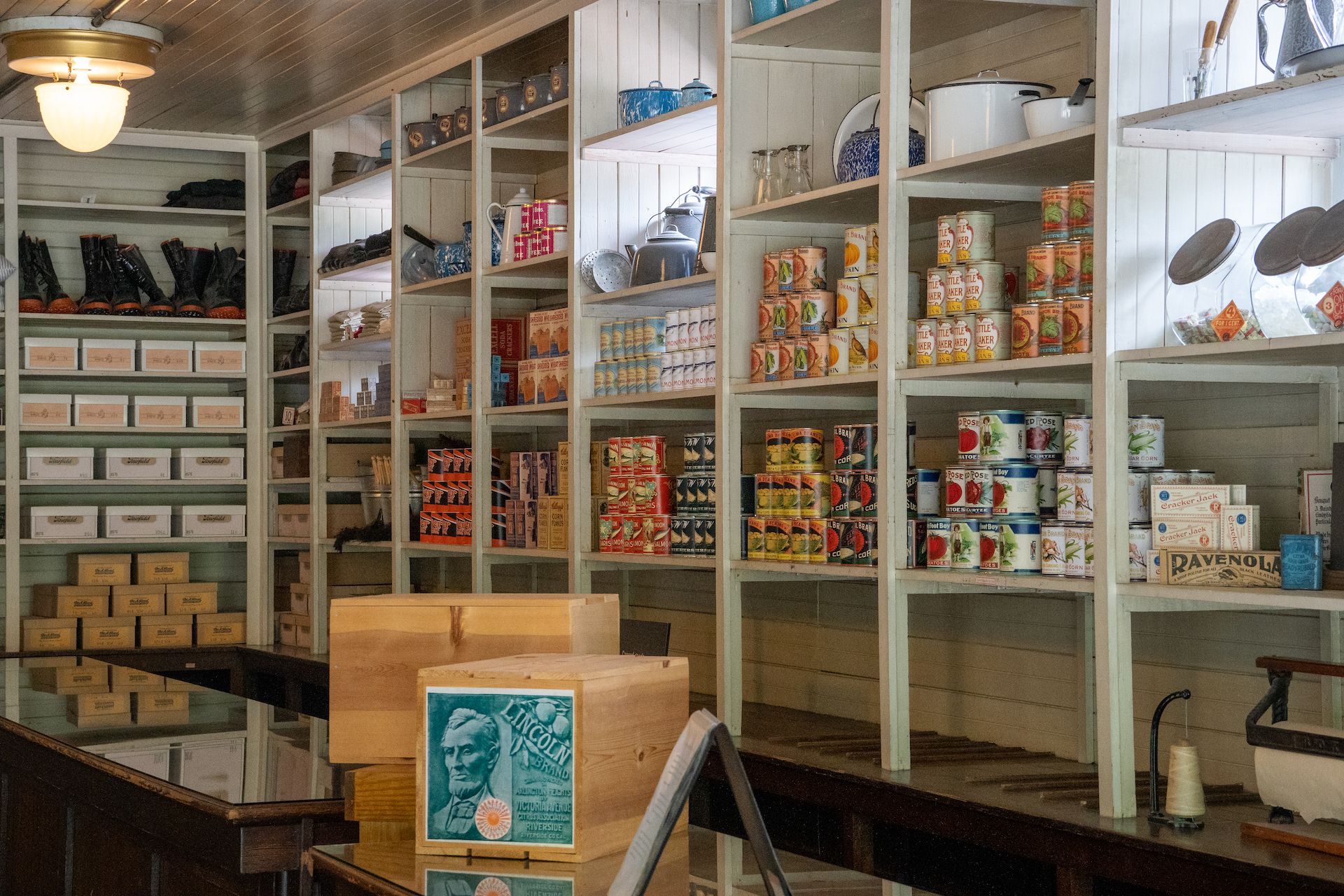 The National Park Service recreated the local grocery store like what it used to be back in the days.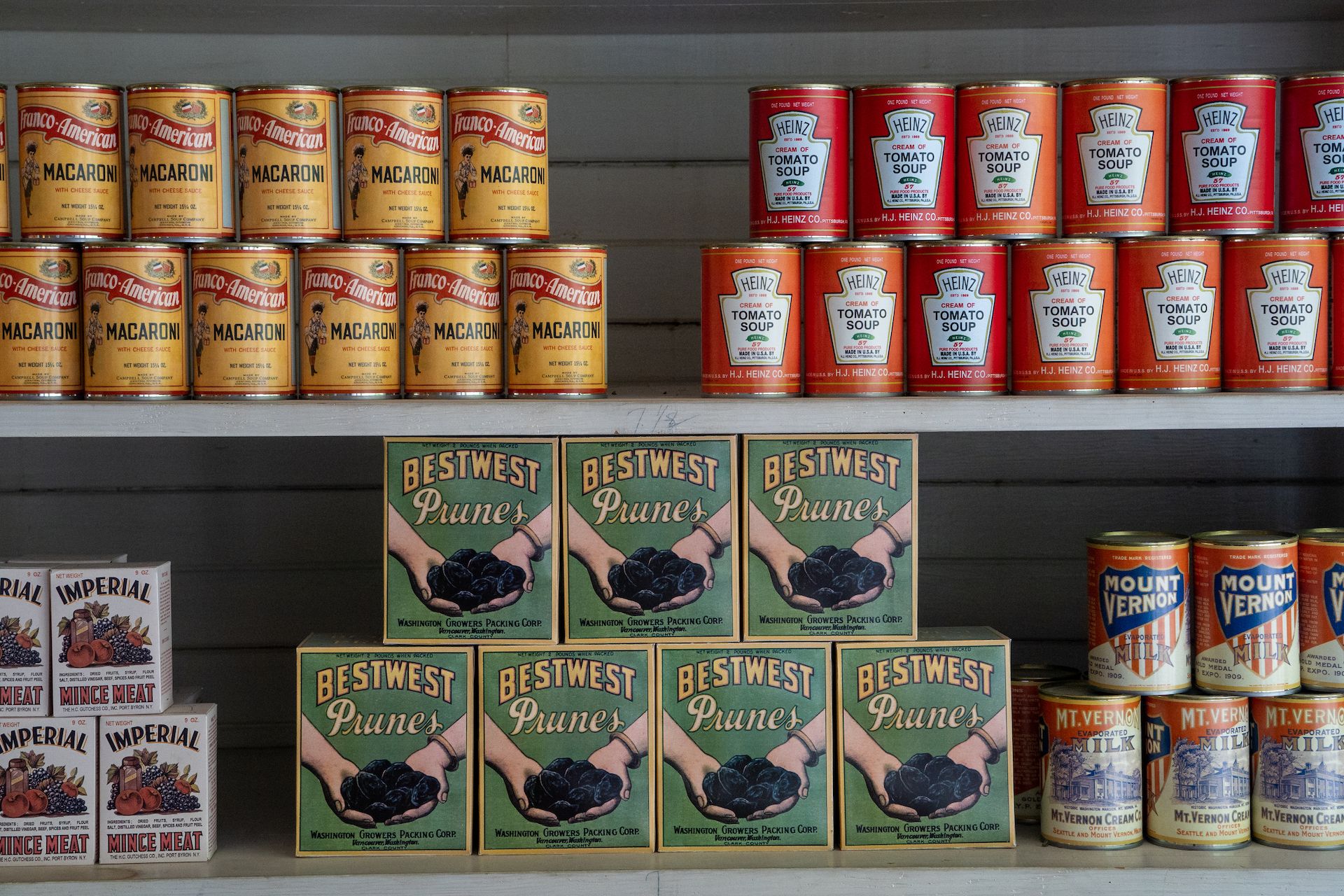 What would you like? A can of macaroni or the Bestwest prunes?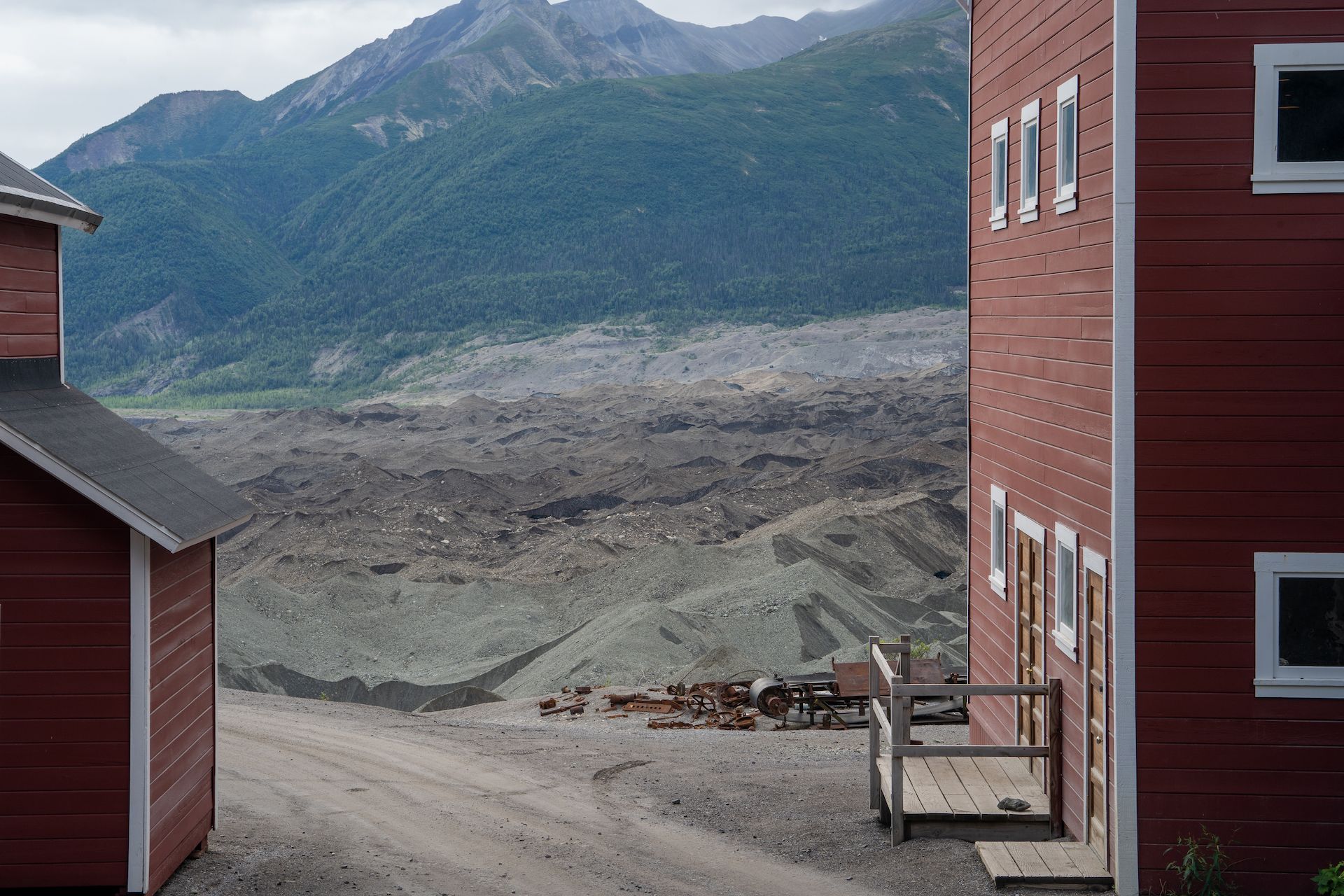 The mine was built alongside the Kennicott Glacier. The "dirt" that you see behind the building was not coming from the mines, but was actually a moraine, debris pushed by the glacier on top of the ice layer.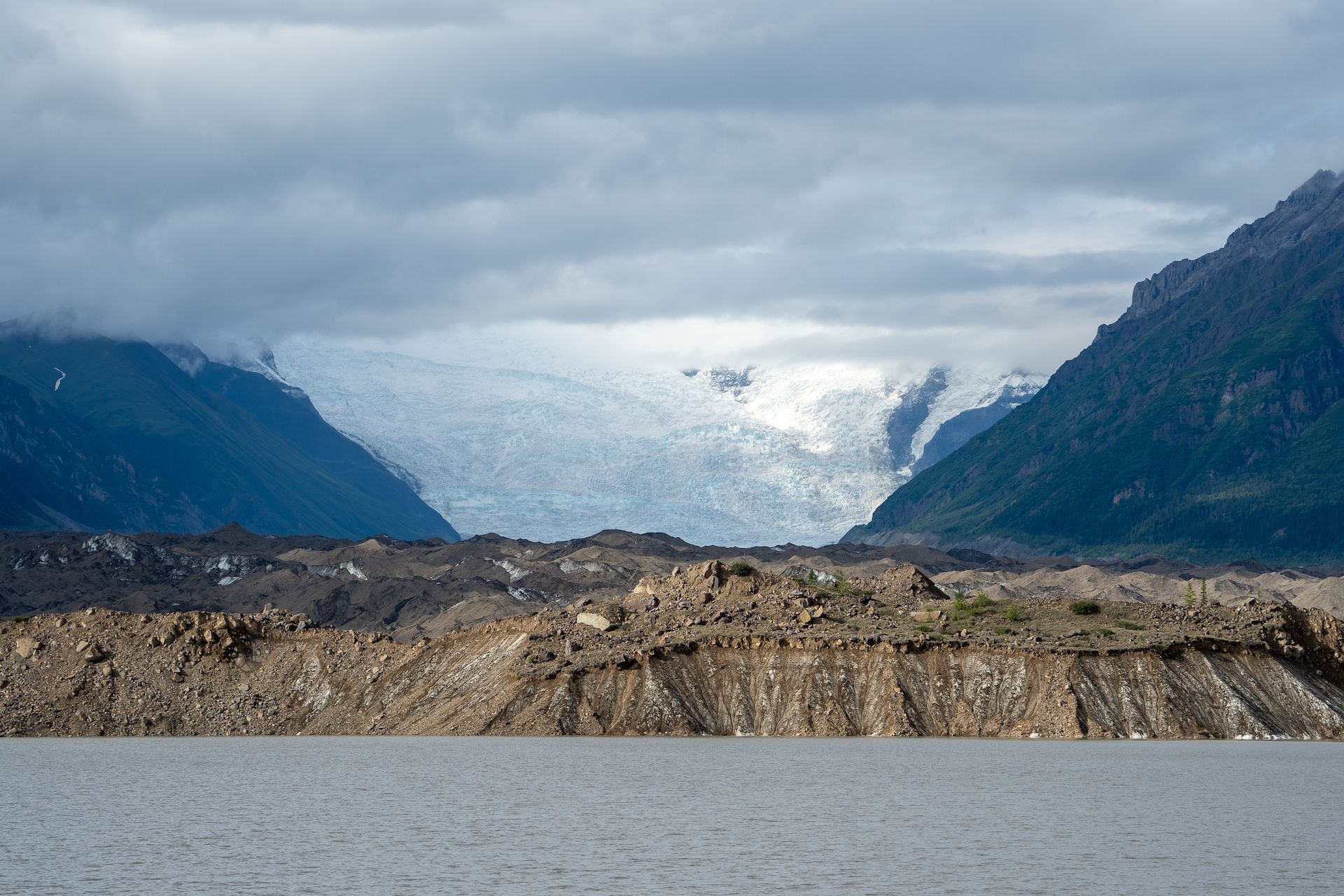 Picture taken from where we camped. At the toe of the glacier, you can clearly see the different stages of the glacier from pure blue ice to moraine to water.
Tuesday: McCarthy to Glacier View (5h / 200 Miles)
We thoroughly enjoyed our stay at McCarthy, and would have loved to take an extra day or two to hike to Root Glacier and explore around the area. However, we were excited to meet up with Rámon, the sea-kayaking instructor and guide we met in Baja in the winter, in Palmer the next day so we left Wrangell-St. Elias National Park & Preserve with fond memories and started the eastbound drive.
Palmer is about 6 hours away from McCarthy, so we took our time stopping along the way and camped along an inviting dirt road in a beautiful valley not too far from Glacier View.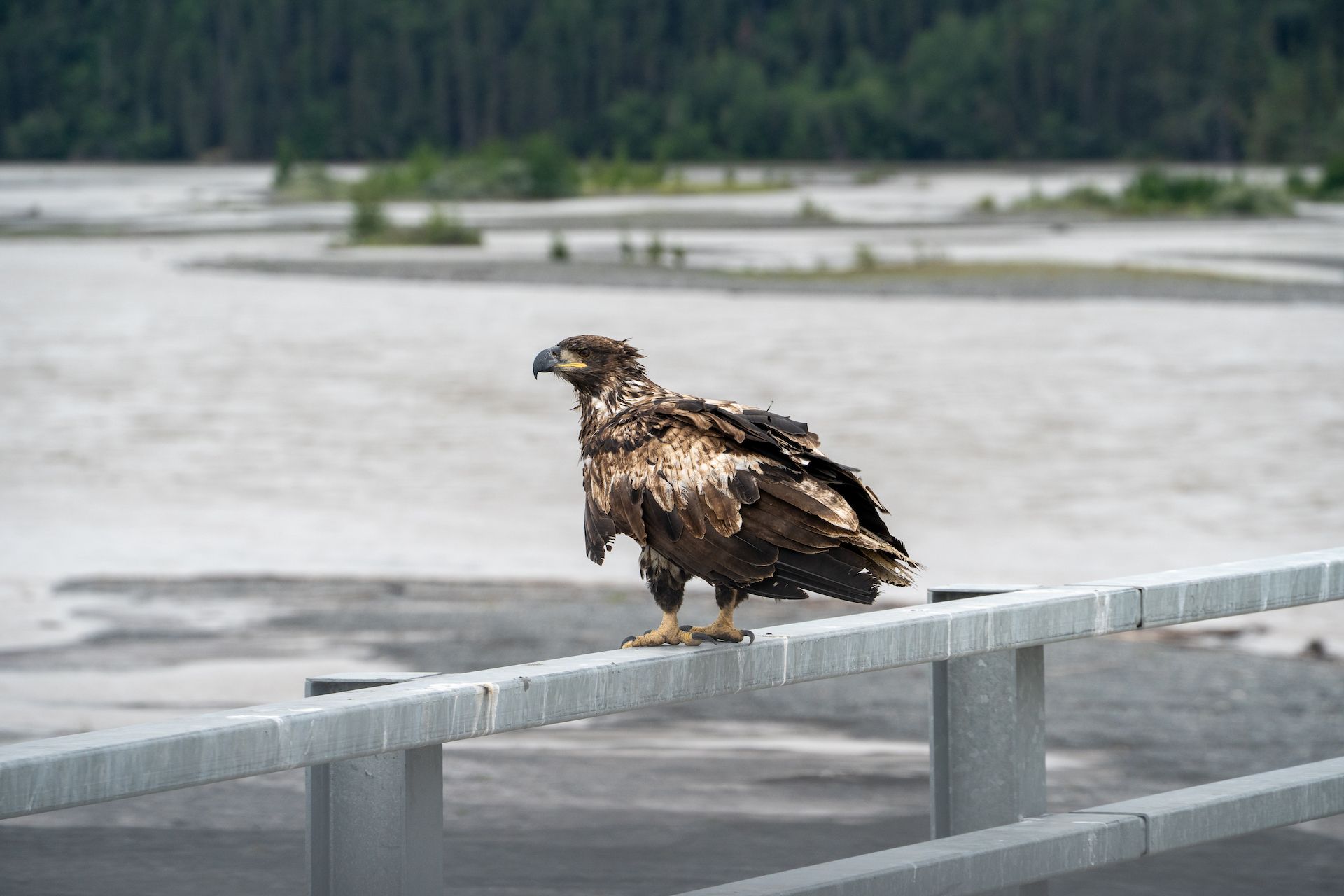 We were so surprised to see a golden eagle up close on the bridge crossing the Chitina River.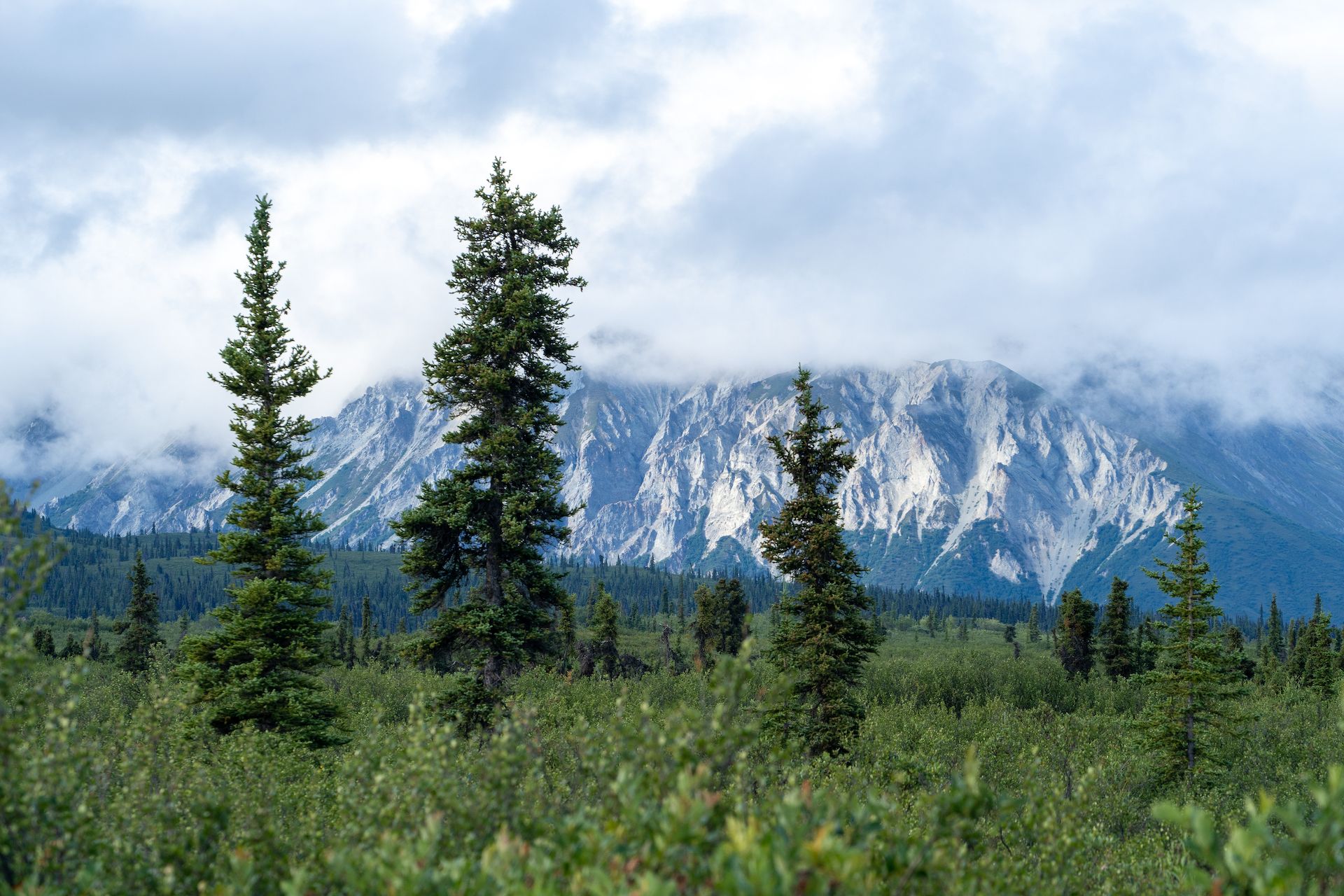 View from the road to Glacier View
Do you also find this road inviting? 😇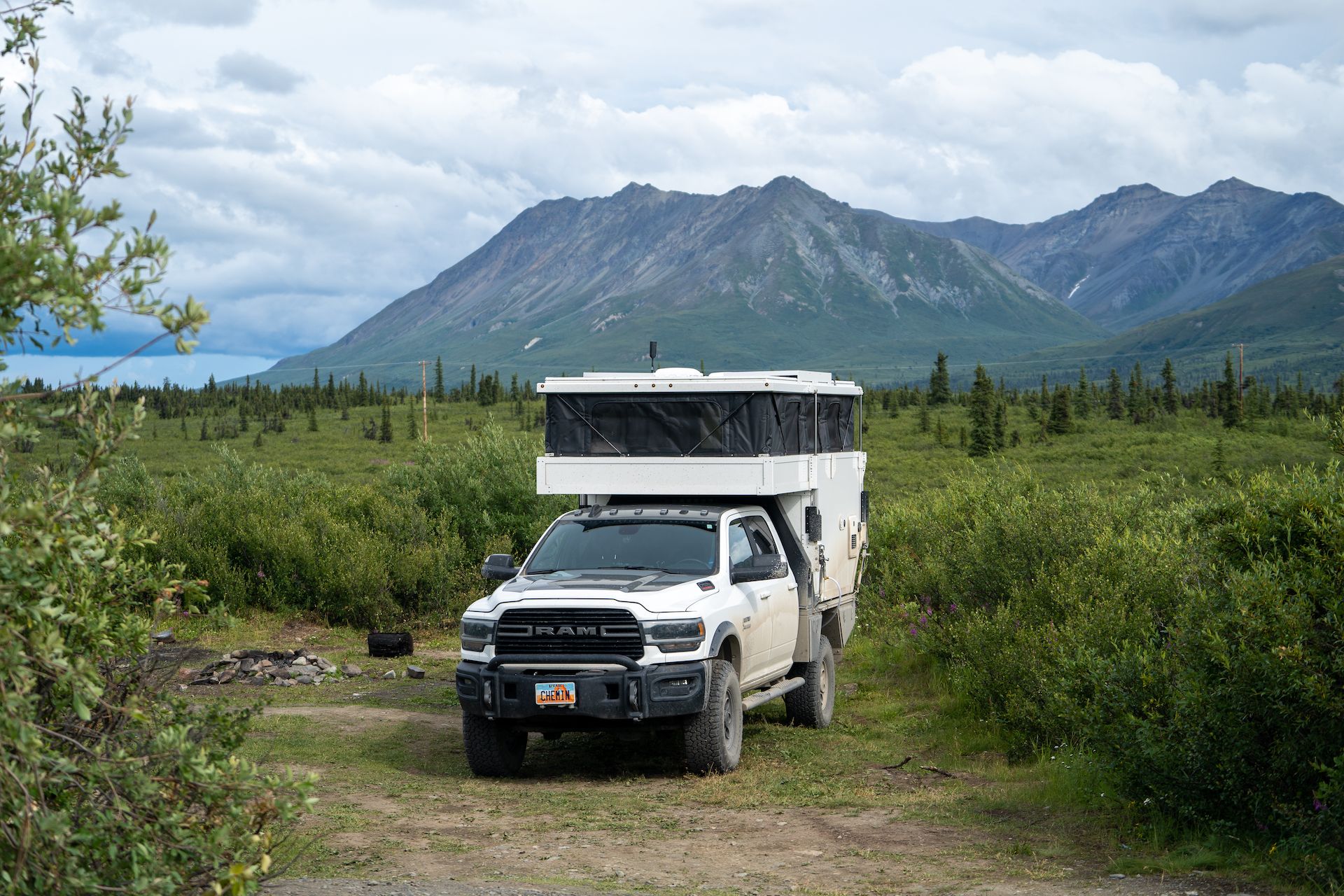 That will do!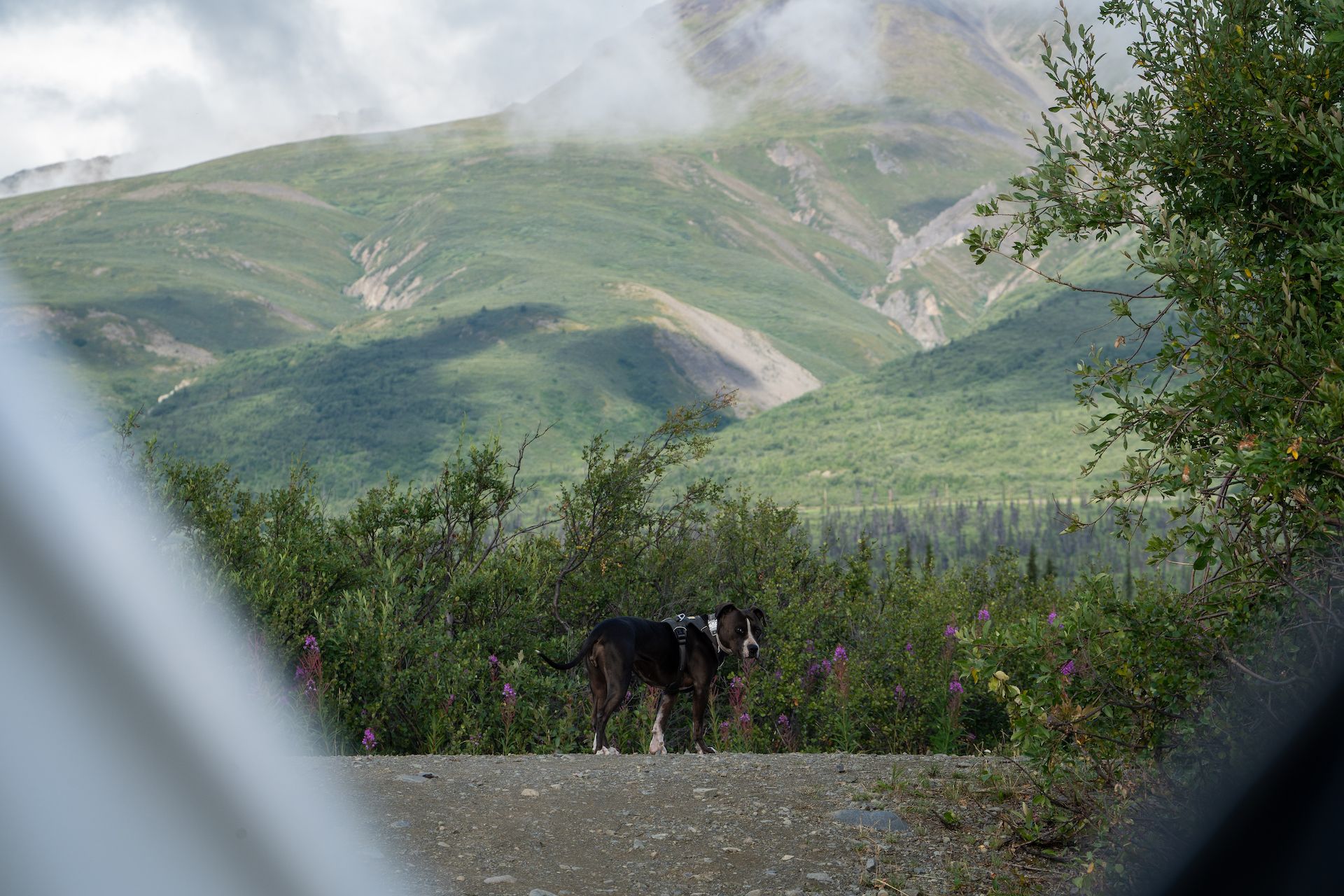 Margo went on a hike around camp off-leash… 😬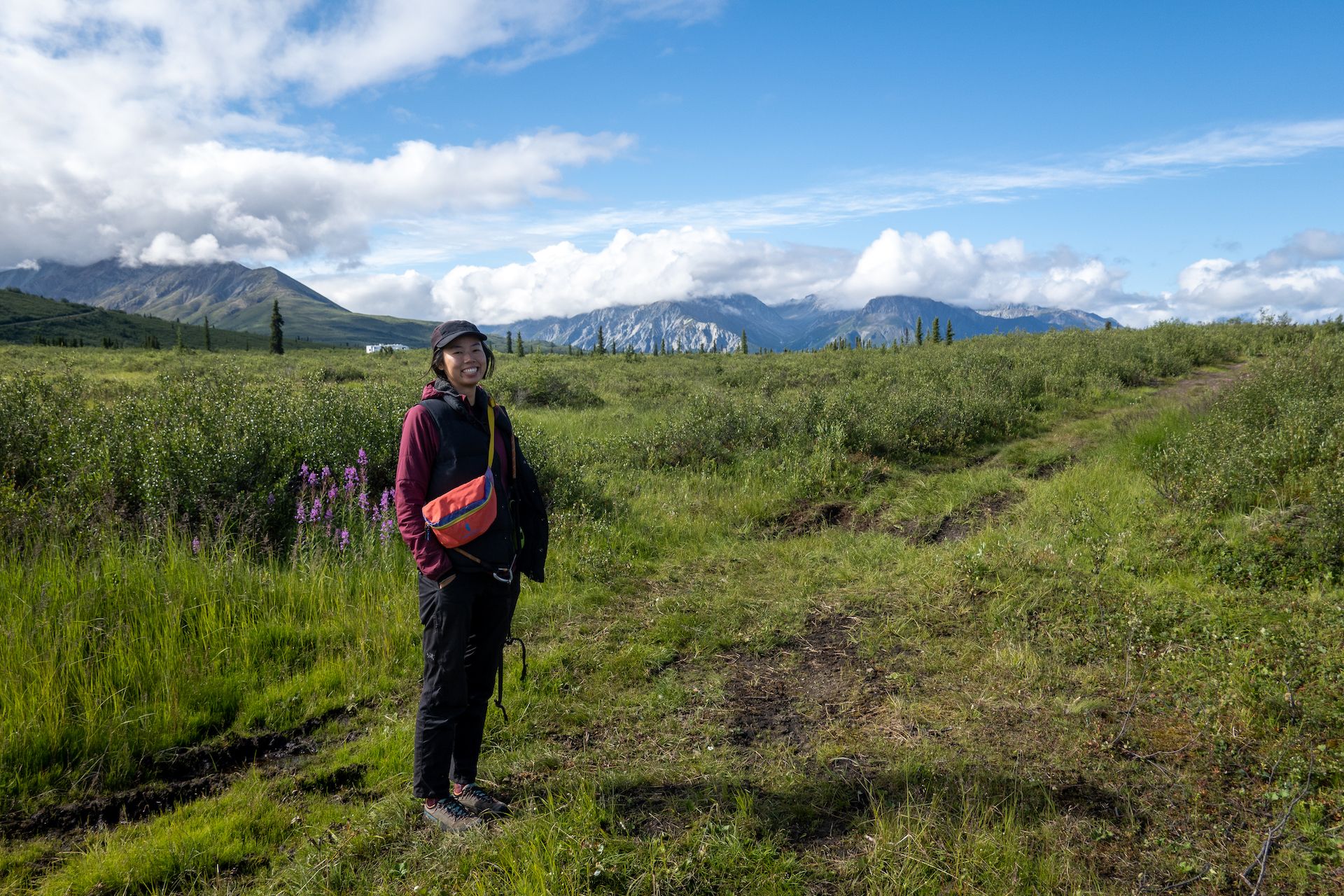 …while we did our own!
Wednesday: Glacier View to Palmer (1h / 60 Miles)
The drive to Palmer was short but eventful. We ran into Joshua, who is traveling with his father and a friend in the exact same truck and camper as ours! We knew each other from Instagram, so it was fun to meet in person. Joshua and his family are Chinese so it was a great opportunity for Kuan to exchange travel stories in her mother tongue.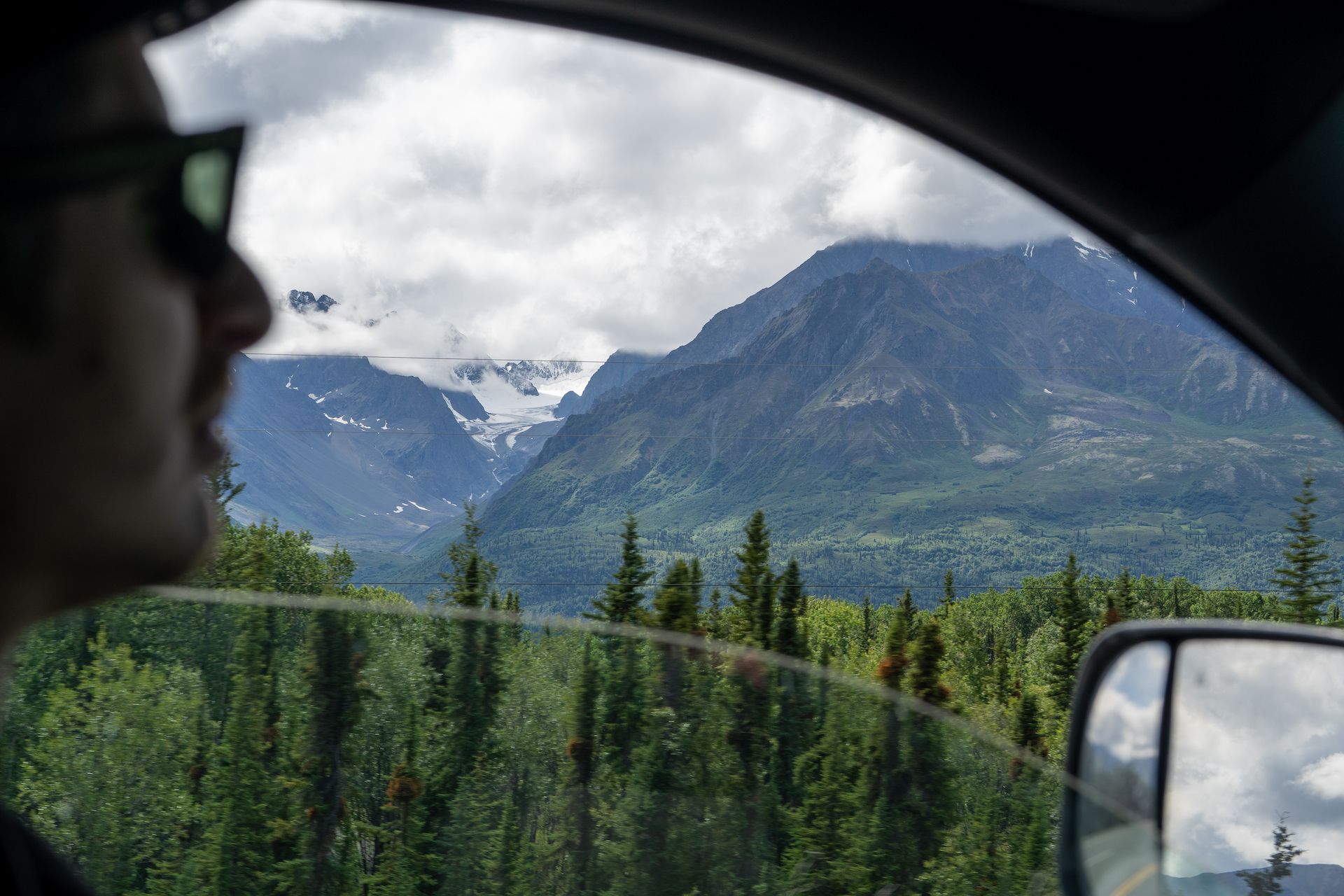 We saw many glaciers from the road to Palmer.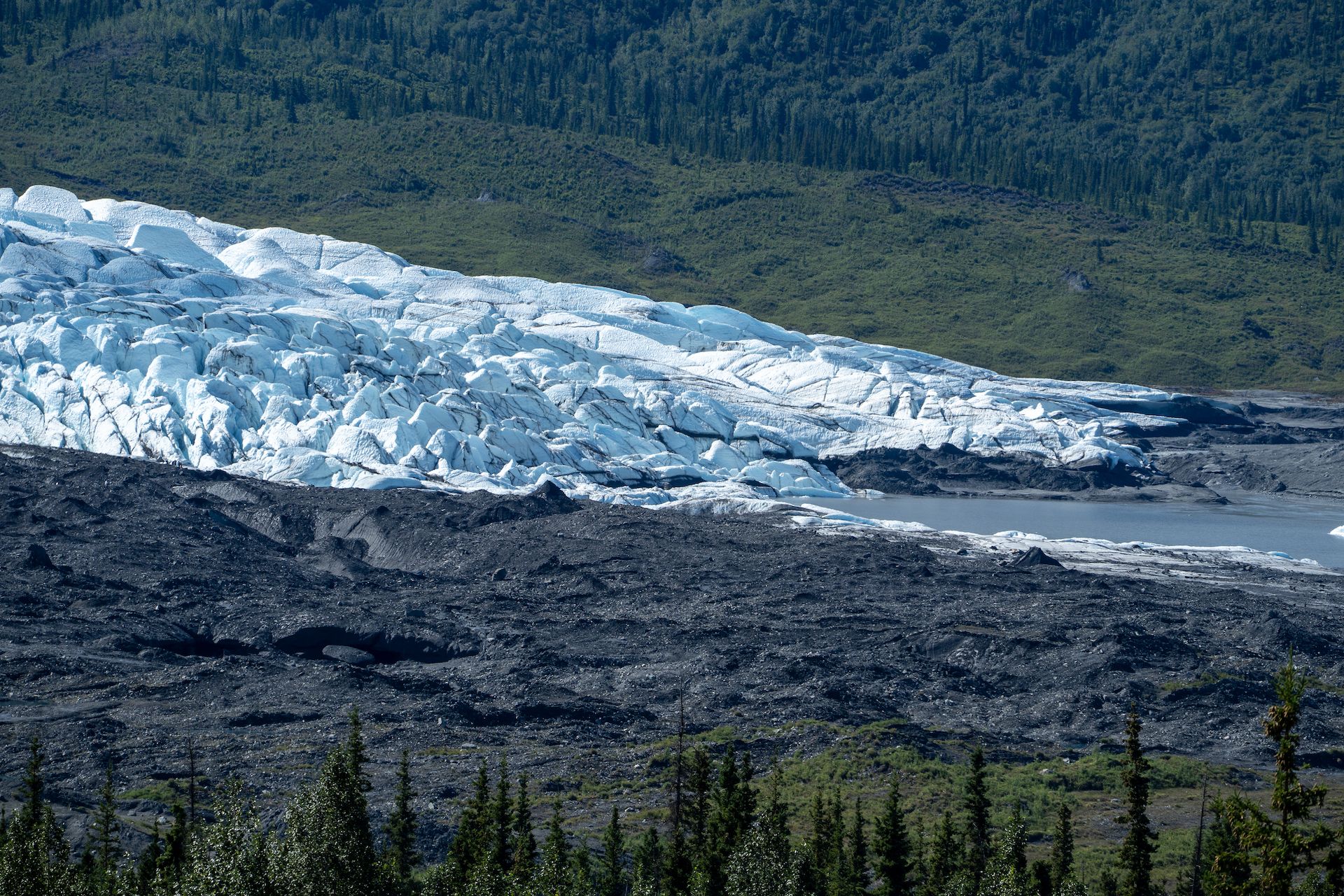 A close-up of the Matanuska Glacier that ends its course just a couple miles from the highway.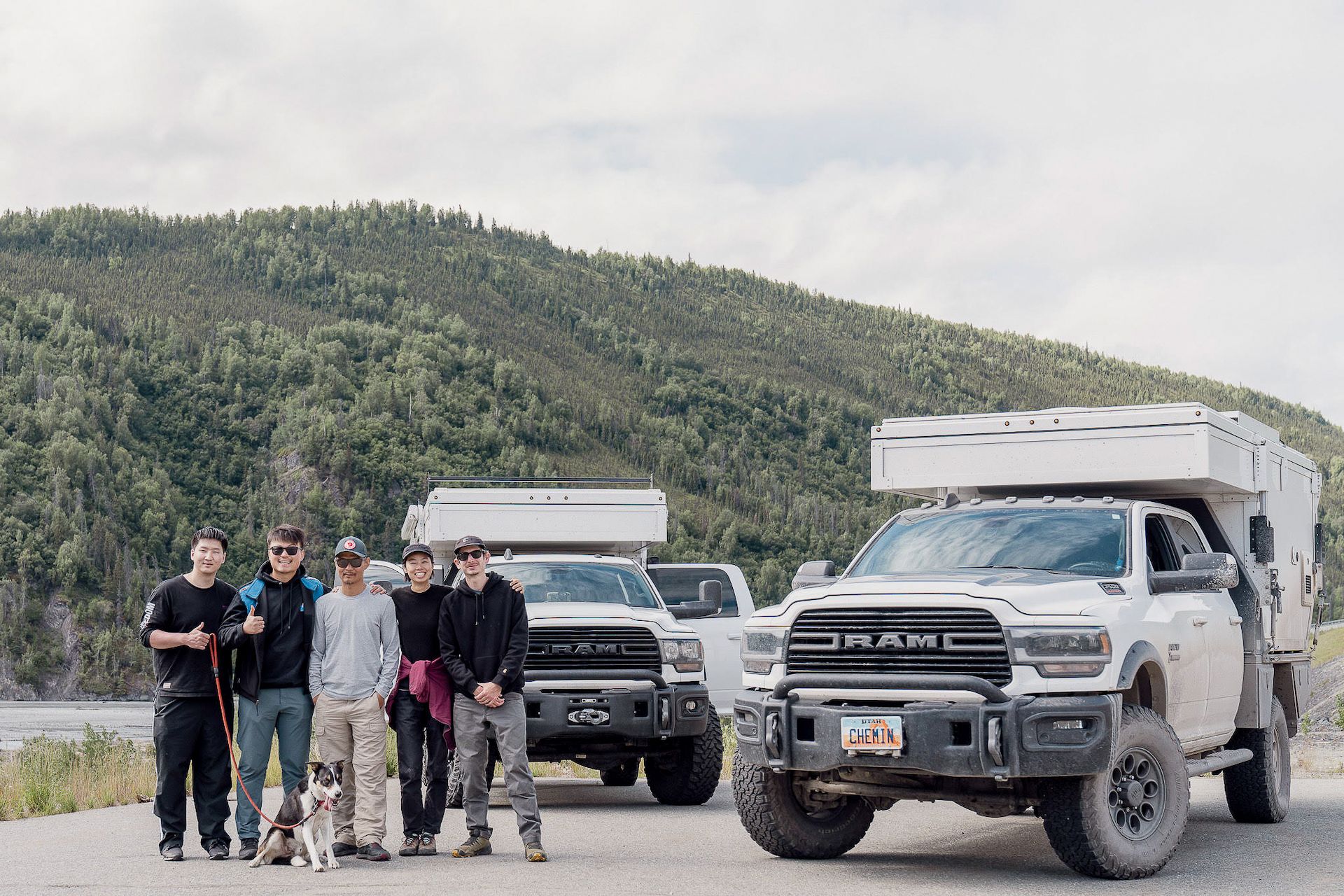 Nice to meet you, Joshua! And thank you for this lovely picture.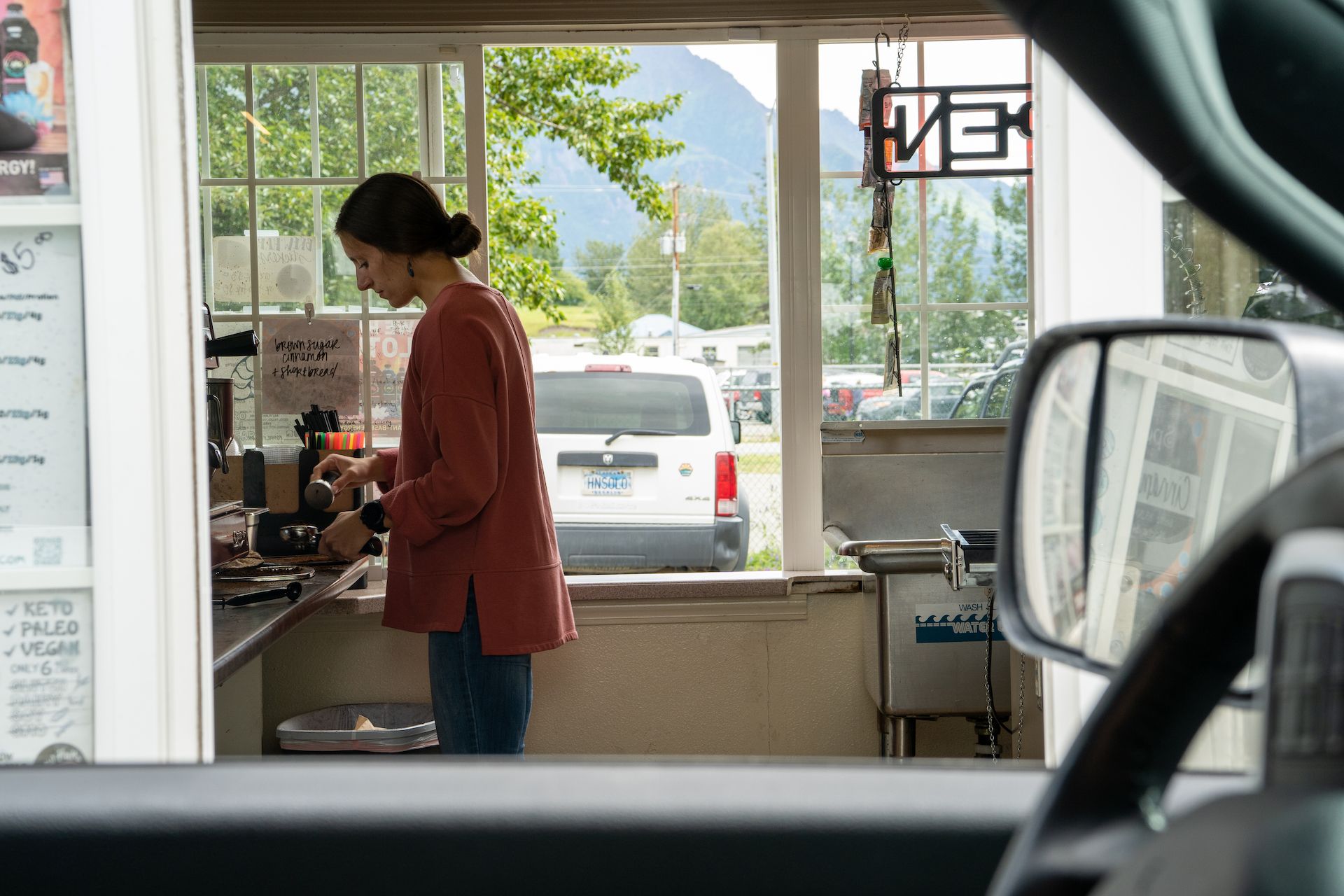 When we arrived in Palmer, we stopped (again) at Brew Haha. The coffee is very good and the service friendly! For our non-American readers who are not used to seeing this, yes, we order and wait for our coffee directly from our car. 🇺🇸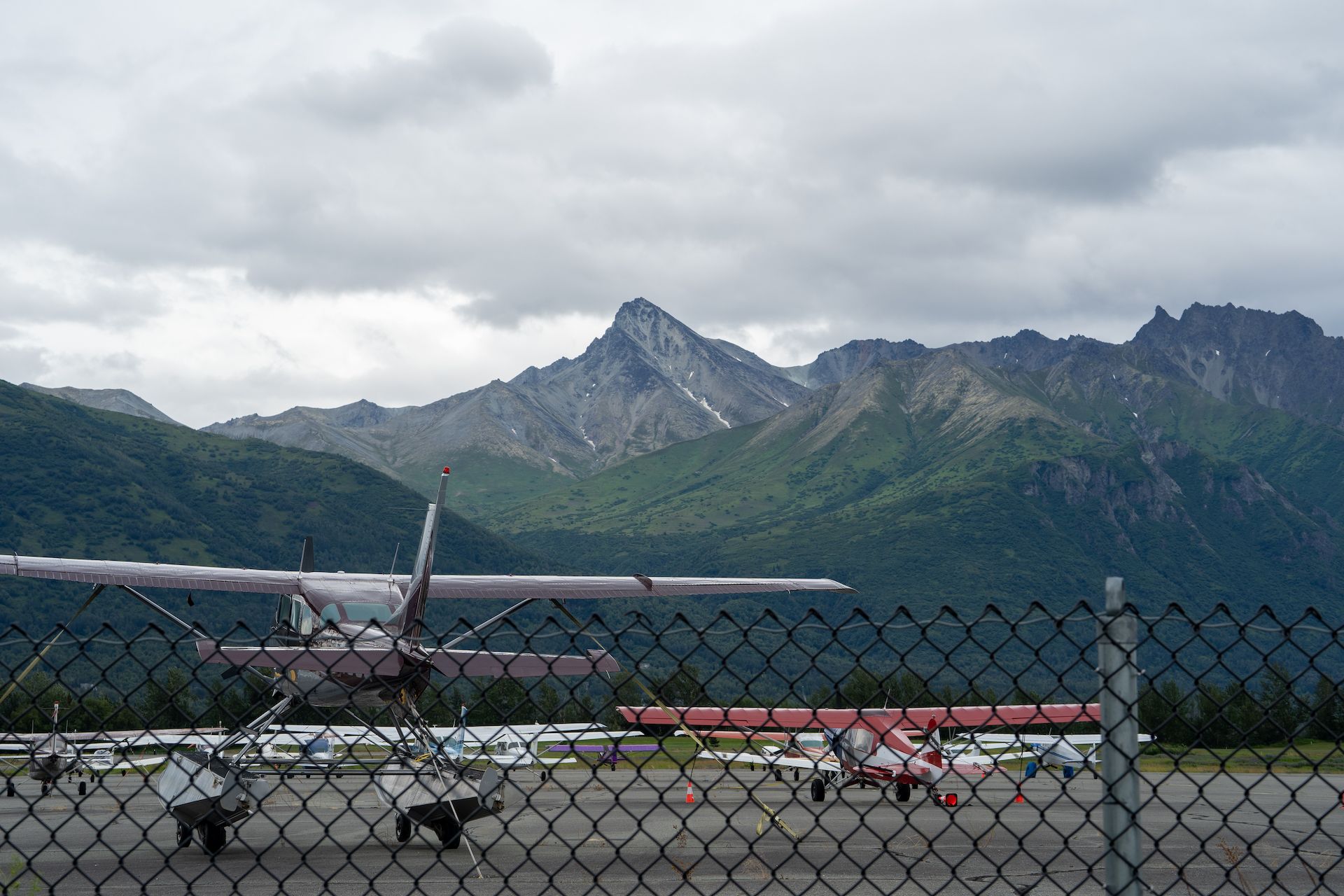 View of the mountains around Palmer from the local airport
We were hoping to meet Rámon for dinner but he didn't get back home from a fishing trip until late. So we decided to stay in the local campground and meet for breakfast the following morning.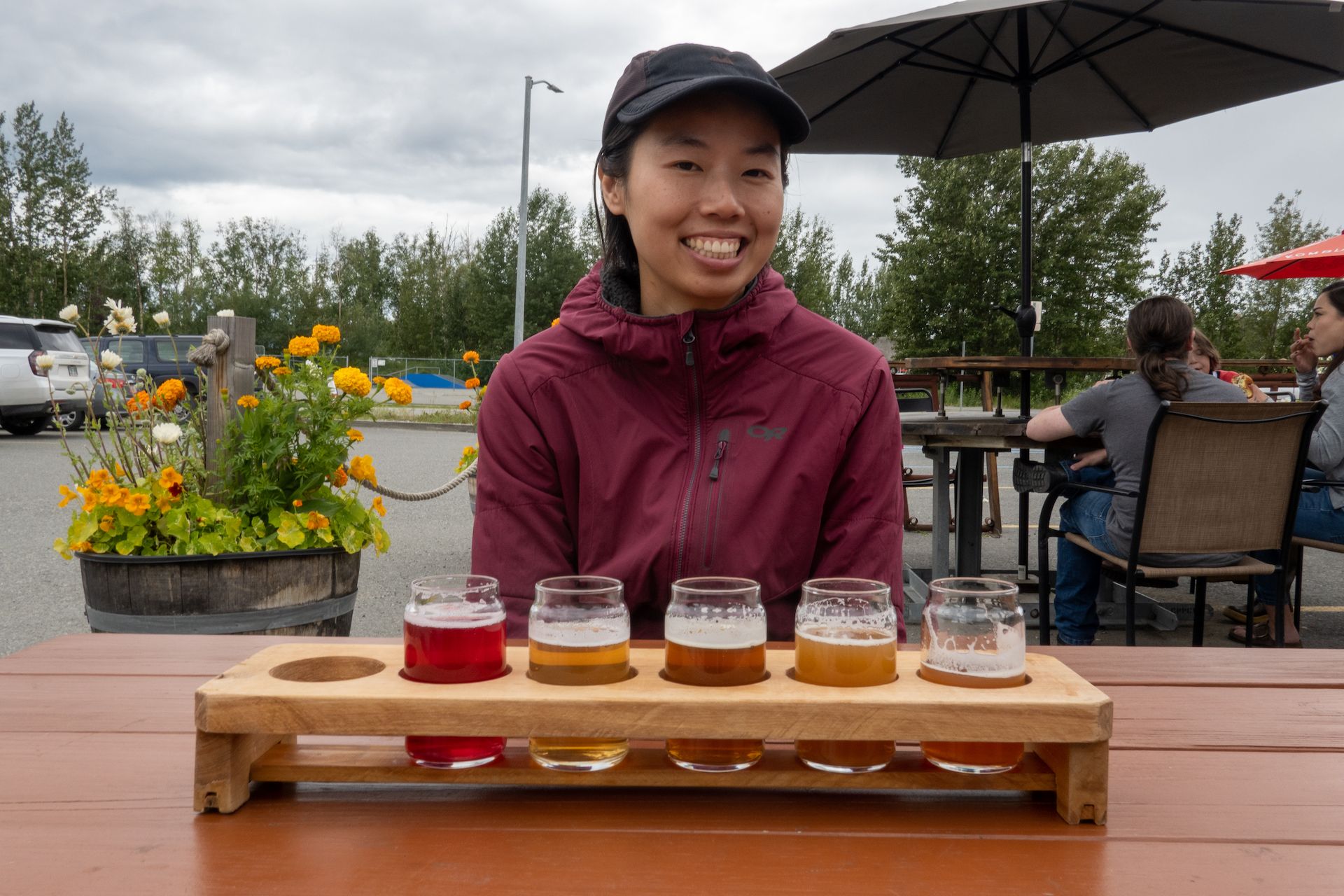 We finished the day at 203 Kombucha, the local "kombuchery." Kombucha is a fermented, non-alcoholic, lightly sweetened black tea drink. Since we aren't big beer drinkers, having a flight of kombucha is as close to a brewery experience as we can get.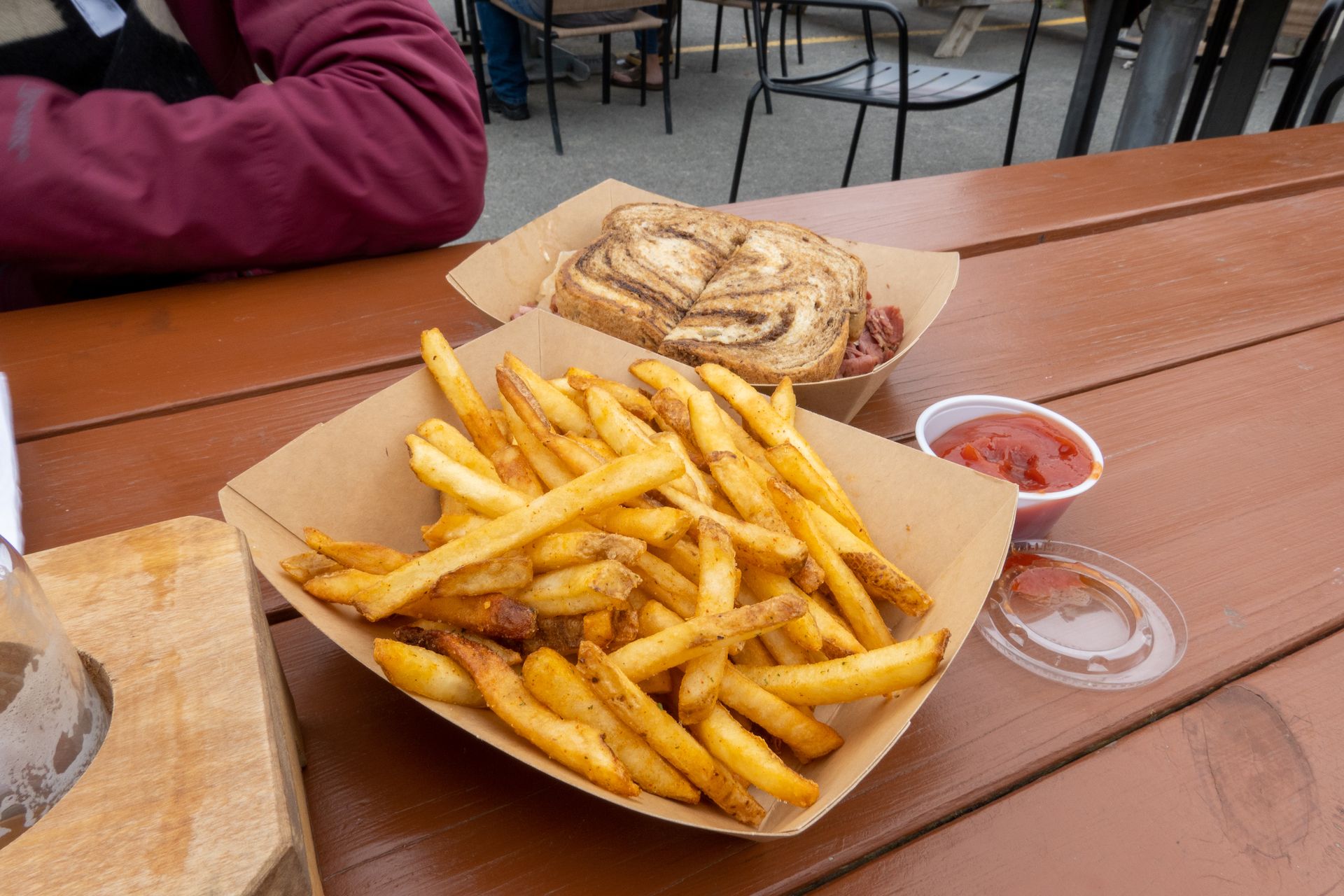 It was only 4pm but we were quite hungry so we ordered a reuben sandwich from the food truck Reuben Haus that was parked at 203 Kombucha. And it was delicious!
Thursday: Palmer to Willow via Hatcher Pass (1h30 / 50 Miles)
We woke up early and made our way to the café where Rámon suggested. Little did we know that Rámon has been coming to Alaska to teach for NOLS in the summer for over 18 years. We caught up on our travels in the past few months, his leisure adventures between the courses, and how much we miss the food in Baja.
Before we parted, Rámon offered us a fillet of halibut that he fished the day before. Thank you, Rámon!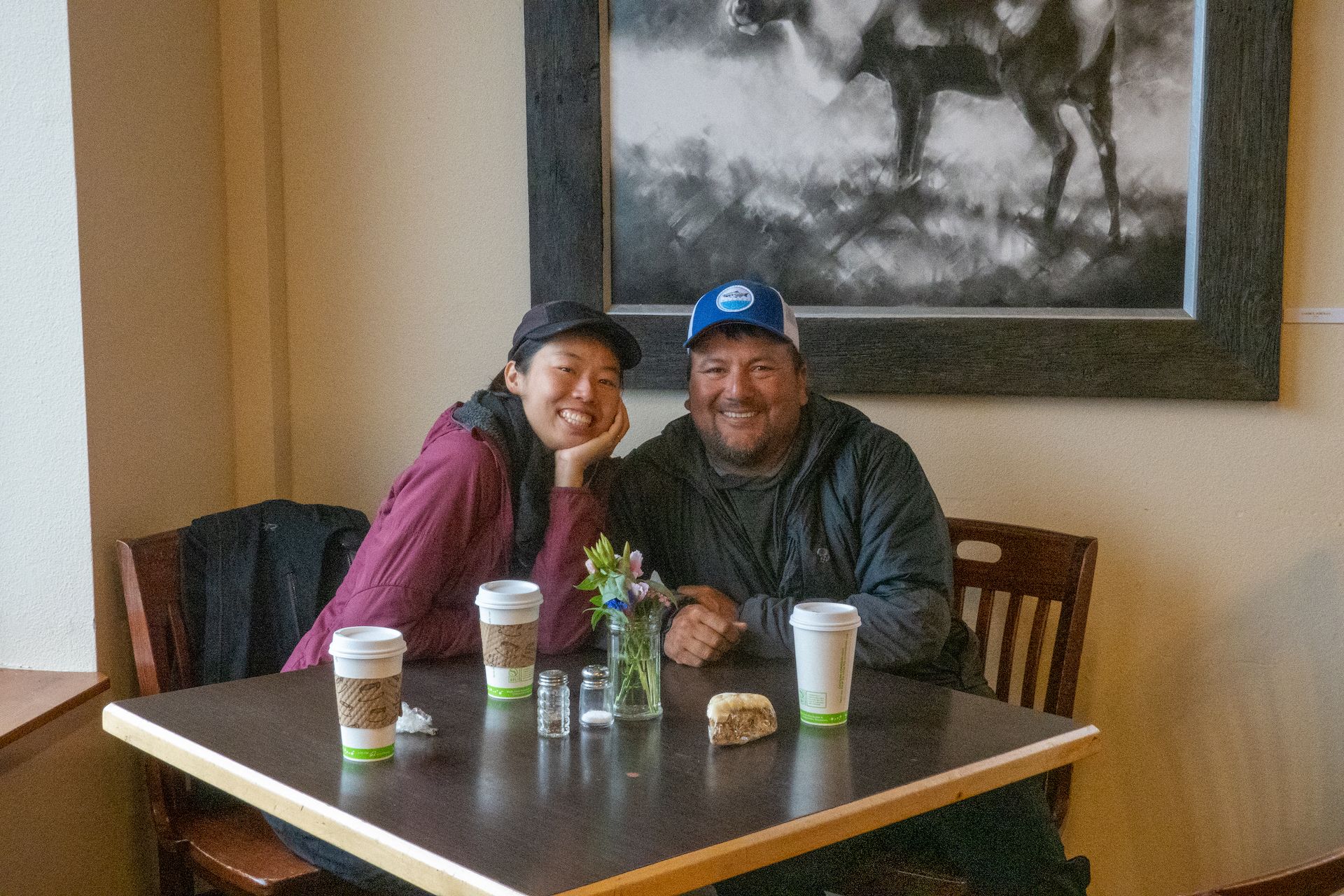 Meeting up with friends in other parts of the world is what makes traveling special.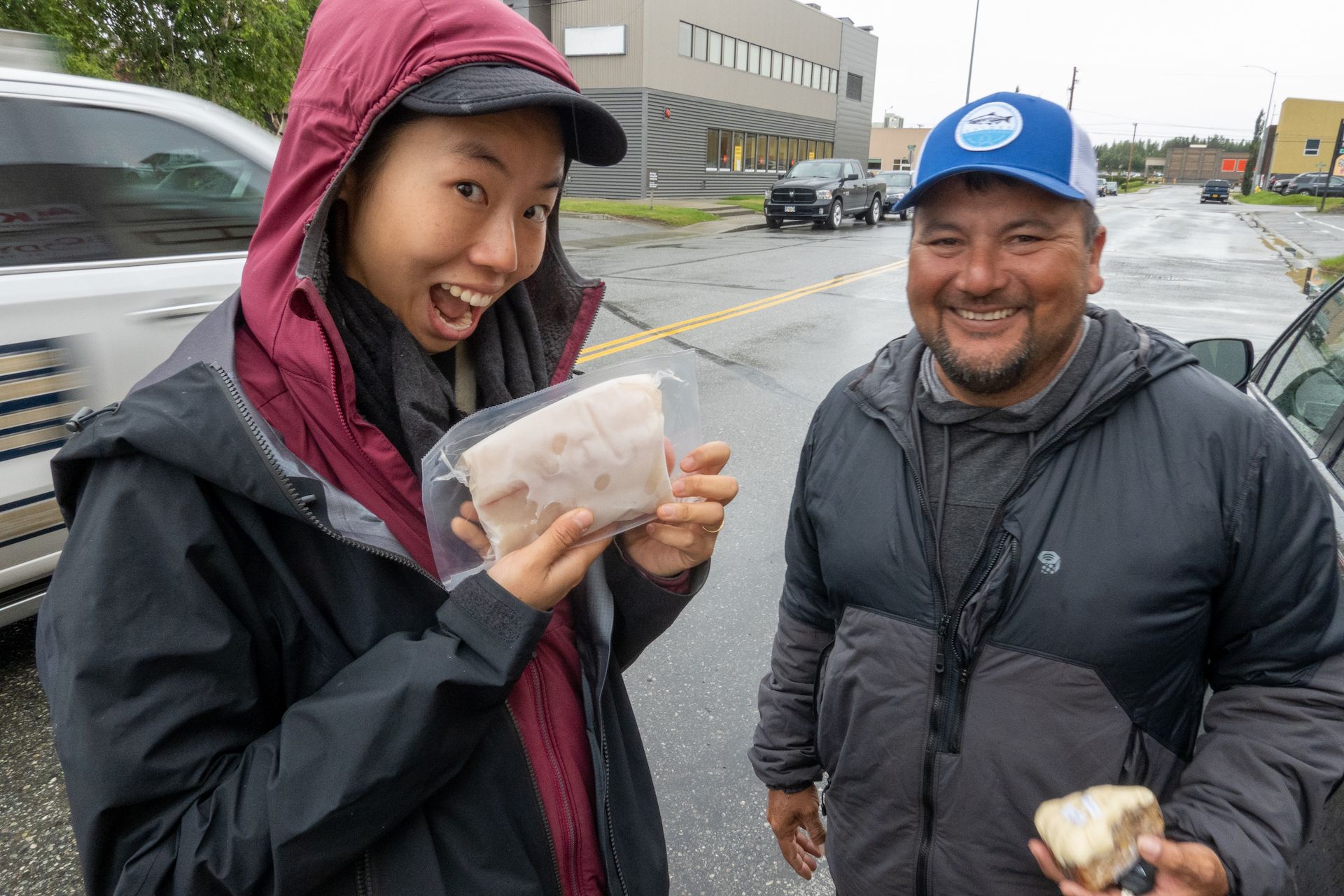 Fresh halibut! Food is the best kind of gifts.
It was still early when we left the café and our only goal for the day was to drive to Willow. We decided to take the Hatcher Pass road again since we did not finish driving it last week when the roof of our camper broke down.
Why Willow? Well, Kuan had to be on her computer for a class this weekend so we booked the best affordable Airbnb nearby we could find!
Hatcher Pass, still foggy, rainy and beautiful like last week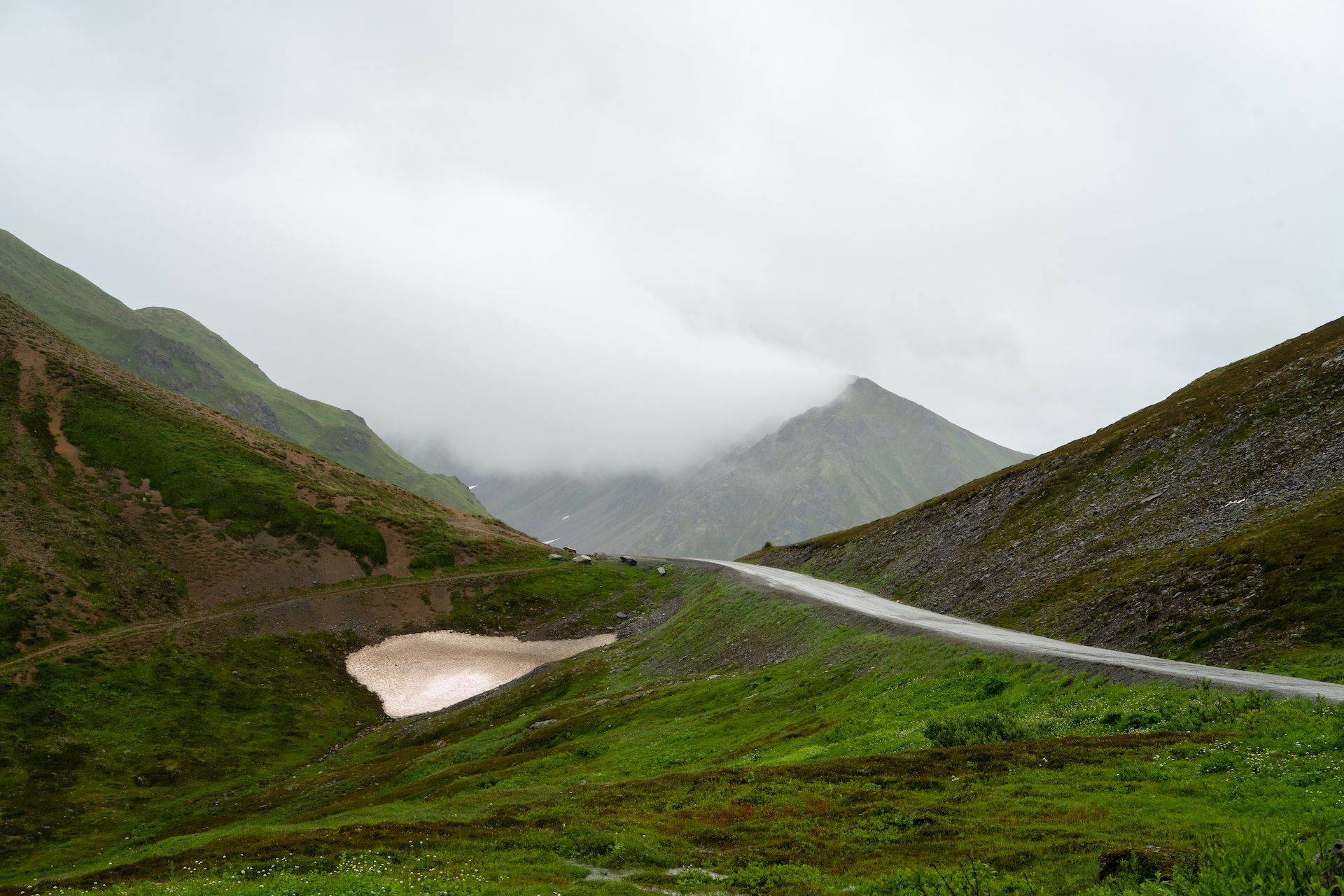 Top of Hatcher Pass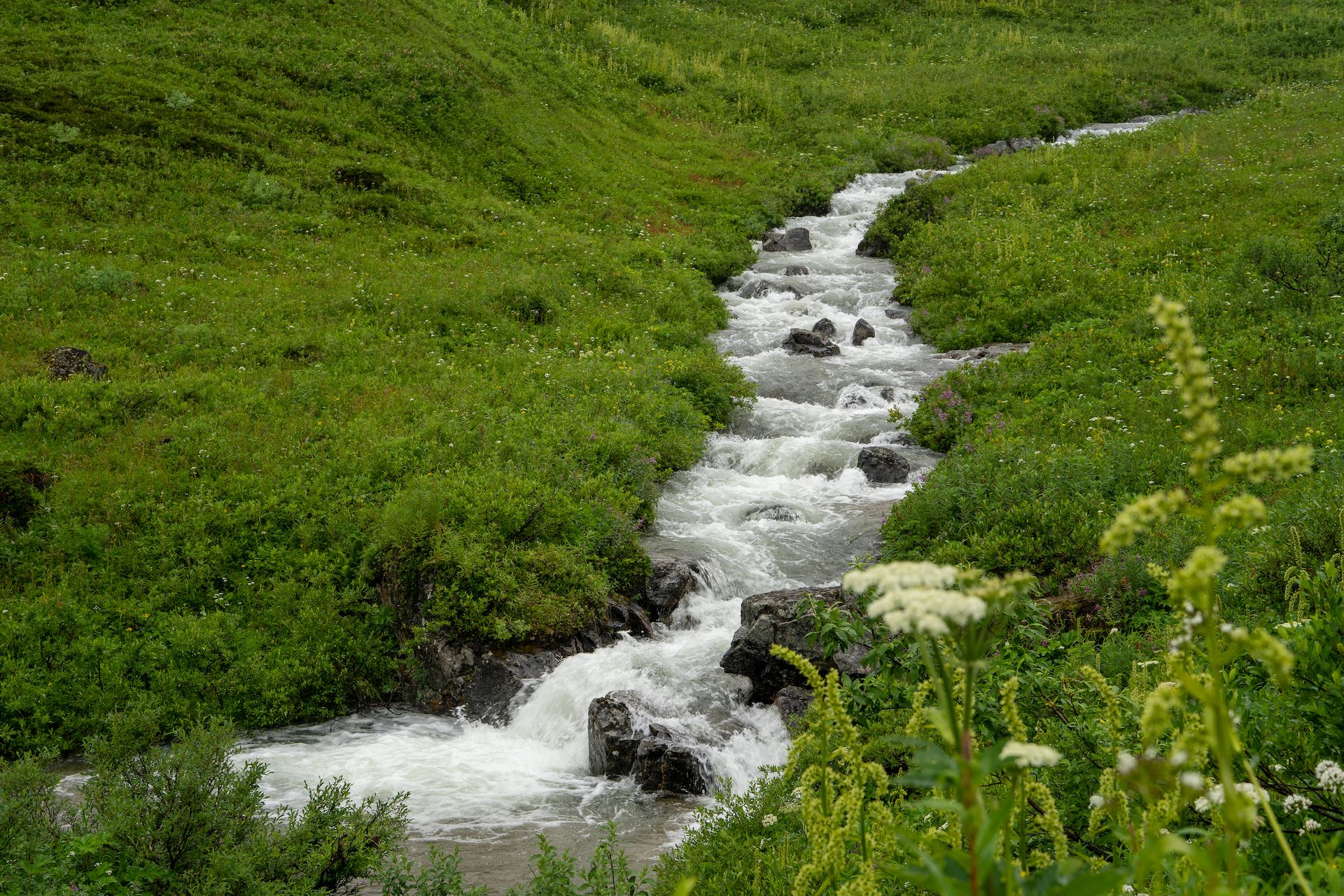 A small creek running by the road
As we were about to arrive in Willow, we realized that it was too early to check-in in the Airbnb. So we found a nice little spot to stay cozy and warm in the camper by a creek while it was pouring outside.
Waiting for the rain to pass
Friday, Saturday & Sunday: Willow
Willow is a village of about 2,500 people and is known to be the mushing capital of the world. It is the start of the Iditarod sled dog race that runs every year in early March. Mushing teams travels about 1,000 miles in freezing temperatures from Willow to Nome at the northeastern tip of Alaska. We also learned that Willow has more dogs per capita than anywhere else in the world — no wonder we hear more of our dog neighbors than human ones when we walked around. We will go on a dry mushing tour next week (obviously, when in Willow…) so you will see photos in the next blog post.
Willow is also the meeting point with our friends Renda and David who drove all the way from New York to Alaska for the summer! The four of us will spend the next couple of weeks traveling together.
We spent our weekend joining Zoom calls, catching up on emails and TV shows, cooking, reading, and resting. It was lovely to have a break from camping and chill at an Airbnb for a few days. On Monday, we will head south to the Kenai Peninsula to explore new territories. Hope the sun will stick around! See you next week.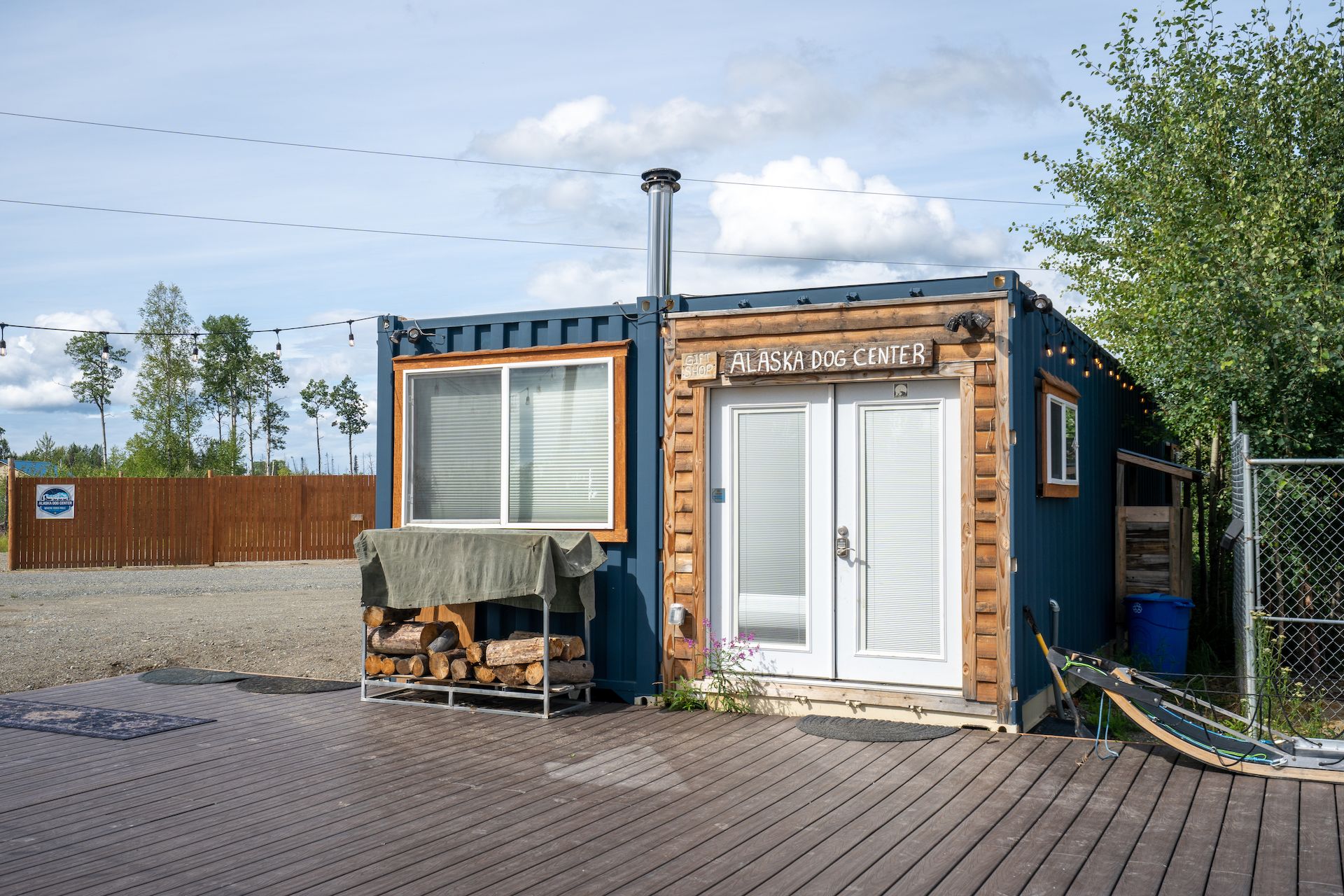 The cozy, dog-friendly Airbnb is run by the owner of the Alaska Dog Center. Margo seemed to like the place instantly.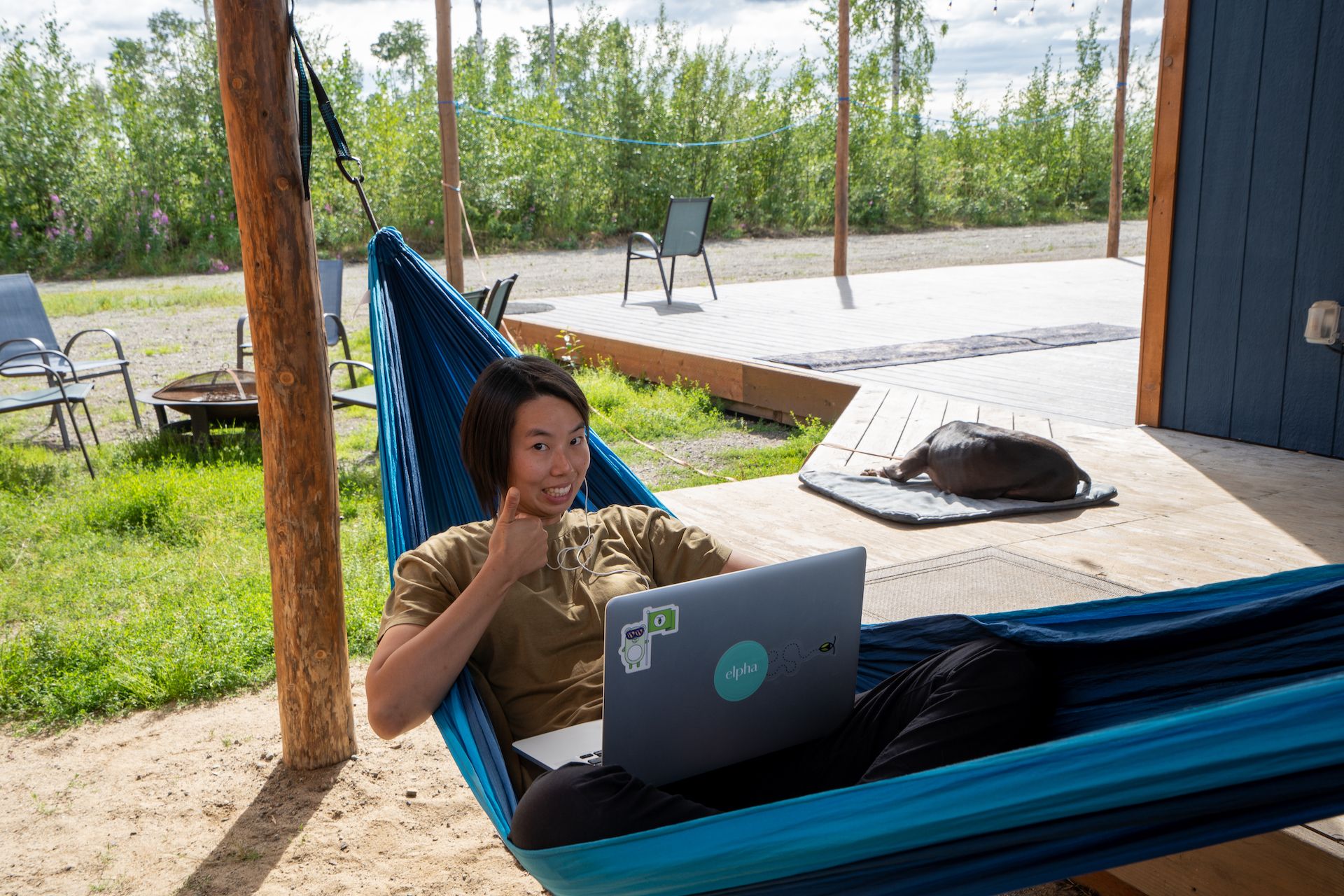 Kuan enjoying the "warm" weather in the hammock…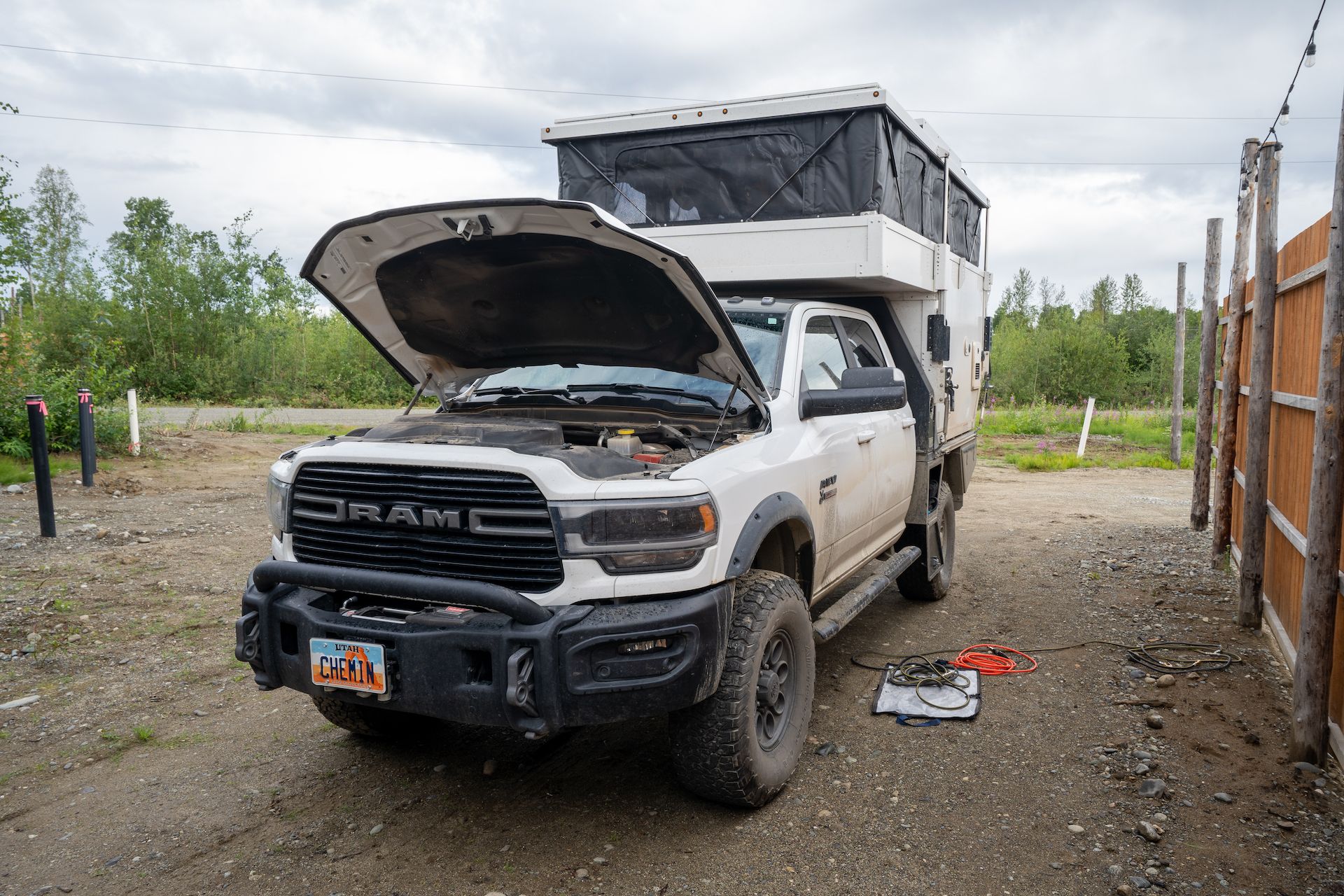 …while Victor did some basic maintenance on the truck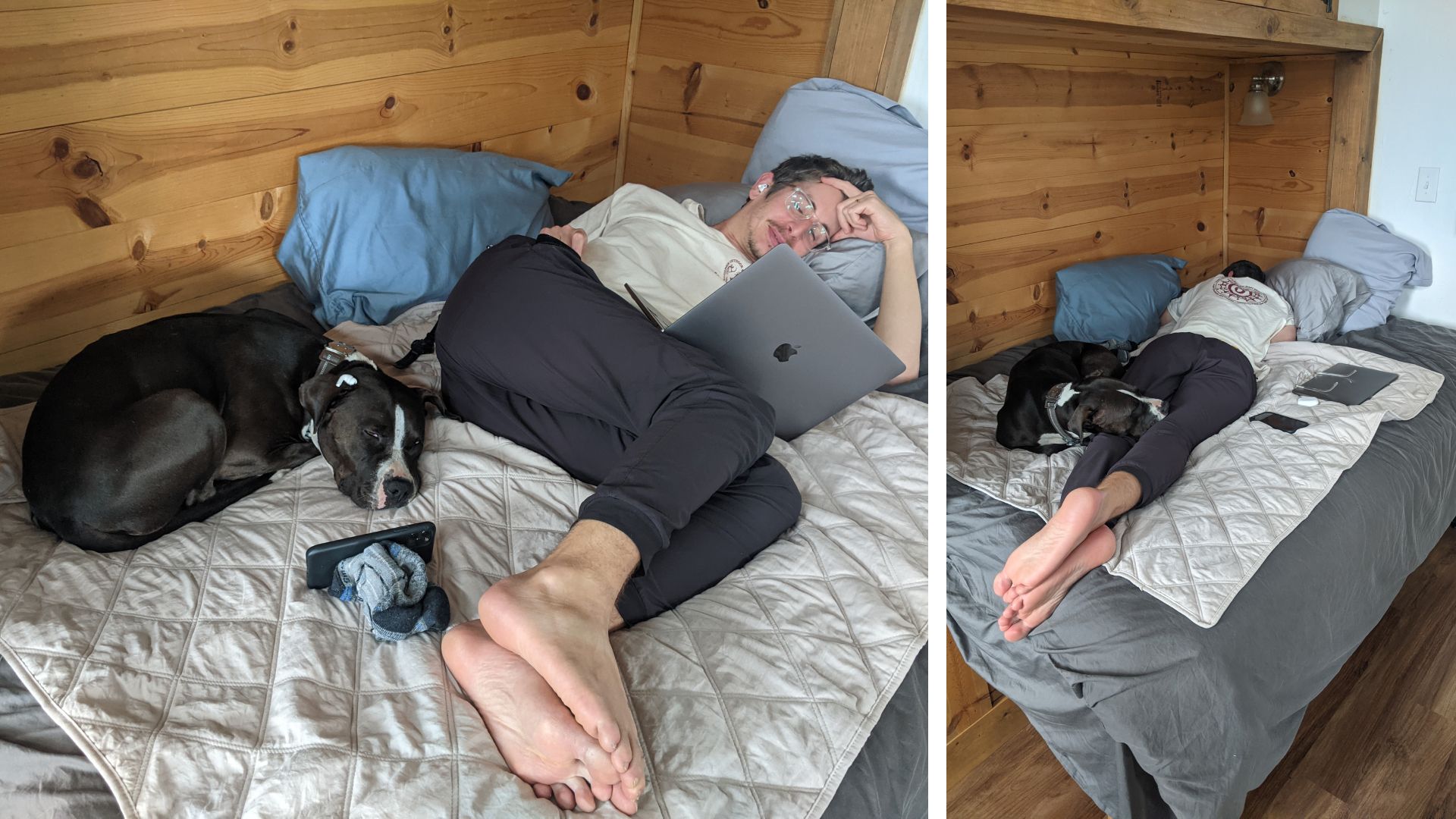 The majority of the family also enjoyed a nap after some screen time every single day. 🤣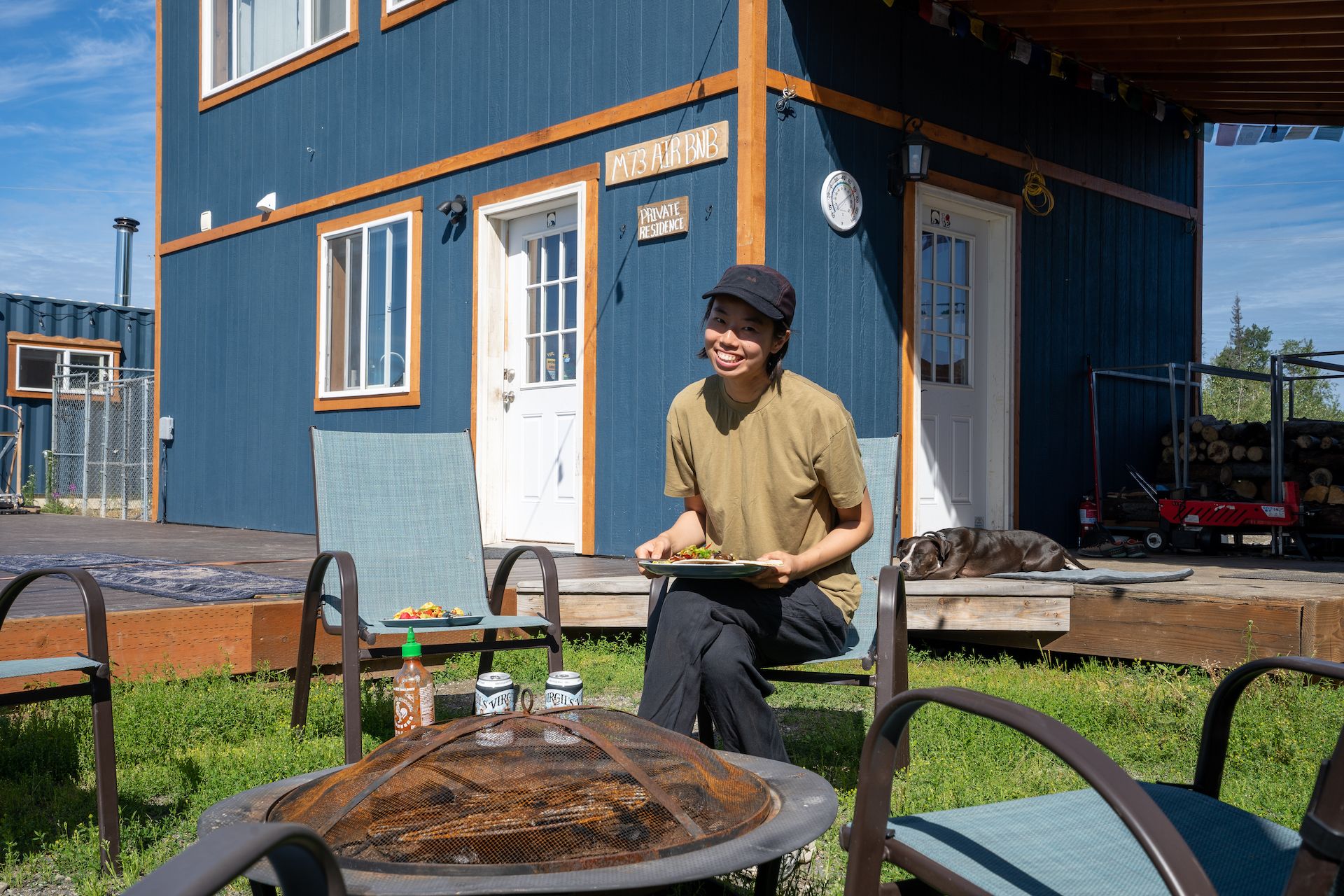 We finally had the opportunity to eat our lunch outside and in t-shirts! (We also realized that we don't take as many pictures when it's raining.)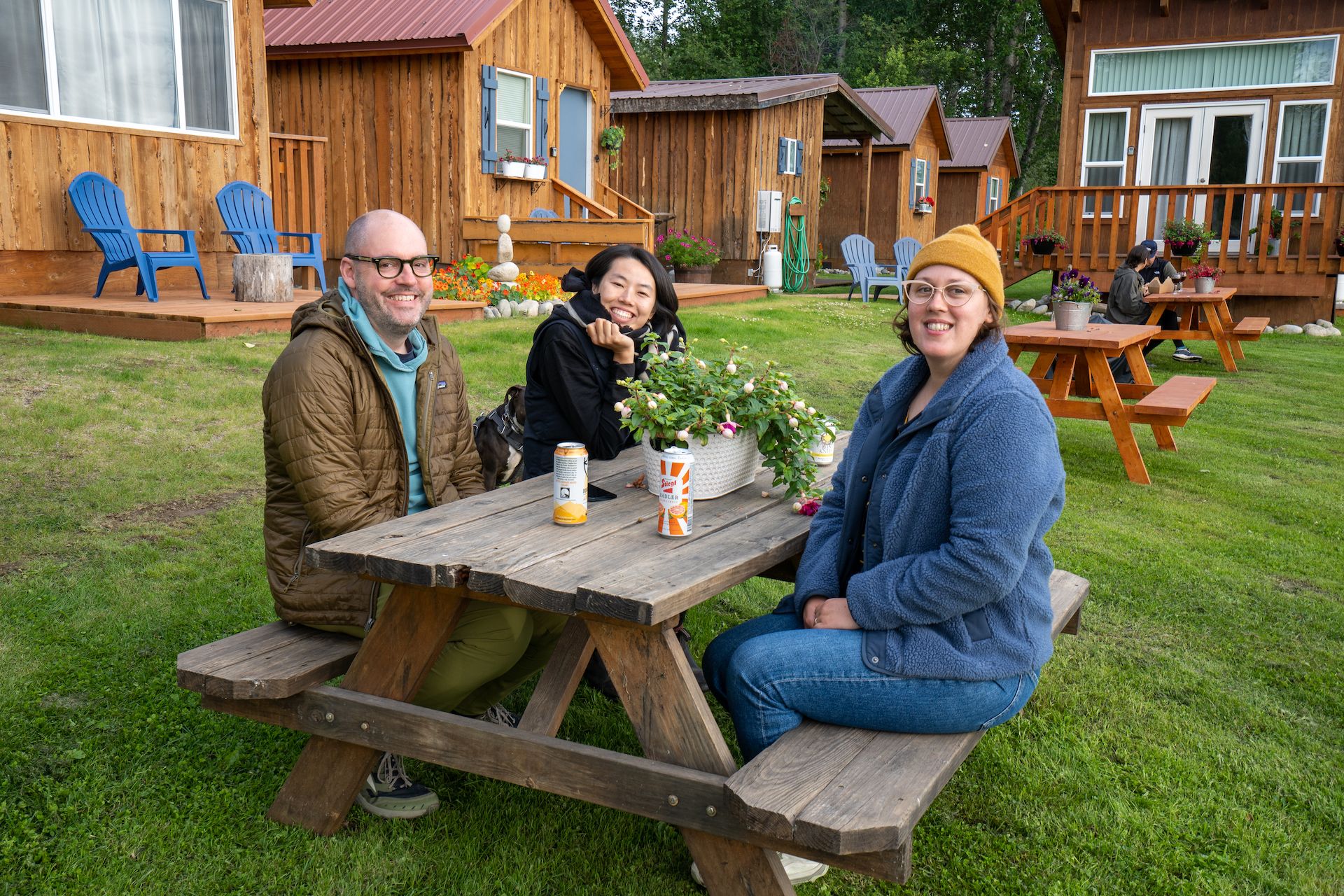 Renda and David outside of their cabin in Talkeetna, a short 45-min drive from Willow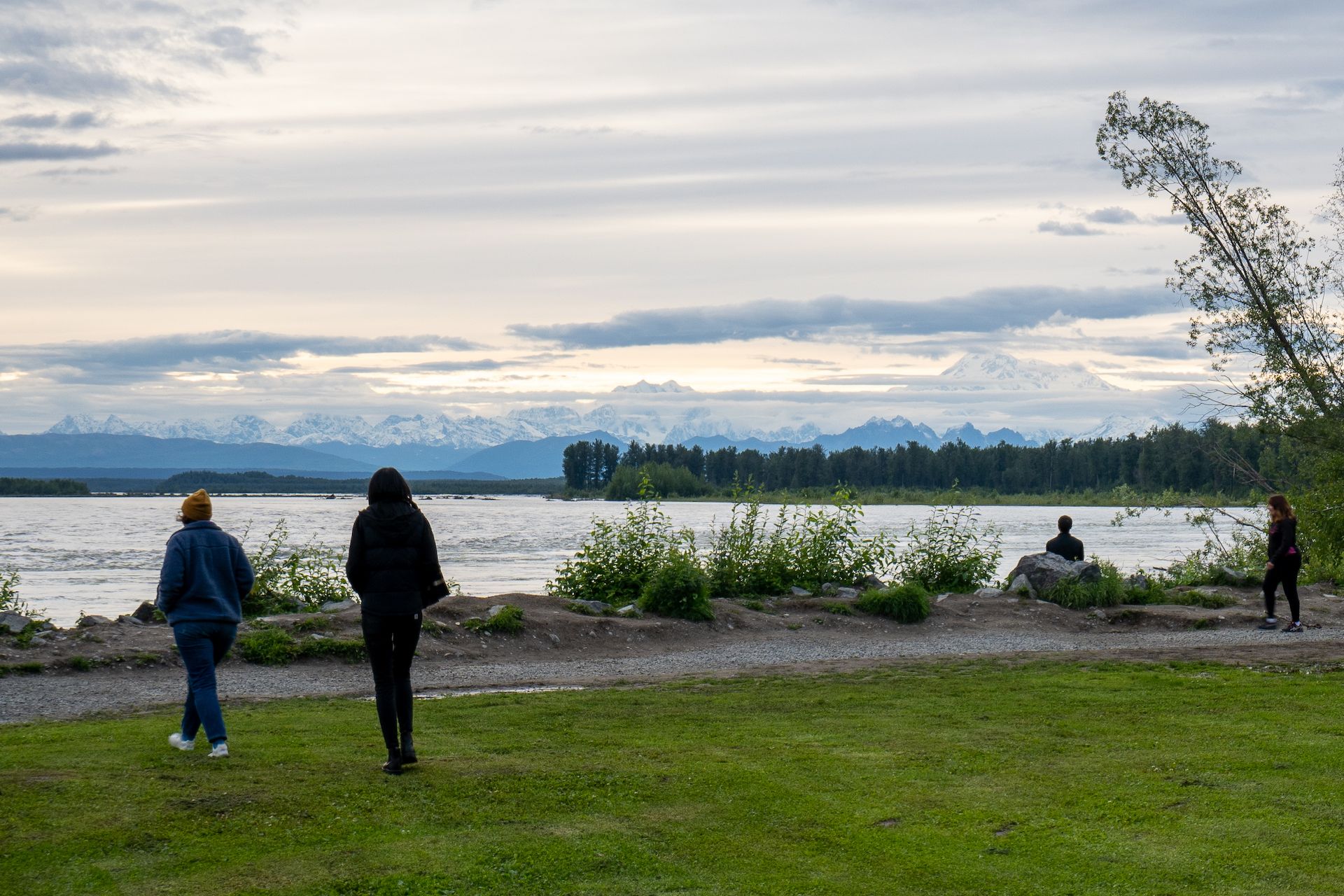 At around 10pm on Saturday, we had a glimpse of Denali! The peak is approximately 60 crow miles from Talkeetna. Unfortunately, we did not have my zoom lens with us but you can still see the tallest mountain in North America on the right side of the picture.
---