From Pop-Up to Custom Flatbed Truck Camper
May 15, 2021
Shortly after Kuan and I put down a deposit for the camper, I started to look for a truck: we needed a reliable and proven platform to carry our new house. And let's be honest, I have never really been a (full-size) truck guy and I did not want to spend too much time overthinking it.
The truck should support our experiences rather being the focus of the experience.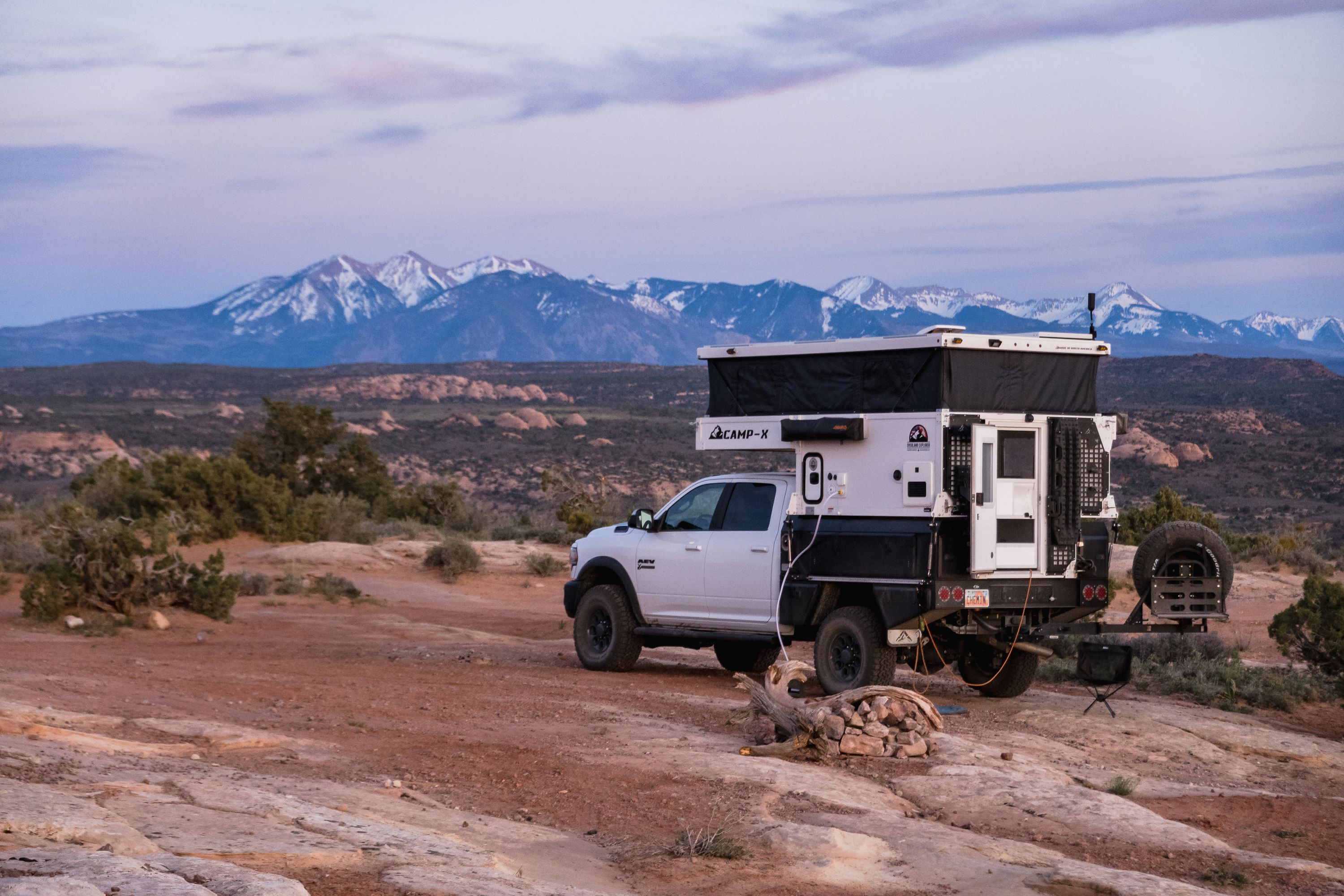 We wanted to find something for backcountry adventures as soon as possible because the camper was ready to be installed at Boulder Vehicle Outfitters. The best option available in North America, at least to me, was to go with a RAM HD truck and the Prospector package from American Expedition Vehicle, a trusted name in the industry. The package offers thoughtfully engineered upgrades such as a front steel bumper and winch, and an optimized suspension system.
A couple days into my research, I was happy to find exactly what I was looking for: a pre-owned, white 2020 RAM 2500 Prospector with just over 7,000 miles and sold directly by AEV in Detroit. After a couple of emails and phone calls with the company, I flew to Michigan, home of AEV, and drove the truck to Colorado to get the camper installed.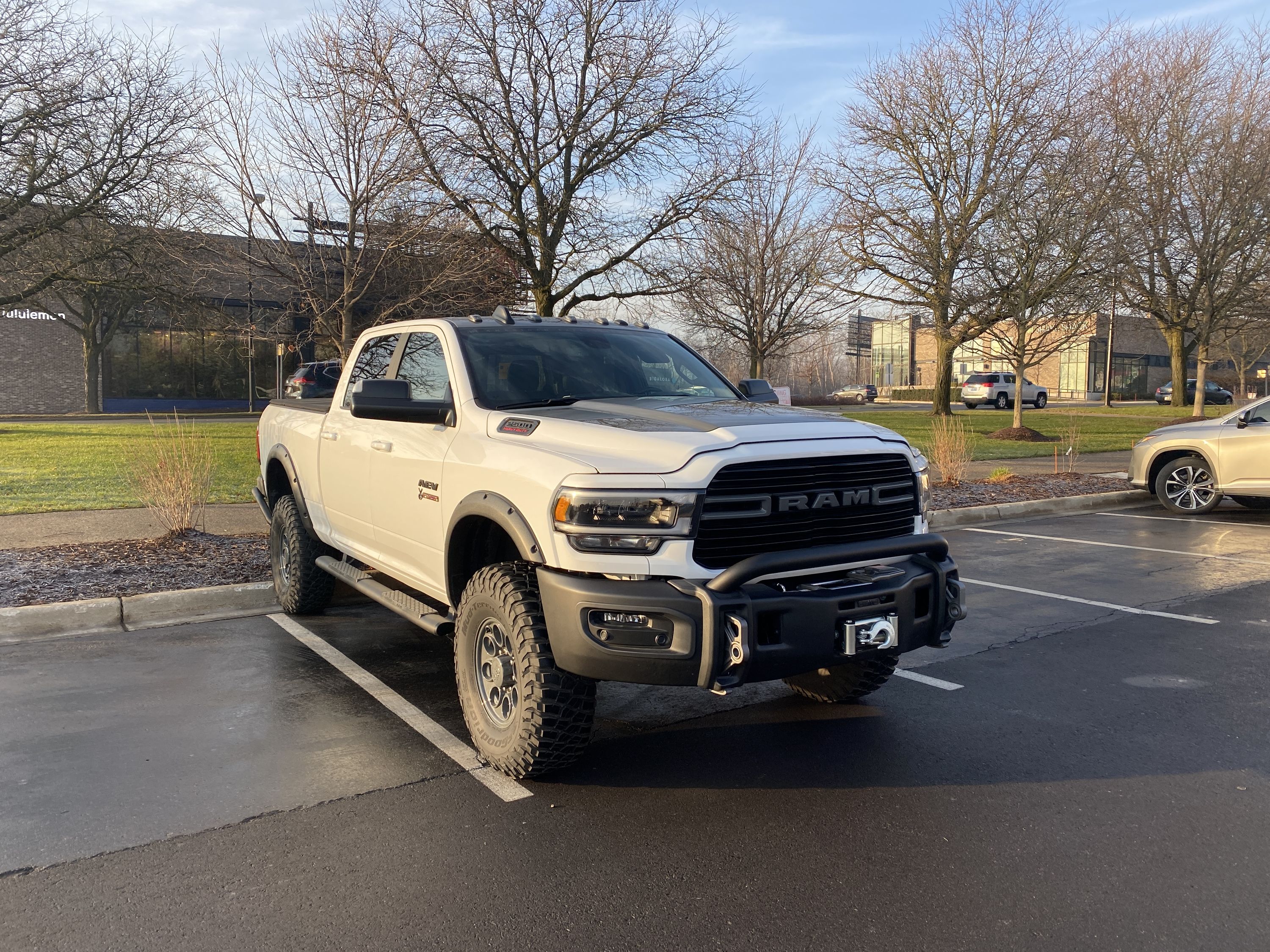 Somewhere in Michigan, right after picking up the truck from AEV. Fun fact: our truck was built for the AEV 2020 brochure!
The camper was installed in less than two days and we were ready for our maiden trip: a month-long winter climbing adventure in Nevada and Arizona. The back of the cab was quickly filled with ropes, quick draws, slings, and other gears, but we still had to have room for our dog! It was pretty clear we needed a better setup with more storage, especially as we were planning to travel full-time in the foreseeable future.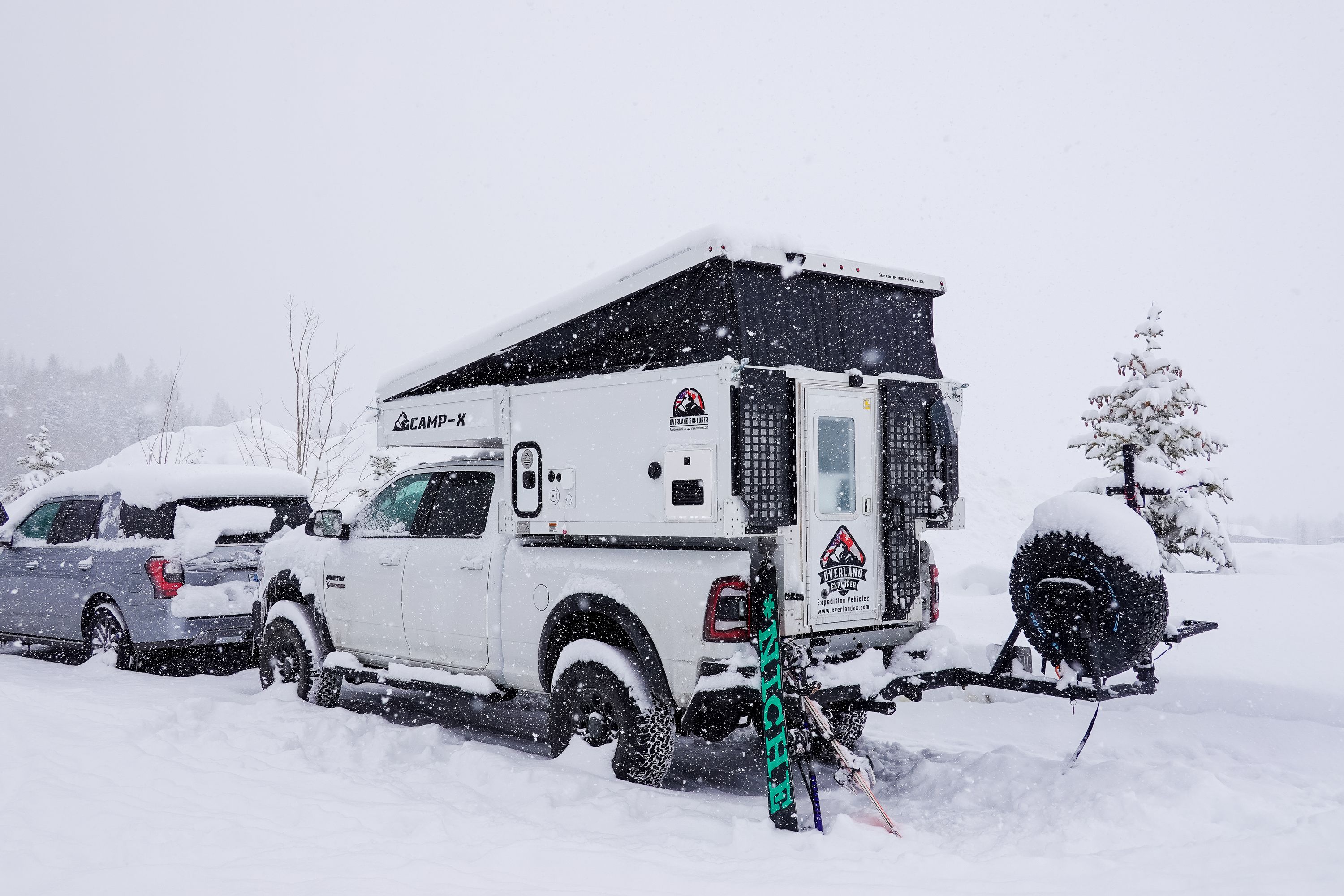 Then, I remembered when we saw the camper for the first time, Matt from BVO told us to checkout @jonburtt's rig that features a flatbed with custom storage boxes where the truck bedsides go, kind of like utility trucks. Also, I have seen several similar custom design rigs with slide-in campers on the internet and in the wild over the past few years, from @theramadainn to @itsnotaslowcaritsafasthouse. So we knew it would require some work and patience but having a similar setup would solve our storage issues!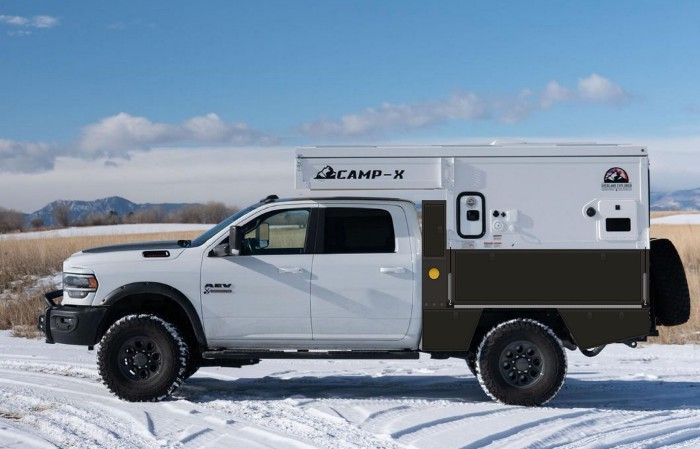 I sketched in Figma what our camper would look like with a flatbed.
Overland Explorer Vehicles, the maker of our camper, was already building a flatbed called the Aluma Tray, designed to pair with their Hudson Bay Edition camper but not our camper, the Camp-X. So I naturally reached out to them, along with a simple rendering I quickly made on my computer to illustrate what we were looking for and ask if they could build custom side storage cabinets if our Camp-X was installed on one of their tray. The goal was to make these cabinets weather proof, big enough to fit skis and snowboards, and also usable as a prepping table. Their answer was pretty straightforward: "super easy"!
While waiting for the OEV's team to look into the details, I decided to reach out to other companies that build flatbeds such as Sherptek, Highway Product and AT Overland. While I never heard back from the last two, I was pretty excited with what Sherptek had to offer. They build awesome custom flatbeds that would check almost all the boxes but had a lead time of 10 months… So I decided to follow up with OEV one last time because I really wanted to work with them on this project. The aesthetic would match the camper, and they would know all the details about the camper. You must know what happened next!

As I am typing this, the Aluma Tray, custom fitted for the Camp-X model has been installed on our rig for about 3 weeks and we LOVE it!
It's so great to see a company such as OEV focusing on creating the best experience for their customers by responding to feedback and custom requests. And of course, nothing would have happened without the fantastic help and support from BVO. Matt has been helping and supporting us on this project from day one!
From what I heard, there are several of these setups on their way to new owners. So while our rig is still pretty unique at this time, we might see more of these in the wild in the next couple of months! I think that's an exciting news for the industry: finally a solution in the market easily available for folks that would rather have more storage than living space!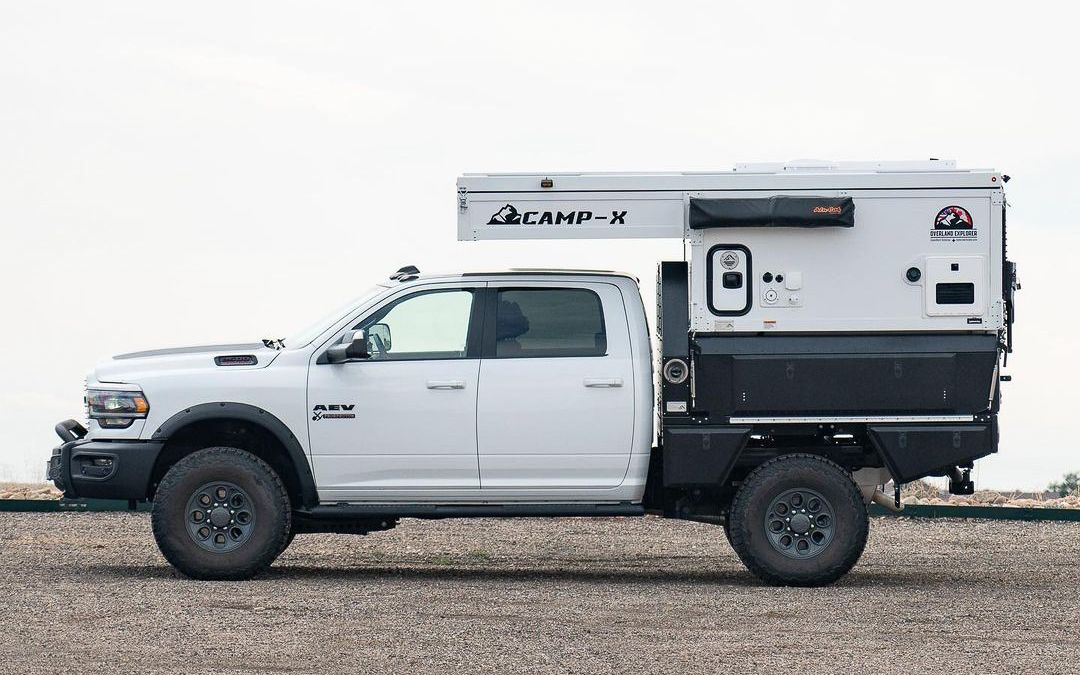 Our rig after the custom flatbed was installed — Photo taken by Boulder Vehicle Outfitters
---