Our 2016 Earthcruiser Fx Is for Sale
July 16, 2023
Are you in the market for a turnkey, pre-DEF expedition vehicle that you can take across all continents? Look no further, we are selling our 2016 Earthcruiser FX built on a 2007 Mitsubishi Fuso FG Chassis!
🦄 This Earthcruiser is a unicorn: No DEF or low-sulfur diesel required! I believe there are only two Earthcruisers built on pre-DEF chassis in the US. This one and Lance's EXP (Earthcruiser owner).
🎂 The cherry on the cake? This Earthcruiser has a five-speed manual transmission with 4WD hi/lo transfer case Unlike all the other ECs built on recent Fuso chassis, this truck can go in 4LO.
Mileage at posting: 107,xxx miles
Location: Escalante,

UT

Price: $265,000
With current pricing, a new FX will cost over $595,000 from Earthcruiser.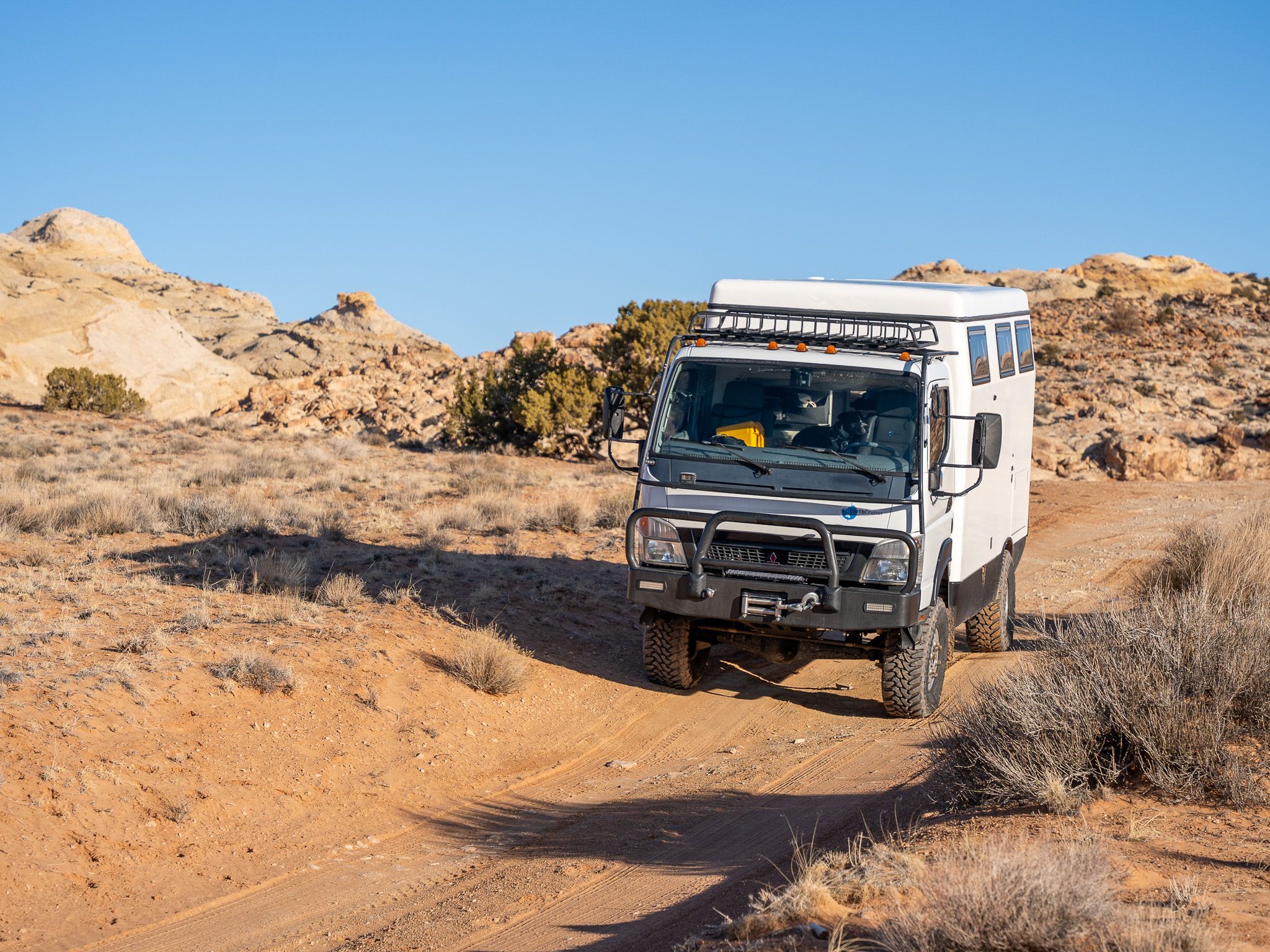 The truck and the house were fully inspected by Earthcruiser in Bend, OR, earlier this year. In fact, I requested them to perform the inspection they would run on the pre-owned units they sell. So while it's not "certified," you can be reassured that the truck is in good shape and ready to hit the road.
Also, while in Bend, Earthcruiser took it to the nearest certified FUSO service center for a full inspection. Nothing to report!
Concerned about the mileage? Diesel engine are engineered to last much longer than gas engines. The mileage is not high relative to the life of a diesel engine.
Why Are We Selling?
We bought this truck to replace our previous home on wheels while we were still traveling full time. Our life changed quite a bit over the past few months. We stopped traveling and came back to our house in Utah. We barely used the Earthcruiser since we owned it, so it's time to see it go…
Interested?
The Earthcruiser is available for sale in Escalante, UT.
Please reach out to me at [email protected].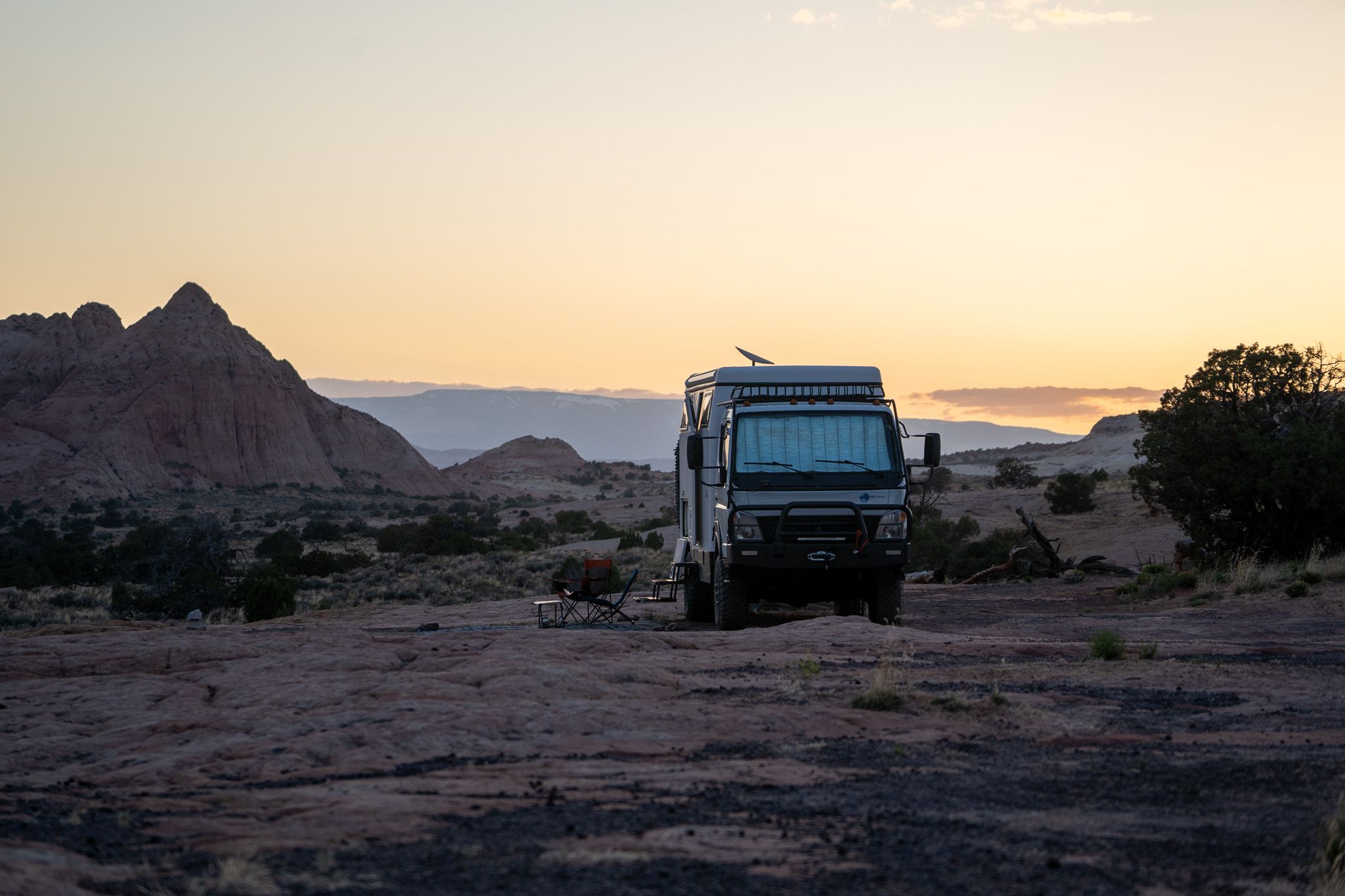 Chassis
2007 Mitsubishi Fuso

FG

4X4

5-speed manual transmission

4WD

hi/lo transfer case
Front and rear limited slip differentials
All Terrain Warriors parabolic springs, shackles, and shocks
Steinbauer performance chip for increased

HP

Manual

4WD

locking front hubs
16″ EarthCruiser Super Single wheels paired with Toyo Open Country M/T 315/75/R16 tires with less than 5,000 miles
Tire Traker TT-500 tire pressure monitoring system
60-gallon diesel fuel capacity — 35-gallon main and 25 -gallon auxiliary tanks (Roughly 14 mpg on average / 840-mile range capacity)
Protection
EarthCruiser radiator protector/skid plate

CV

boot covers/protectors
EarthCruiser (East Coast Bull Bar) front bull bar, with

LED

light bar included
EarthCruiser scrub bars and Yakima roof rack with Yakima basket
EarthCruiser heavy duty rear bumper with Class

IV

hitch receiver
Front Superwinch Talon 14.0 winch with winching/recovery gear included
All services completed by authorized Fuso service center

AND

Earthcruiser under our ownership
Cab
Fully insulated and soundproofed
Cab (driver and passenger)

LED

map and reading lights, touch sensitive and multi-level light intensity
Custom leather spring ride suspension seats with seat heaters, adjustable for angle, fore/aft, and suspension preload level
Matching leather center console with integrated

USB

2.0 outlets
Front and rear facing external cameras with in-cab display
Clarion Bluetooth compatible stereo head unit
Custom heat reflective/insulated privacy screens for cab windows
Earthcruiser Cab/House divider to insulate cabin from cab and to provide privacy
Safe located in cab beneath the center console
House/Camper
Internal
The interior standing height is 6' 7"
Dometic windows - six double insulated with integrated black-out and insect screens
Webasto diesel-fired combo water heater and furnace, tapped into chassis auxiliary fuel tank (

NEW

!

REPLACED

IN

JANUARY

2023)
Webasto two burner ceramic diesel-fired cooktop, tapped into chassis auxiliary fuel tank
Panasonic microwave
Isotherm 12 V

DC

stainless steel 4.5 cubic foot refrigerator/freezer

DC

Air conditioner mounted in bed area
Seagull

IV

X-1 water filtration system, capable of safely pumping water directly from lakes and streams
Upgraded kitchen sink faucet
Numerous 120

VAC

,

USB

2.0, and 12

VDC

receptacles throughout.  All 120

VAC

outlets are

GFI

controlled units
Two Sirocco 360° ceiling-integrated house fans, with timers and multiple power levels, lockable in the retracted or deployed configuration
360° adjustable/removable Laguna dinette table with locking mechanism
Full size memory foam double bed with custom red Sunbrella fabric to match bed surround
Ample under bed storage: Four large storage spaces under bed plus two large cabinet spaces with two large bins accessed from wall beneath bed
Five drawer bedside cabinet with varied custom drawer organizers
Eight kitchen/pantry drawers, with varied custom drawer organizers and liners to keep kitchen items from sliding or breaking
Storage under the dinette seat and additional storage access beneath the floor of the dinette
Custom removable magnetic screen for entry door
Two freshwater tanks. One 40-gallon, one 20-gallon tank for a total of 60 gallons freshwater capacity. Both can be used during freezing temperatures.
Indoor and outdoor filtered water dispensing faucets
Retractable Thetford cassette toilet, with 6-gallon capacity
Custom teak wood shower basin/entryway cover
Indoor and outdoor showers
12-gallon gray water tank with water level readout on main data panel cluster (inside)
External
Large external-accessed storage compartments with automated lighting — one door on each side, with large rear area pass-through storage compartment
Fiamma

F65S

power retractable awning on passenger side, controlled from switch panel just inside the house door
Aluminess bumper mounted stainless steel storage box

ISI

Advanced

4X4

bike rack
Individual storage containing air compressor
Heavy duty 600 lb. torque wrench
Starlink

"

permanent" setup installed by Earthcruiser in April 2023. (Bring your router and your dish!)
MaxTrax mount in the back
Electrical
Solbian roof-mounted recessed solar panels — Four

125W

panels = 500 watts solar
Blue Sky solar controllers
Victron Multi Plus inverter/charger -

3000W

BEP

Systems marine- grade control panel for managing power/water, utilizing owner configurable graphic readout panel, labeled and fully lighted circuit breaker/switches for the various house functions
Lithionics lithium-ion battery system (3 x 150-amp hours = 450-amp hours) with house batteries stored safely inside house under dinette seating
Photos
Pics were taken during a short trip up the mountain. Please pardon the mud 😇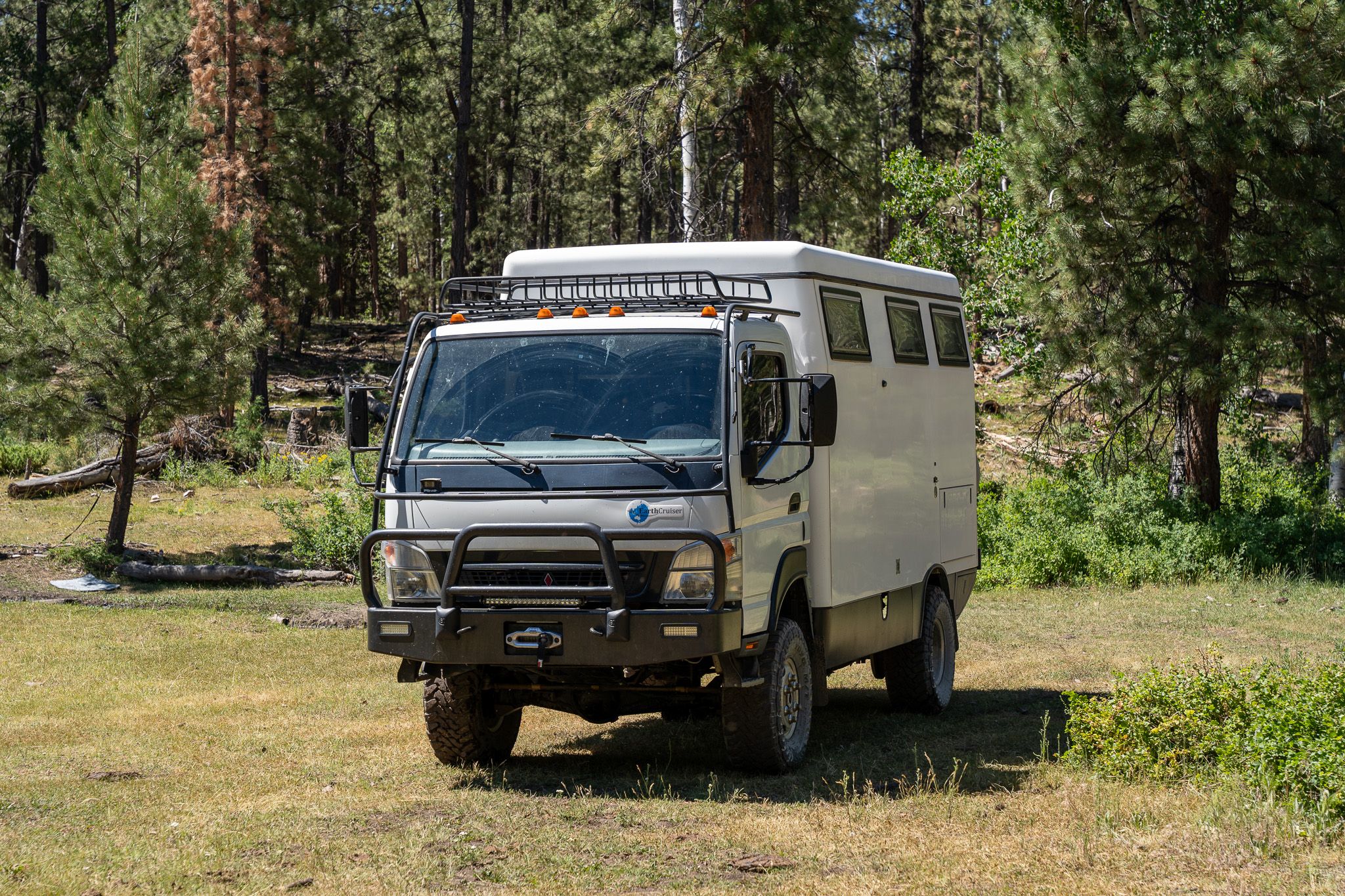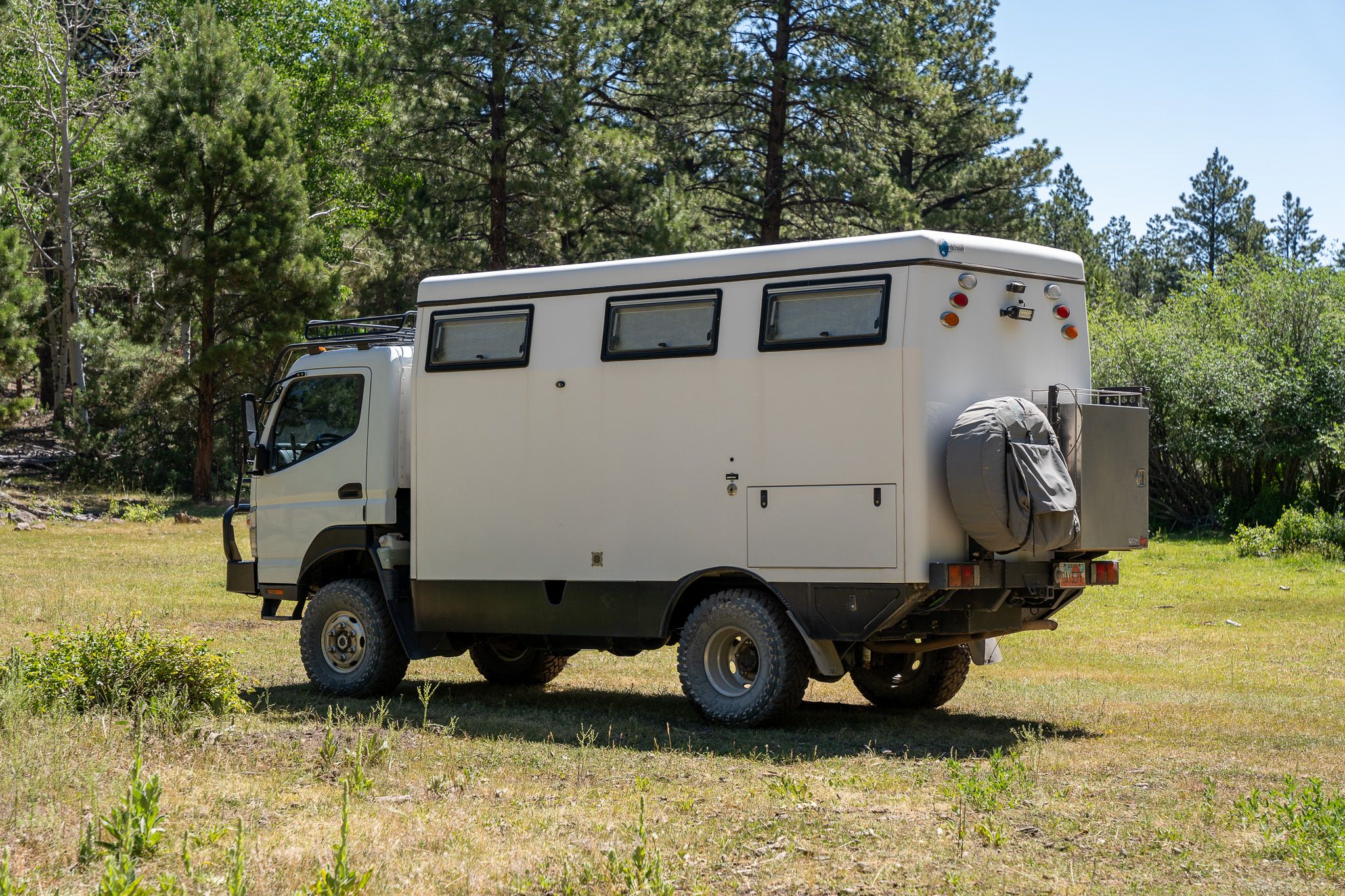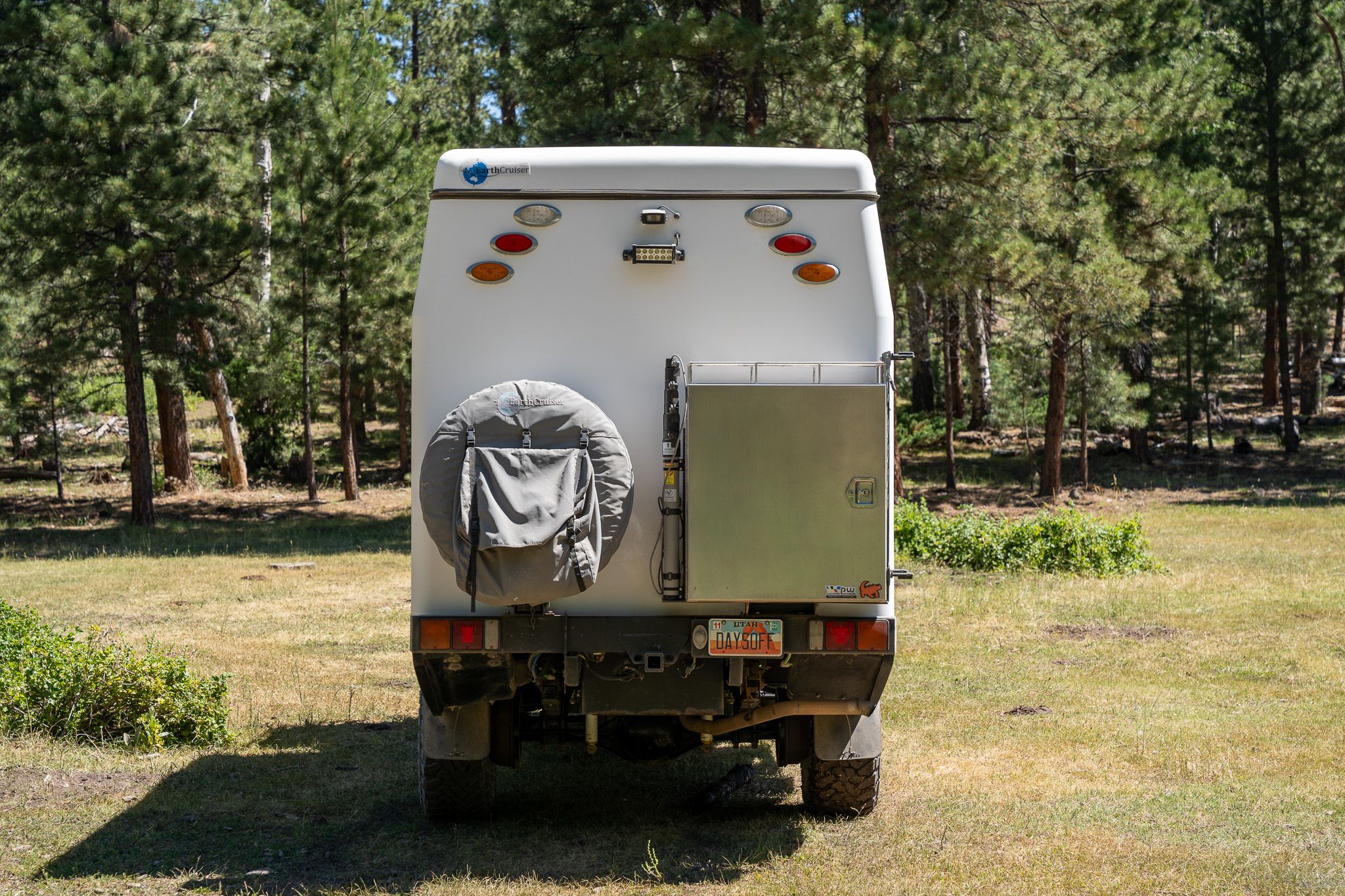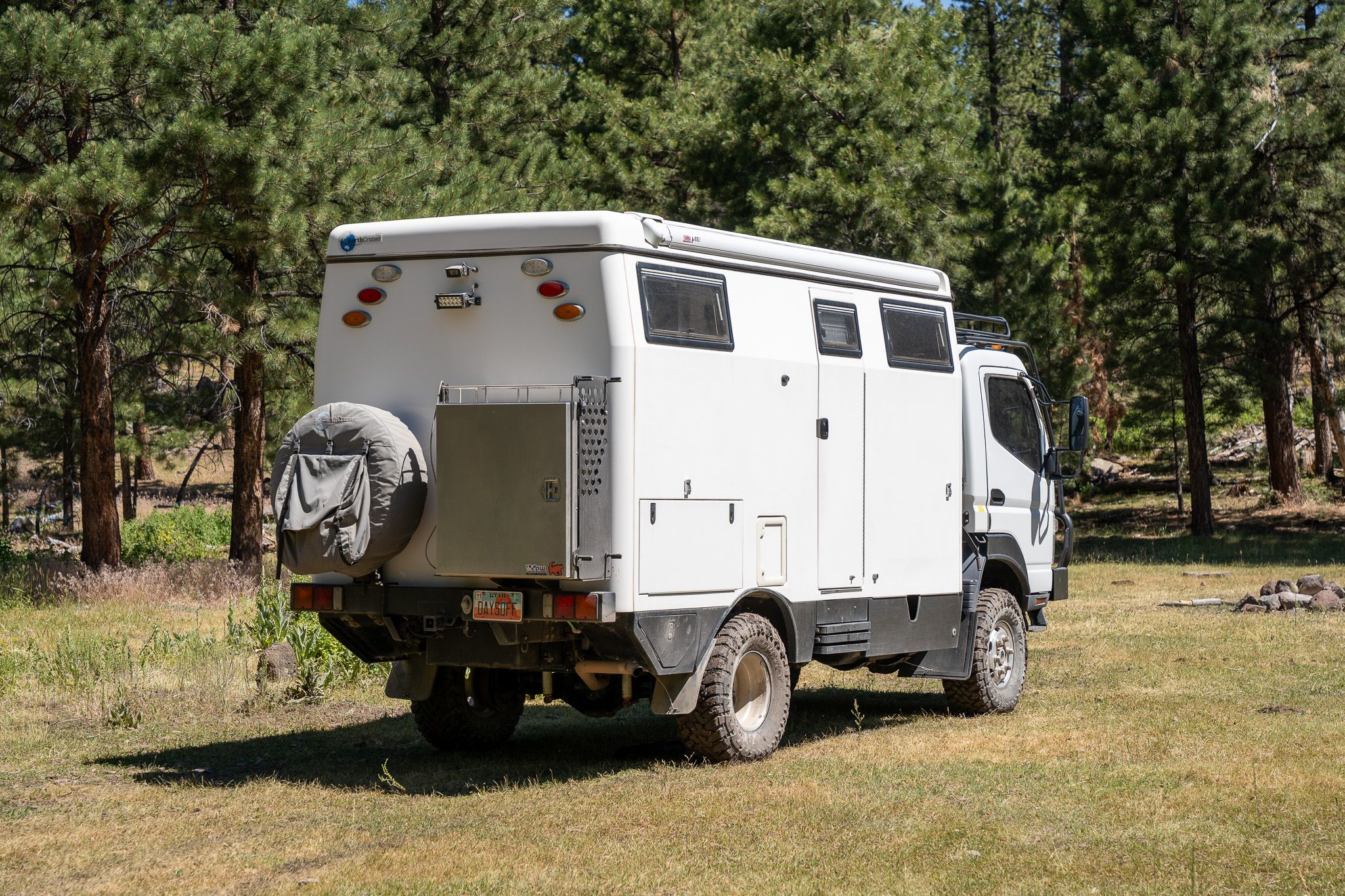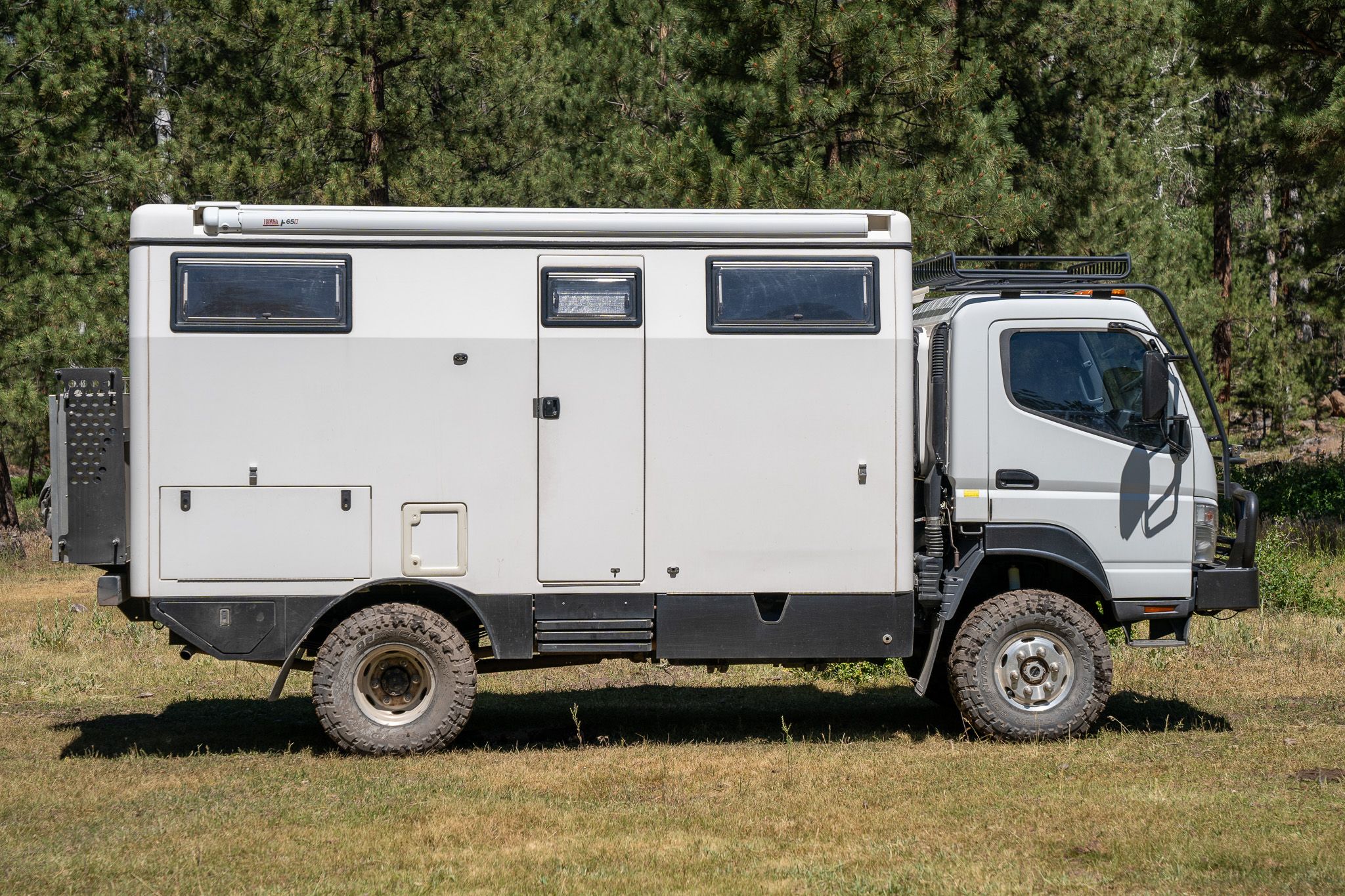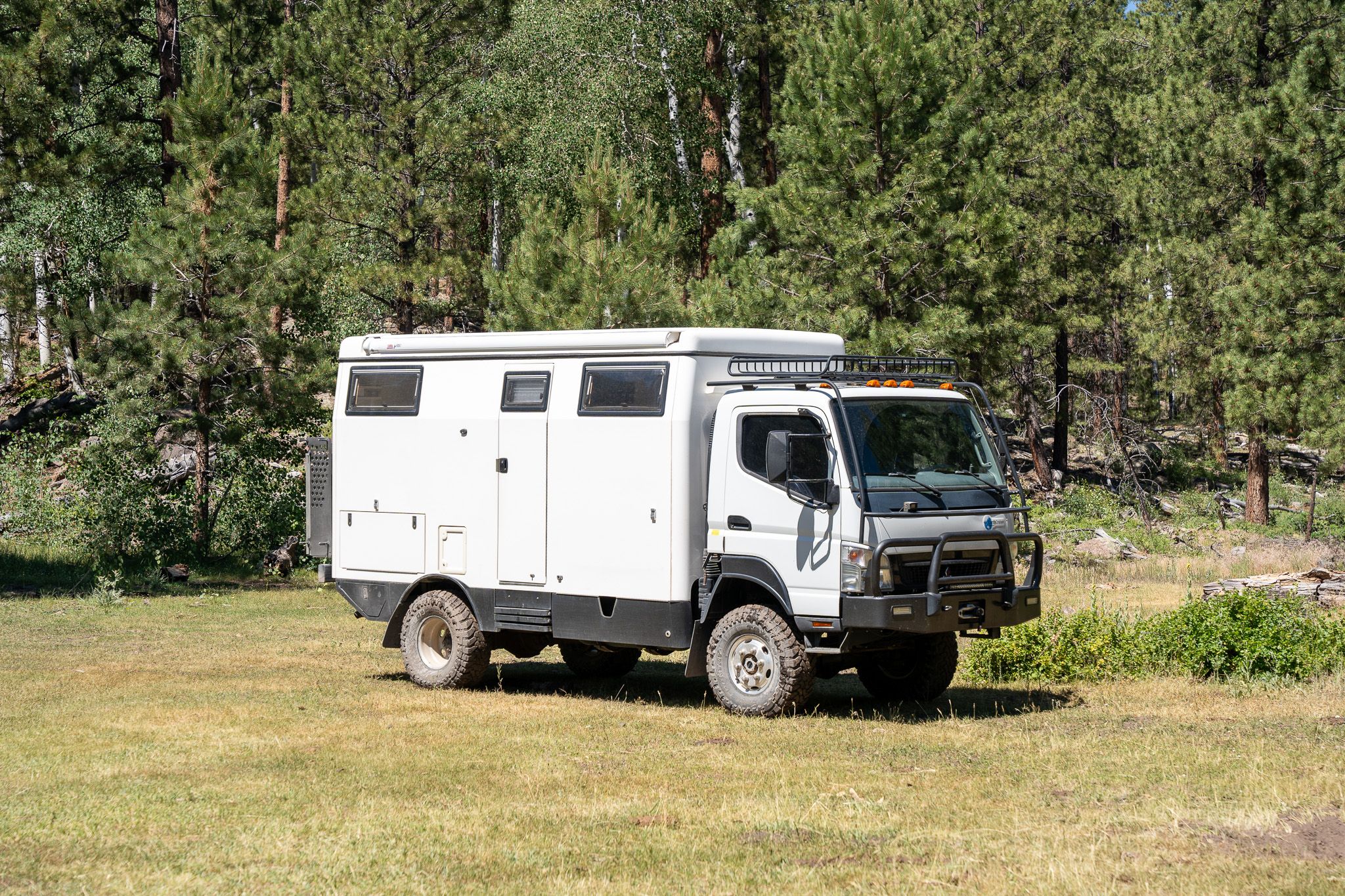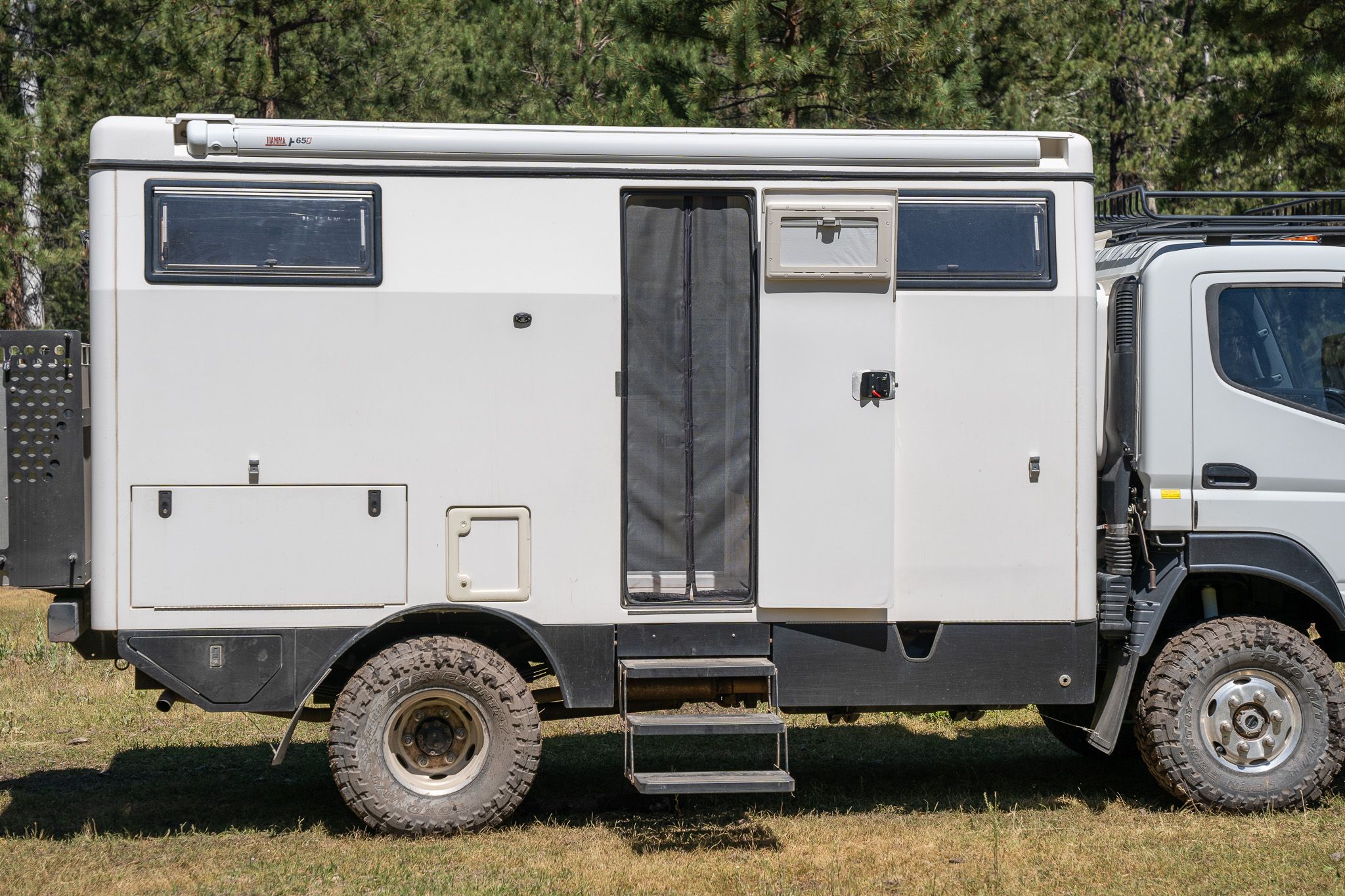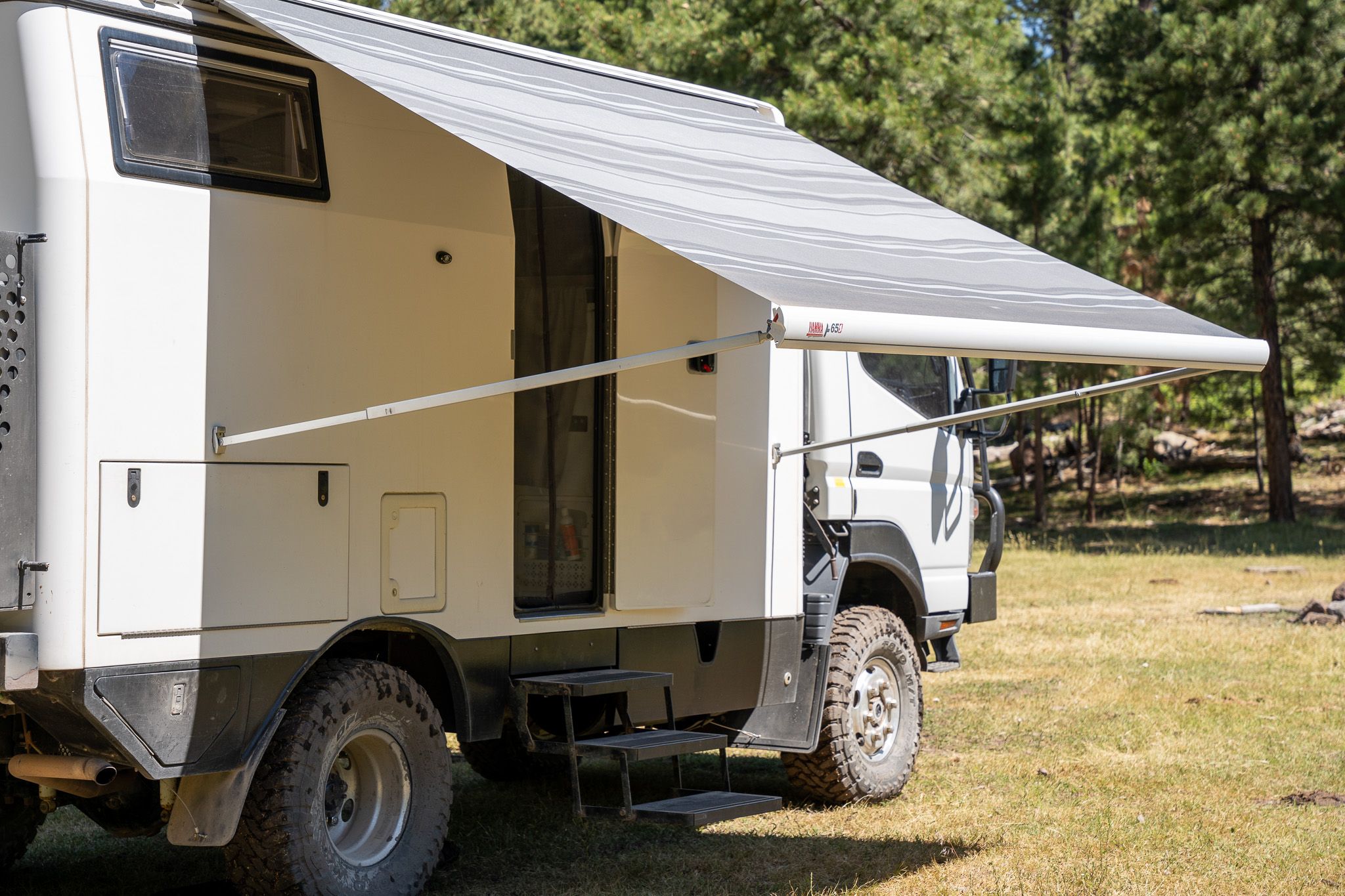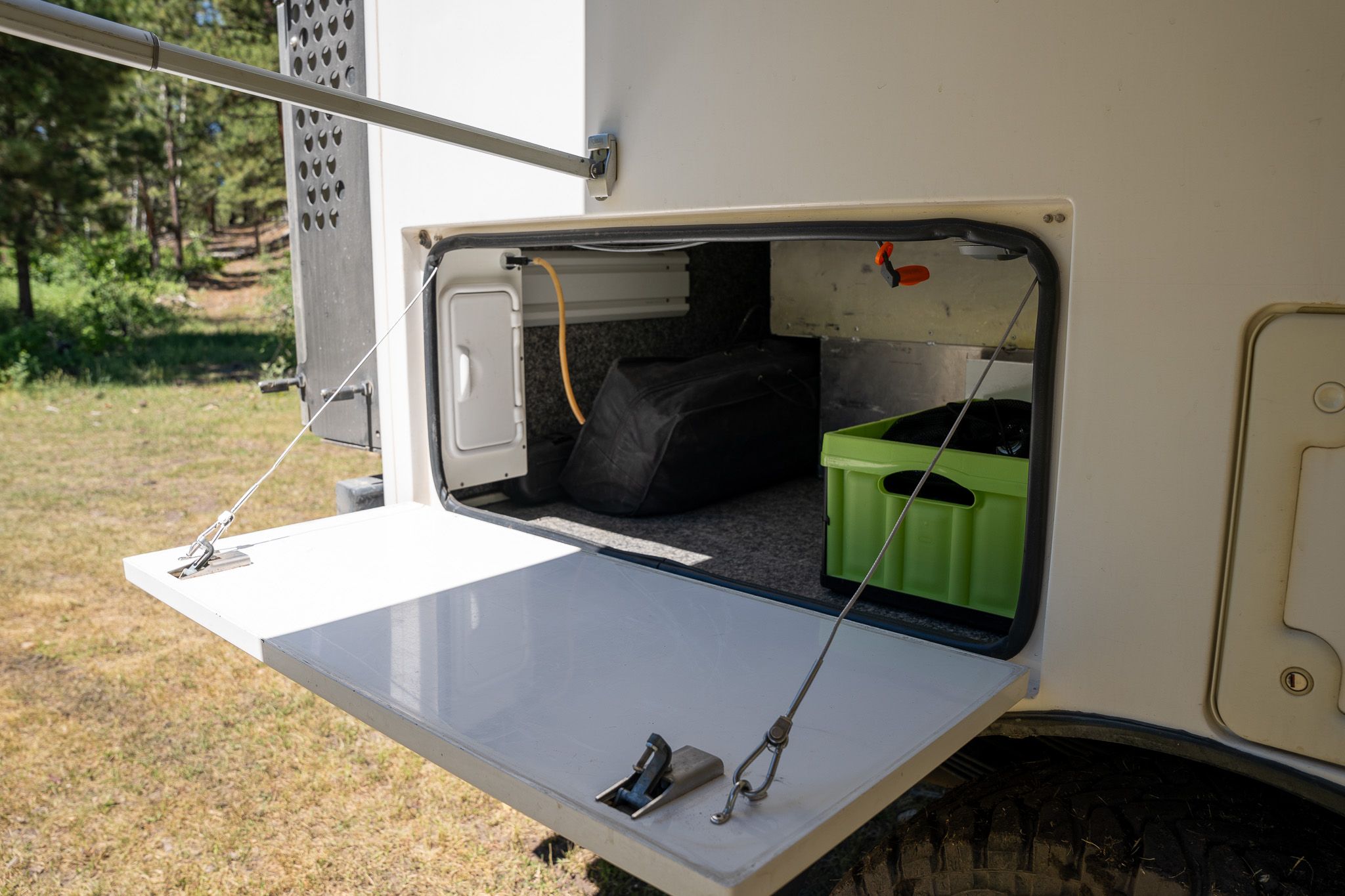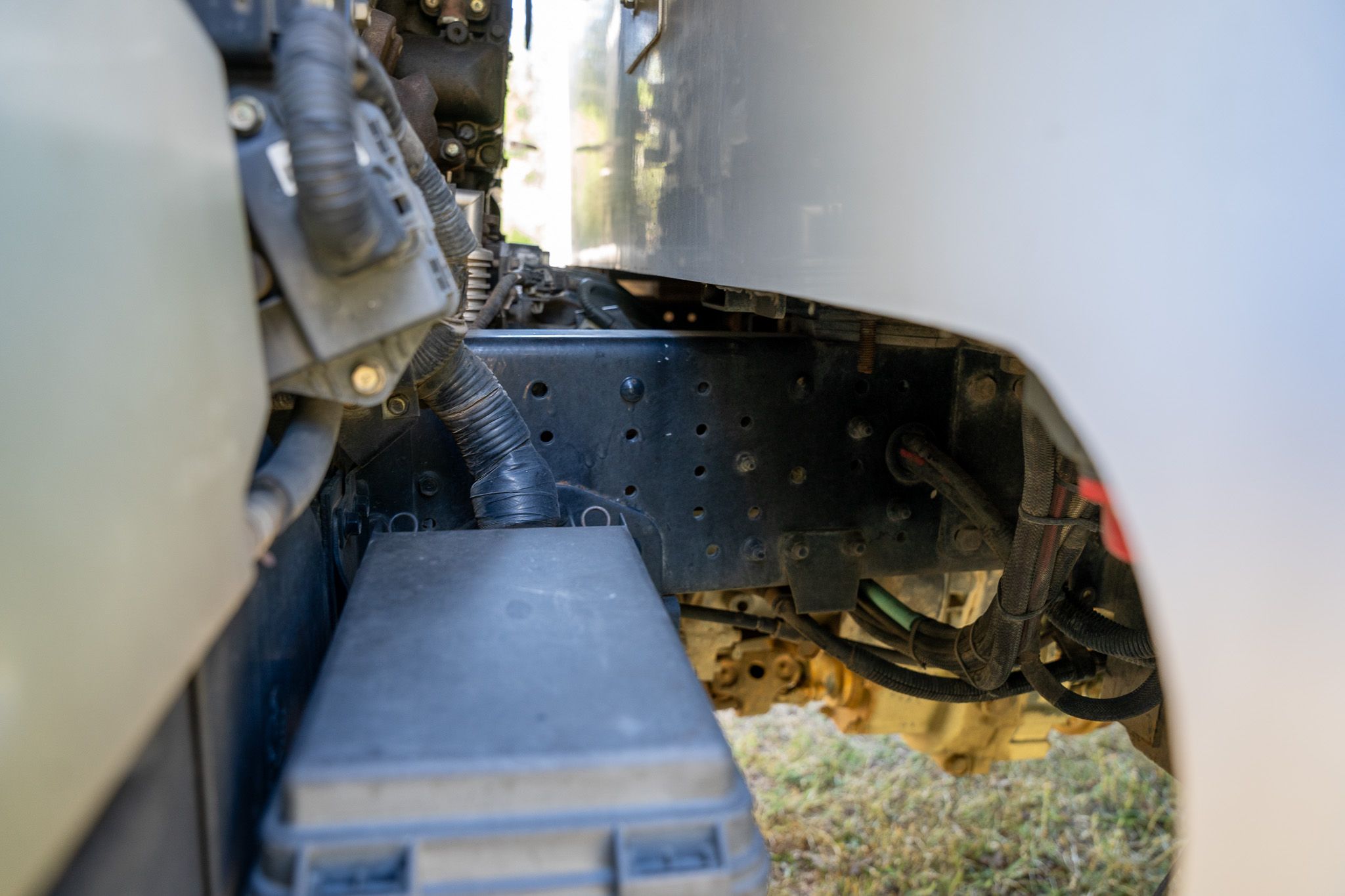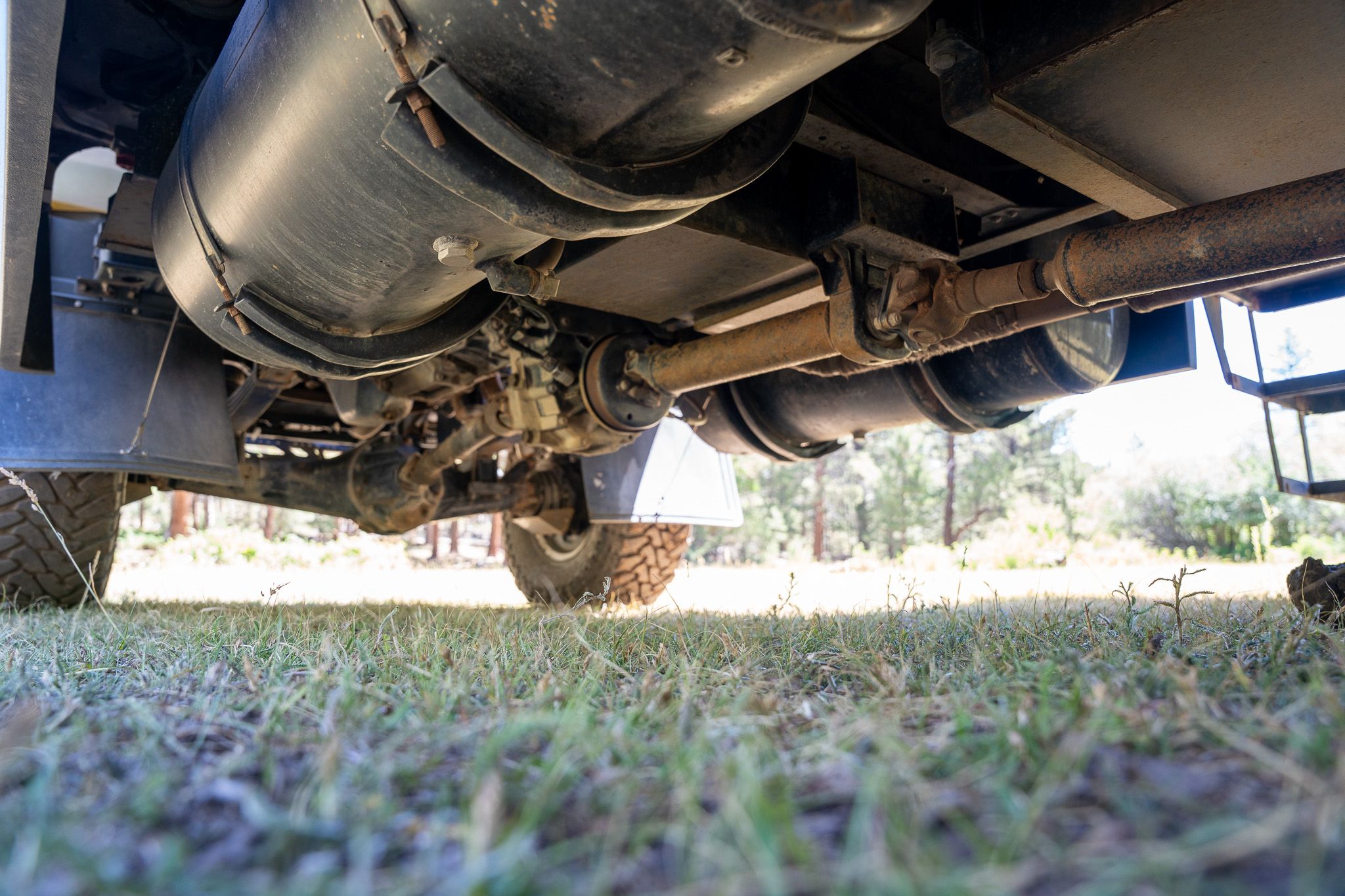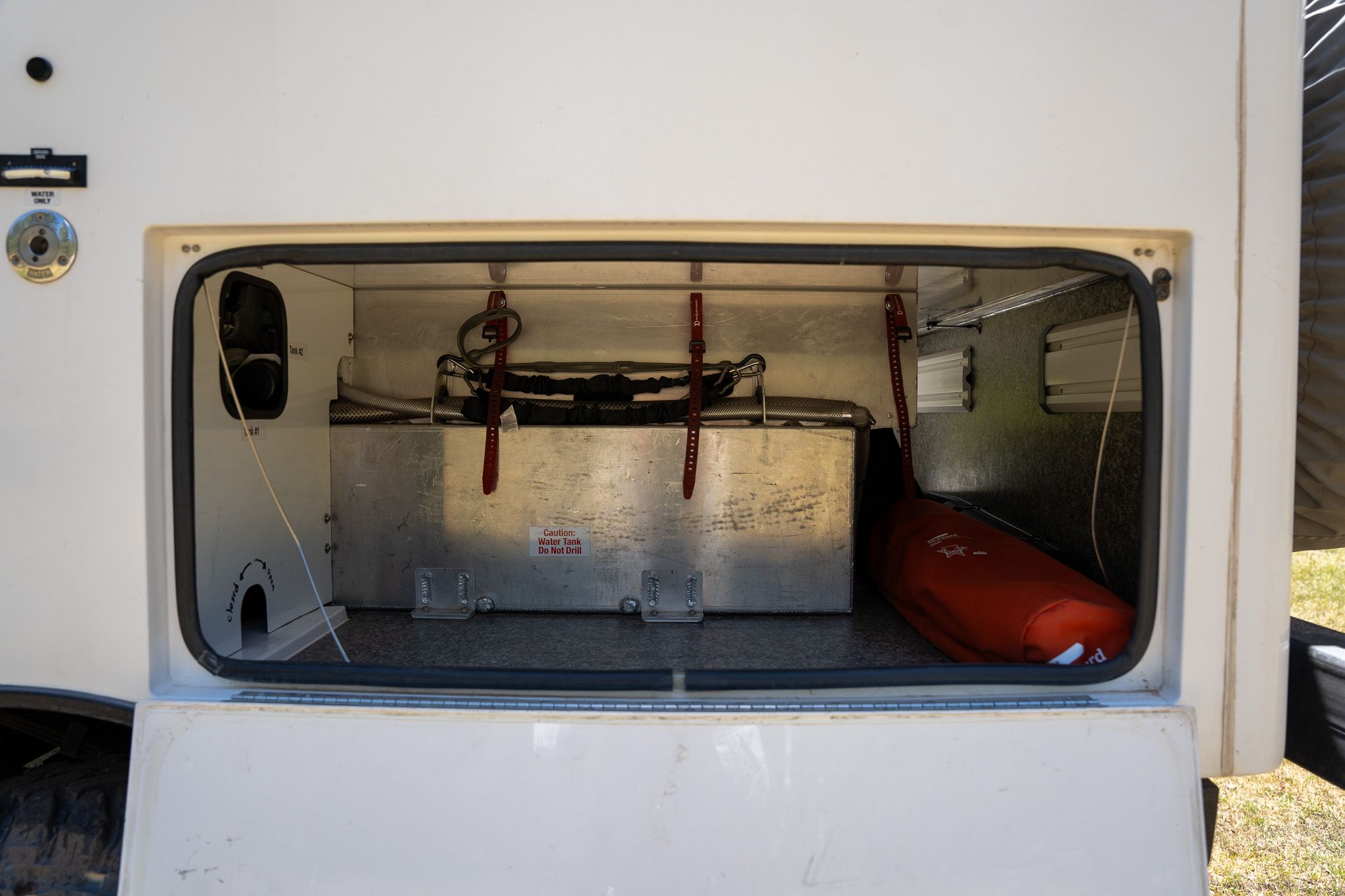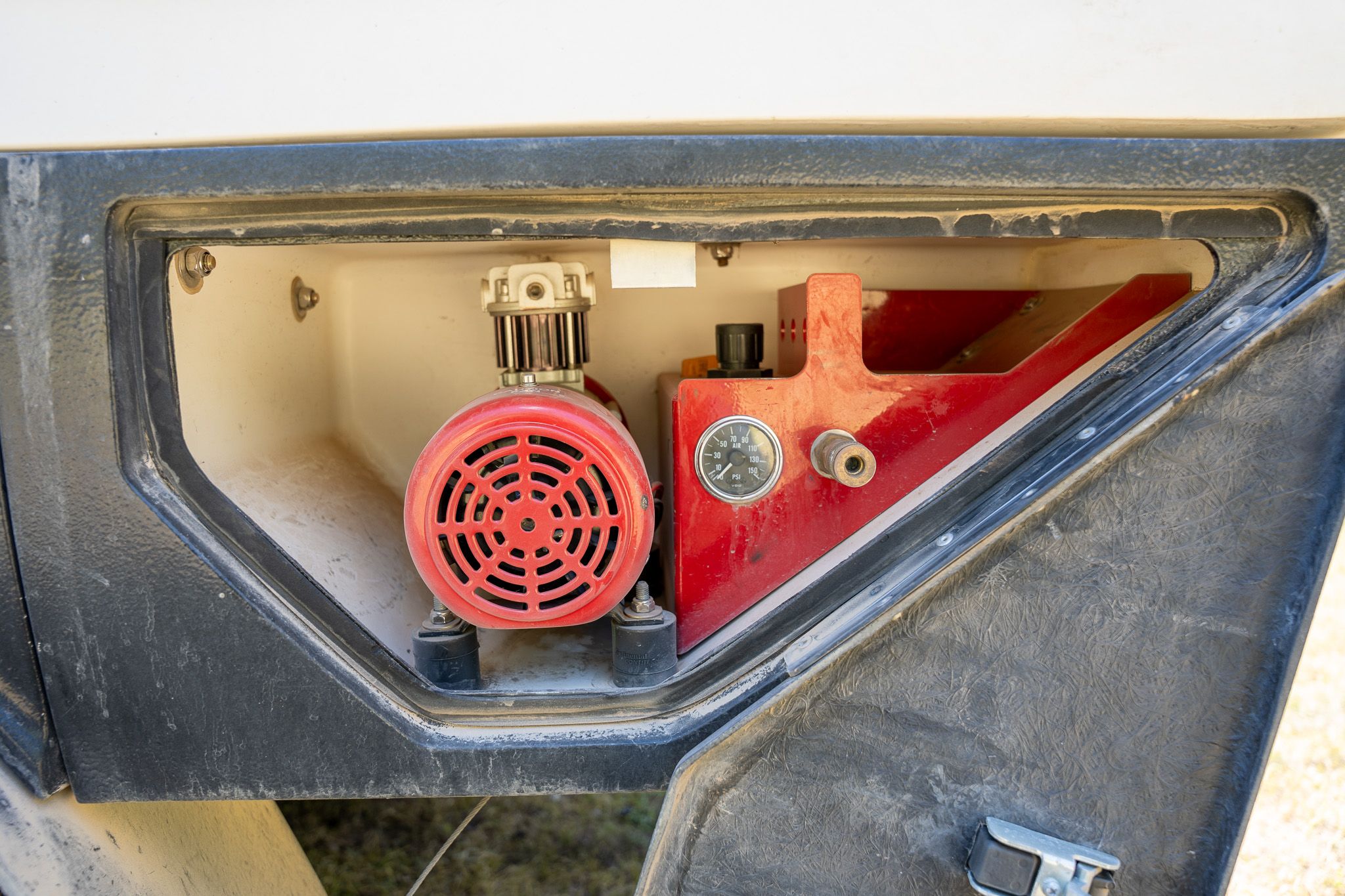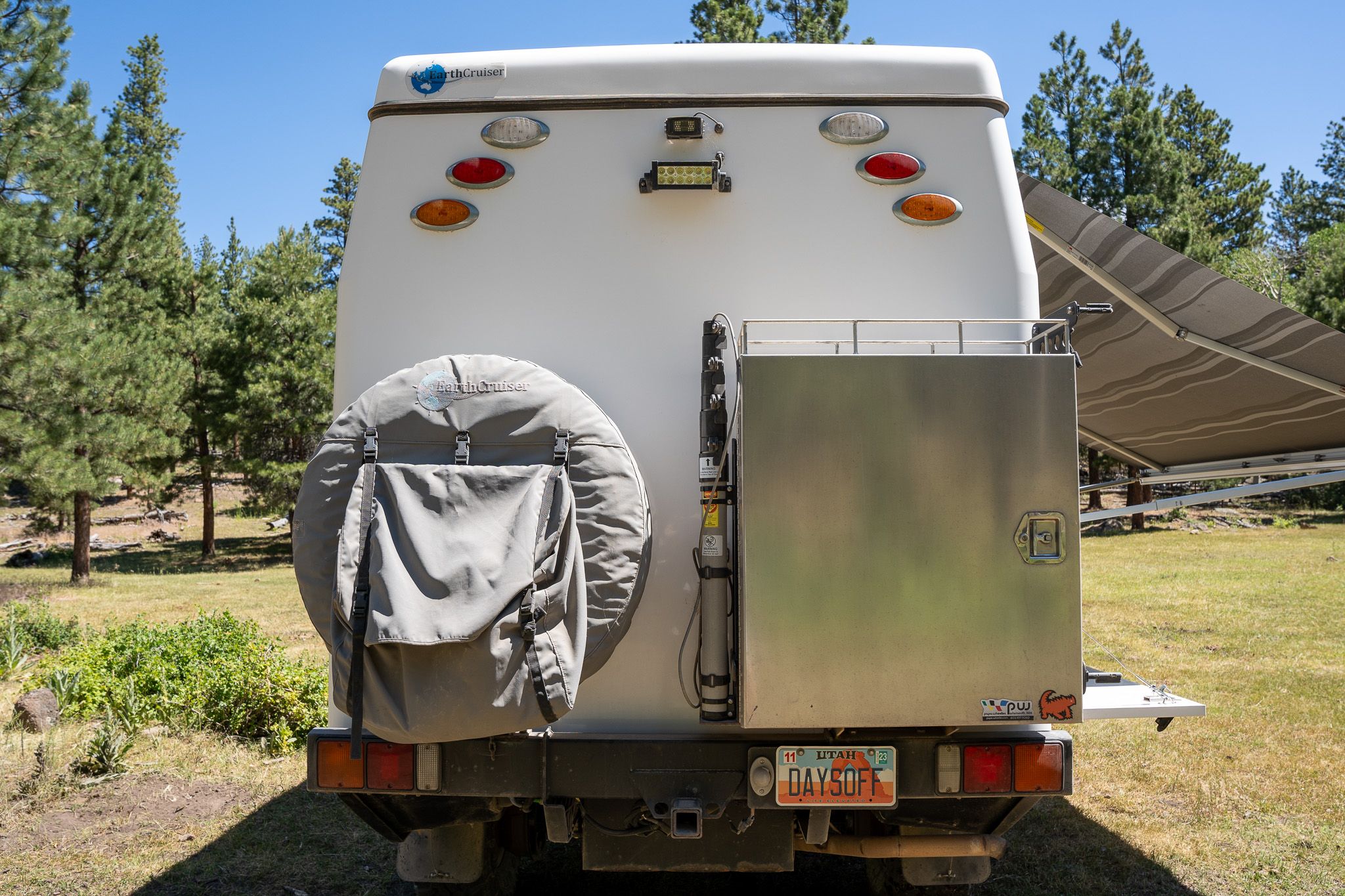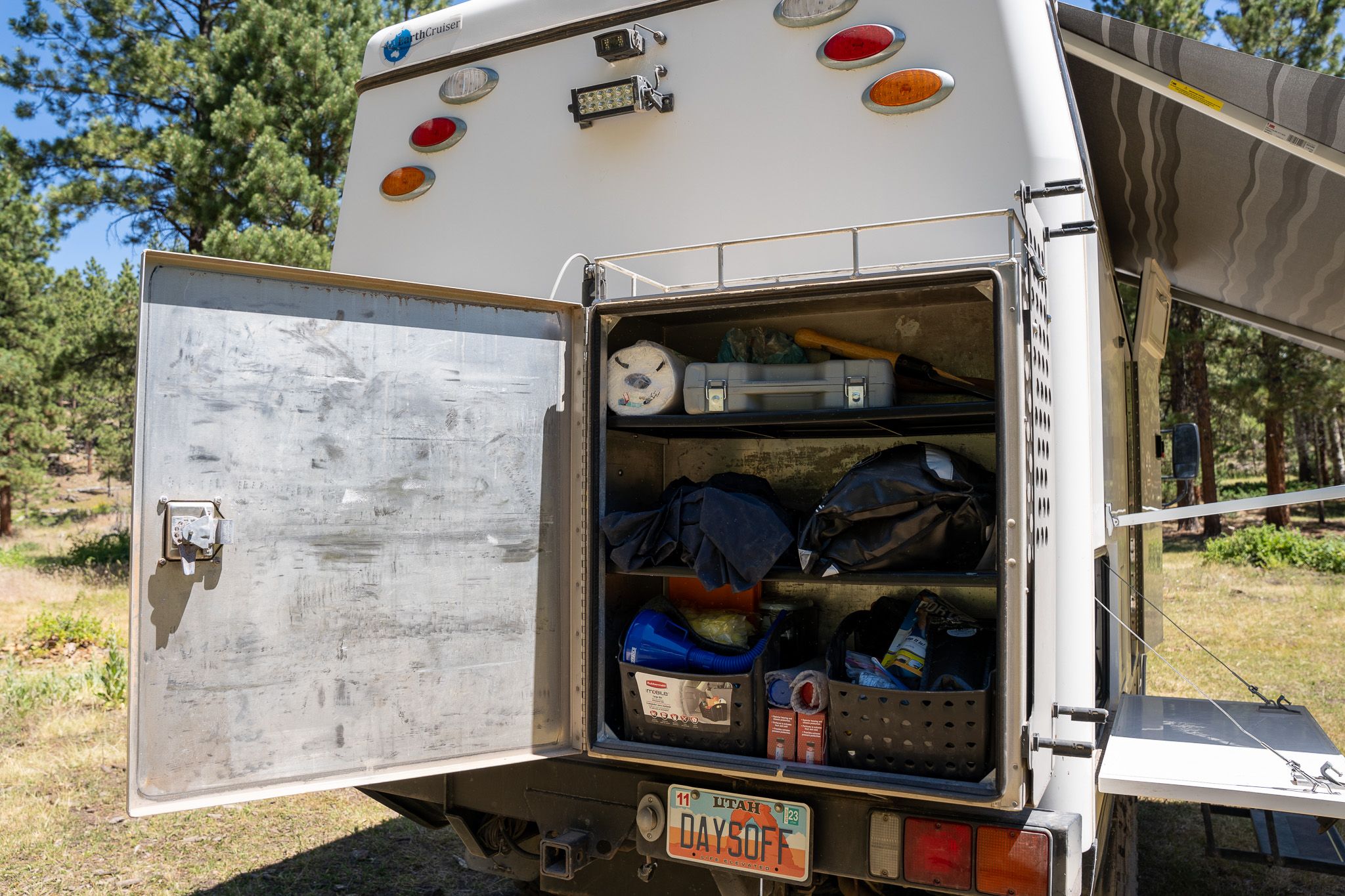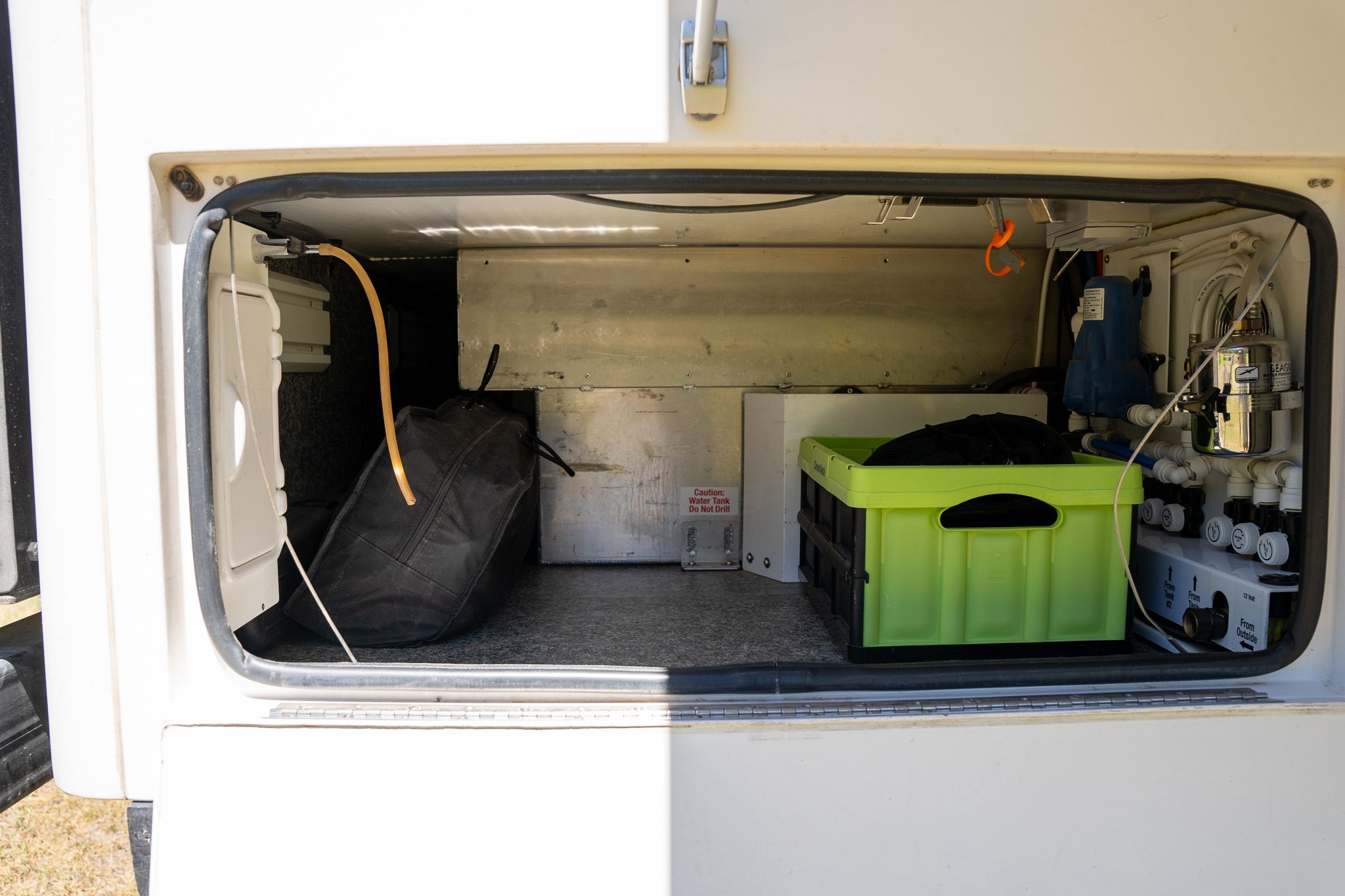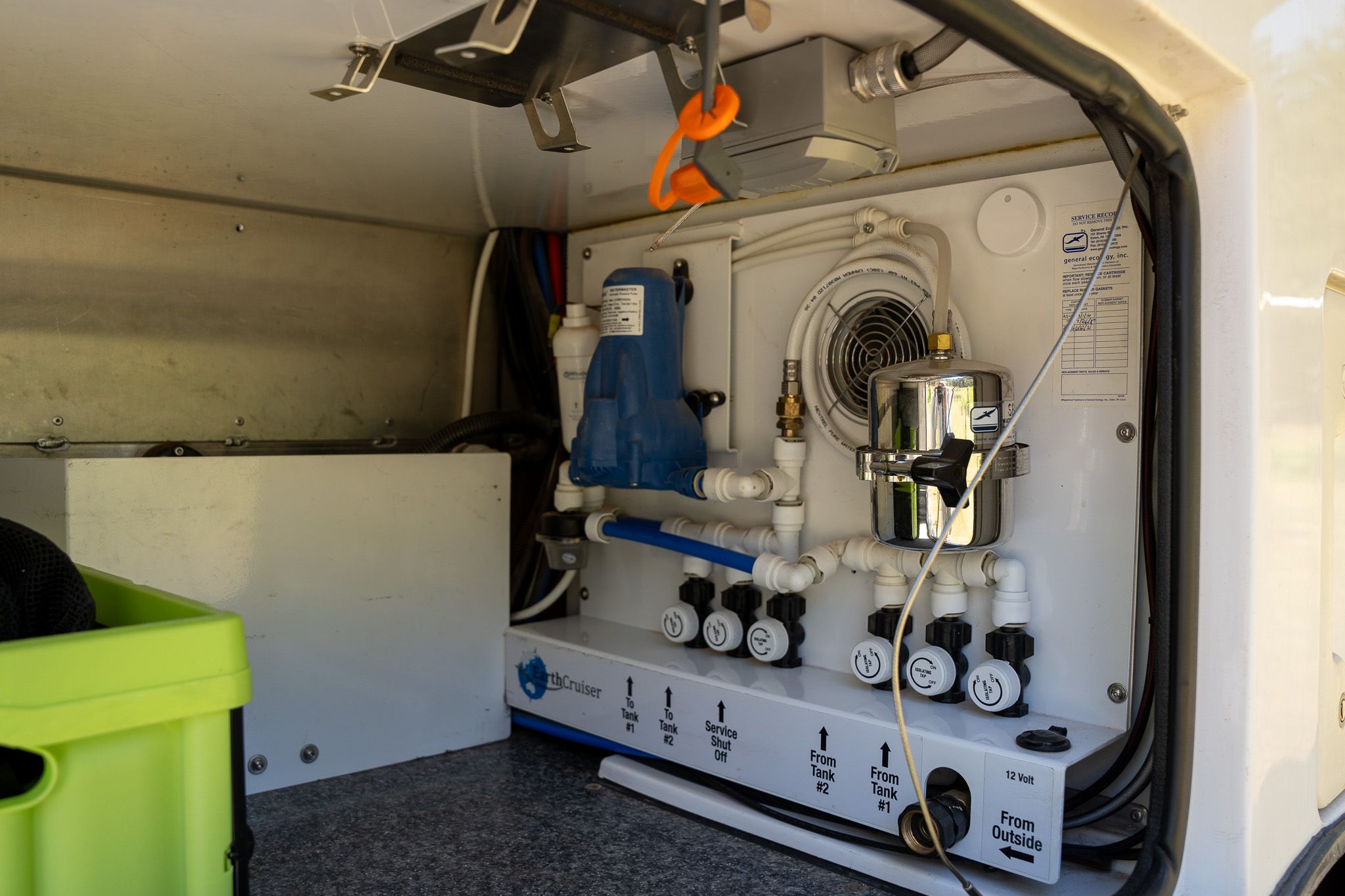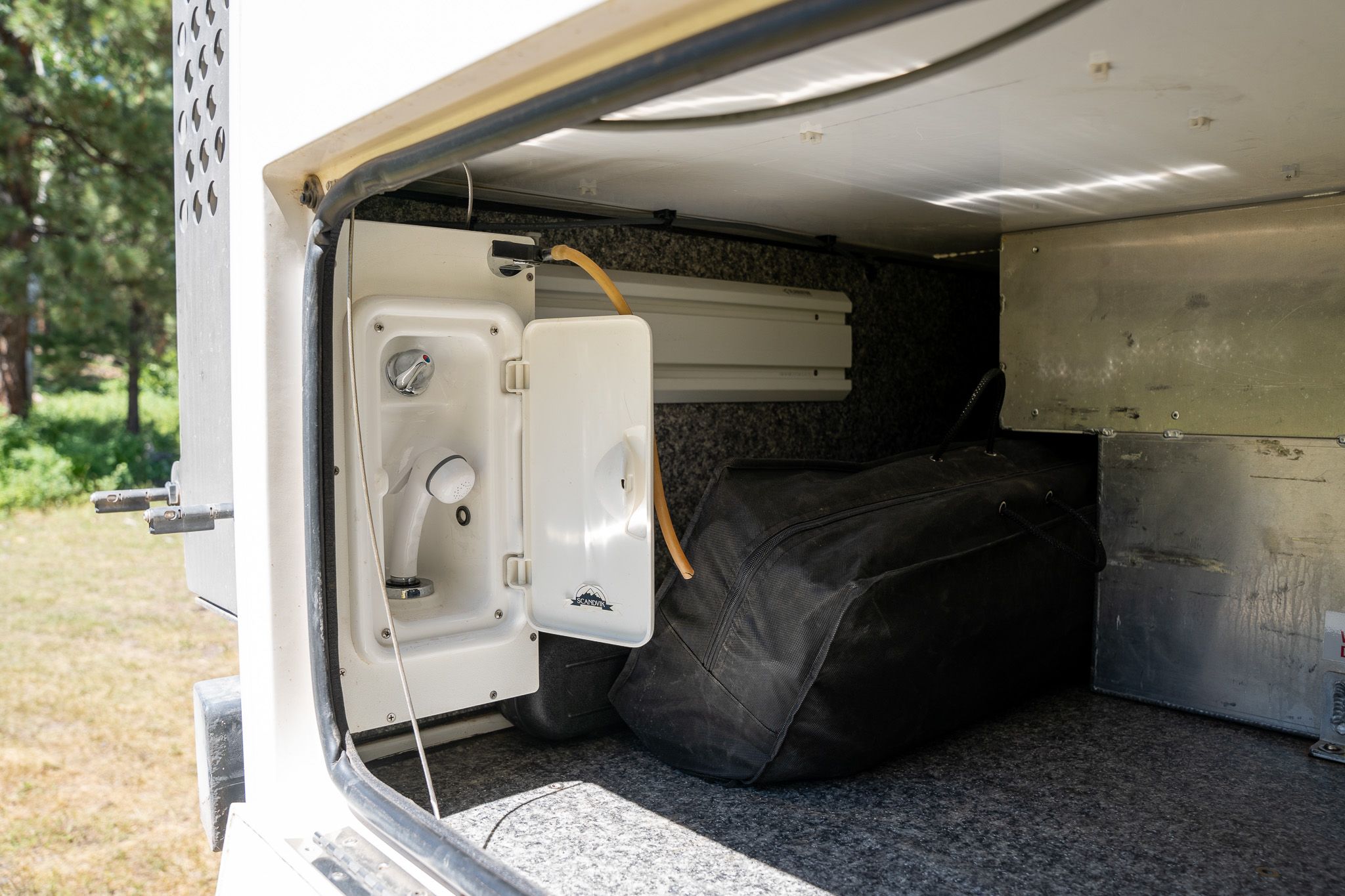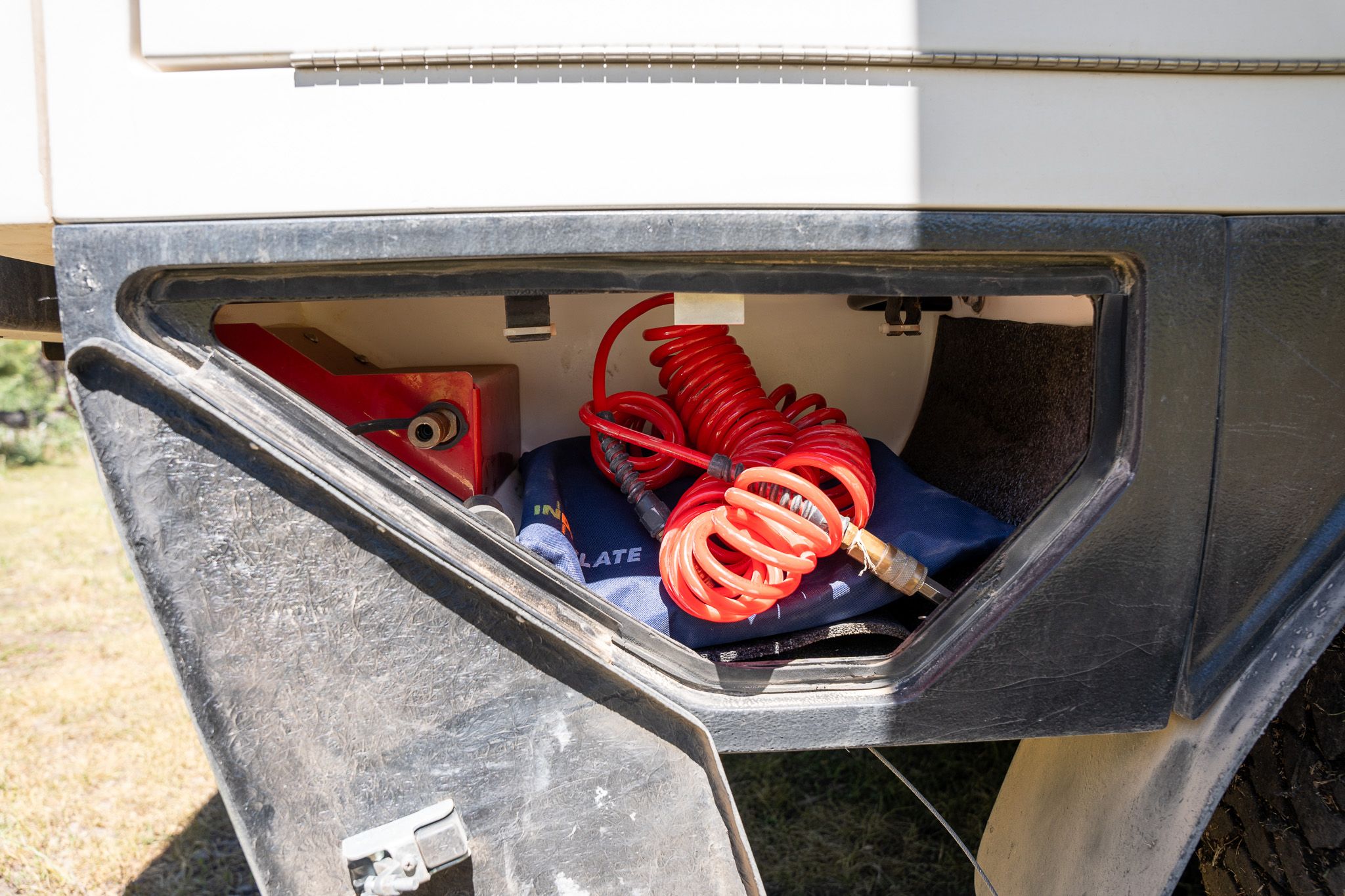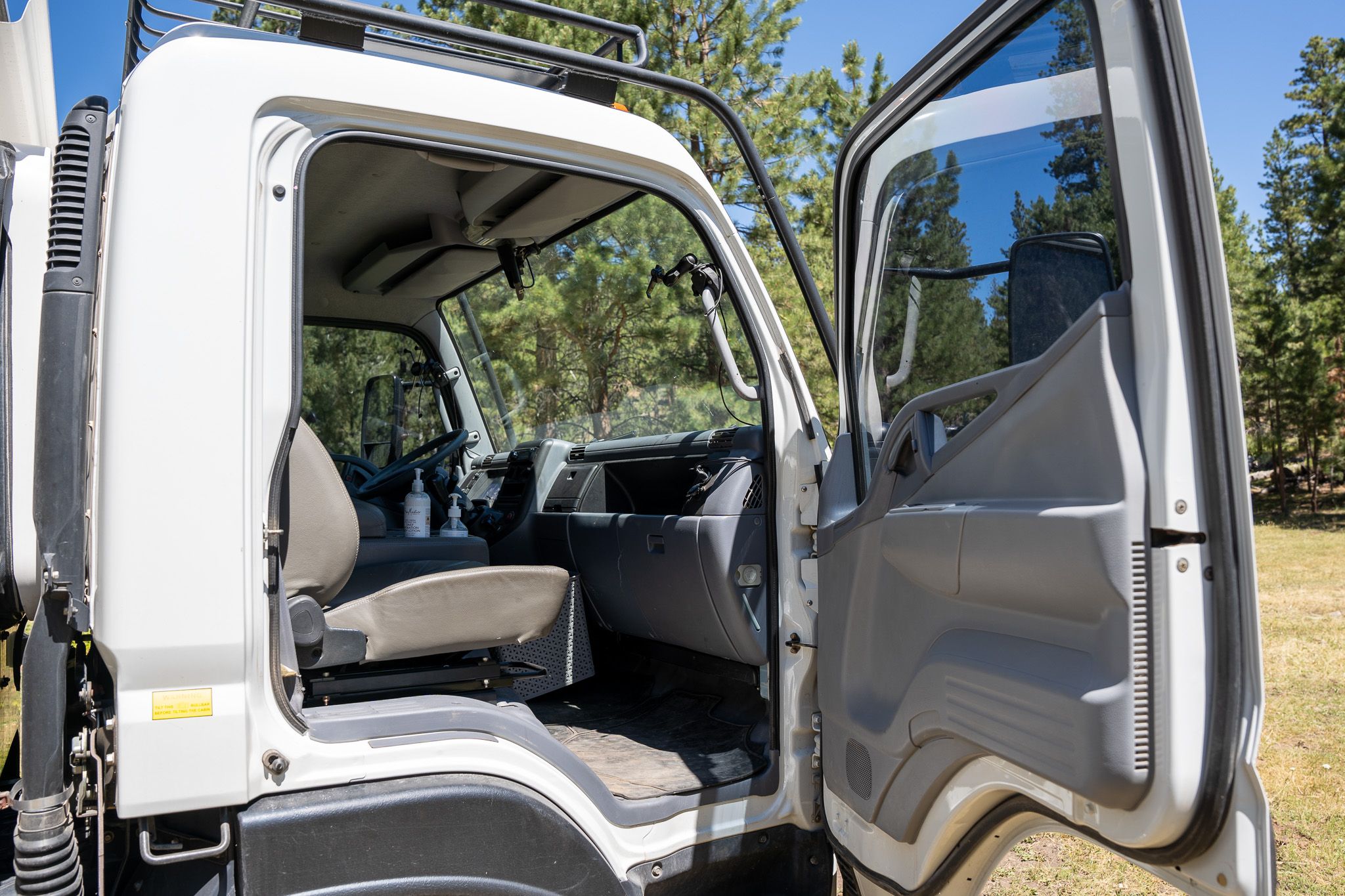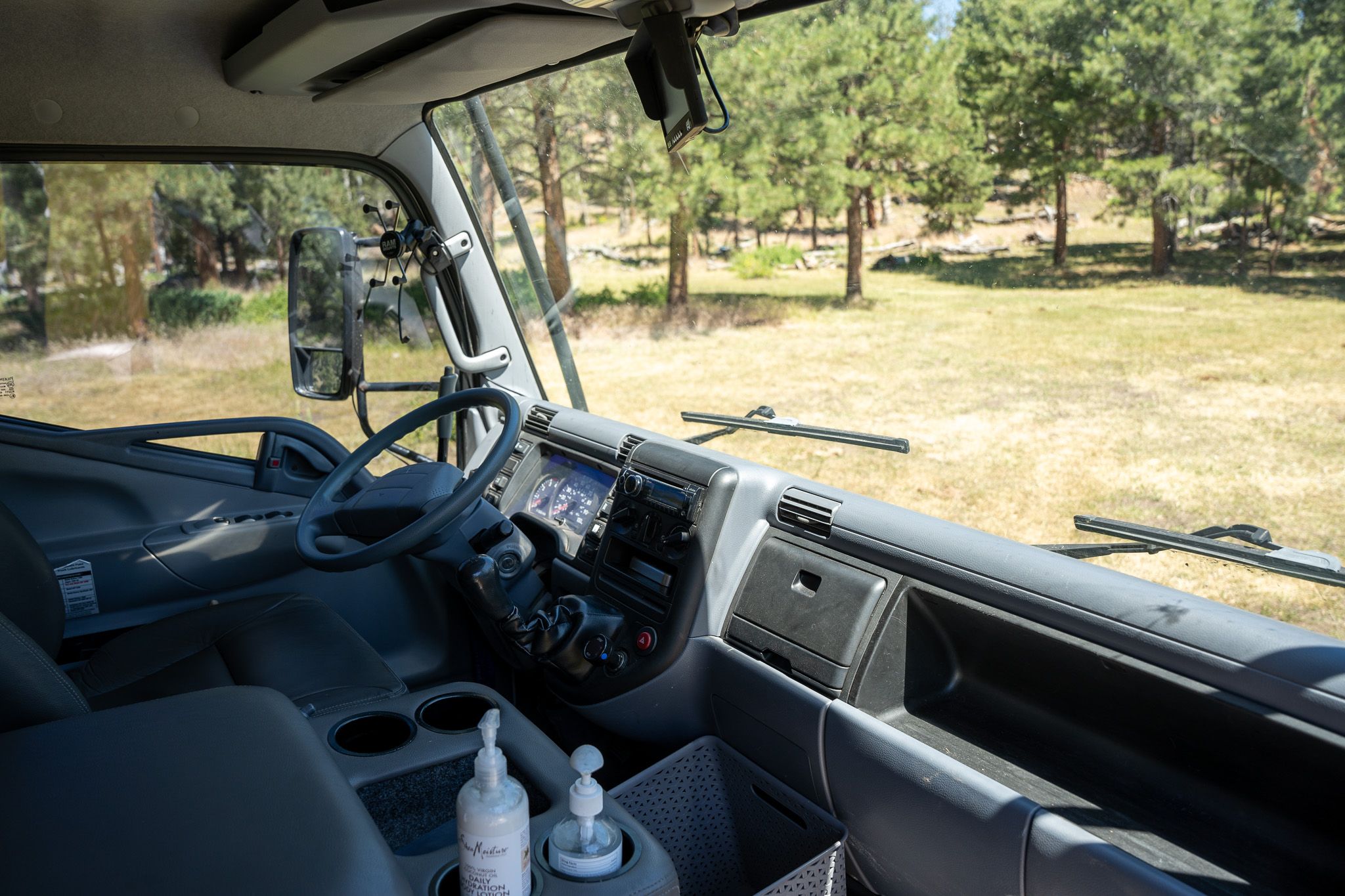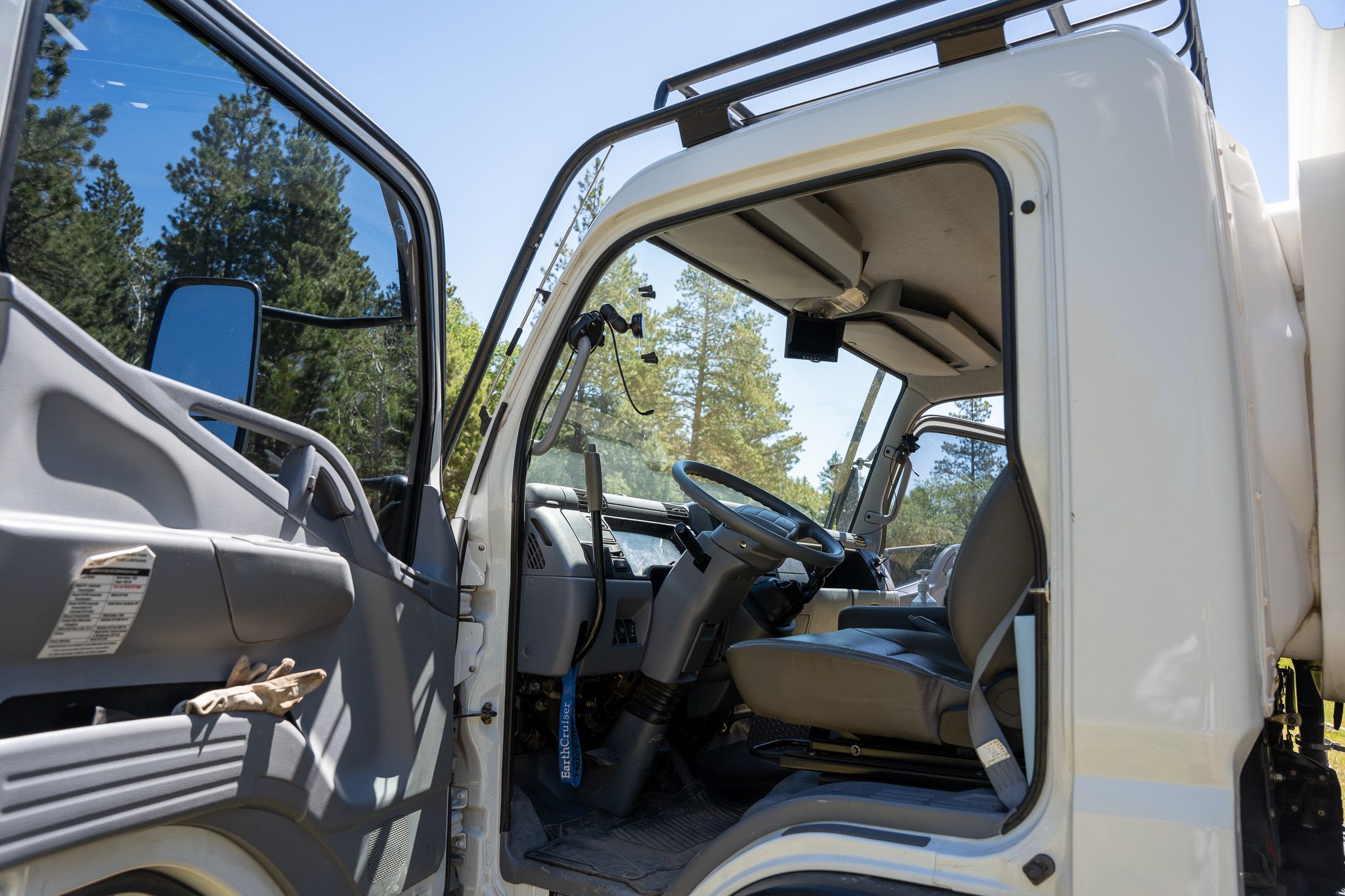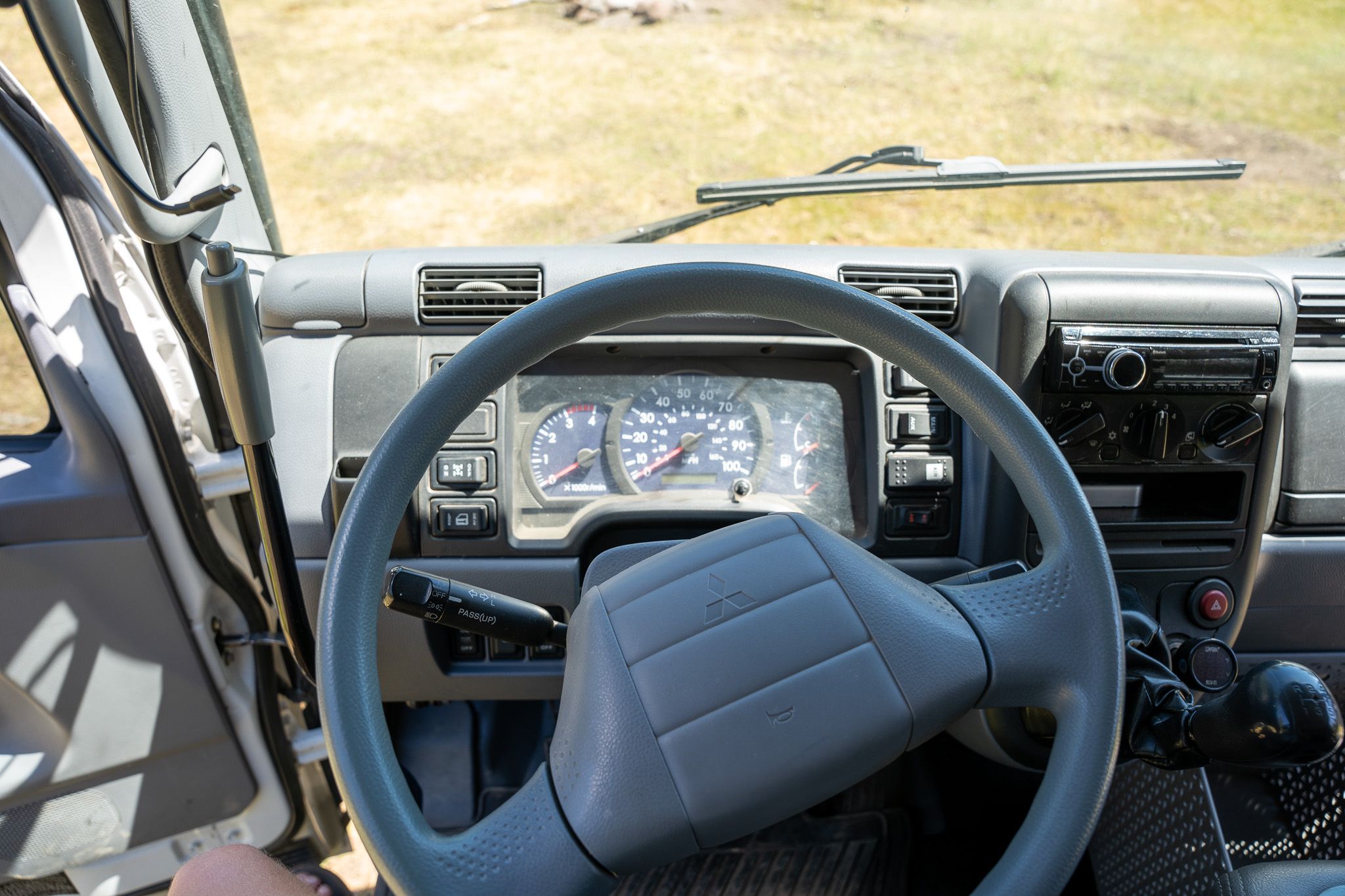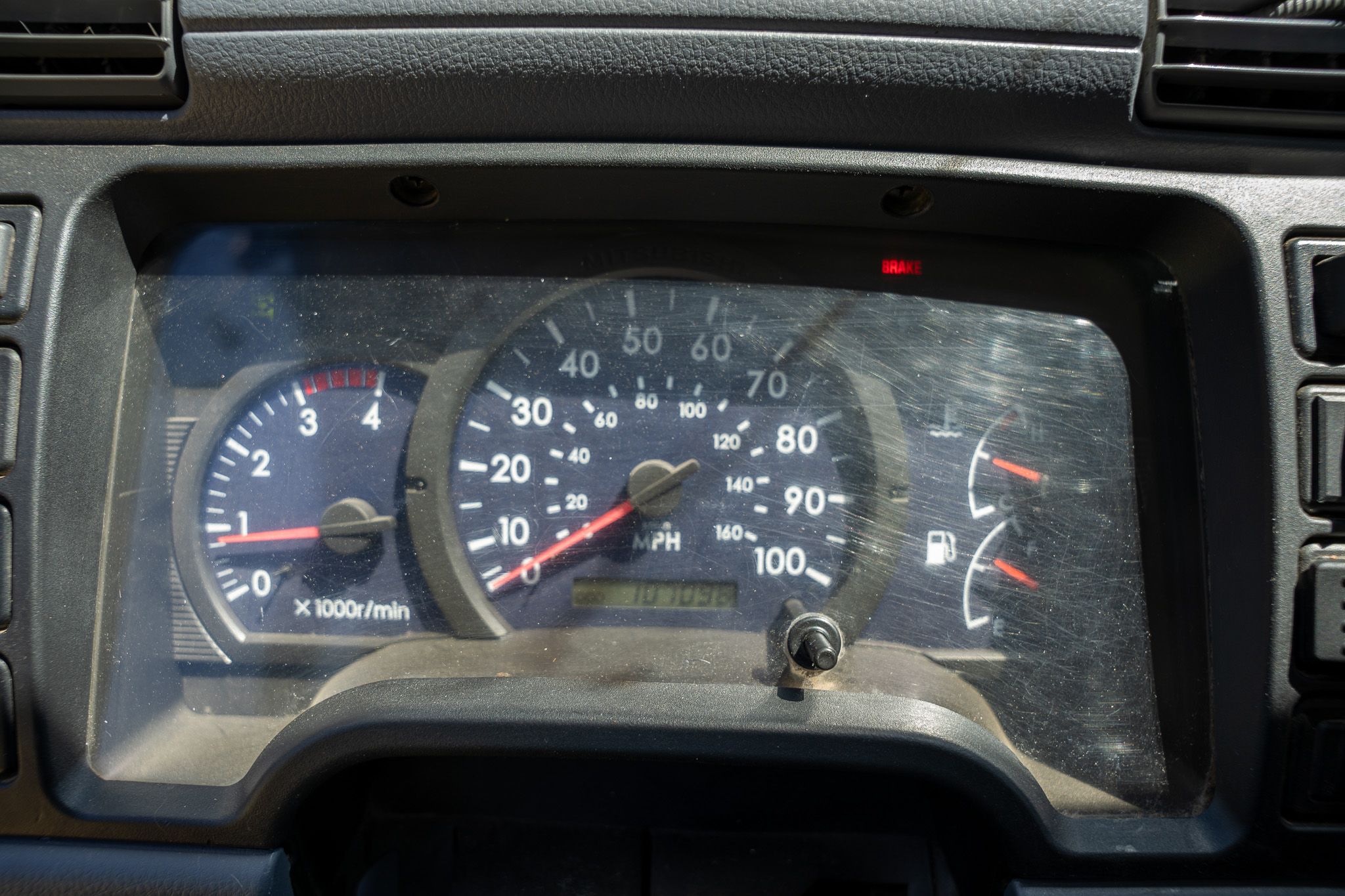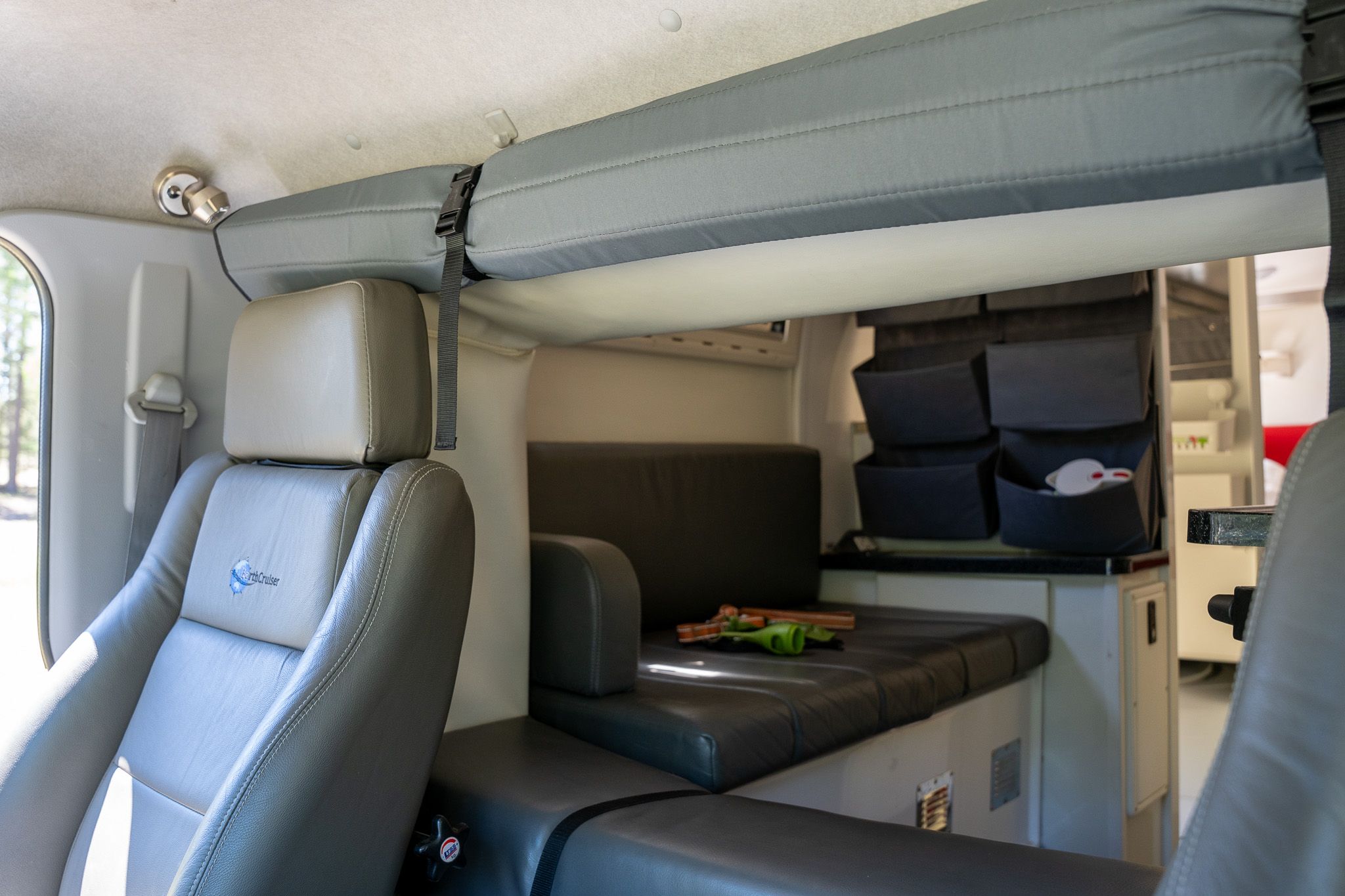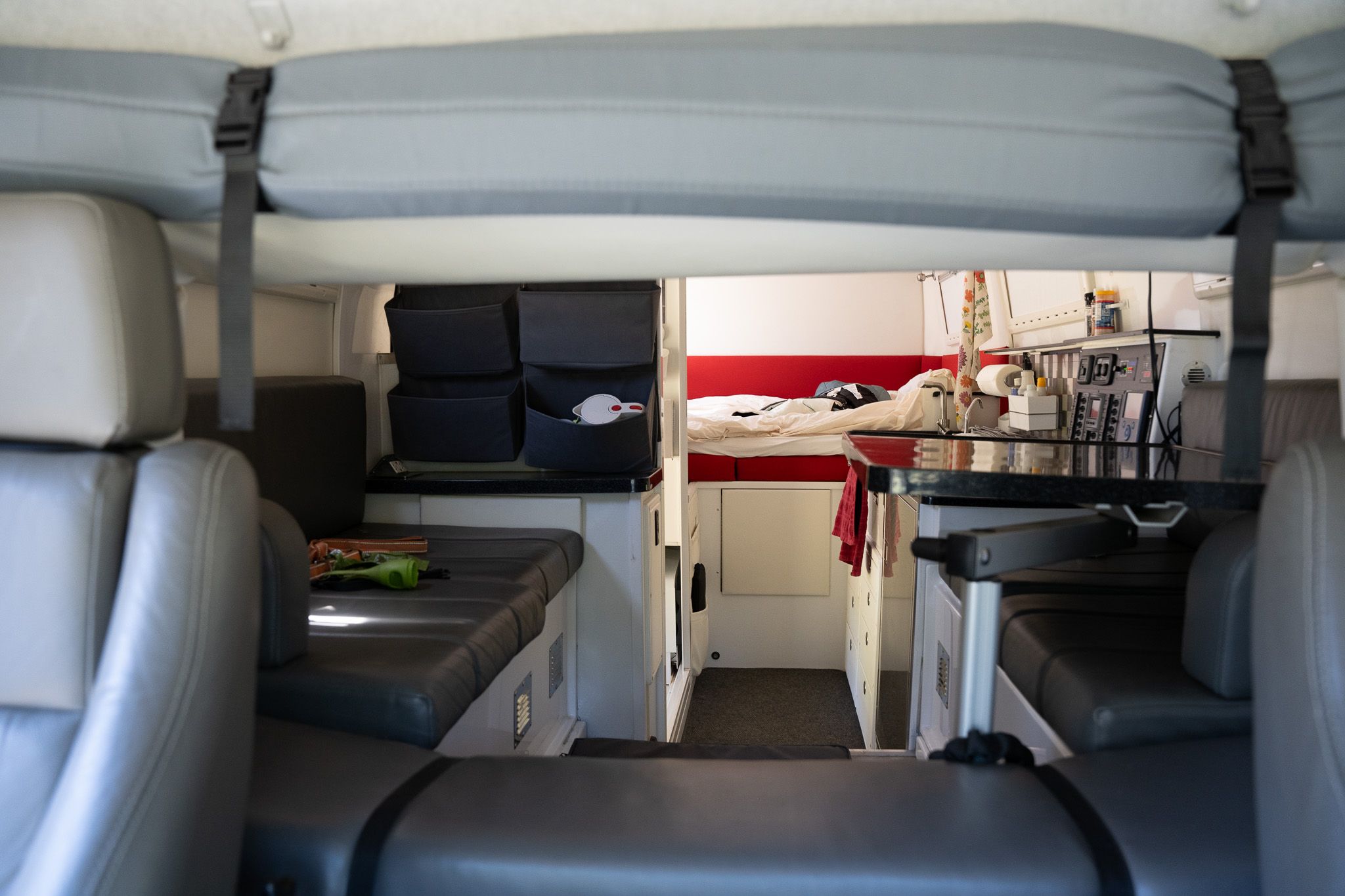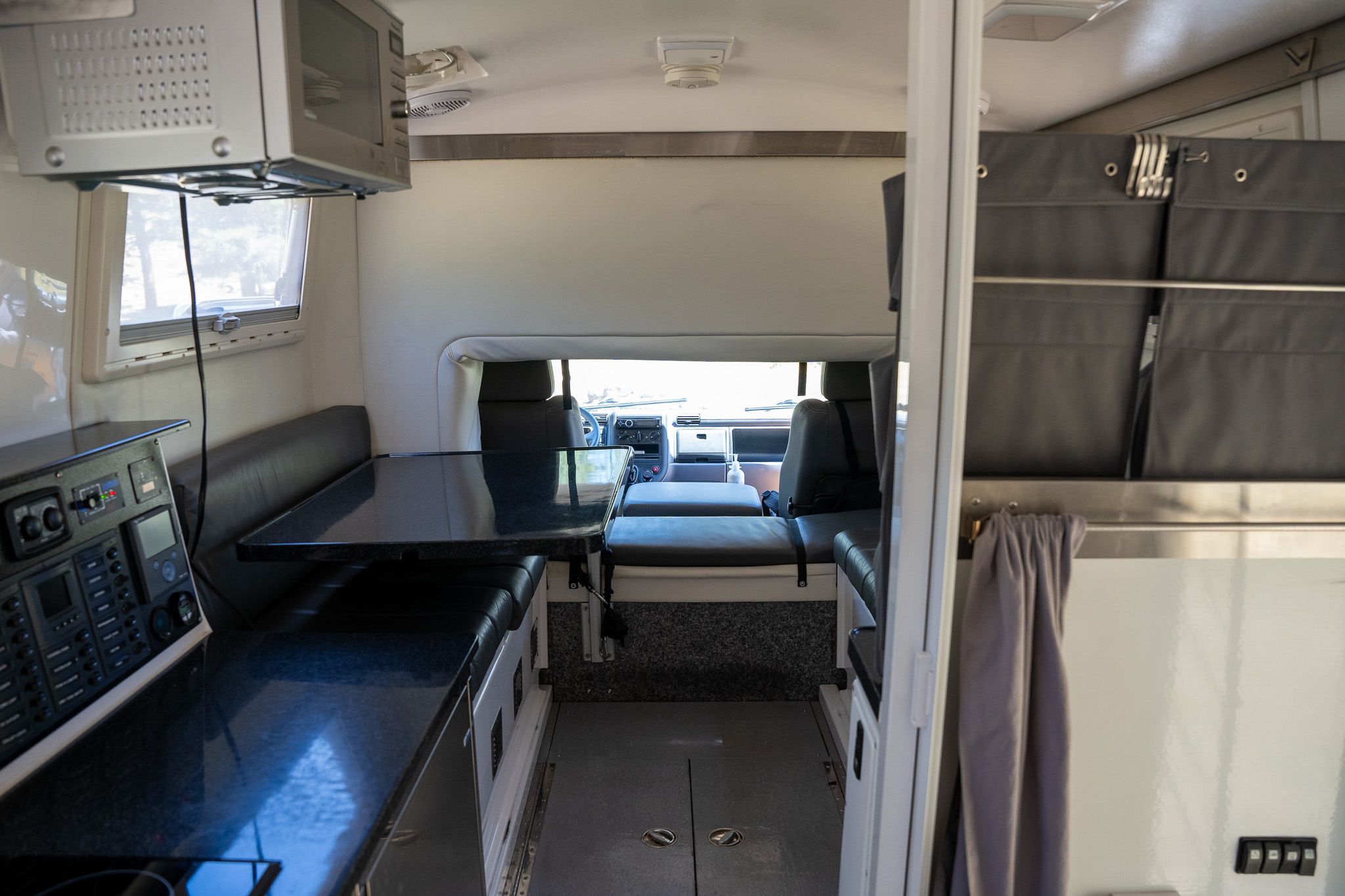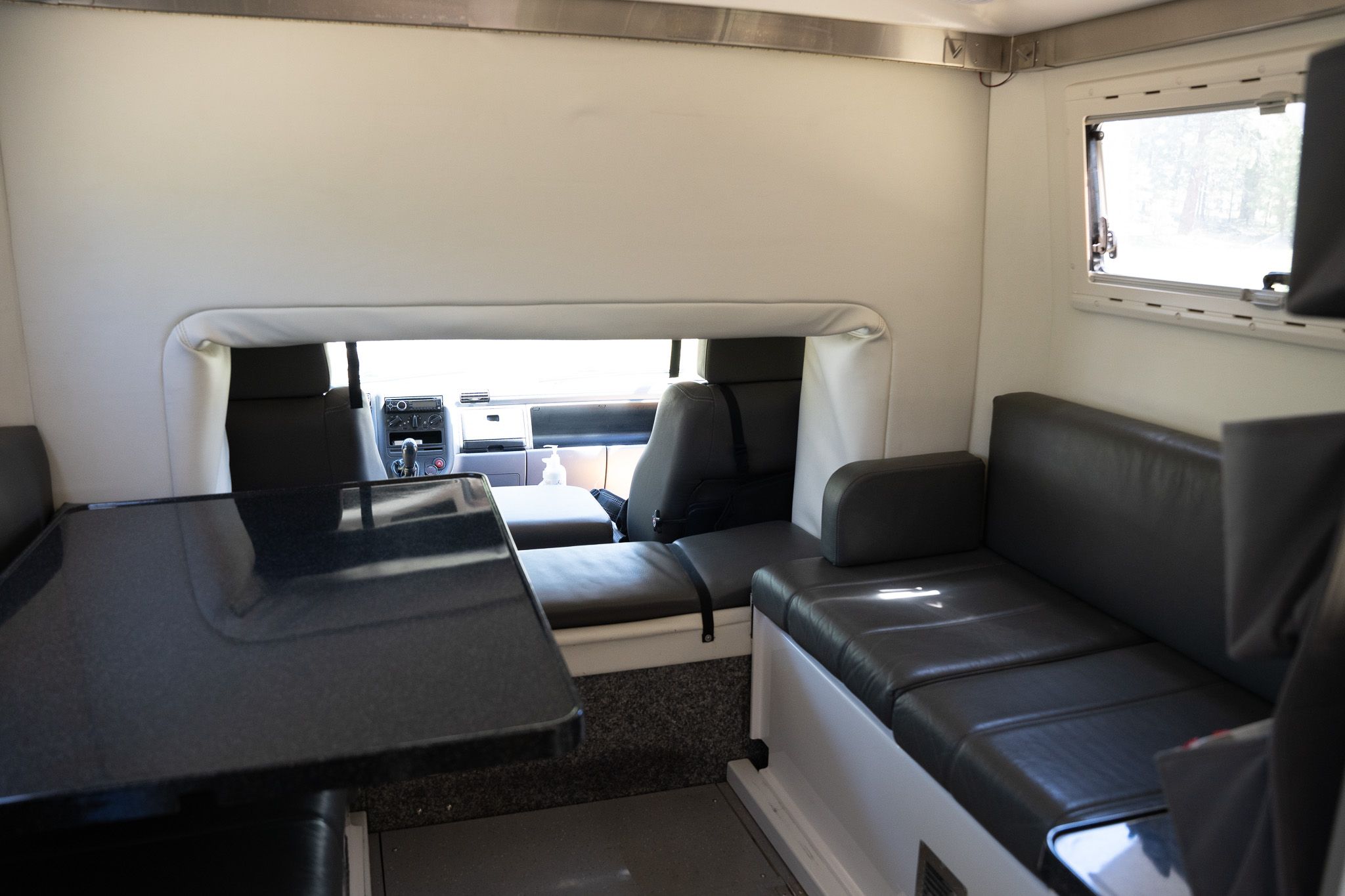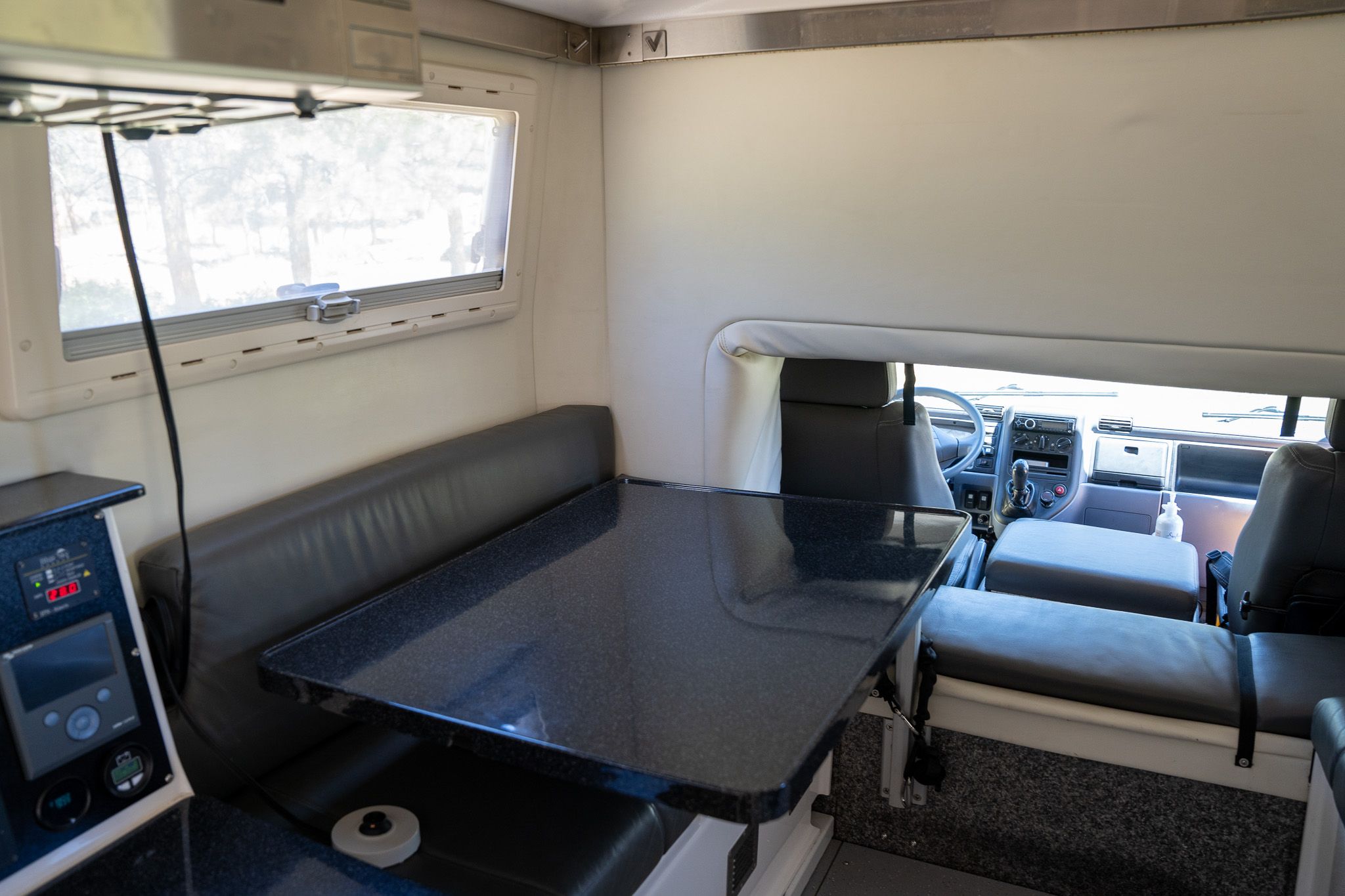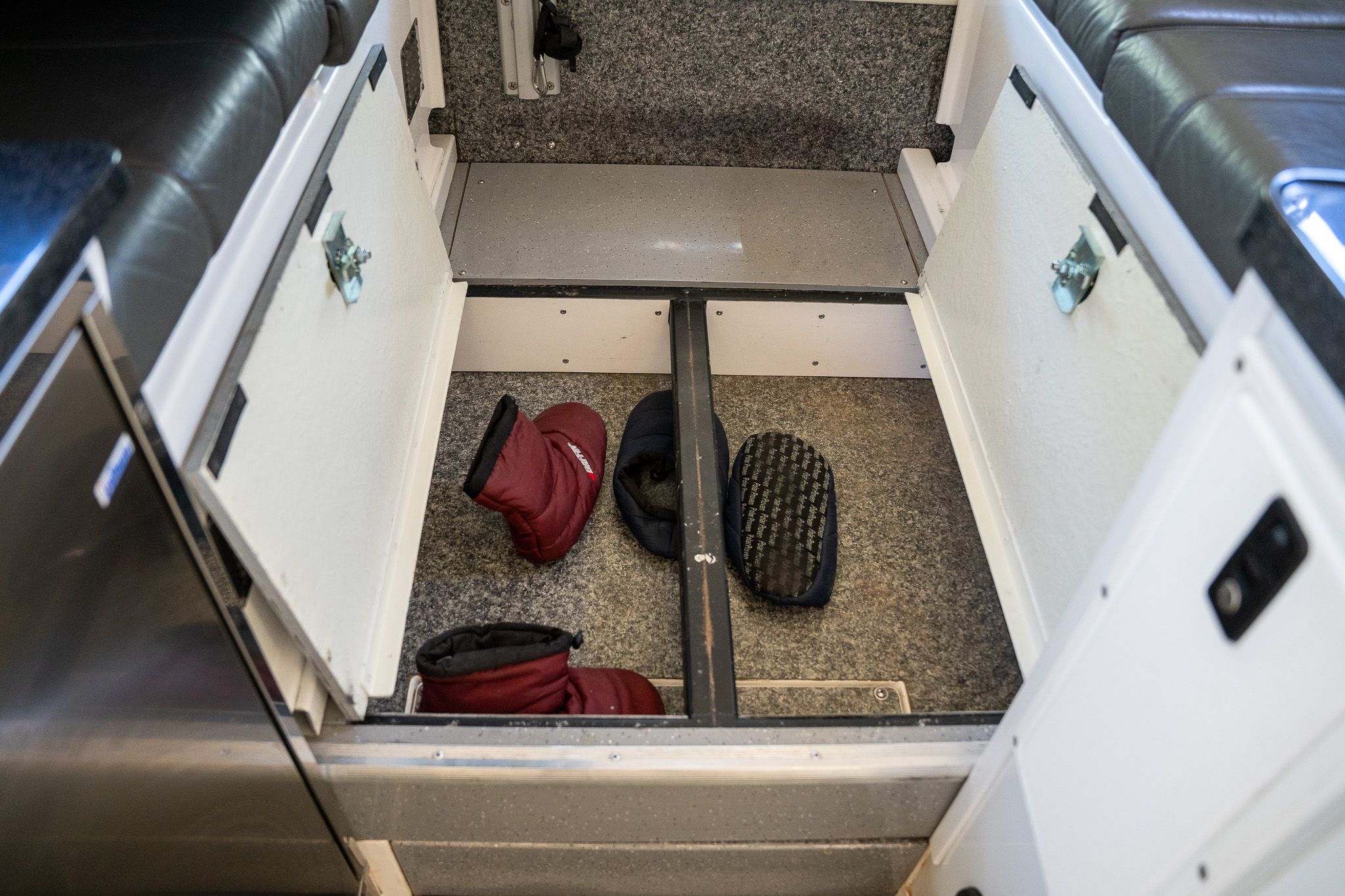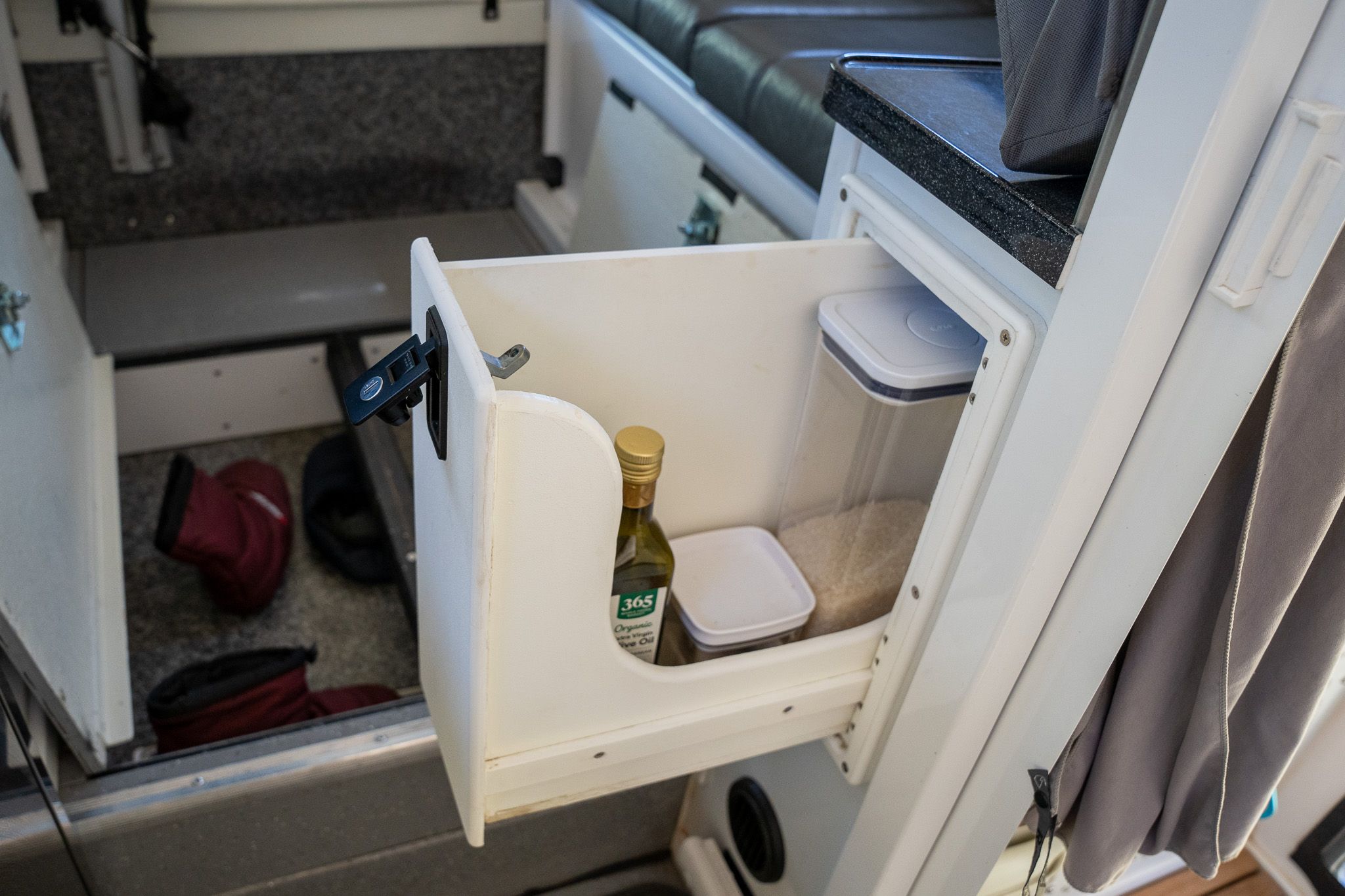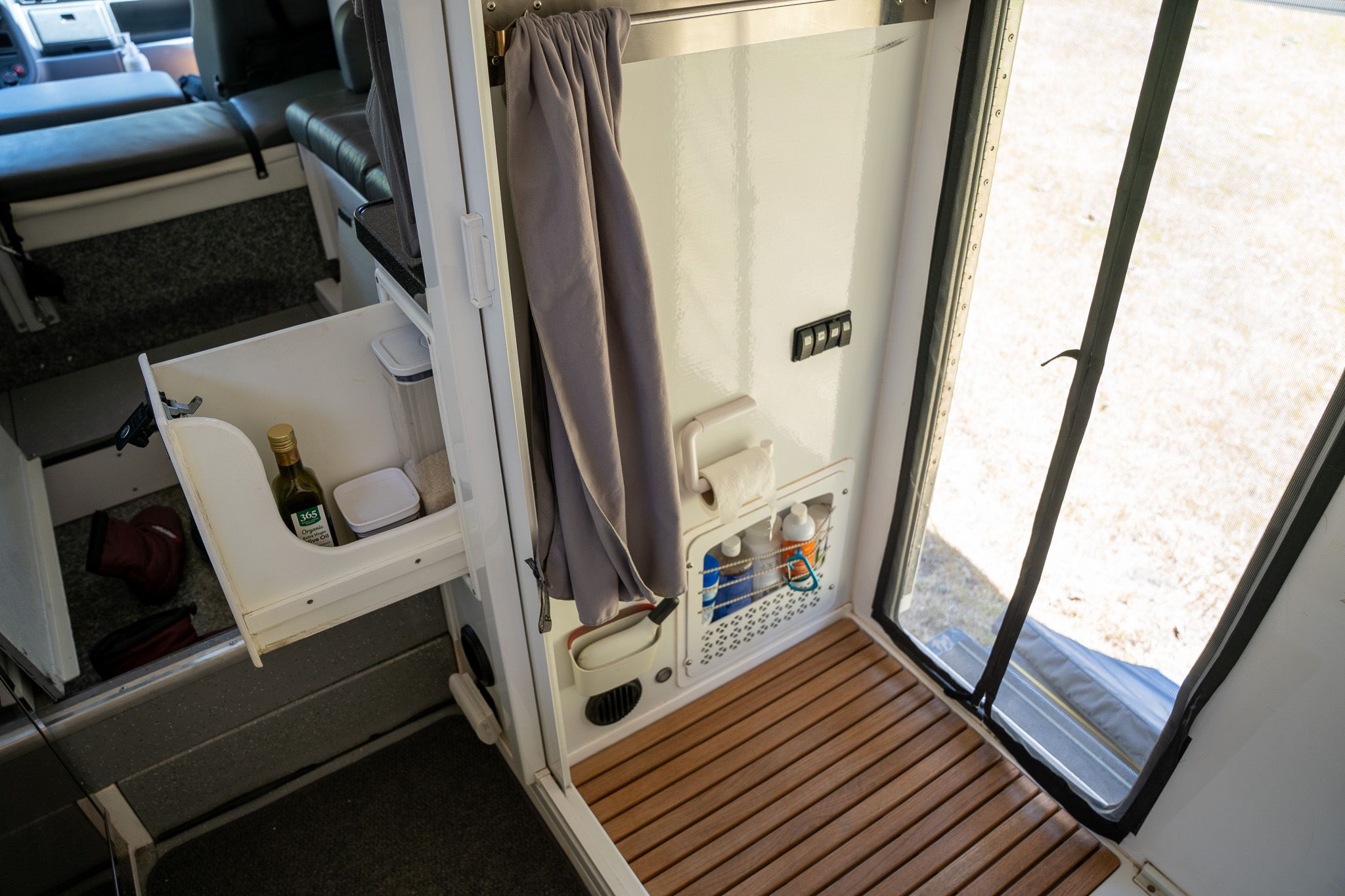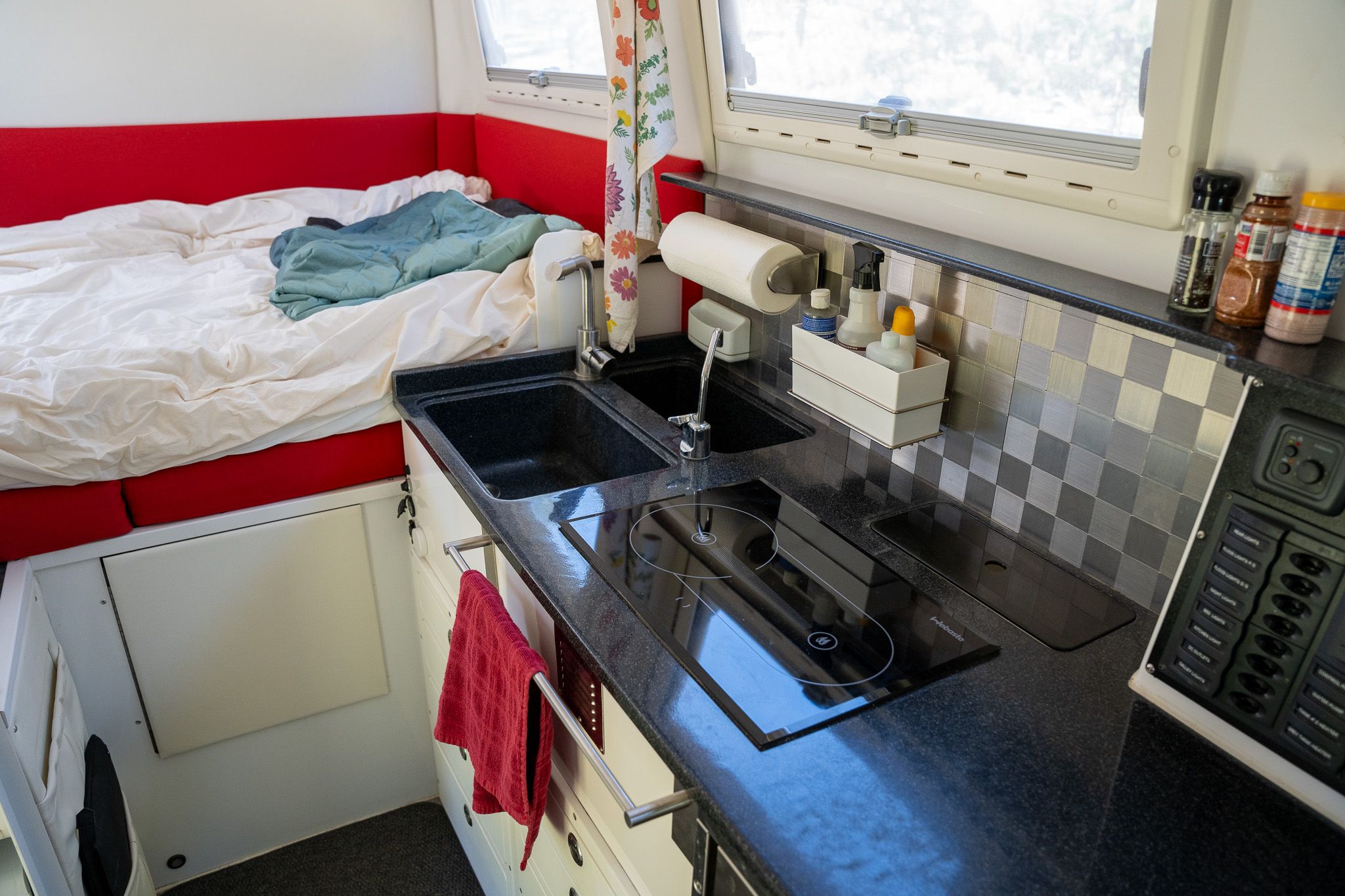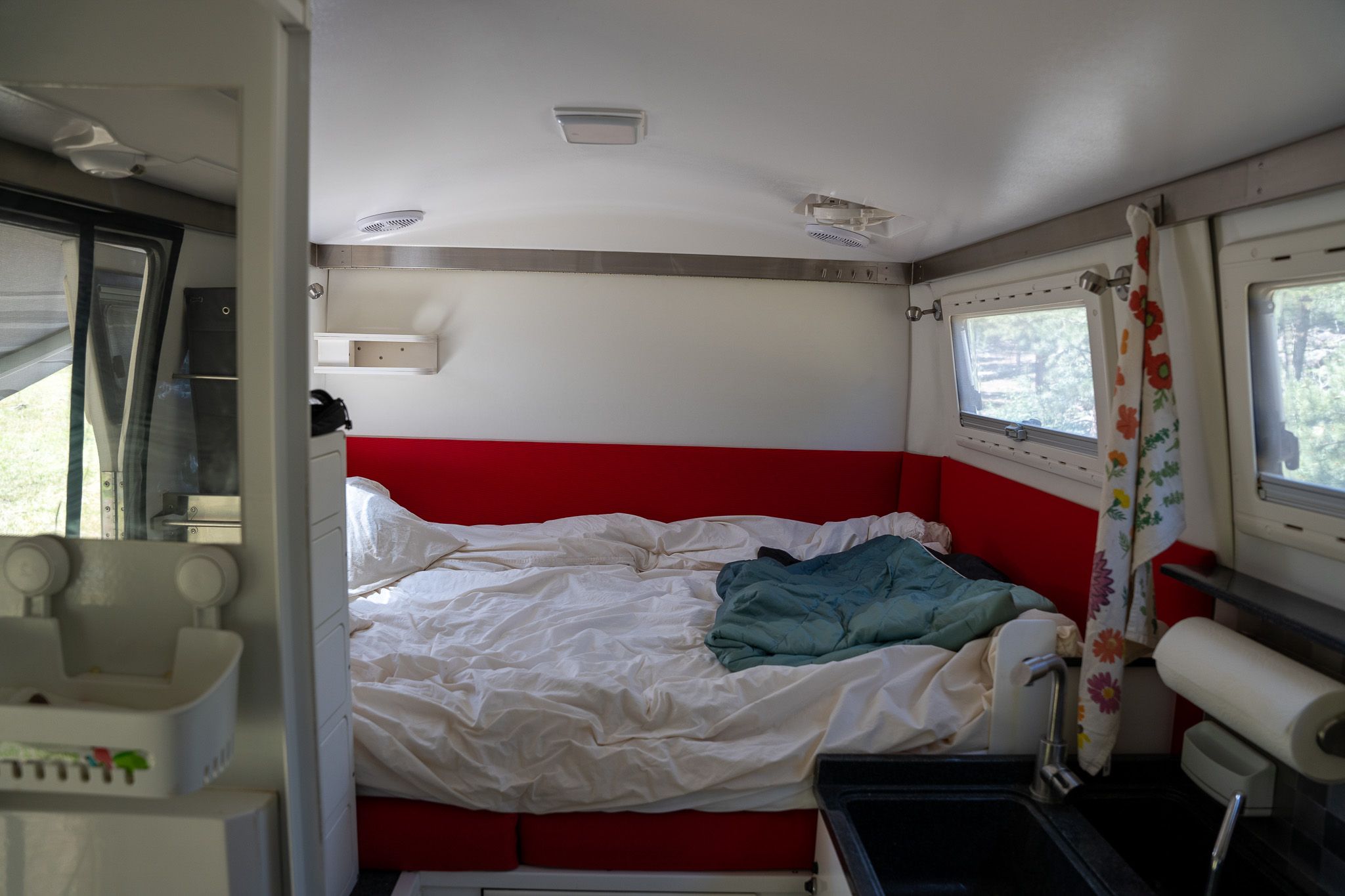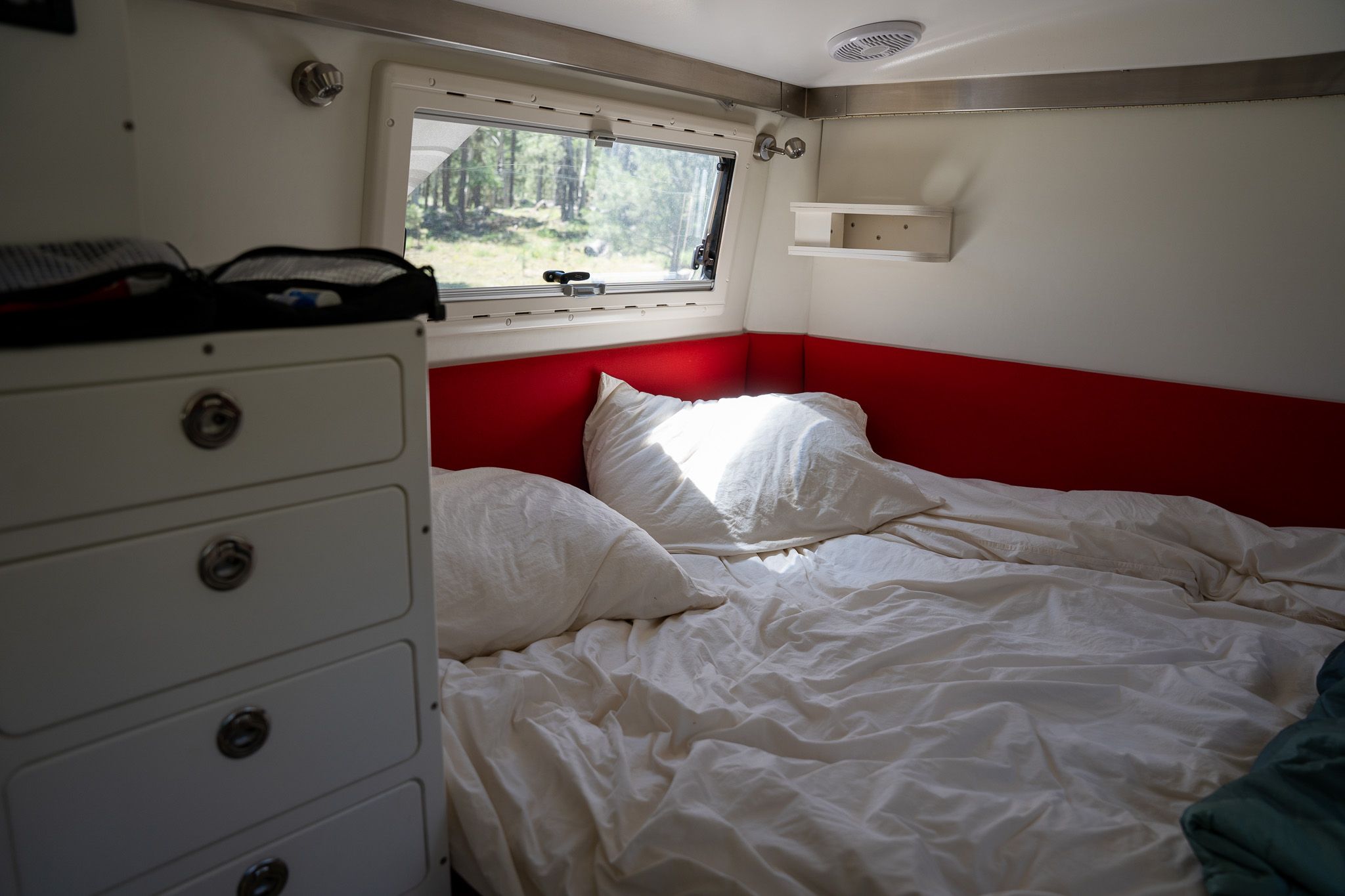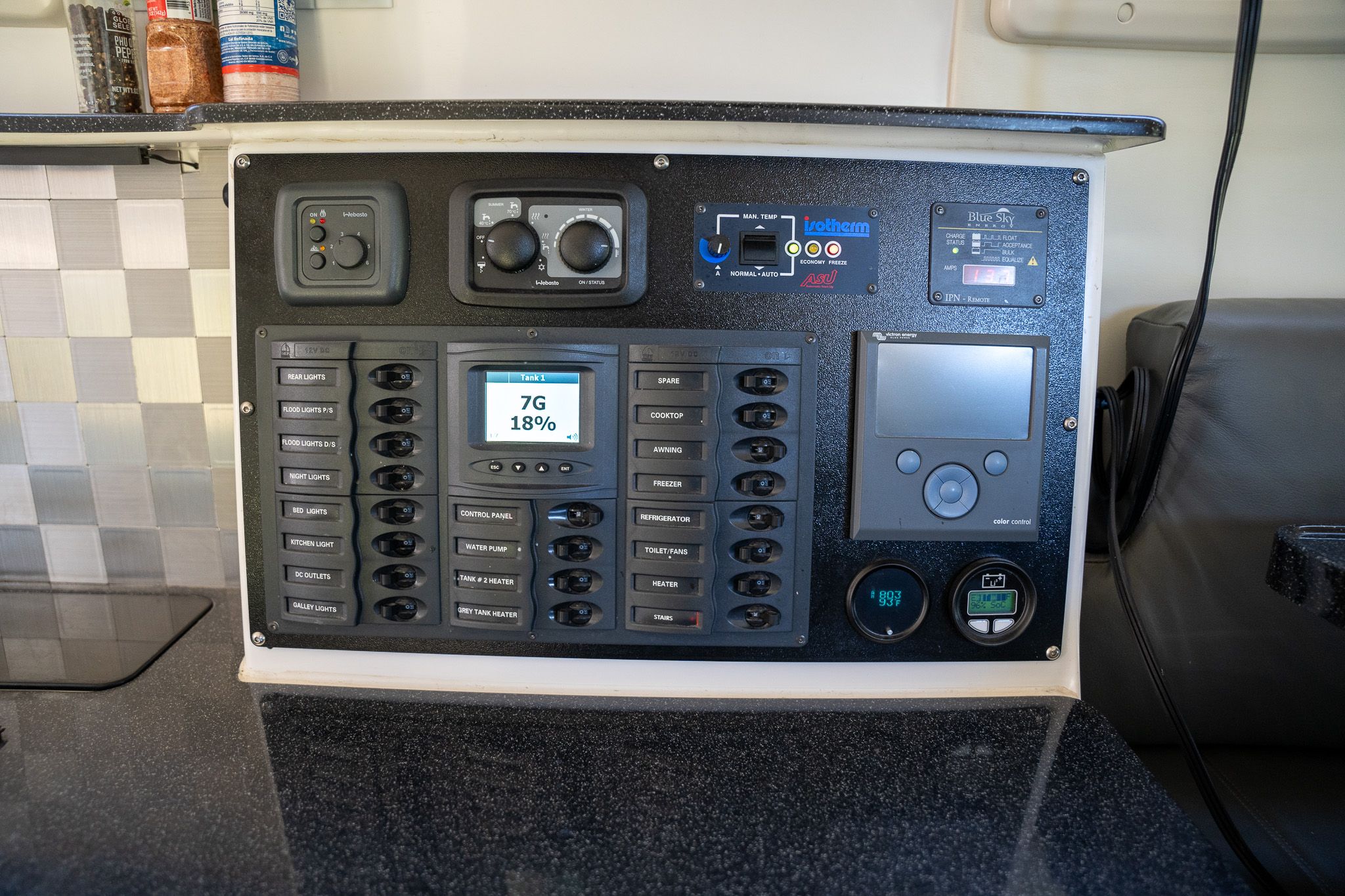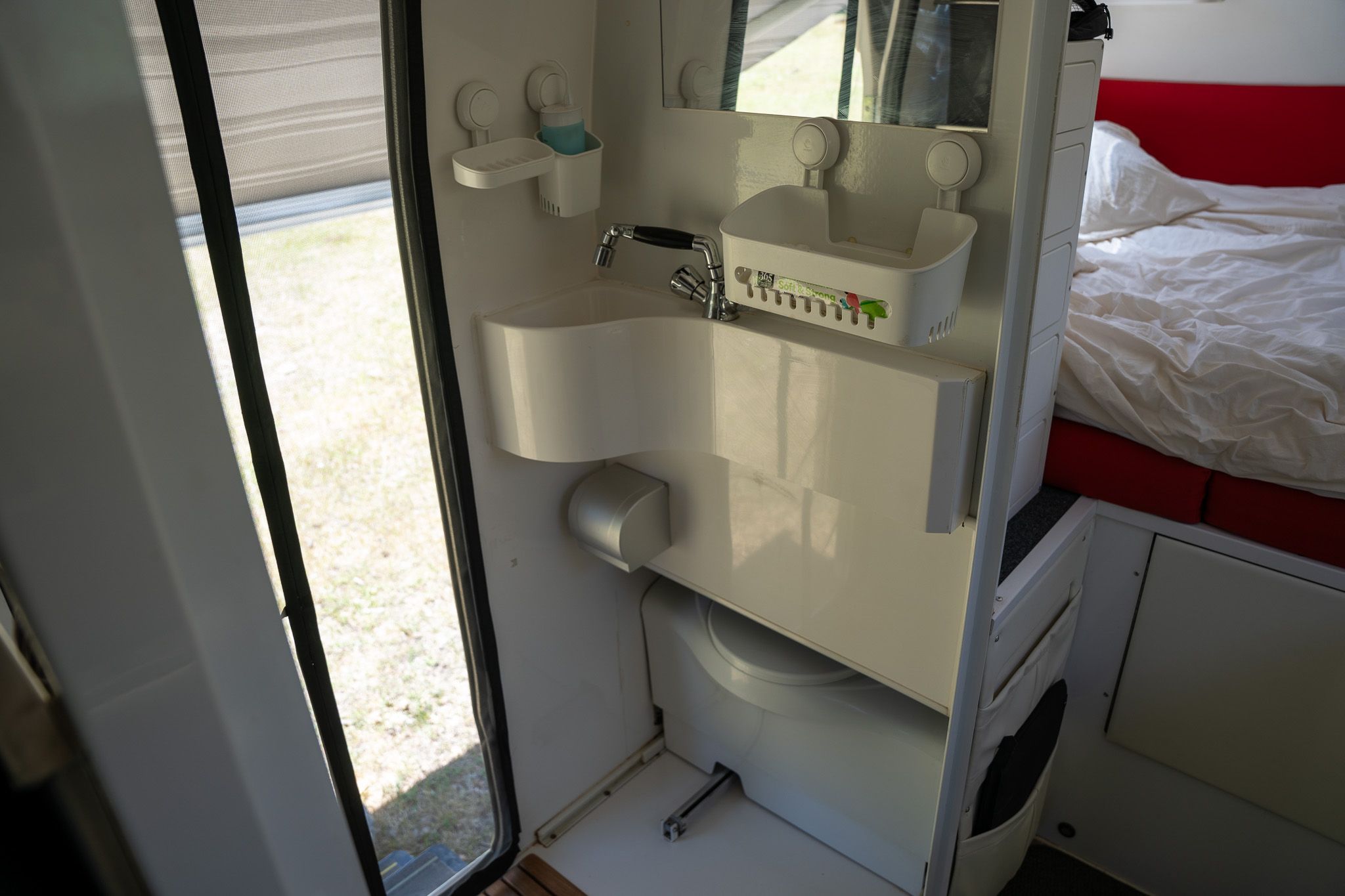 ---