Overlanding Baja - Week 4
January 9, 2022
Our fourth week was rich with new experiences. Baja is so incredibly beautiful and vibrant, and we now understand why people, especially those from British Columbia in Canada, keep coming back every winter. Certainly, this trip won't be our last in Baja.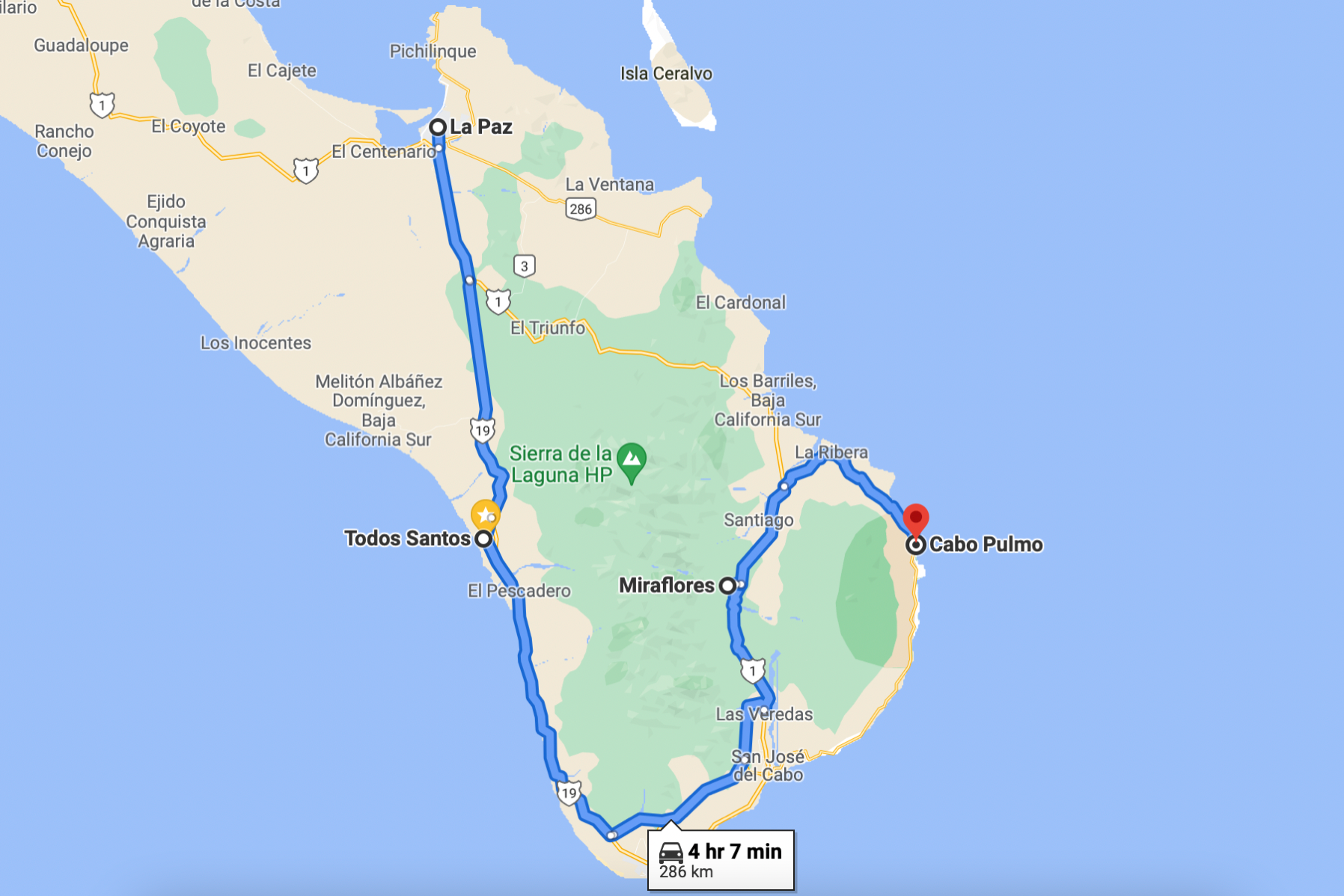 Our route for the fourth week in Baja.
Monday: La Paz to Todos Santos (1h / 80km)
After a restful Sunday in Maranatha RV Park south of town, we started our week with a "street art" tour of La Paz. Our guide, Amélie, is a French journalist. She has been living in La Paz for the last 7 years and is passionated about the stories of the city and the people. Through the murals, we got glimpses into the history of La Paz, the complicated relationship between the sea and the people, and the shared desire among all to co-exist in harmony.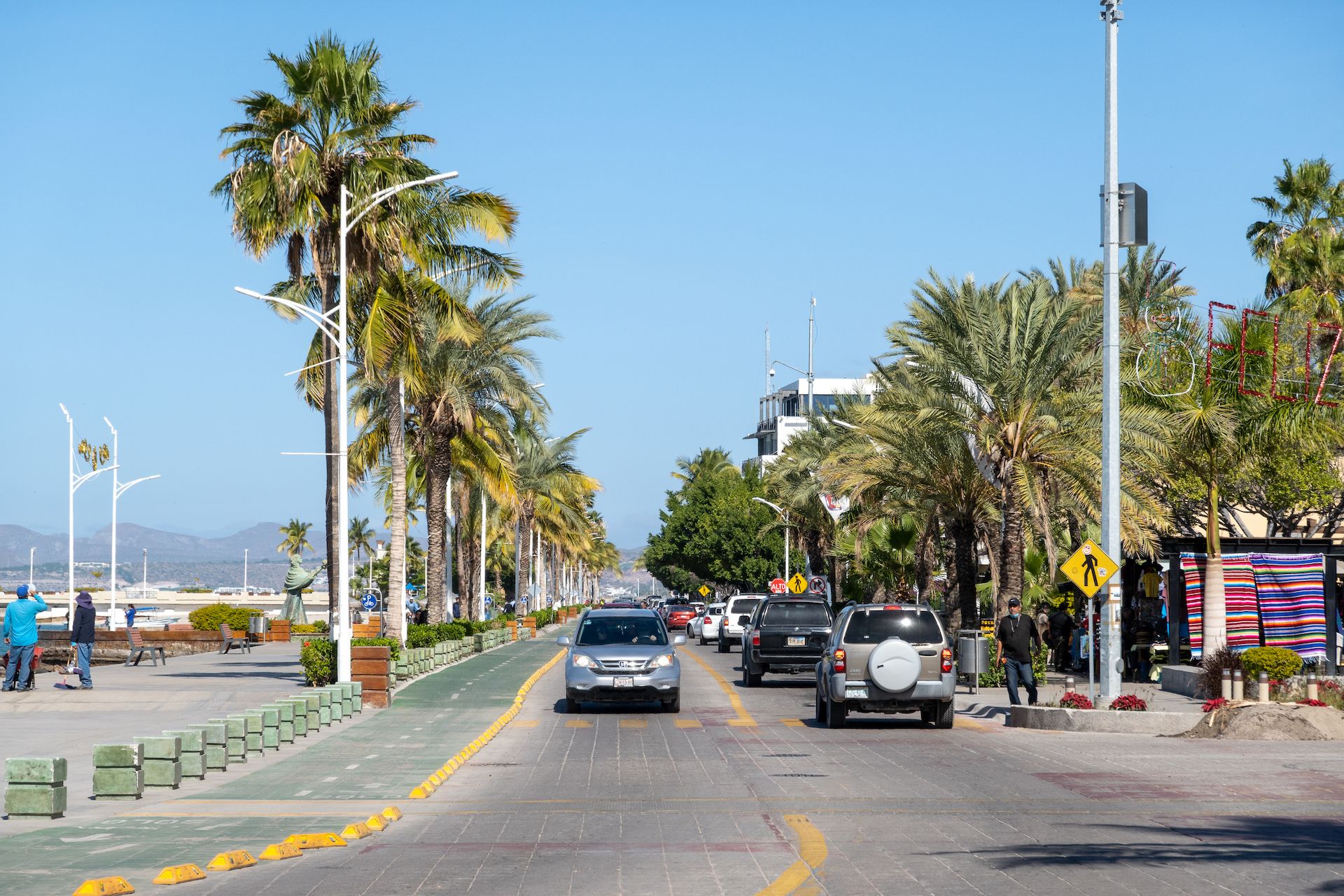 La Paz "Malecón" (waterfront esplanade)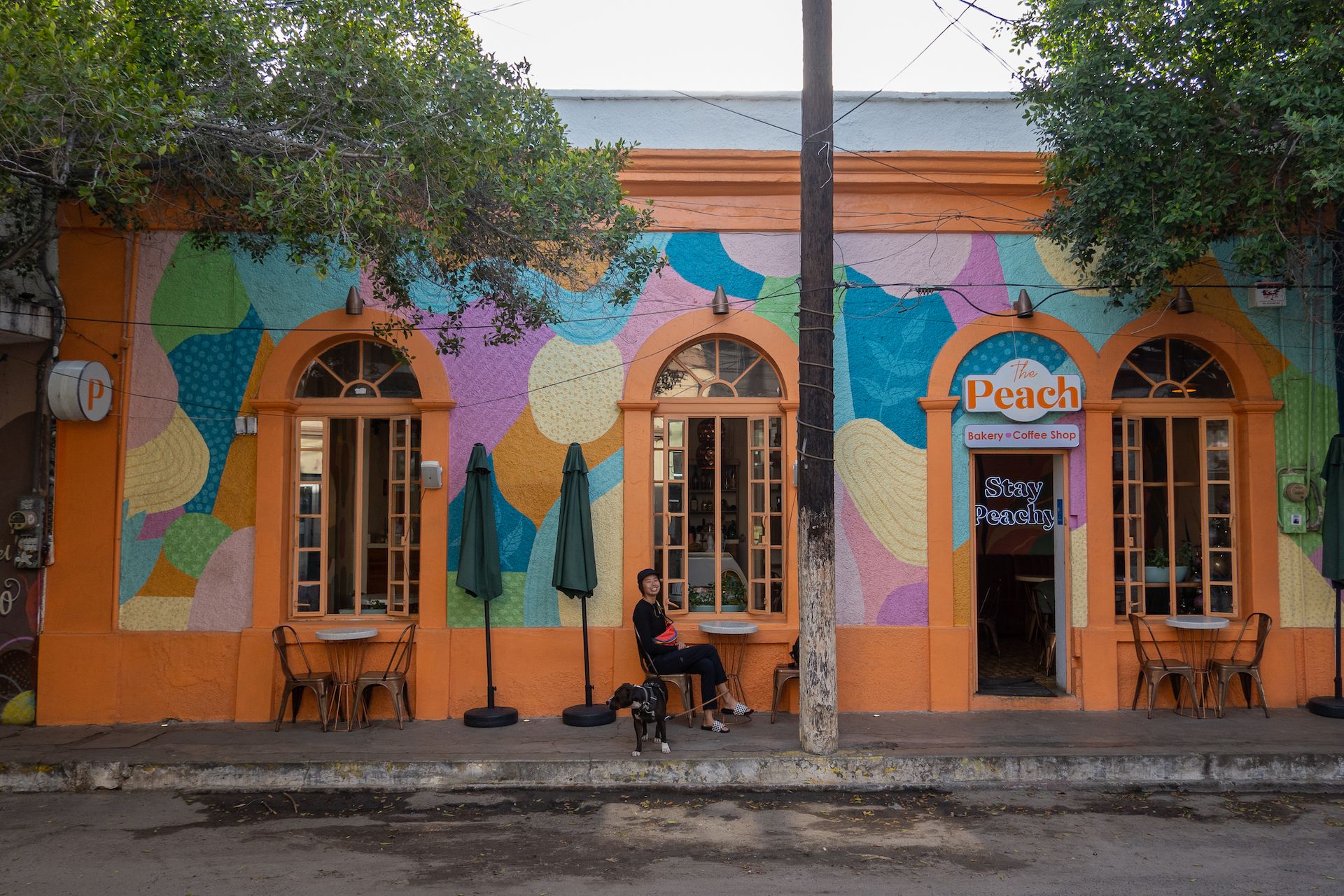 Starting the day with a delicious breakfast at this colorful café, where the tour also began.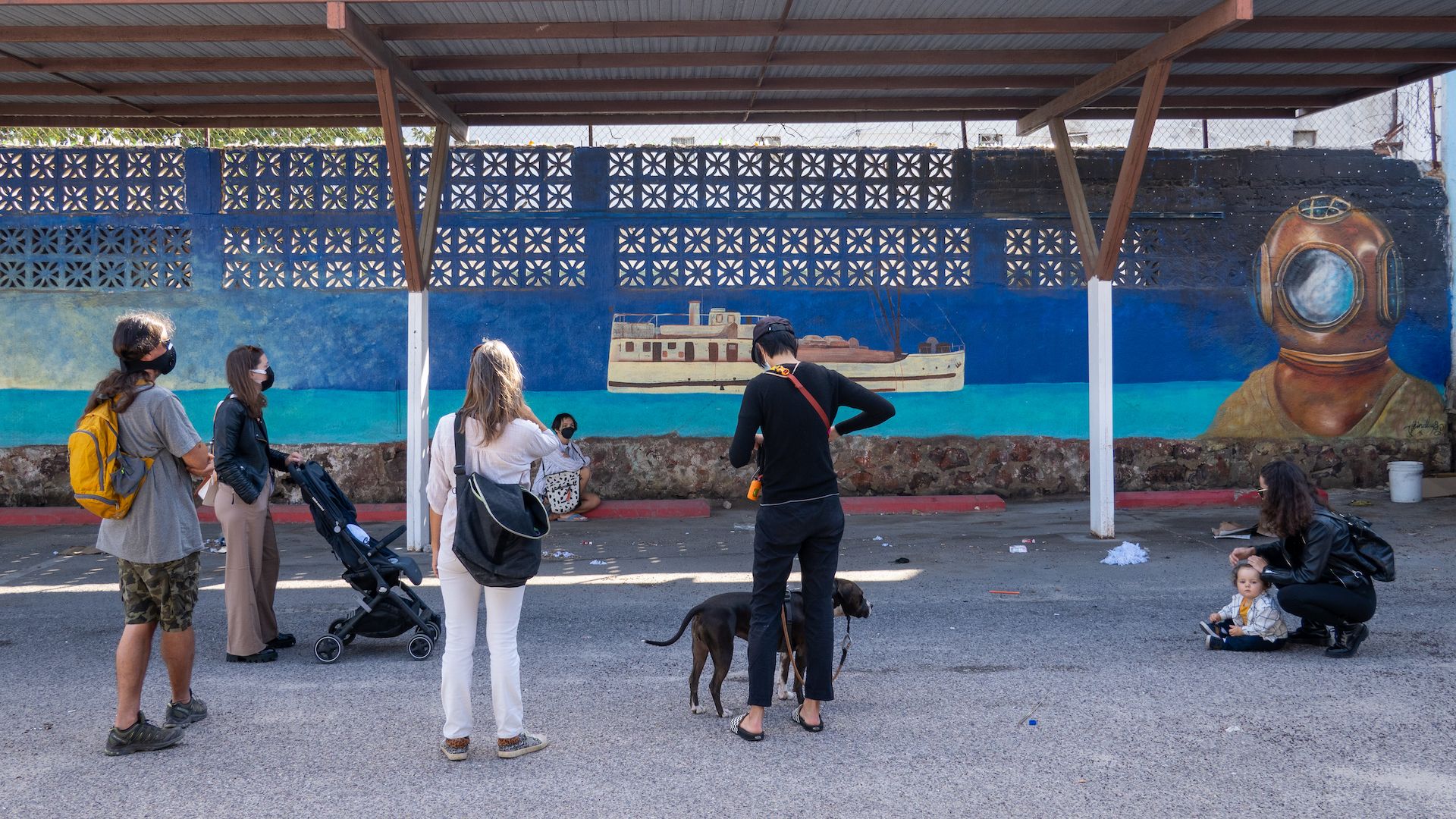 Our group of 8 during the tour.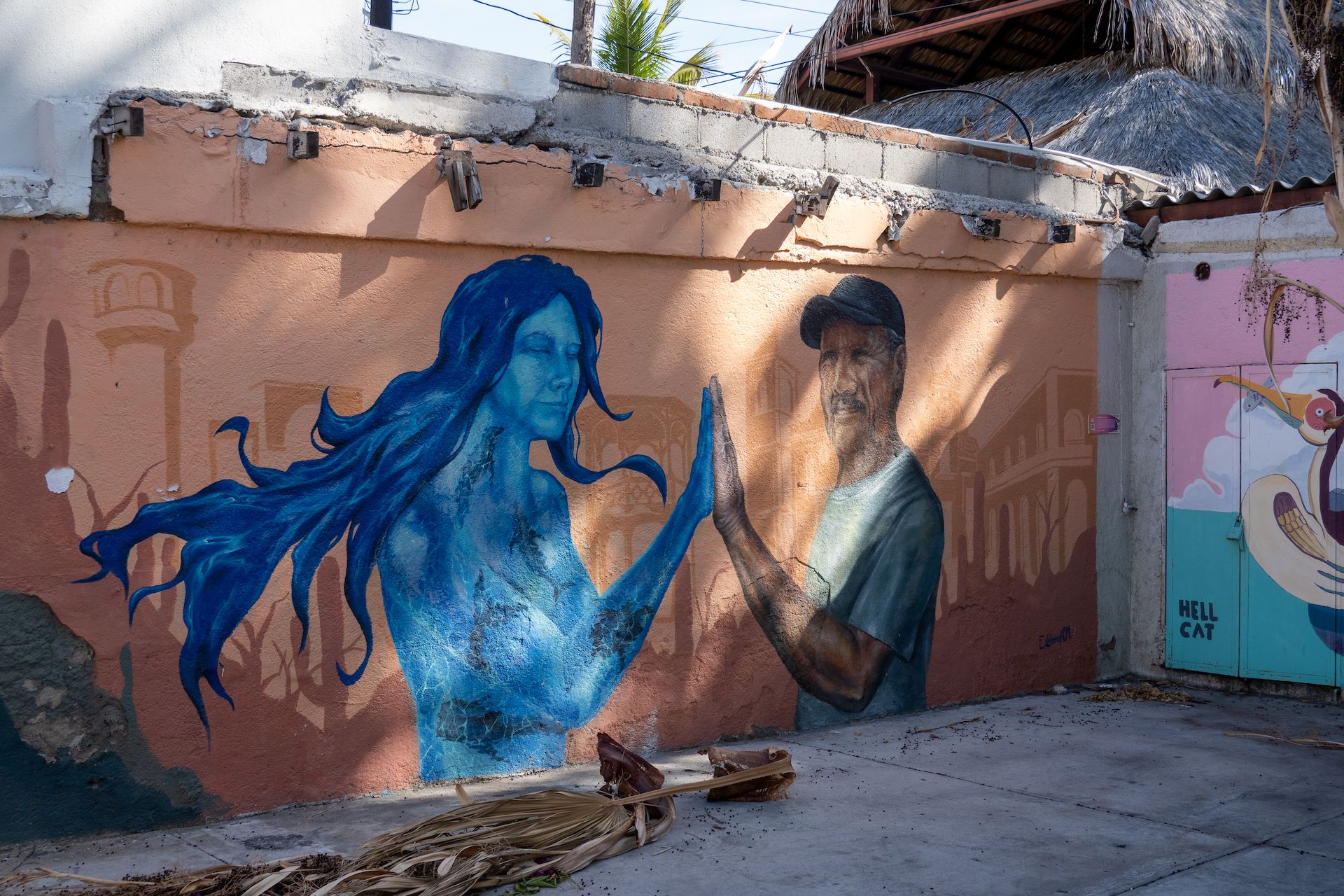 Street art "Reconciliation"
We then made our way to Todos Santos, just an hour south of La Paz. We were excited to stay and visit the village that has become a hip town over the past few years and drawn artists and chefs from all over the world.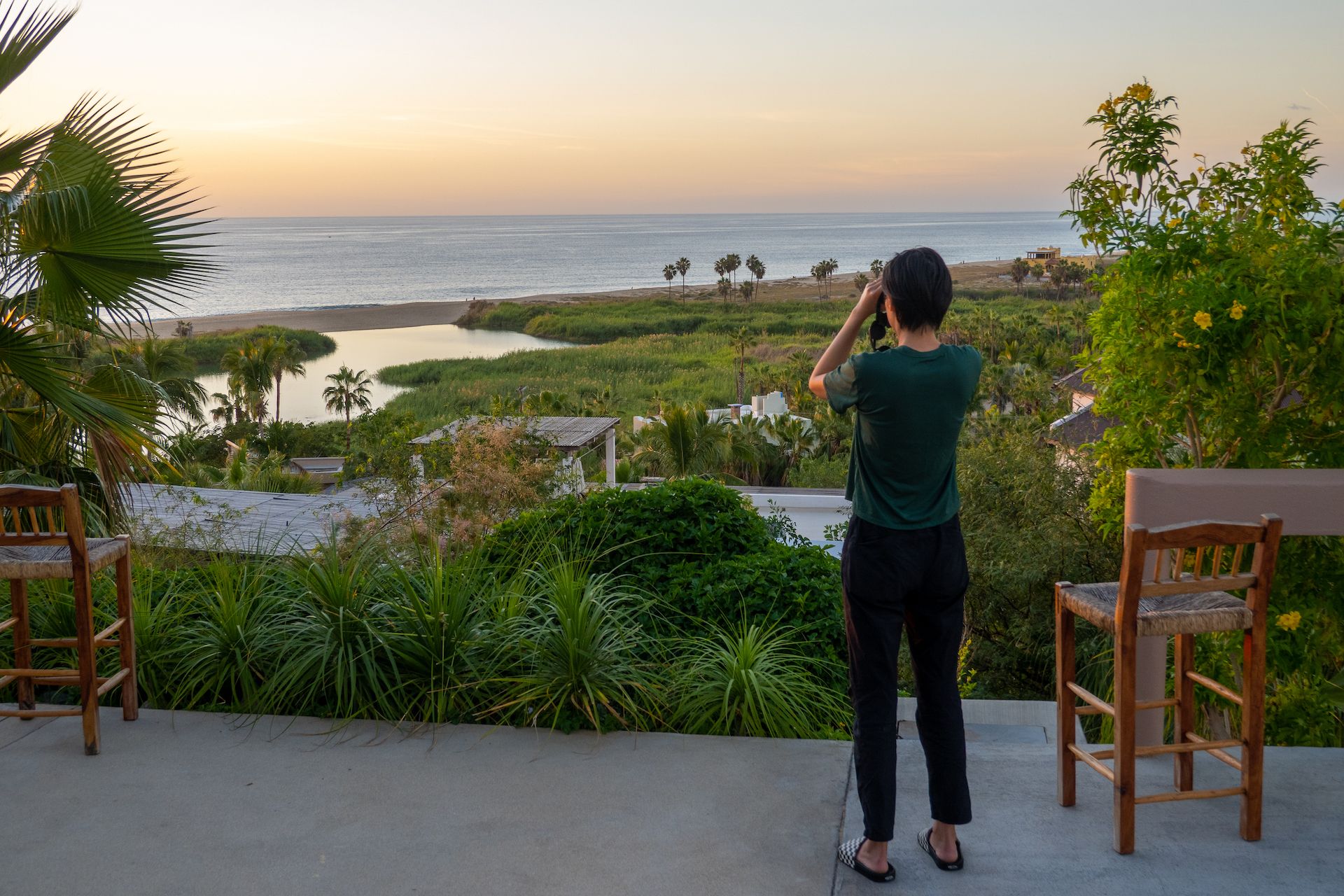 Observing whales on the terrace of our hotel. The whales were everywhere in the bay and could be easily spotted with our binoculars.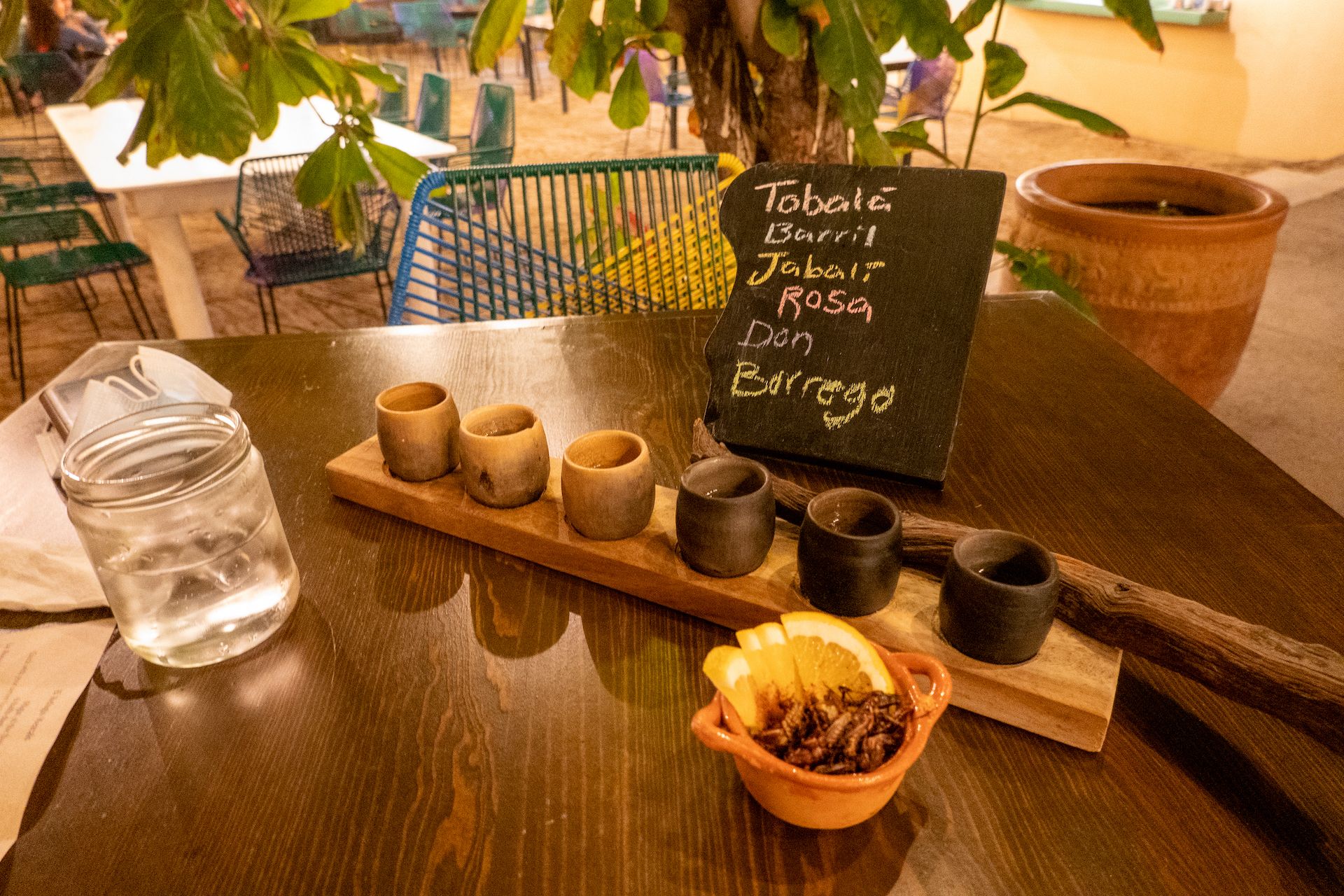 Mezcal tasting flight served with orange slices and fried grasshoppers to reset the palette between tasting.
On our way to dinner, we ran into a French couple from Bordeaux, who invited us to join them on a boat tour that they arranged with a local fisherman the following morning. The tour was to catch some fish while looking for whales in the bay. After what we saw with the binoculars on shore, we couldn't refuse the opportunity to see the whales up close.
Tuesday: Todos Santos
We woke up shortly after sunrise, packed our stuff and made our way to the dock to find our captain Egu. During the tour, we caught a huge Mahi Mahi along with some small fish, and saw many humpback whales breaching and playing in the warm water.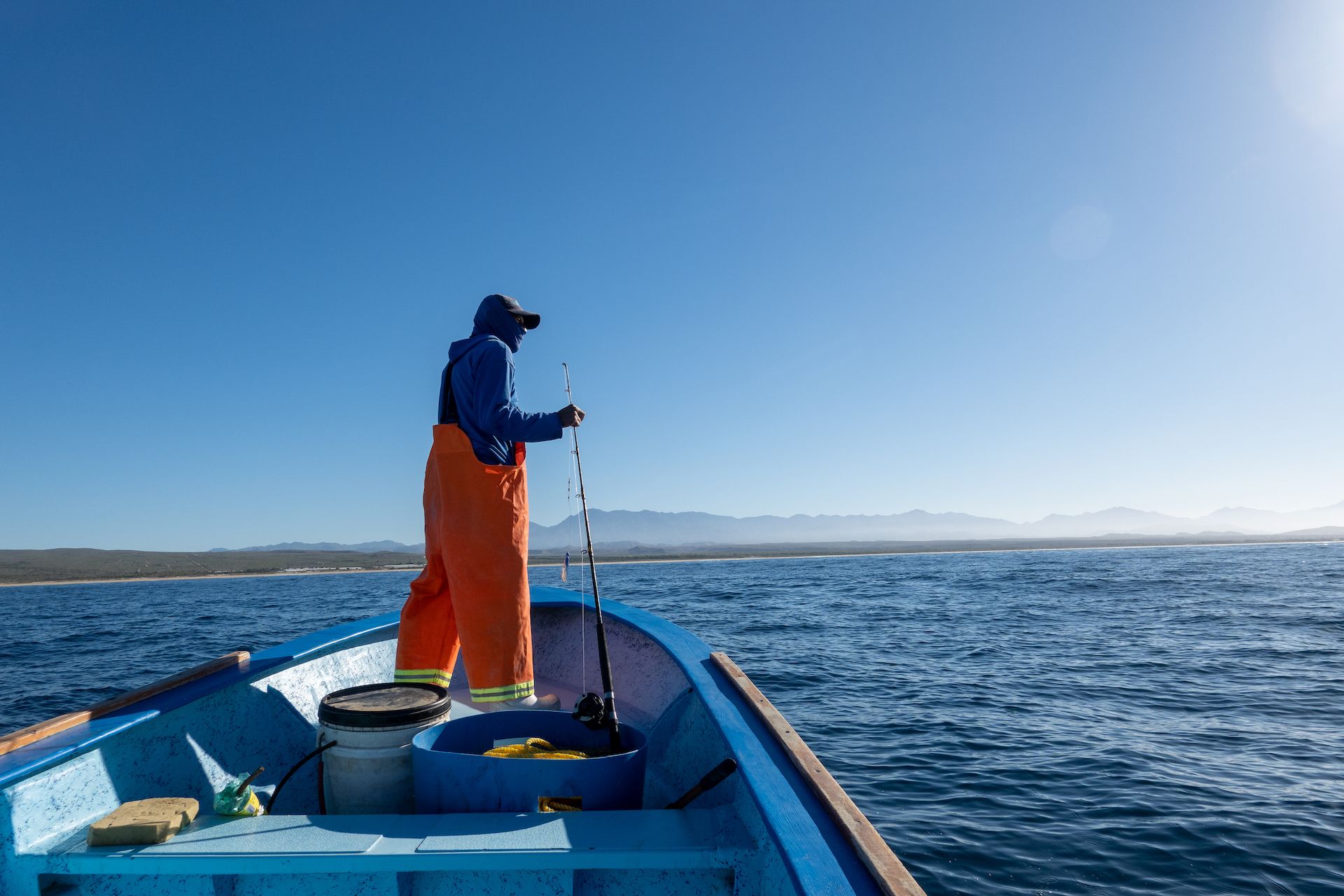 Our captain's outfit matches the boat.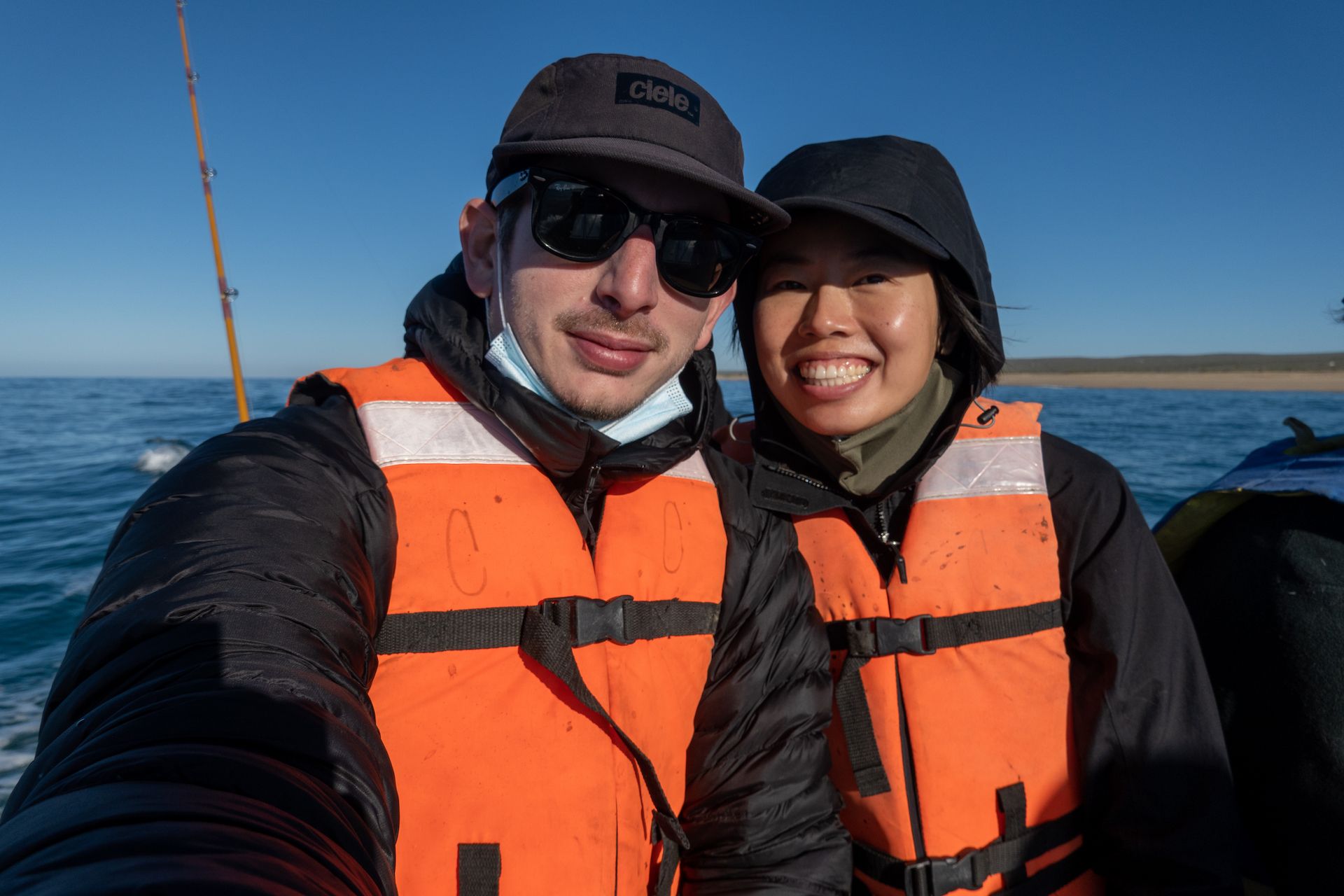 Excited for the (windy) adventure!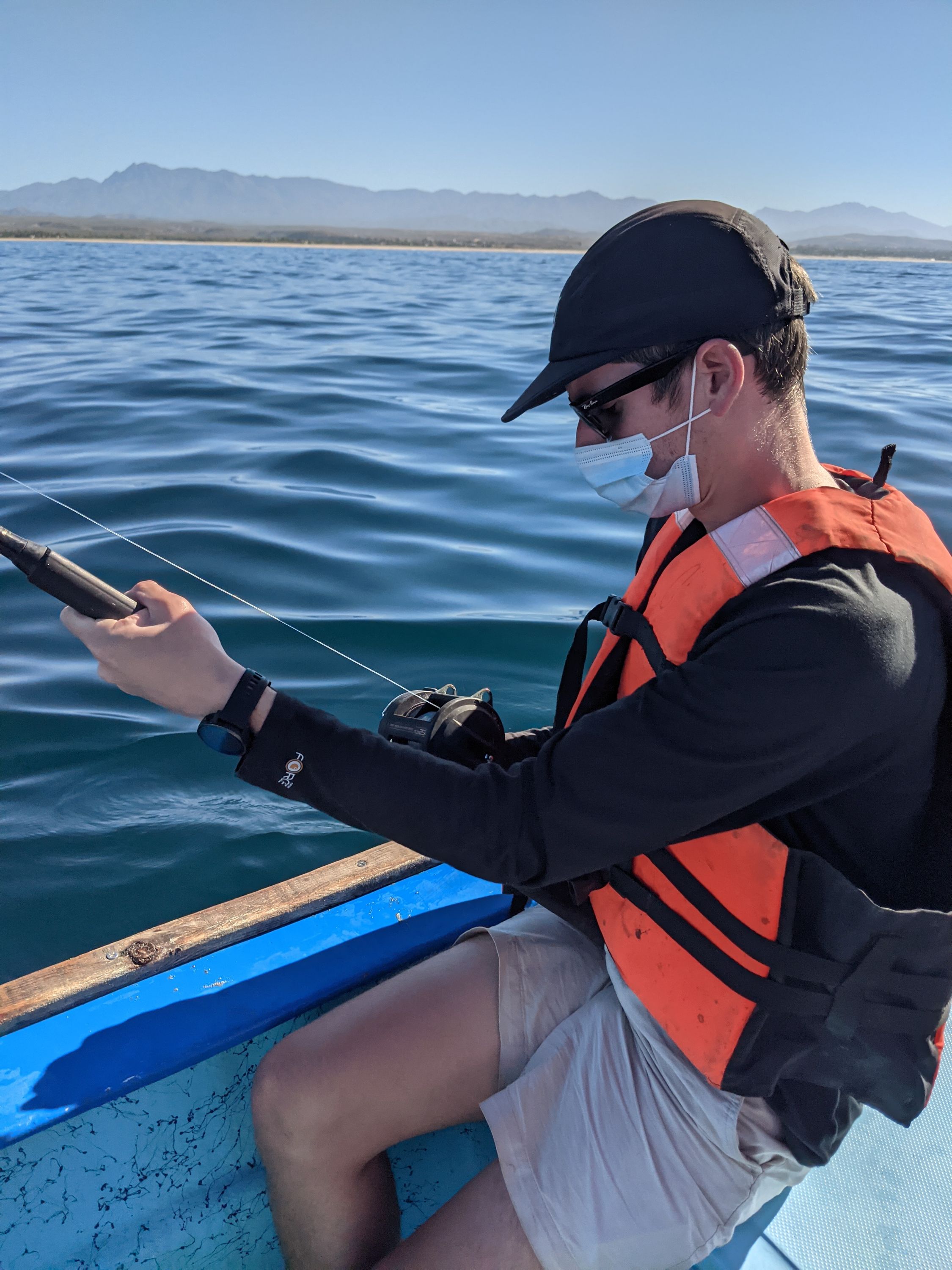 Victor working on his fishing skills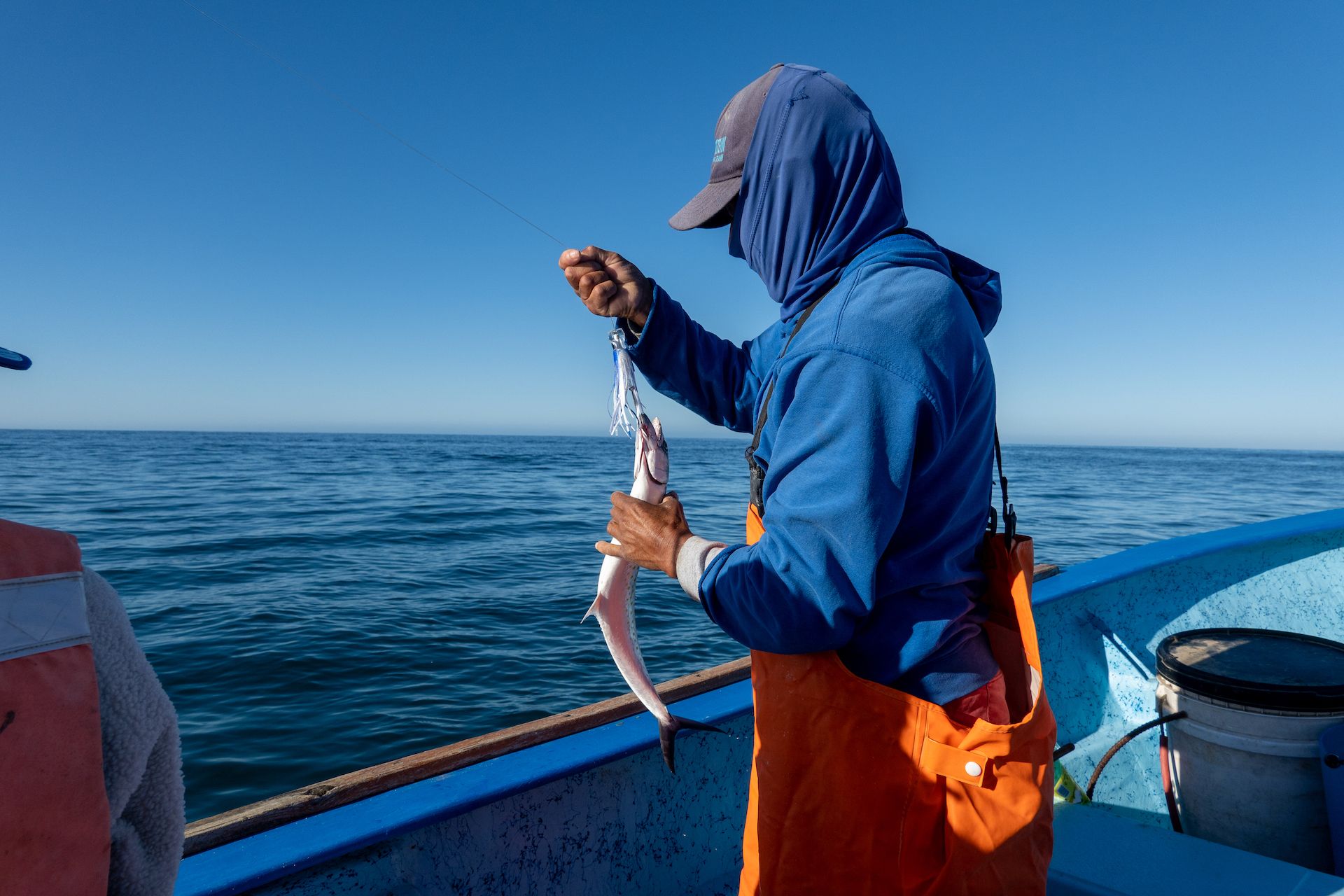 The small fish we caught
A whale said "hi". 👋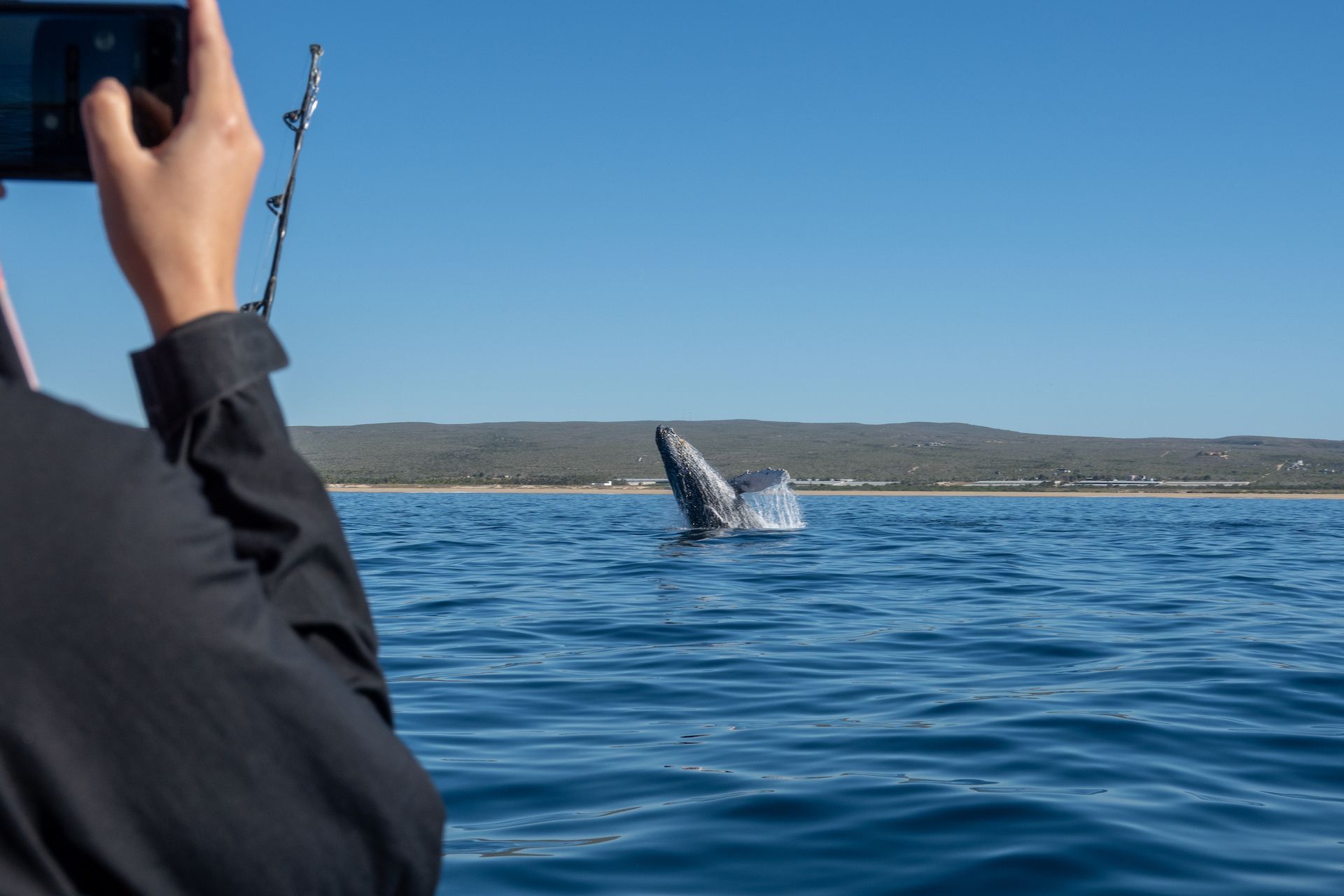 They are breaching all over the place!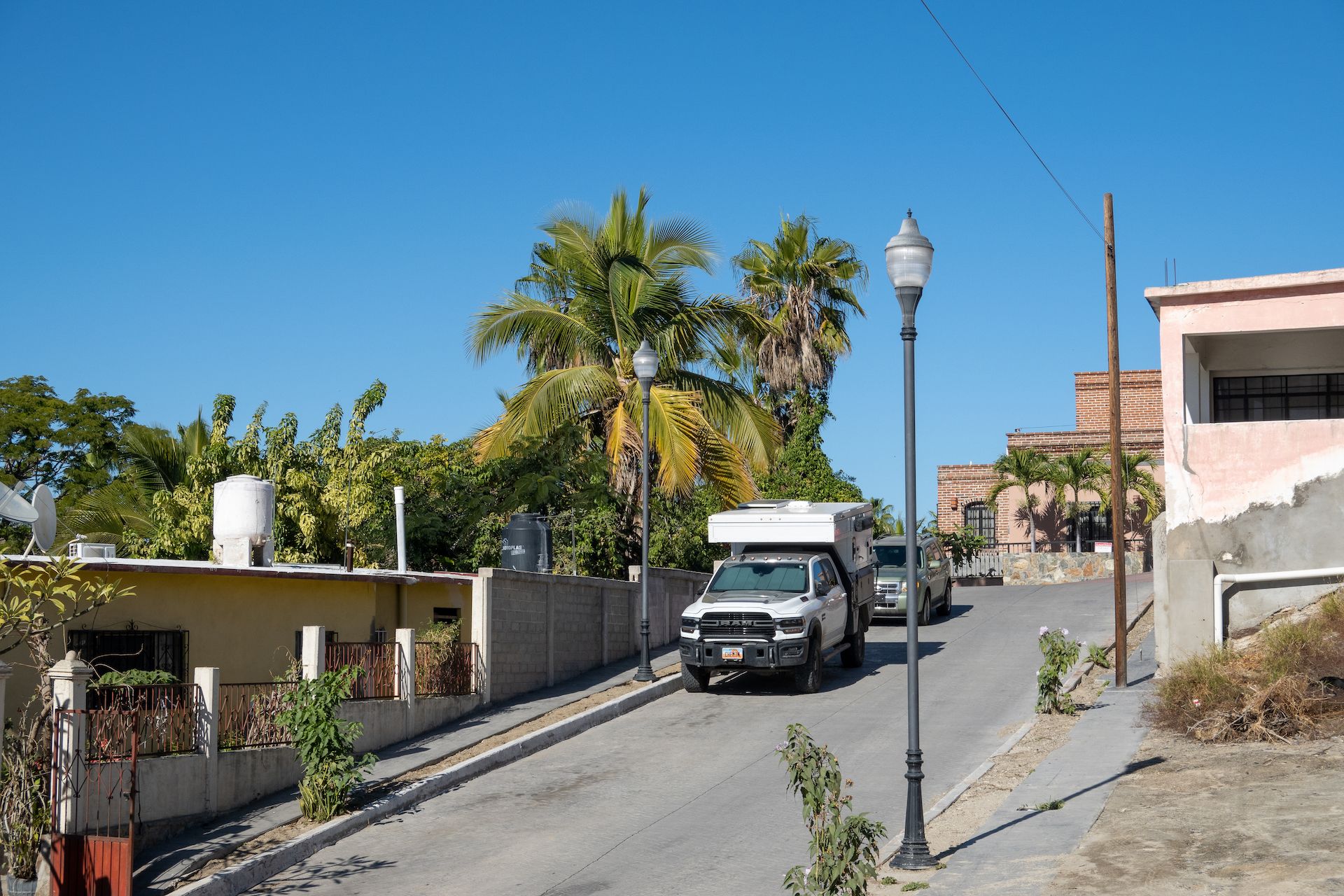 Parked in a quiet street of Todos Santos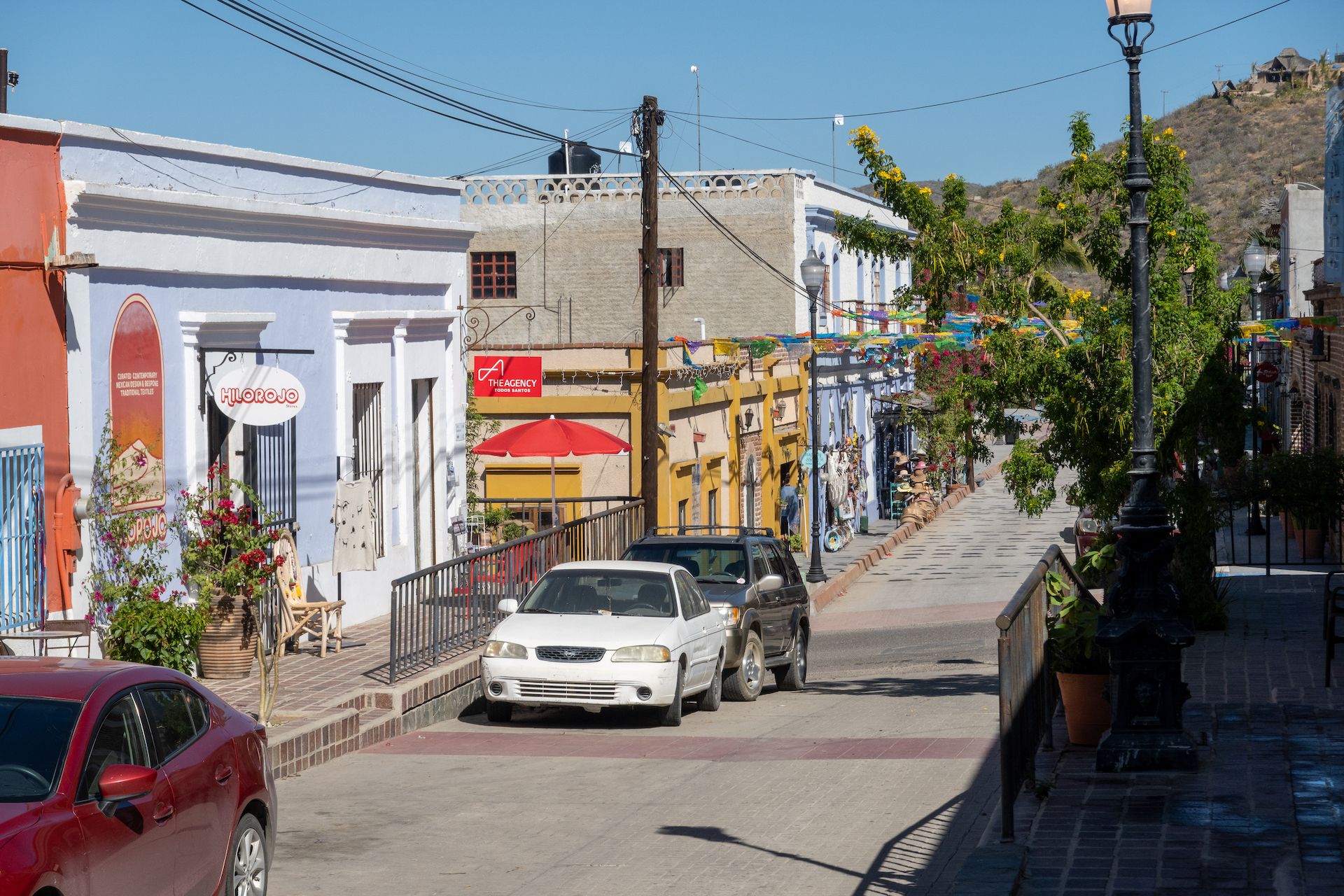 Street of Todos Santos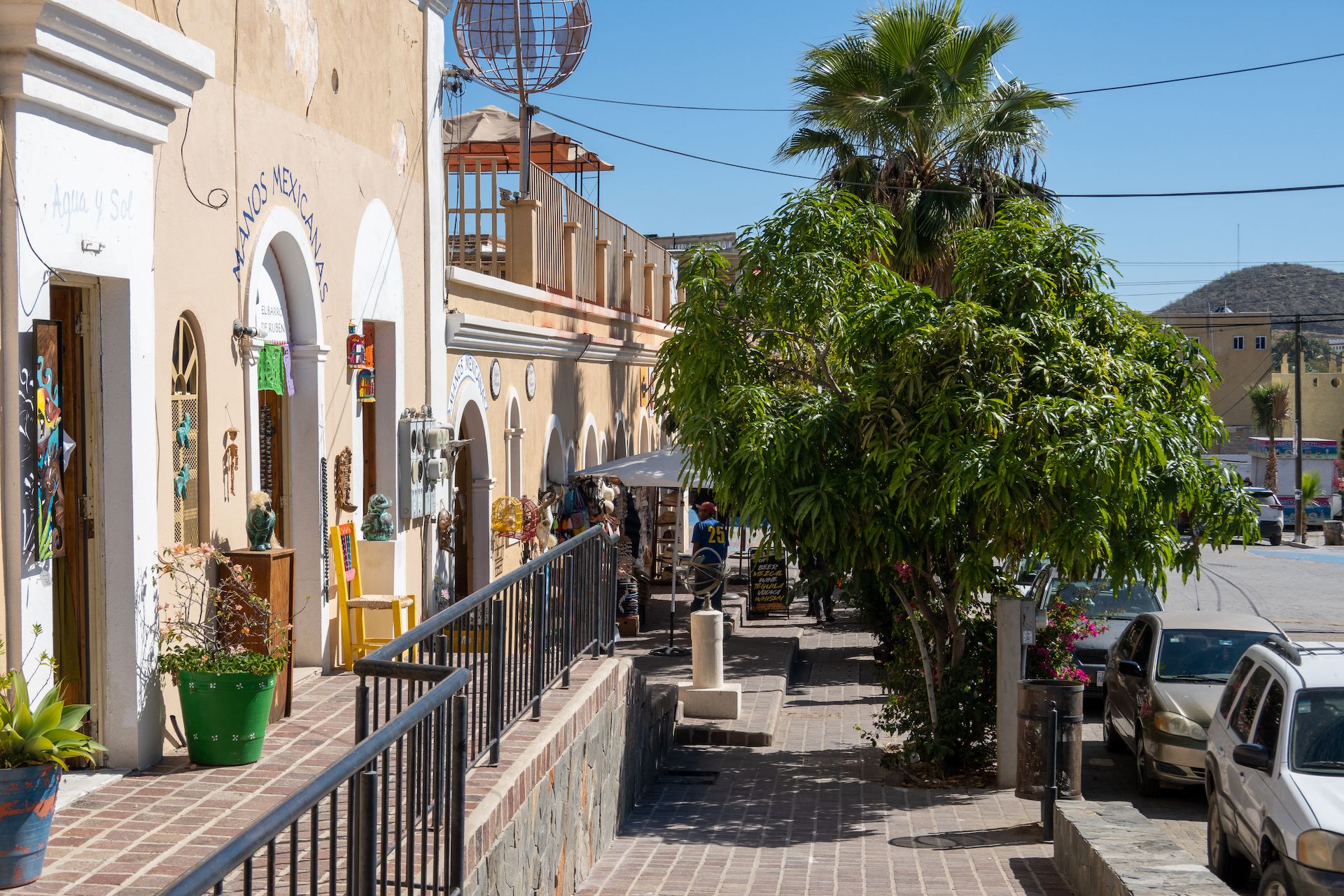 Street of Todos Santos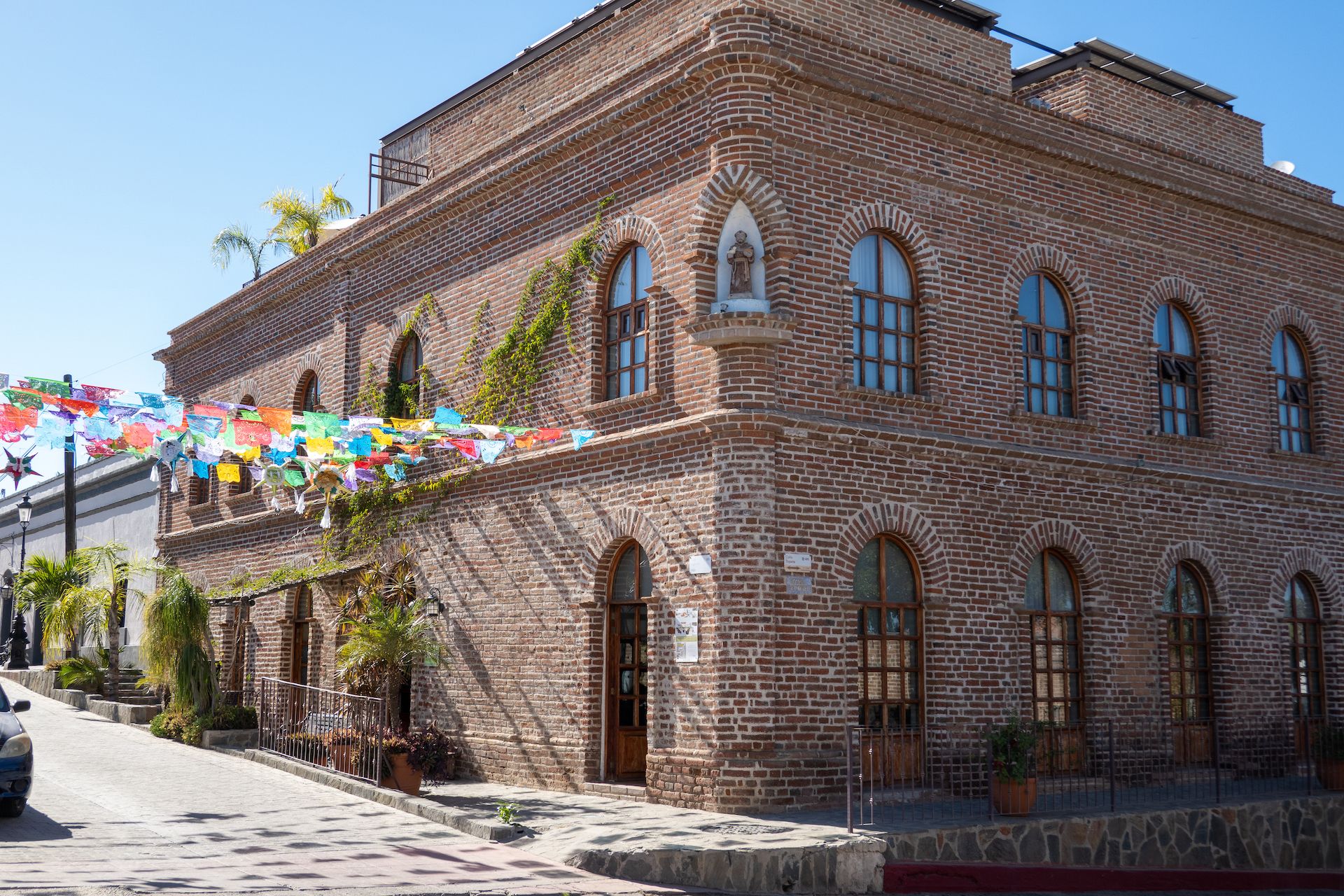 Street of Todos Santos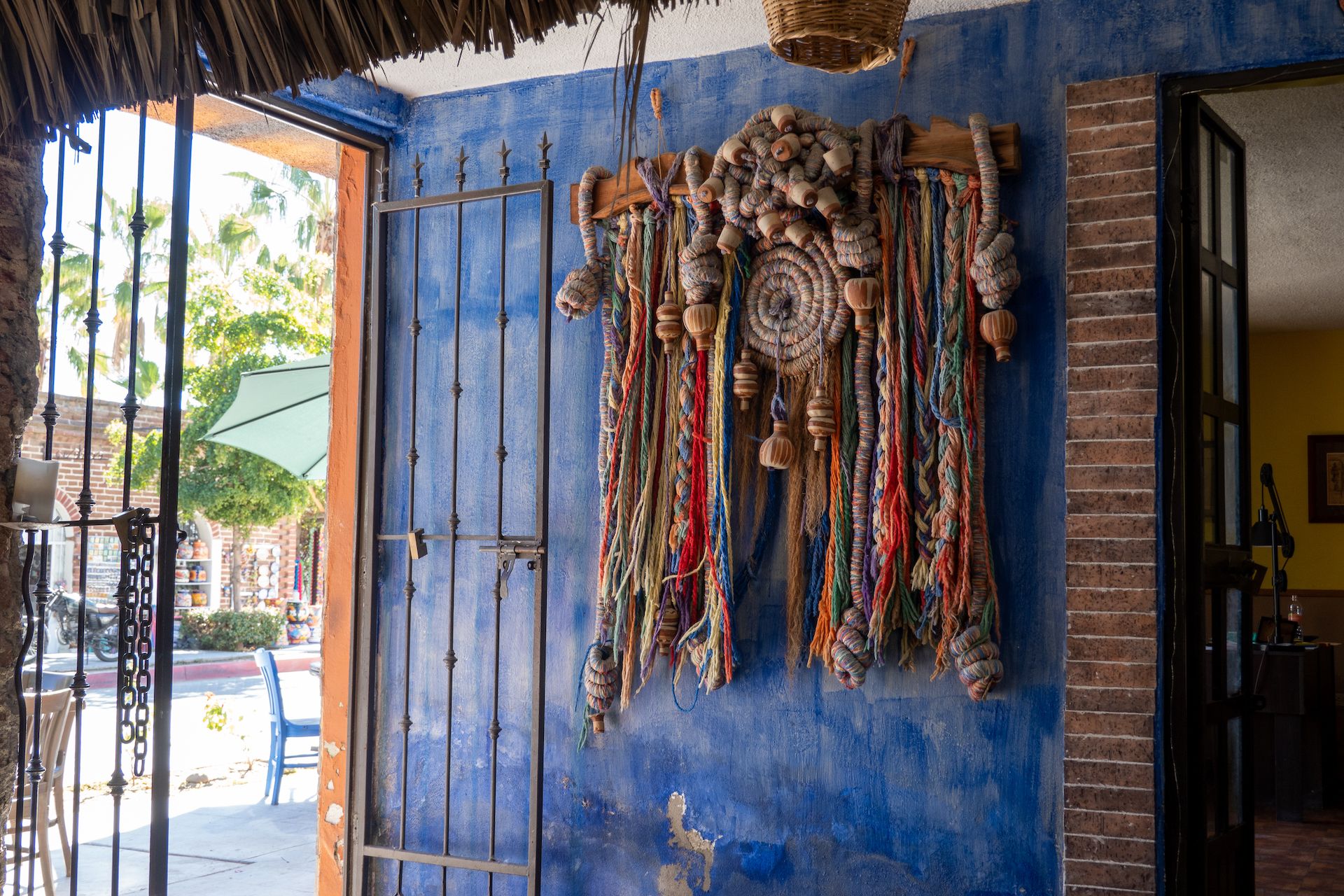 Wall hanging in the restaurant where we had lunch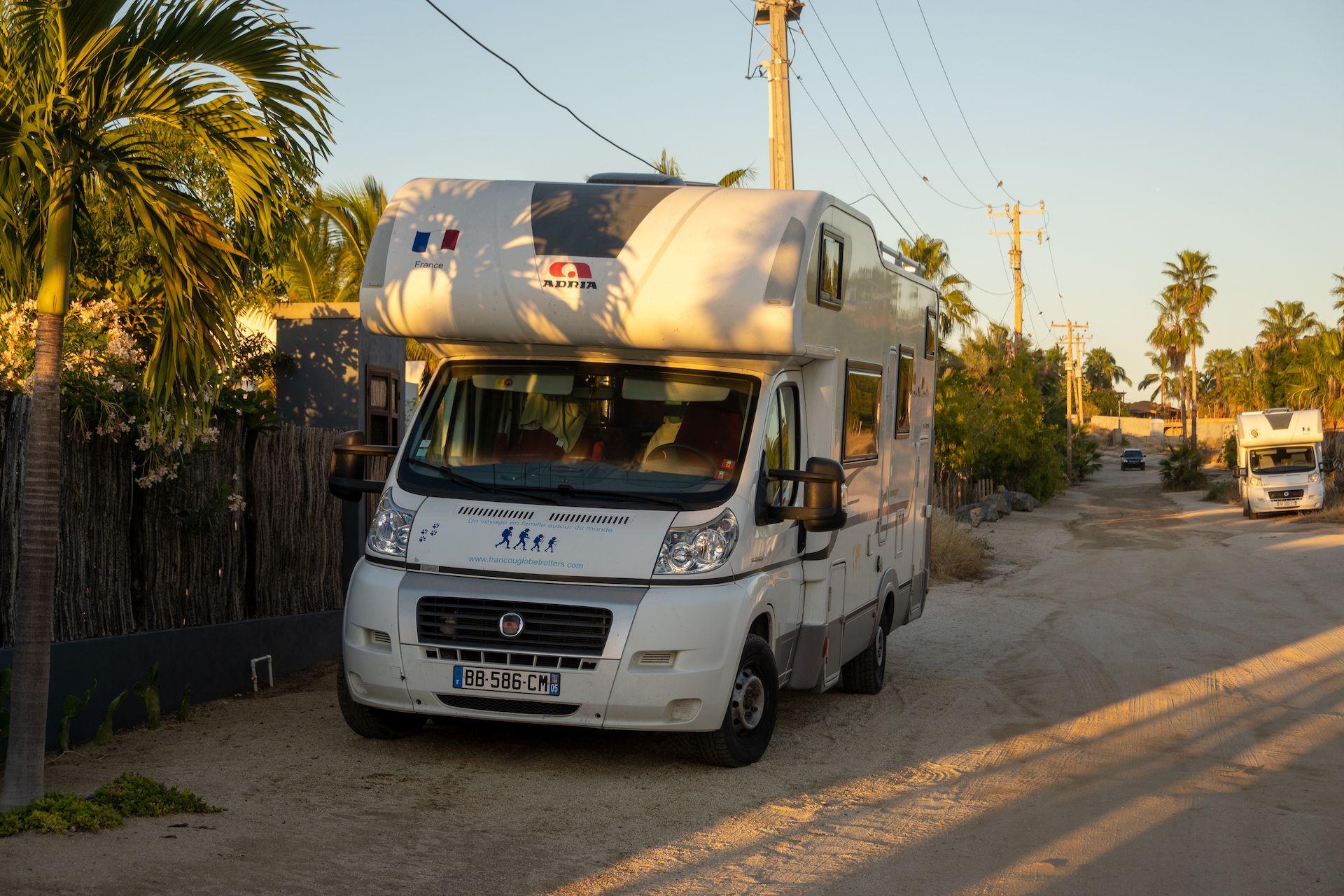 RVs with French license plates in Todos Santos
After the exciting tour, we explored Todos Santos and caught up with our friends Beth and Will to camp on the beach just north of town. At the beach, baby turtles are released daily by a local non-profit organization Tortugueros Las Playitas. We joined the public program at sunset, and watched a dozen or so endangered baby Olive Ridley turtles crawl back into the ocean for the first time! The organization also hosts other programs like "Marine Biologists for a Day" for a fee so you can care for the turtles and learn more about them during the day before the hatchling release in the evening.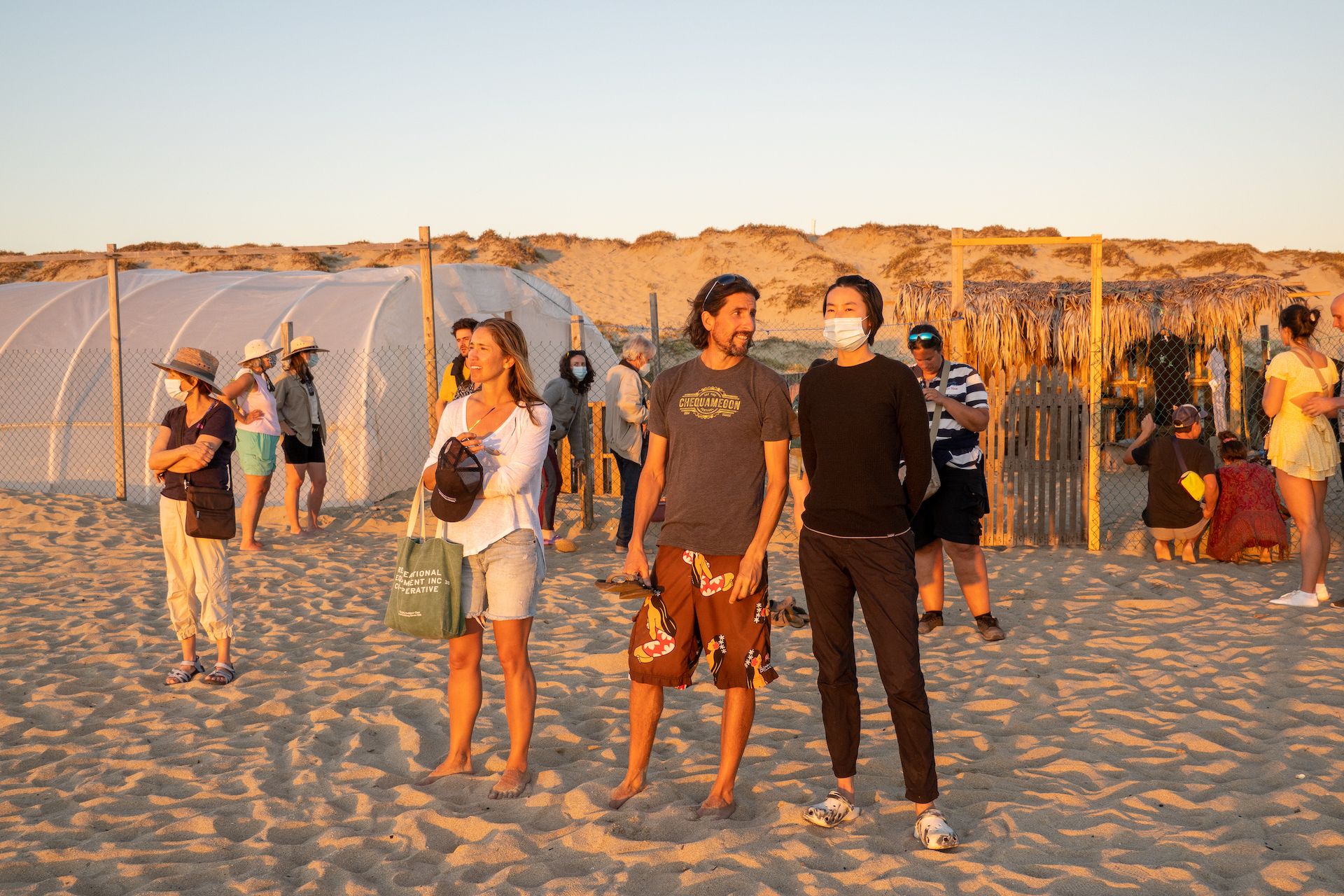 Watching sunset with Beth & Will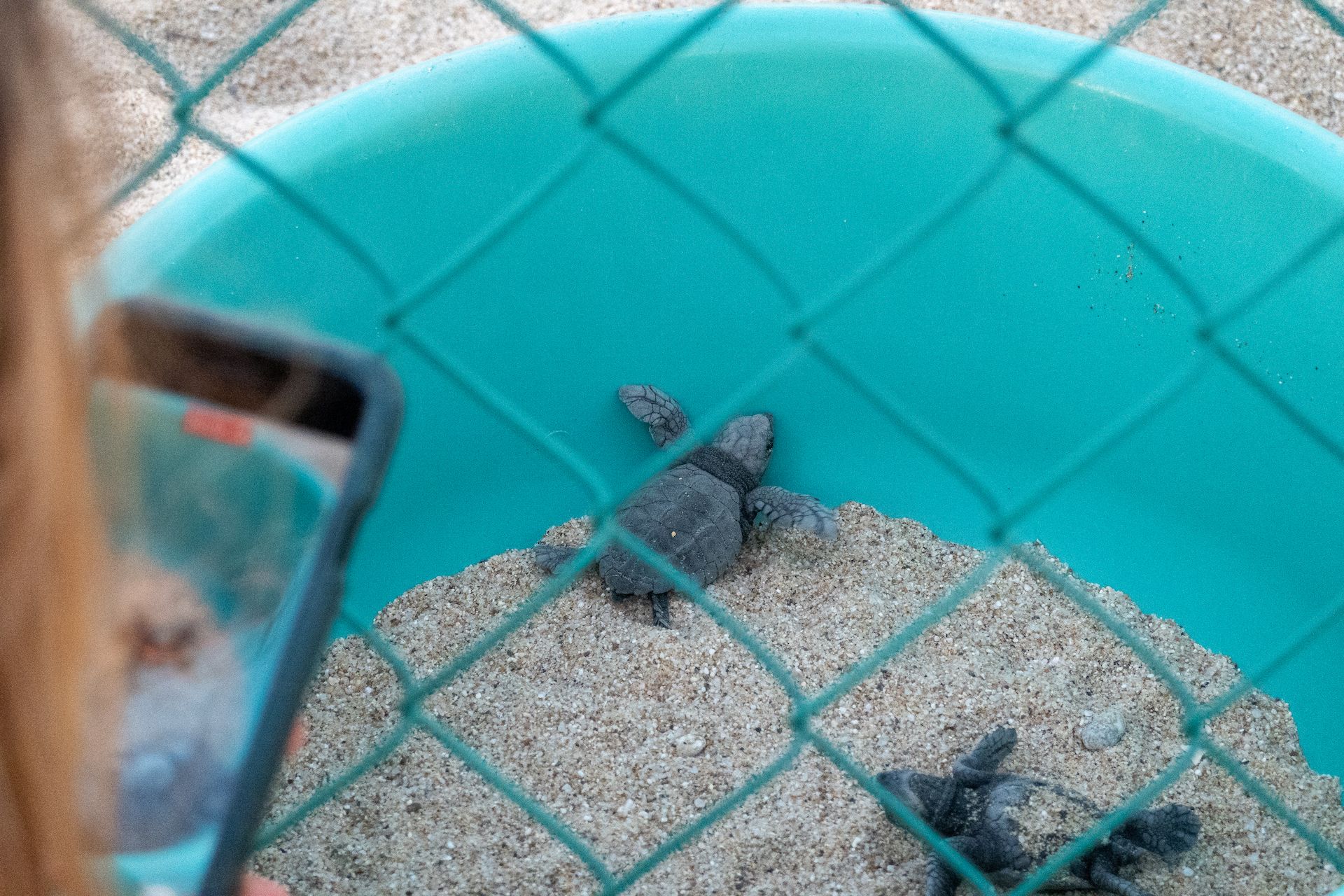 Baby turtles resting before going to the ocean for the first time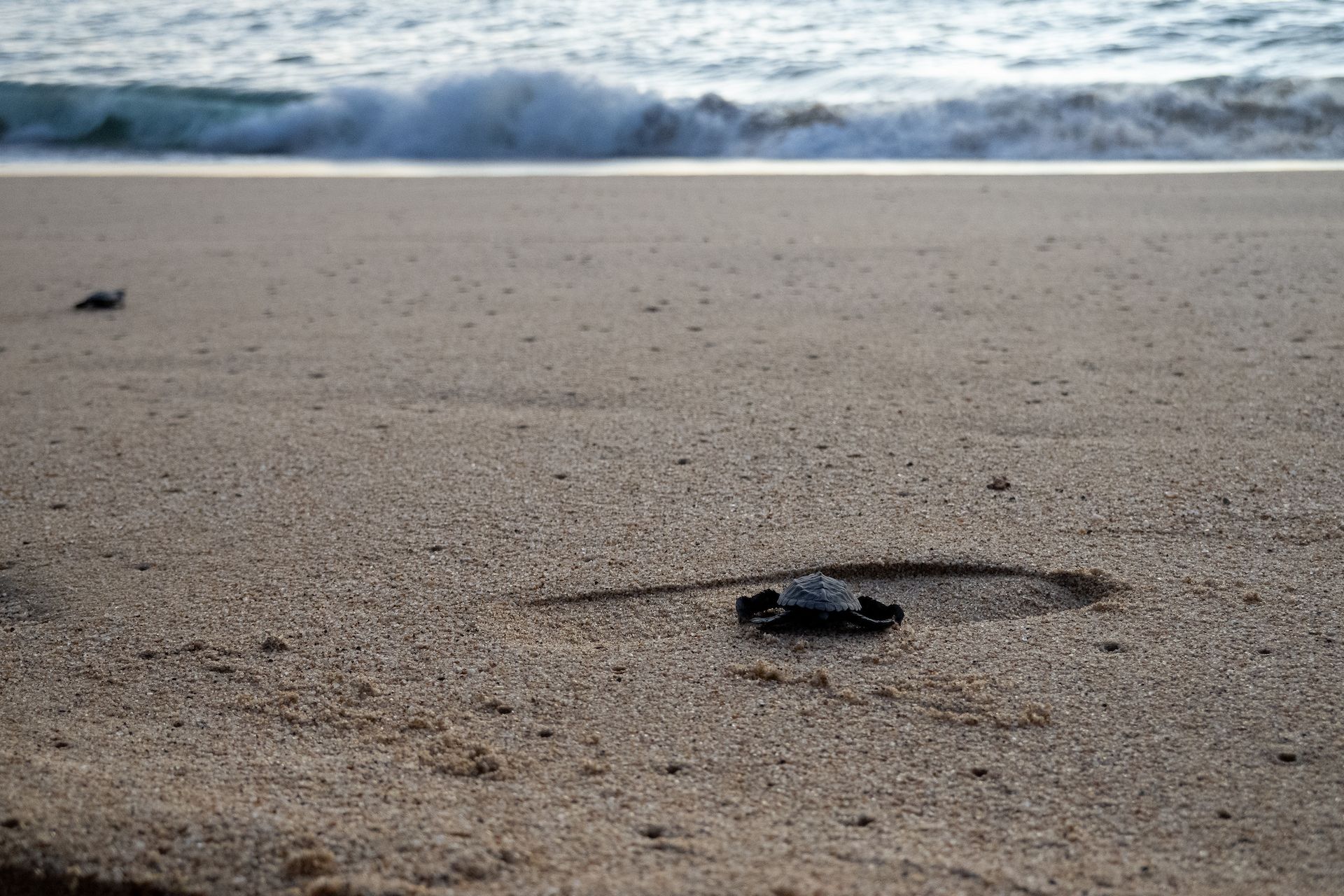 Baby turtles making their way toward the Pacific Ocean to start their life journey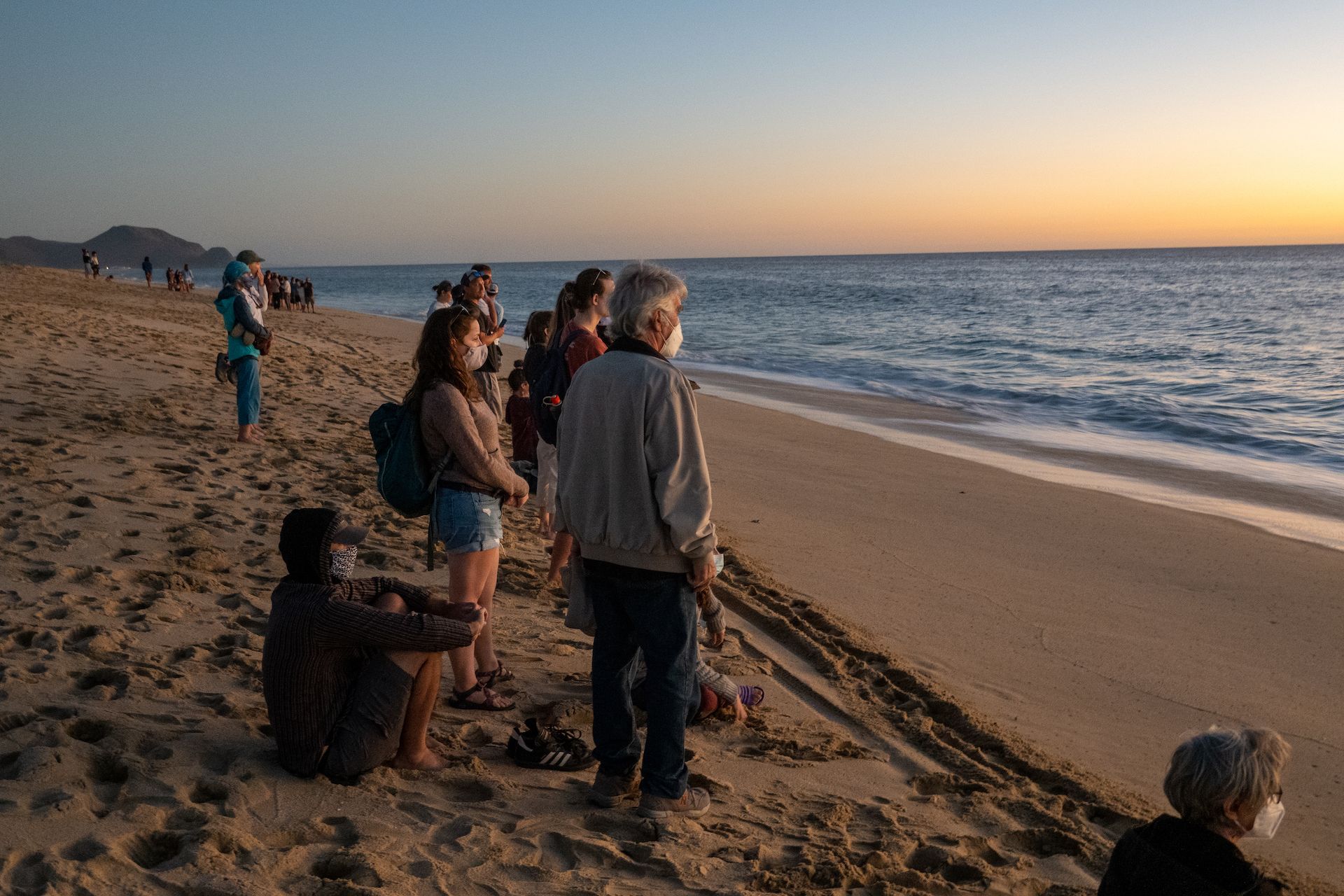 Sunset crowd on the beach
Wednesday: Todos Santos
This day was what we like to call a "dead day". The goal is simple: not moving the truck and doing nothing! We hung out on the beach with Beth & Will, had drinks in the nearby bar, and shared dinner with new friends: Jordan and Andrea.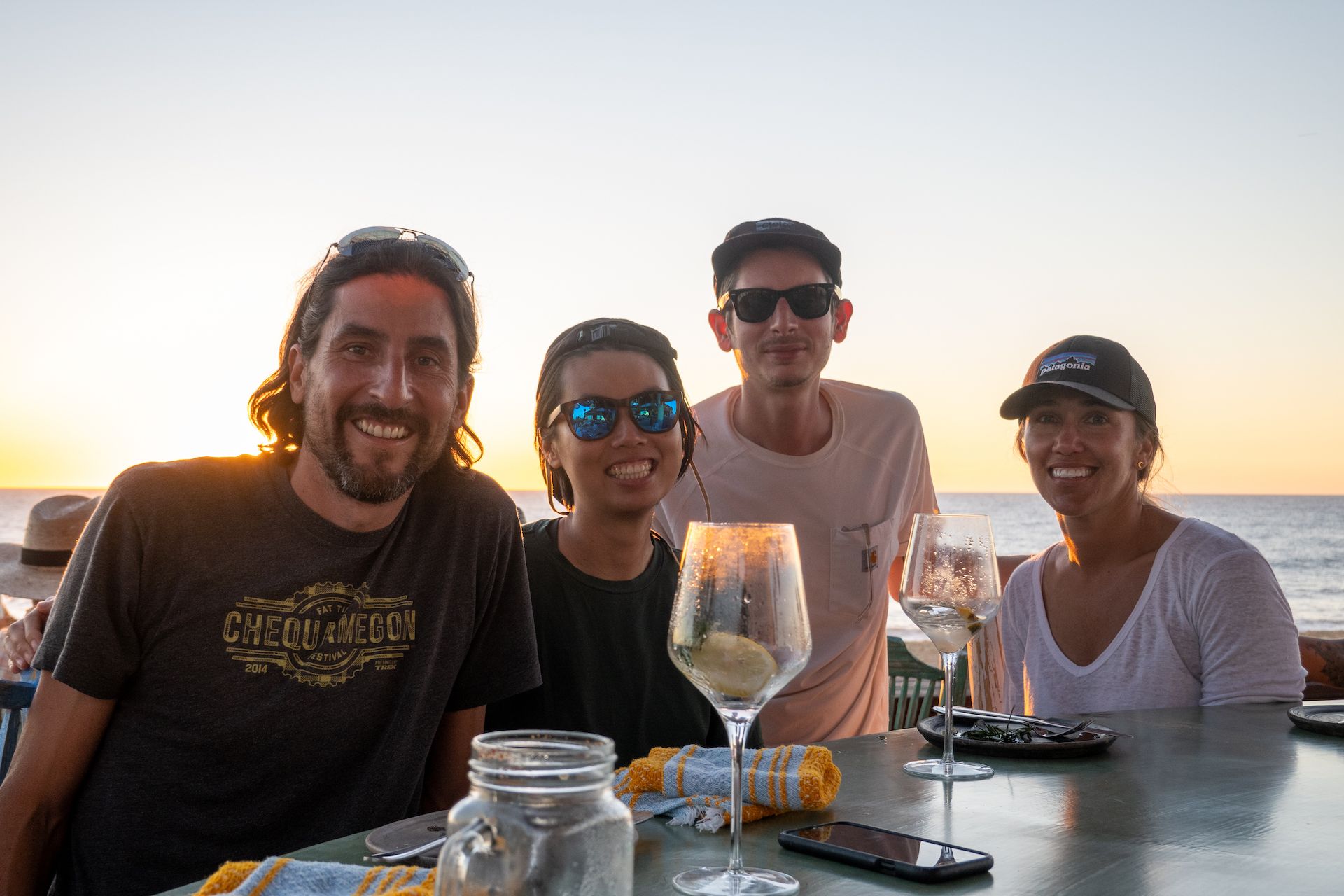 With Beth & Will at the Greenroom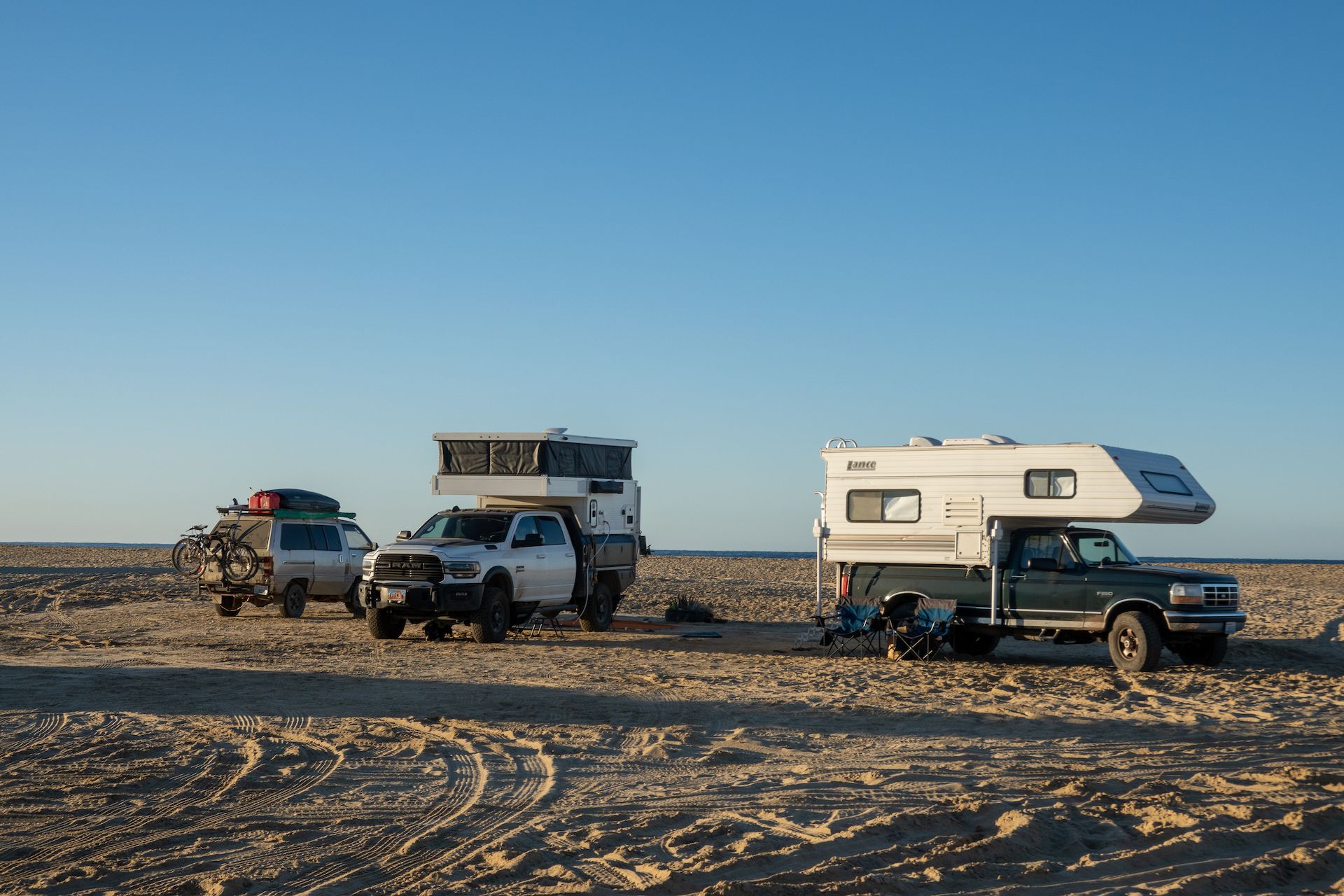 Our spot on the beach with Jordan & Andrea (left) + Beth & Will (right)
Thursday: Todos Santos to Cabo Pulmo (2h40 / 200km)
While we enjoyed our time in Todos Santos, the town has an "over-priced hip" vibe that draws wealthy tourists from the US and Europe. So when Beth & Will said that they were heading to Cabo Pulmo, home of the Cabo Pulmo National Park, on the east coast of the peninsula, we decided to join them to find some solitude in nature.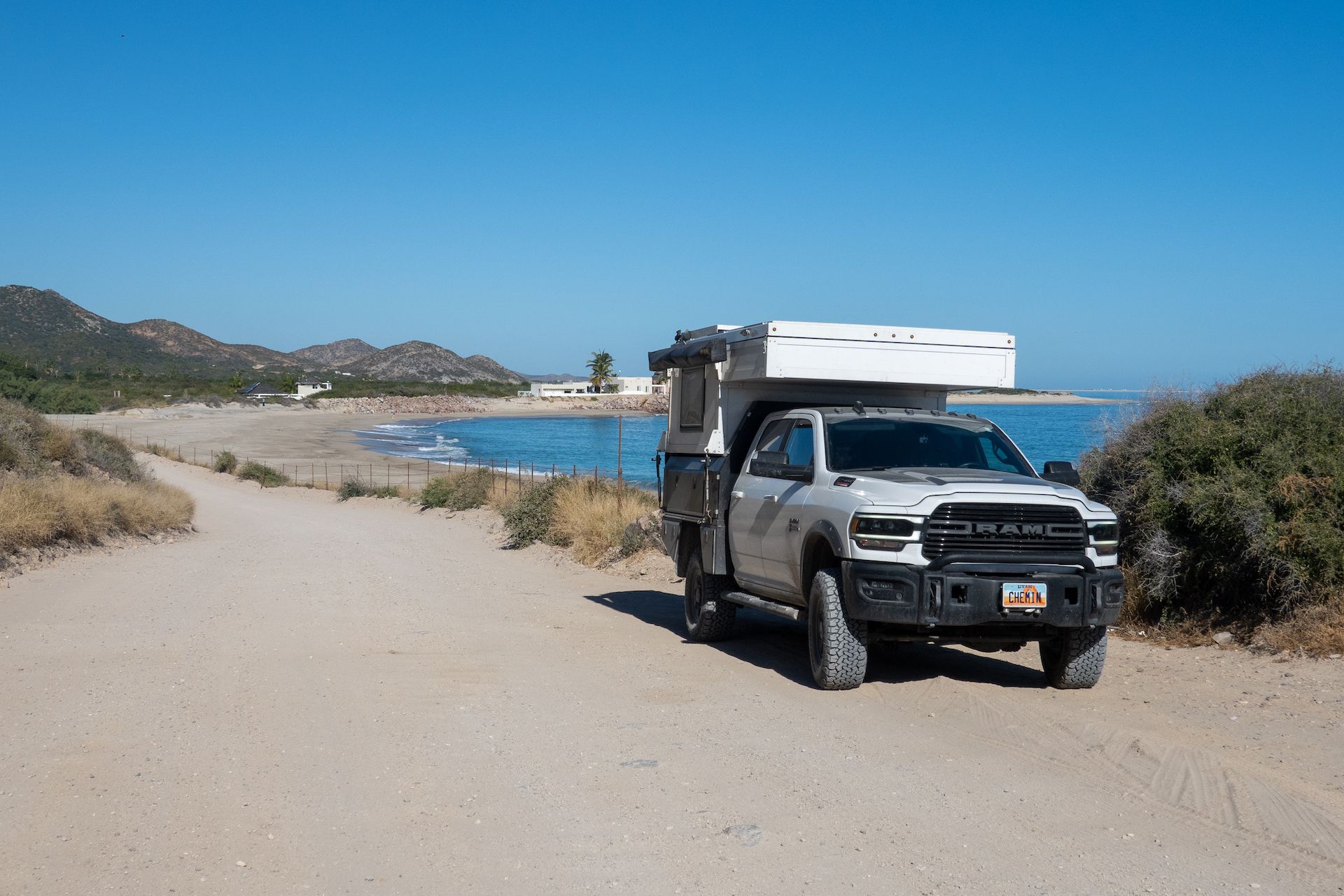 Driving back on the Sea of Cortez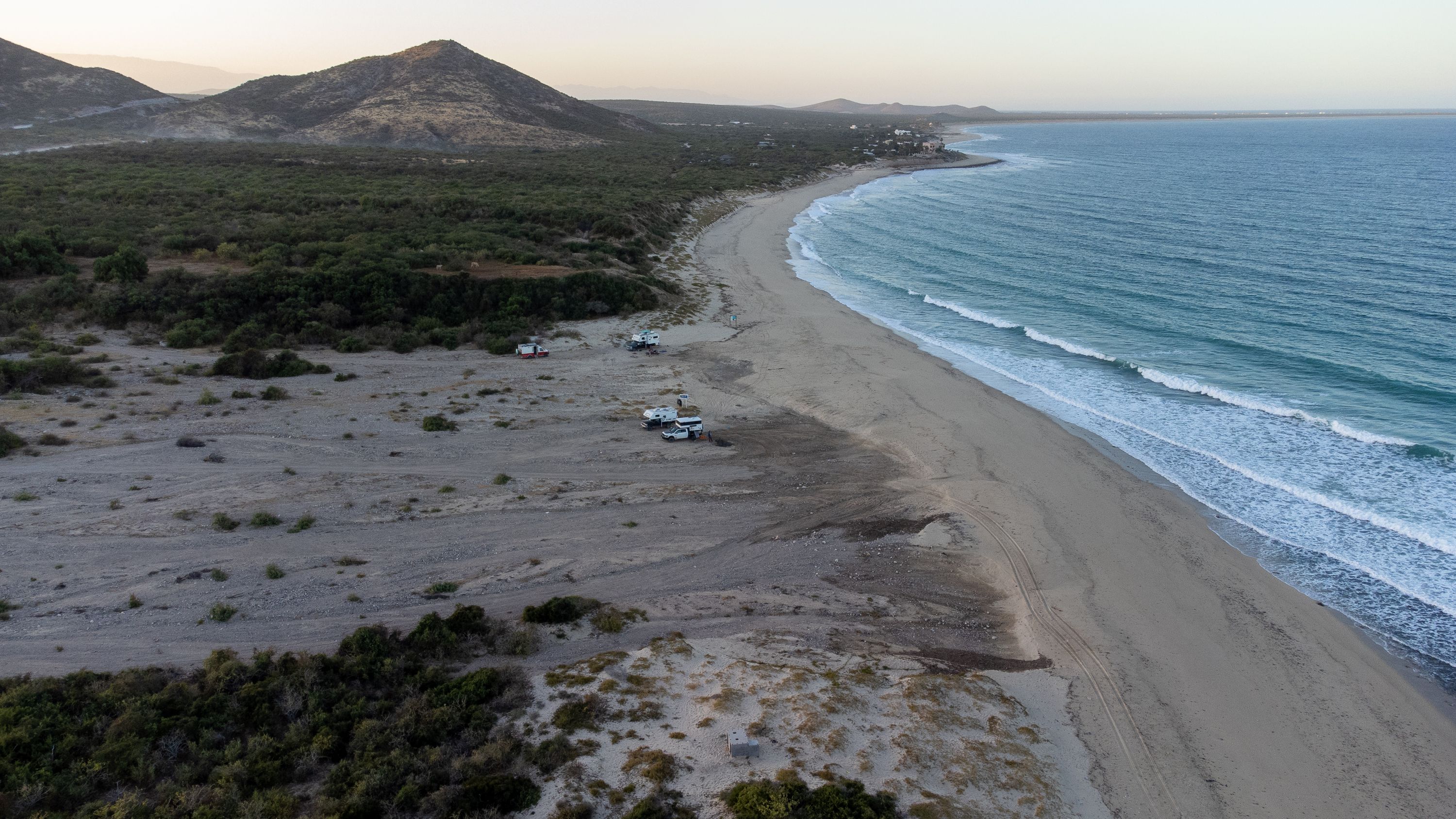 Our quaint camp spot on Playa Miramar, North of Cabo Pulmo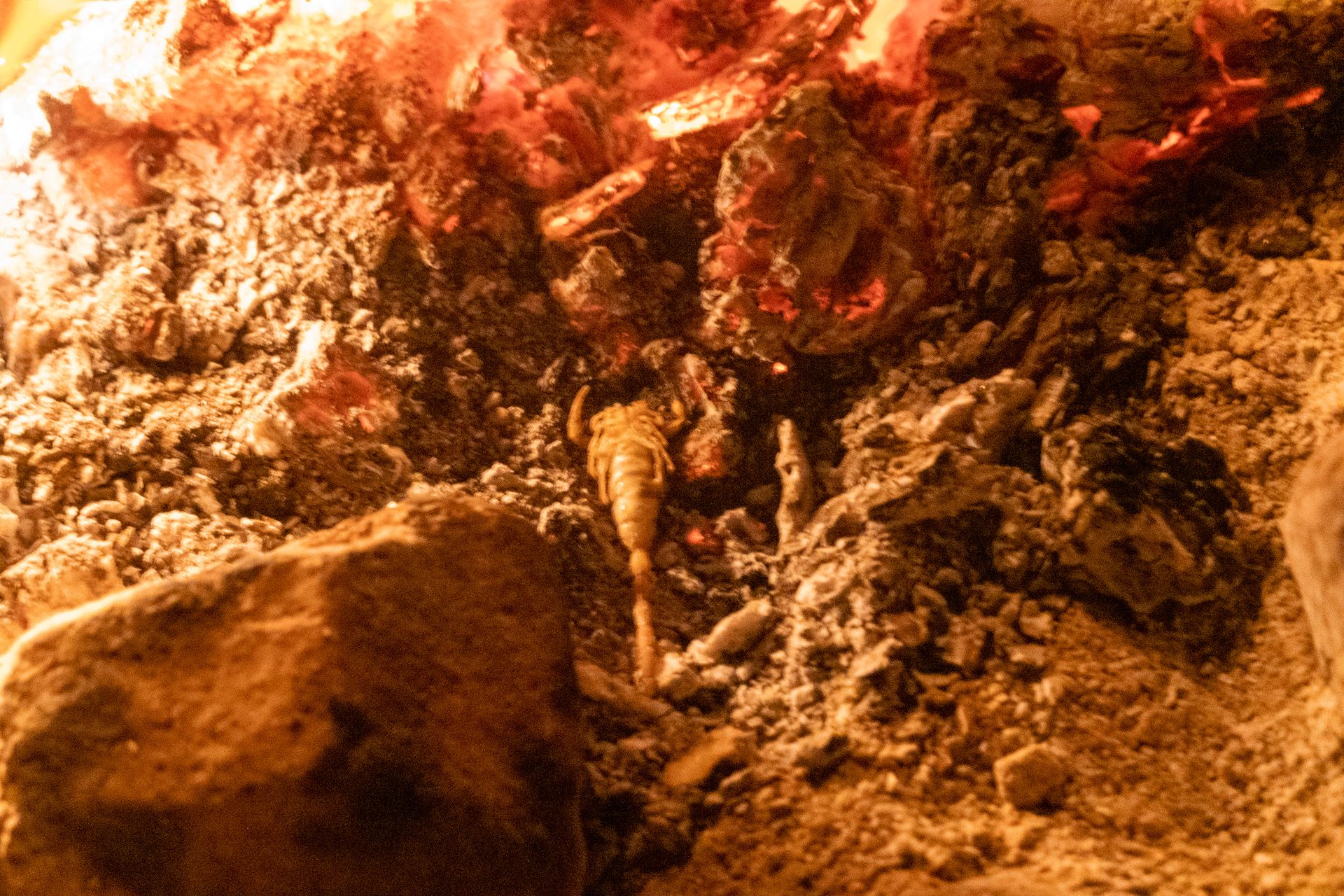 We were more-than-a-little spooked to see scorpions escaping the flames from the wood we gathered for our camp fire that night 😱😳
Friday: Cabo Pulmo
After having nightmares because of the scorpions, we decided to relocate to a different beach south of town where we could enjoy some good snorkeling. It was a warm, sunny day and snorkeling was amazing! We wish we had a marine life identification sheet to be able to name all the species of we saw. The coolest experience of the day was to see many Manta Rays jumping out of the water and flopping back in at sunset - we weren't quick enough to snap photos, so you would have to imagine this one. At the end of the day, we sat with new friends, and shared dinner and stories around the campfire.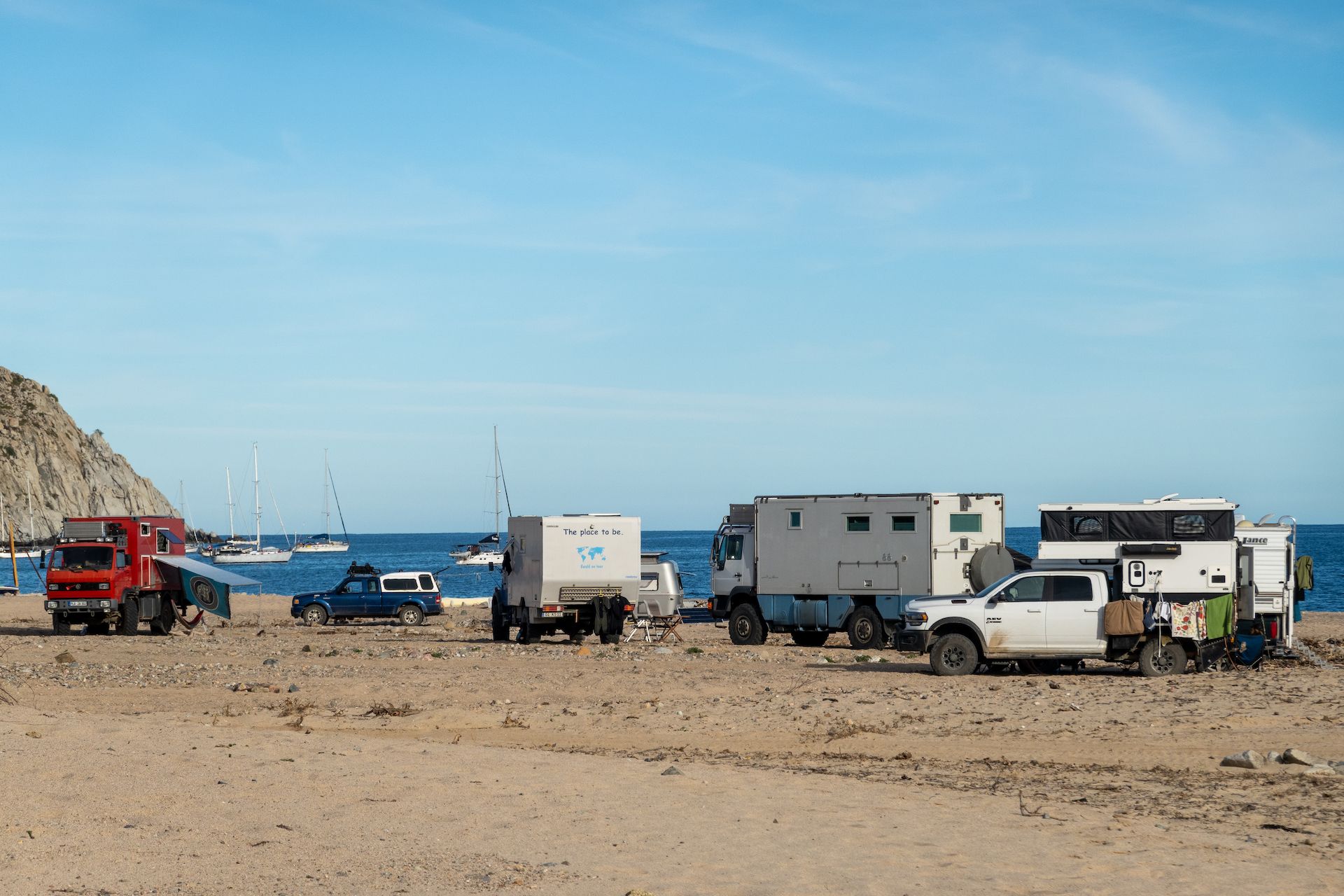 We camped next to giant German and Swiss trucks.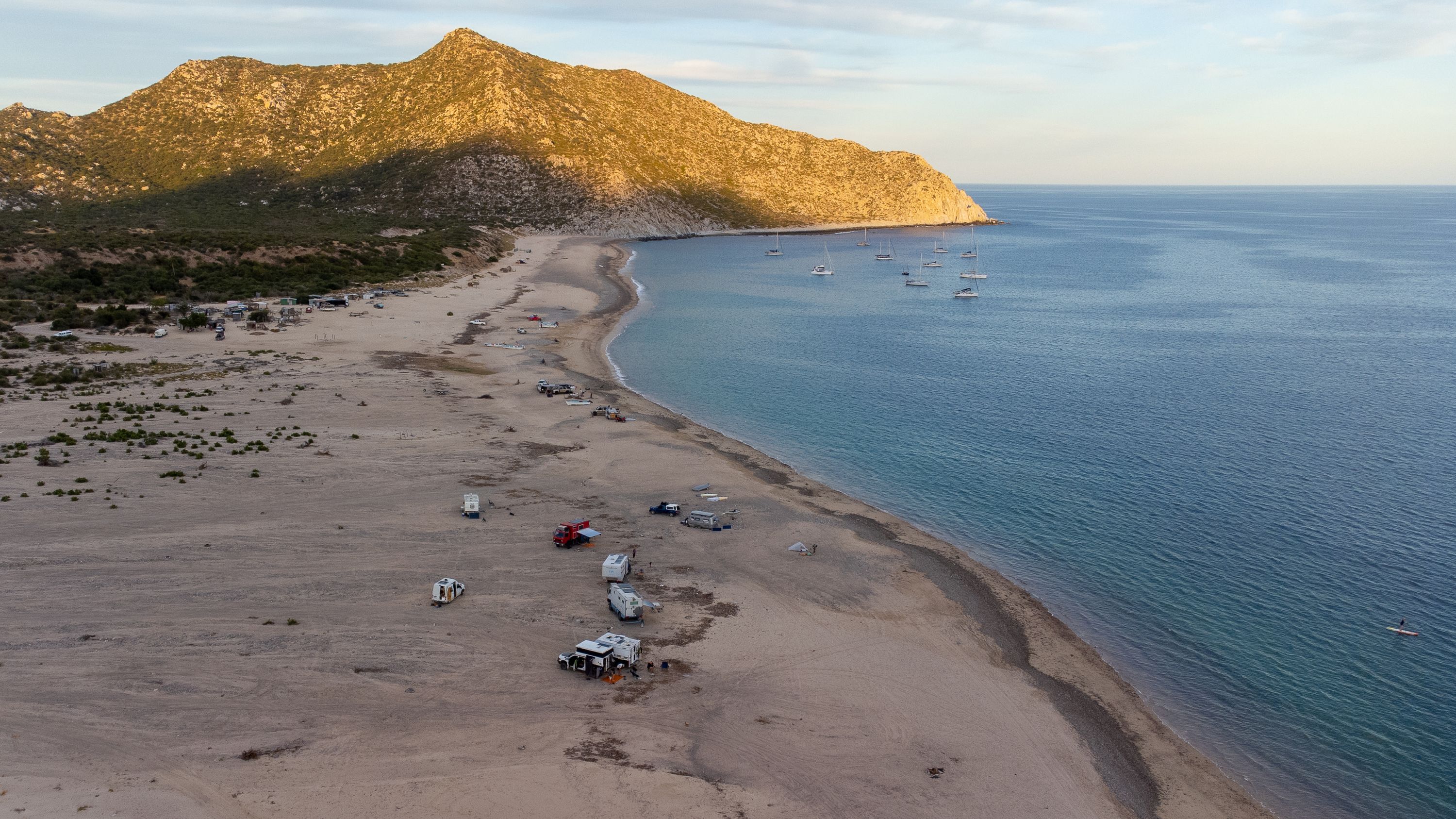 Playa Los Frailes: Overlanders, bike packers, fishermen and sailers sharing this little piece of paradise.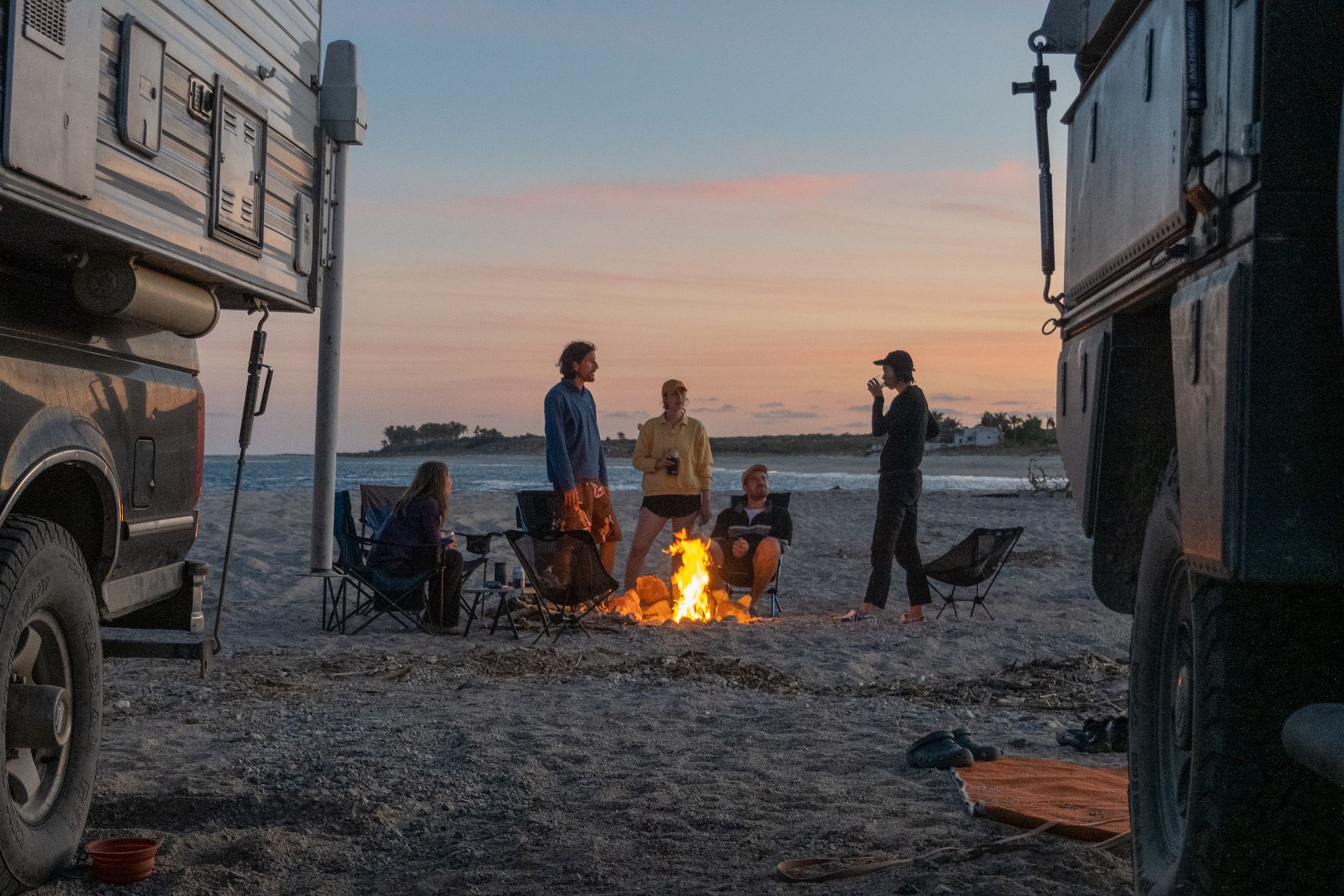 Hanging by the campfire.
Saturday: Cabo Pulmo
In the morning, we parted ways with Beth & Will and their truck @francinethetravelmachine as they headed to La Ventana in the north while we decided to stay in Cabo Pulmo to go on a snorkel tour with Cabo Pulmo EcoAdventures.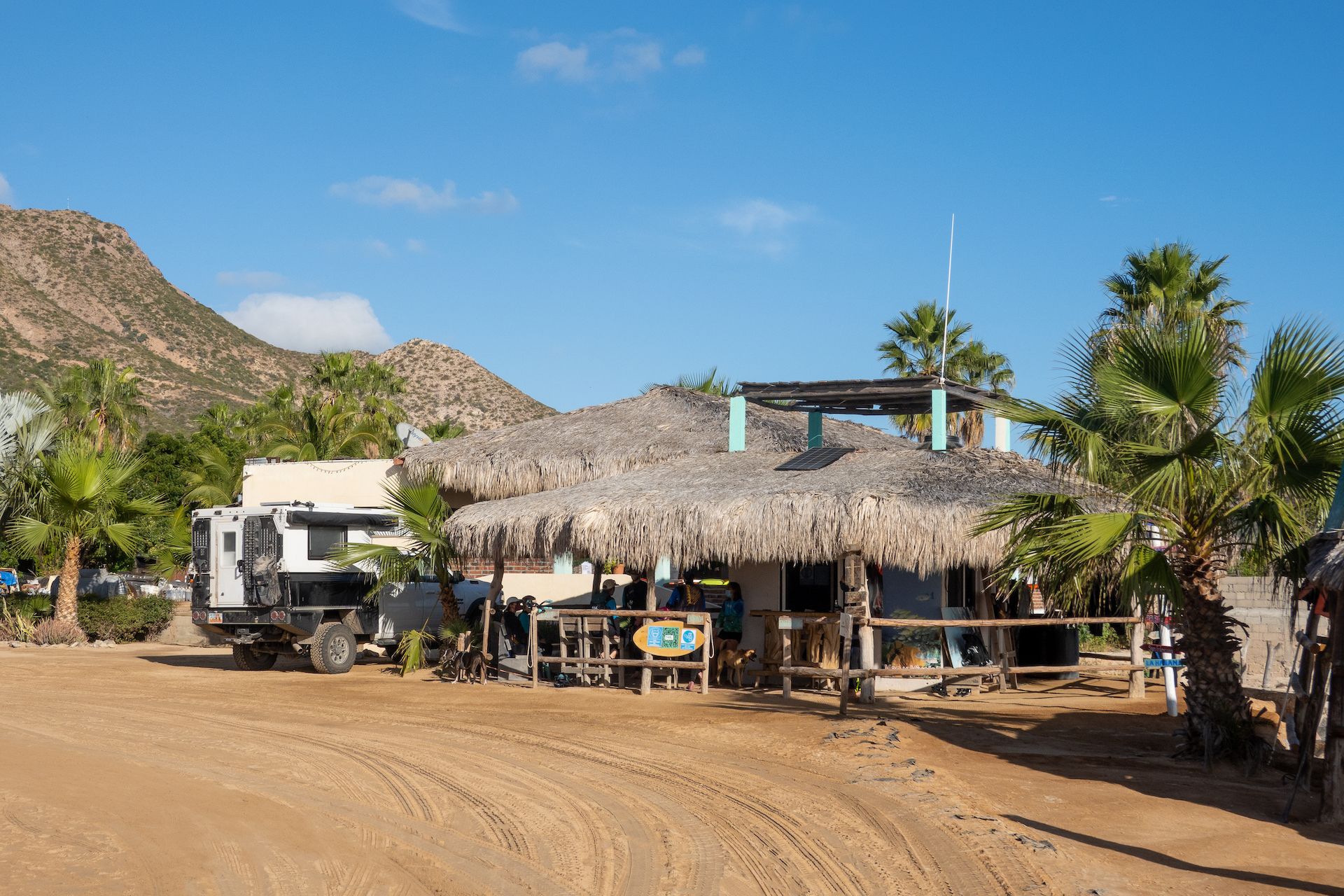 Parked next to our outfitter's palapa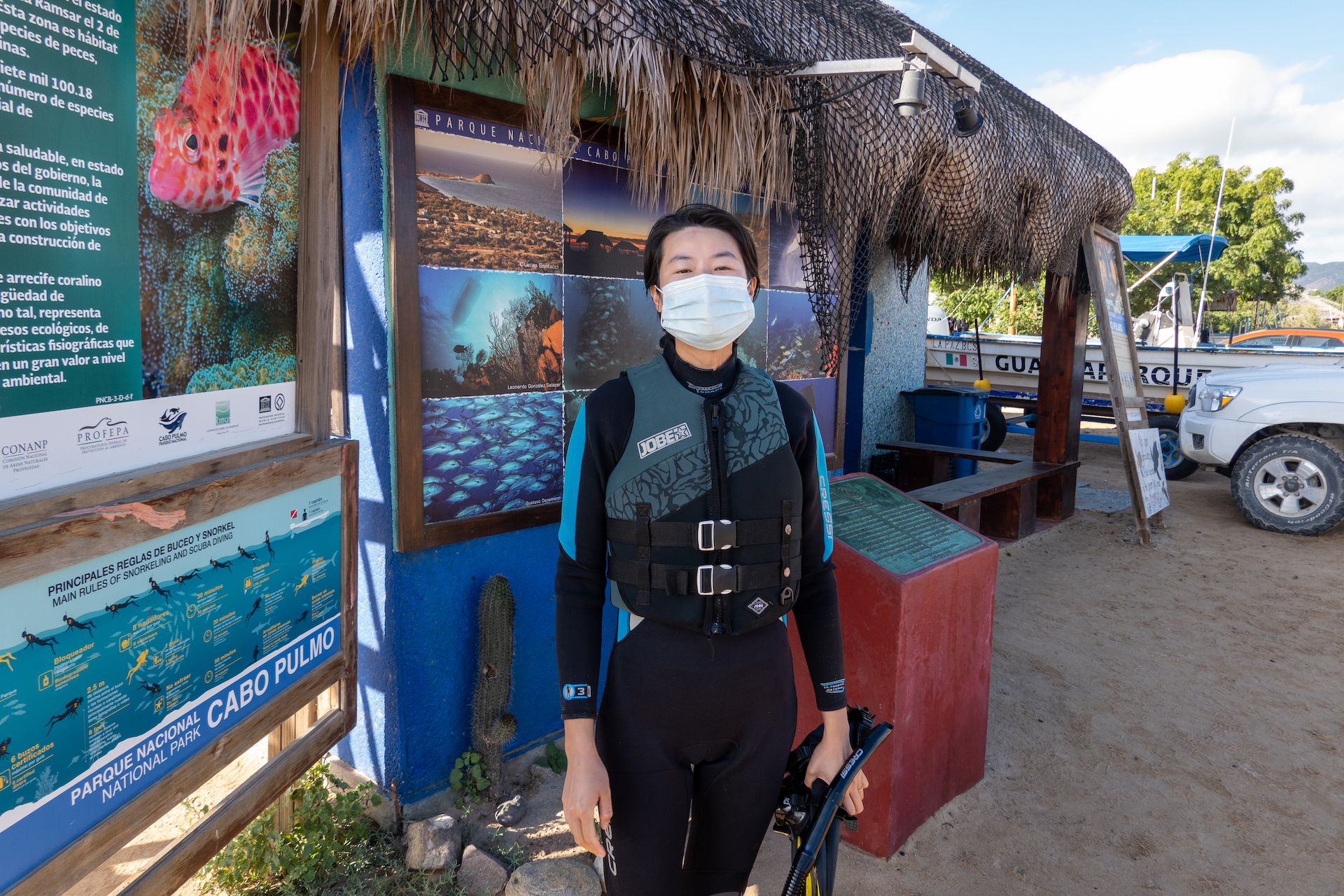 Kuan ready to go on the tour!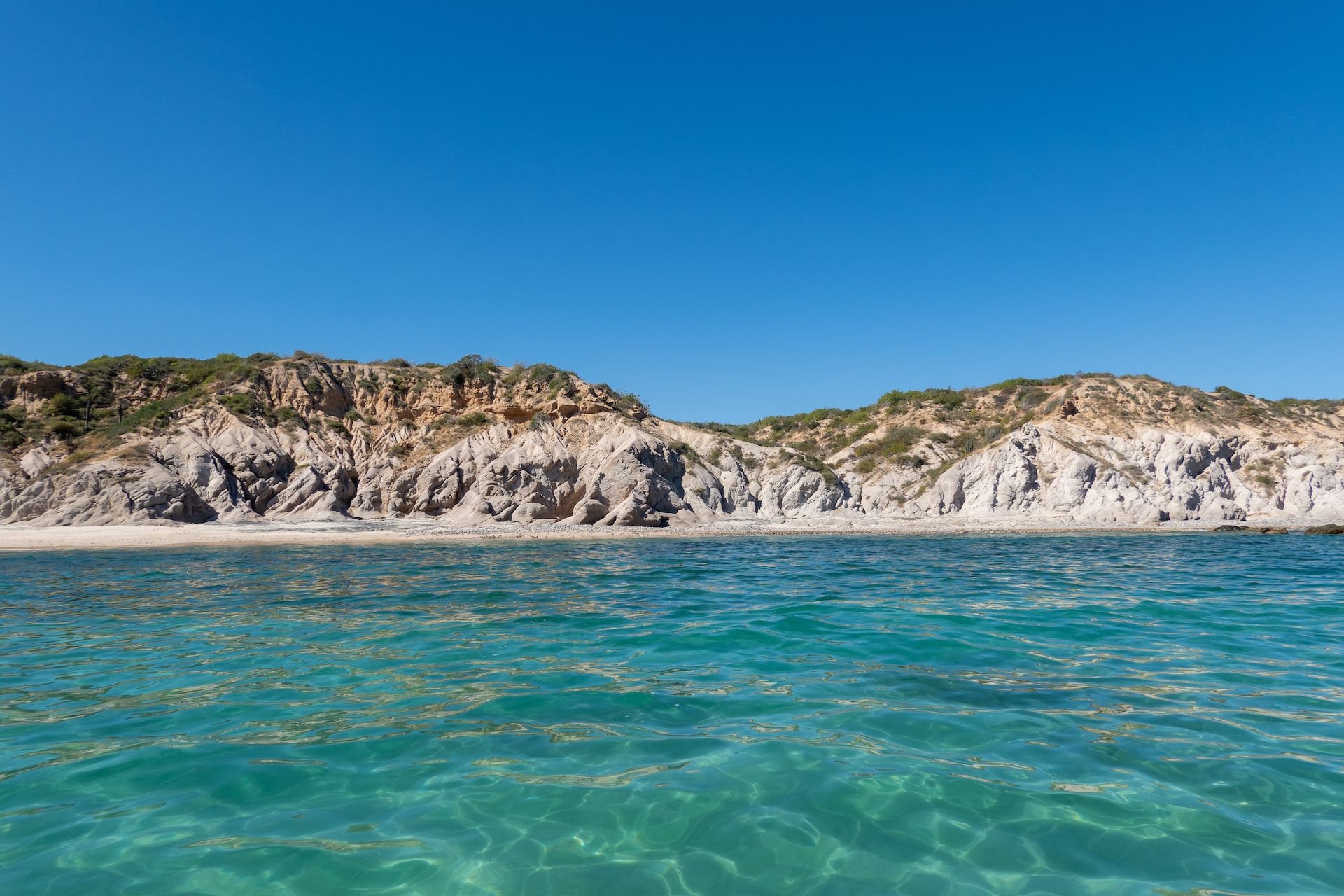 The turquoise water of Cabo Pulmo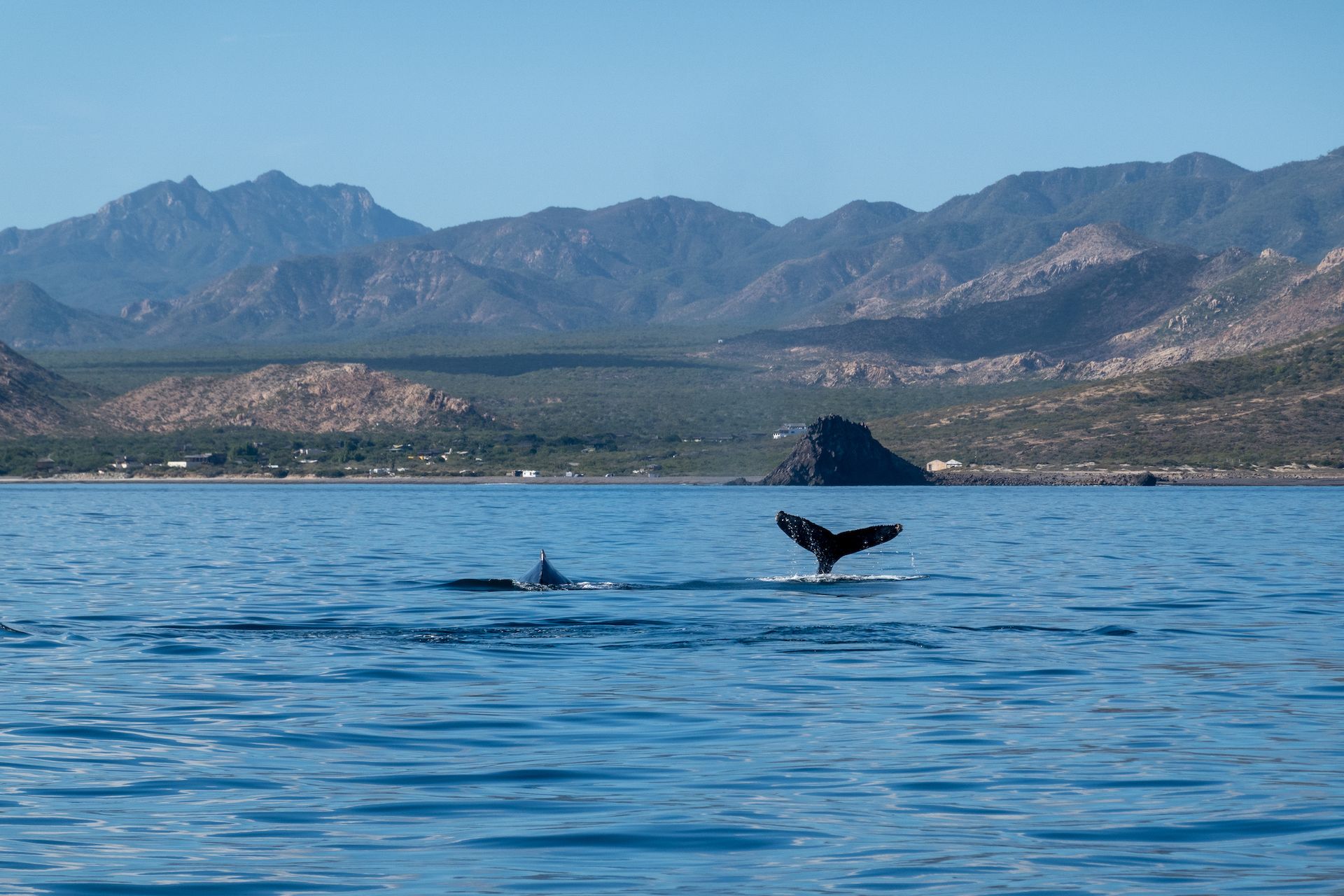 There is no such thing as too many whale sightings.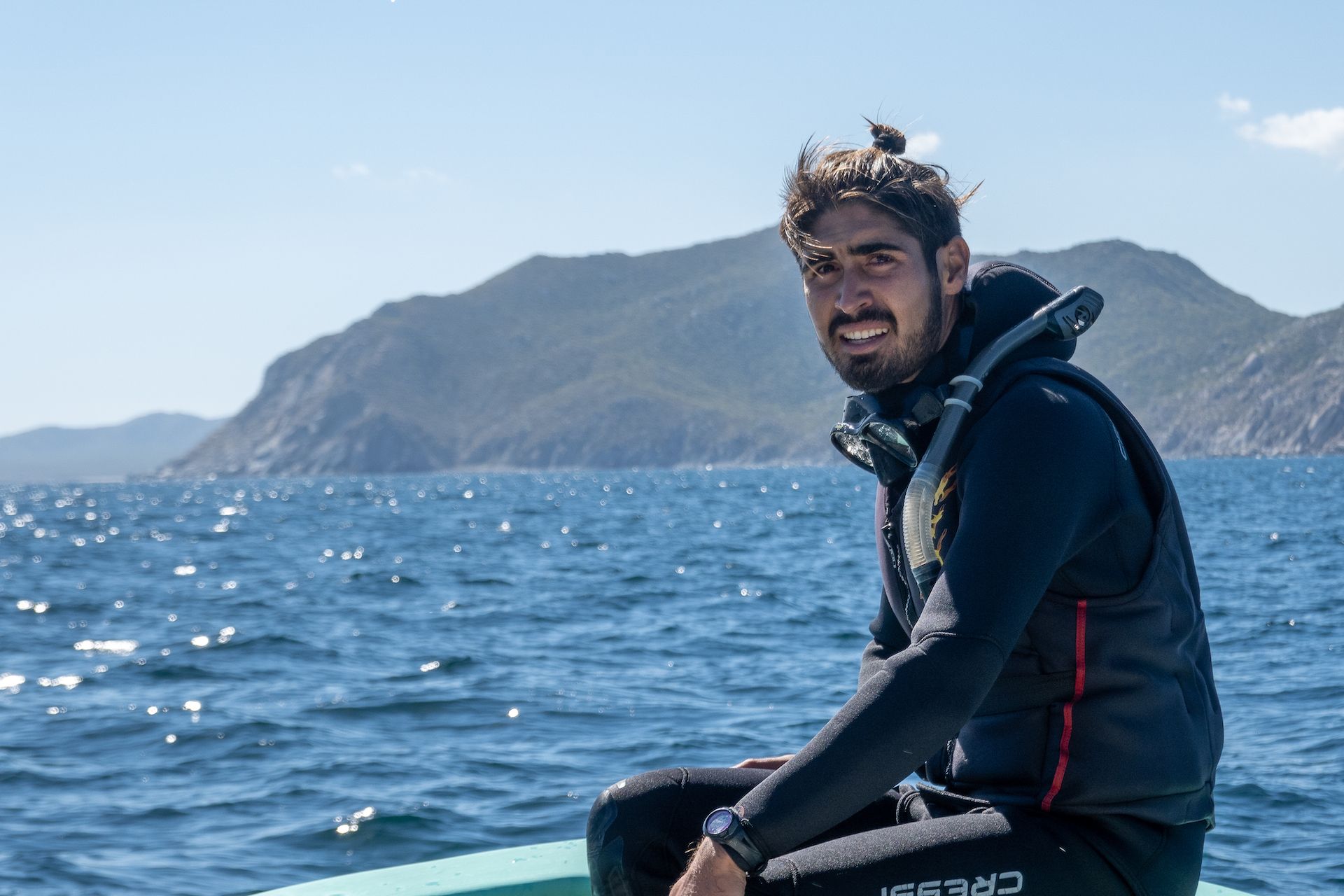 Jamil, our guide.
What a wonderful tour (we know we kept saying this, but it's true)! We not only swam with thousands of bigeye jacks, several sea turtles and sea lions, but also saw humpback whales, dolphins and finally several pods of killer whales!
When we were supposed to head back to shore, our guide, Jamil, and Kiki, the captain, got so excited over something on the radio and turned our boat around and went full speed into the bay. Apparently, pods of killer whales were spotted, and it was a rare event in the area that happens only a few times a year! All the boats that were on the water joined the chase - we followed a few different pods for a while, and saw them jumping, tail slapping, and even swimming with bellies facing up. What a joyful surprise at the end of the tour!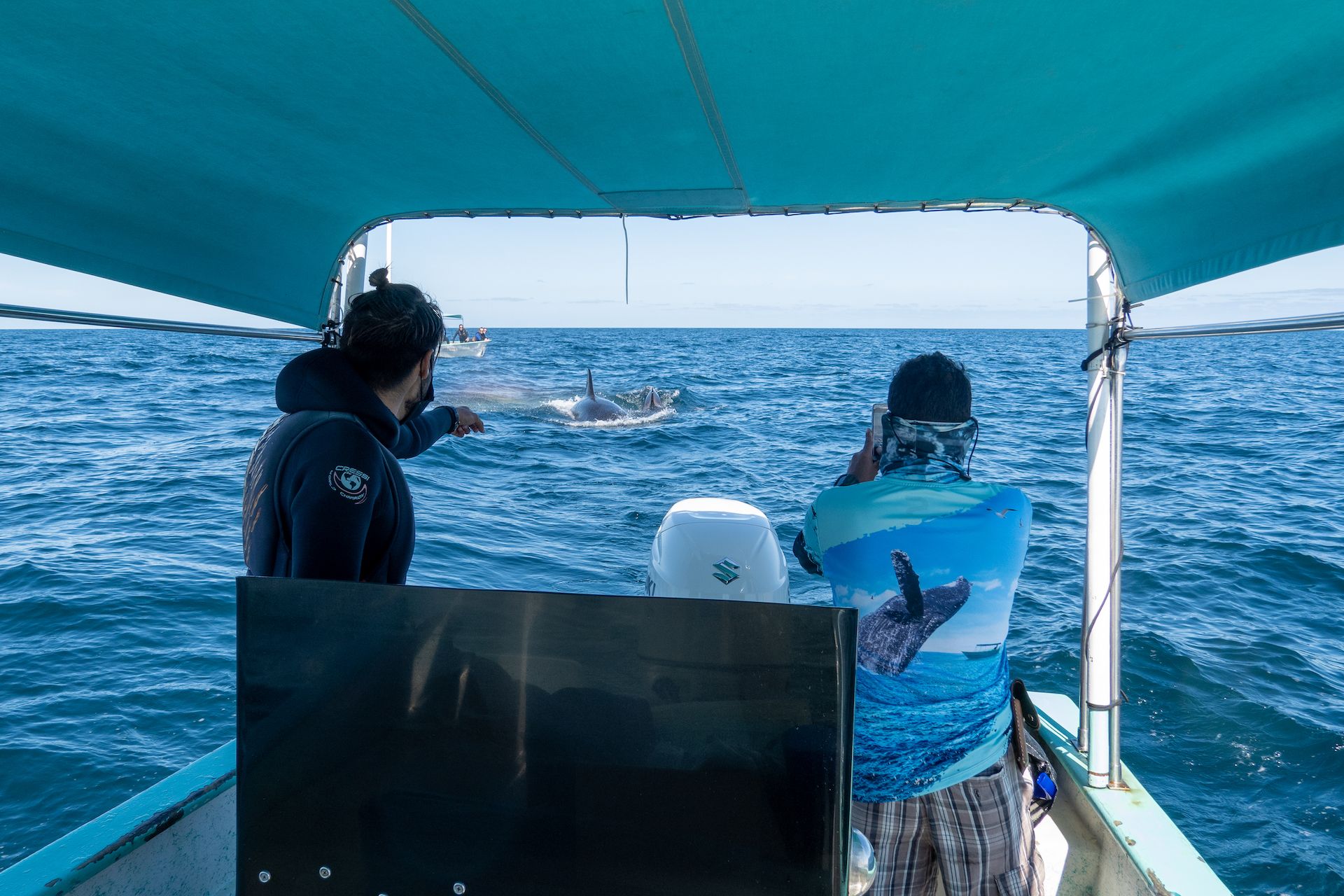 Jamil and Kiki, the captain, were so excited to have killer whales following our boat!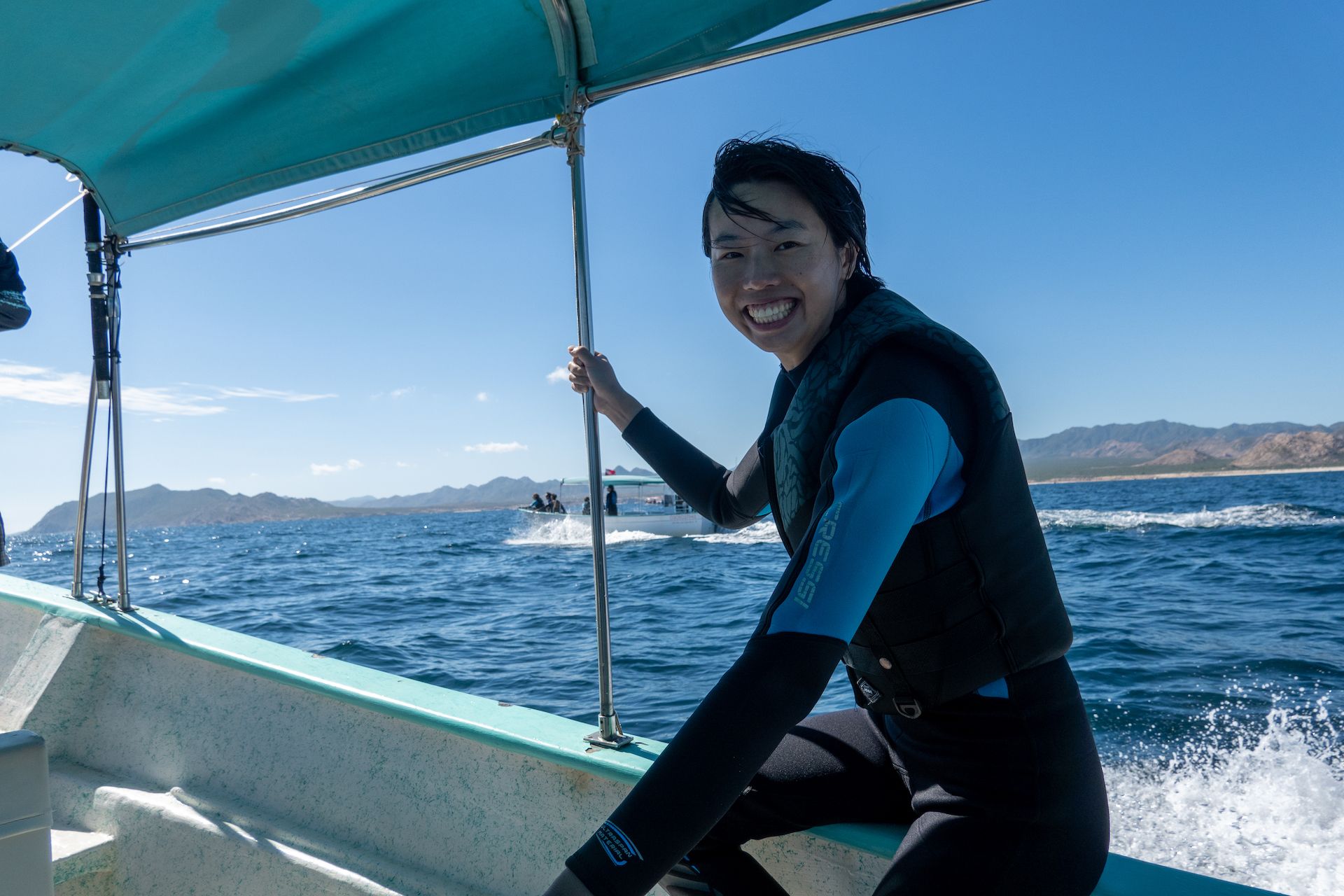 How thrill to chase the killer whales with all the boats on the bay!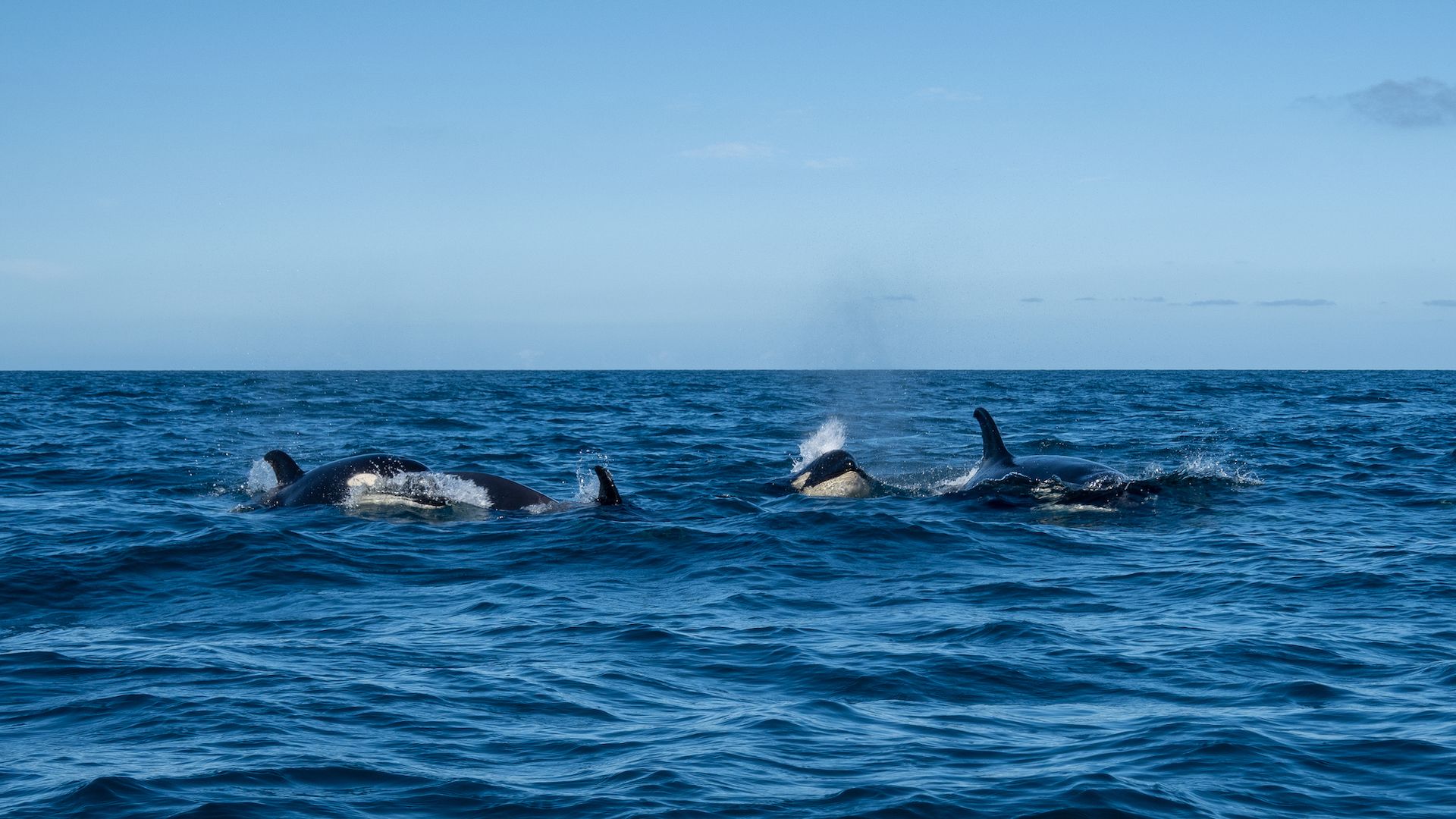 A pod of killer whales showing off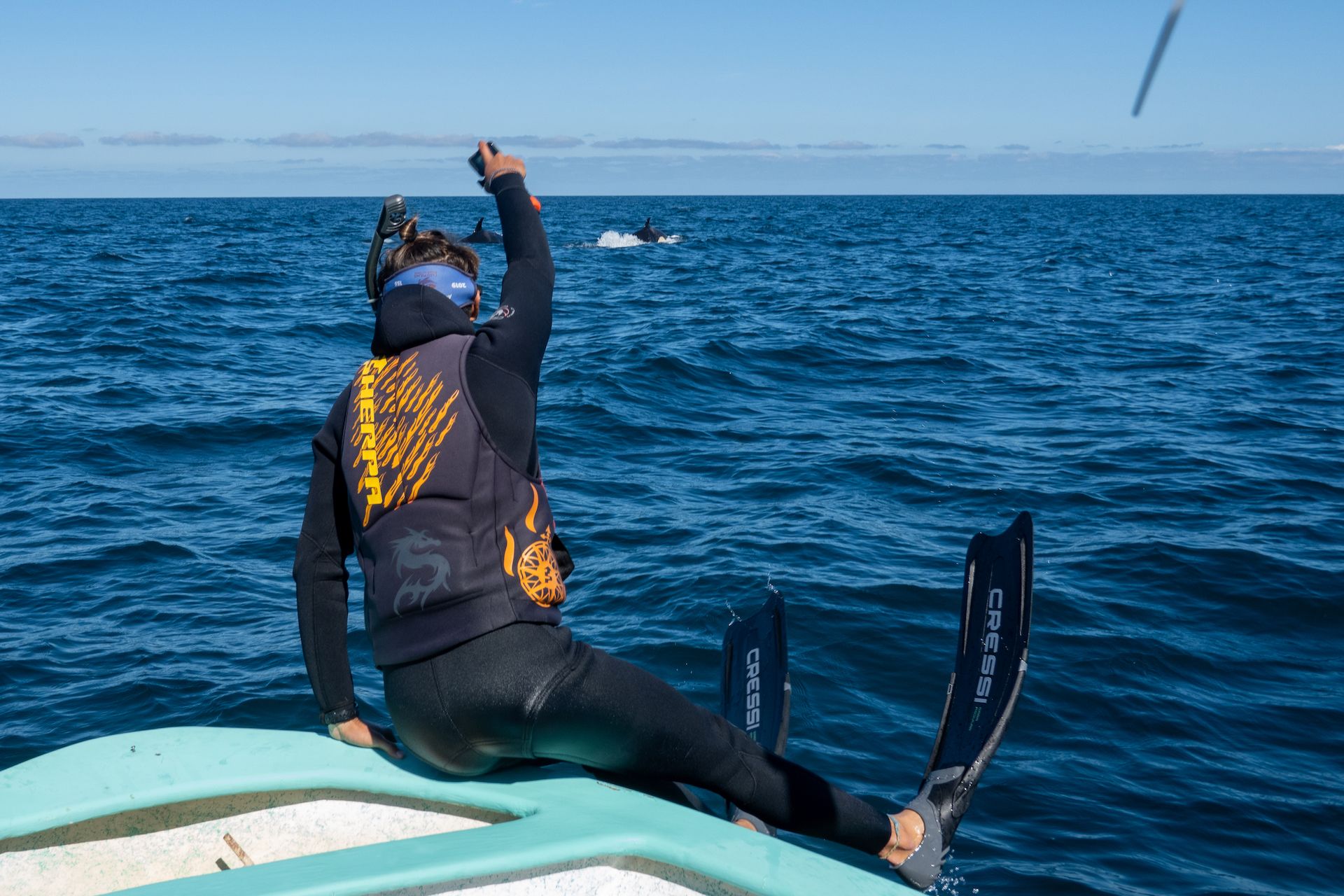 Jamil plunged into the water with a go-pro to get as close as possible to the killer whales. They then swam right under him.
After the morning thrill, we found a nice beach north of town only accessible with 4x4s. Luckily for us, there was no one else there! We had the whole beach to ourselves and enjoyed a moment of unwind after a week of exciting activities and lovely company.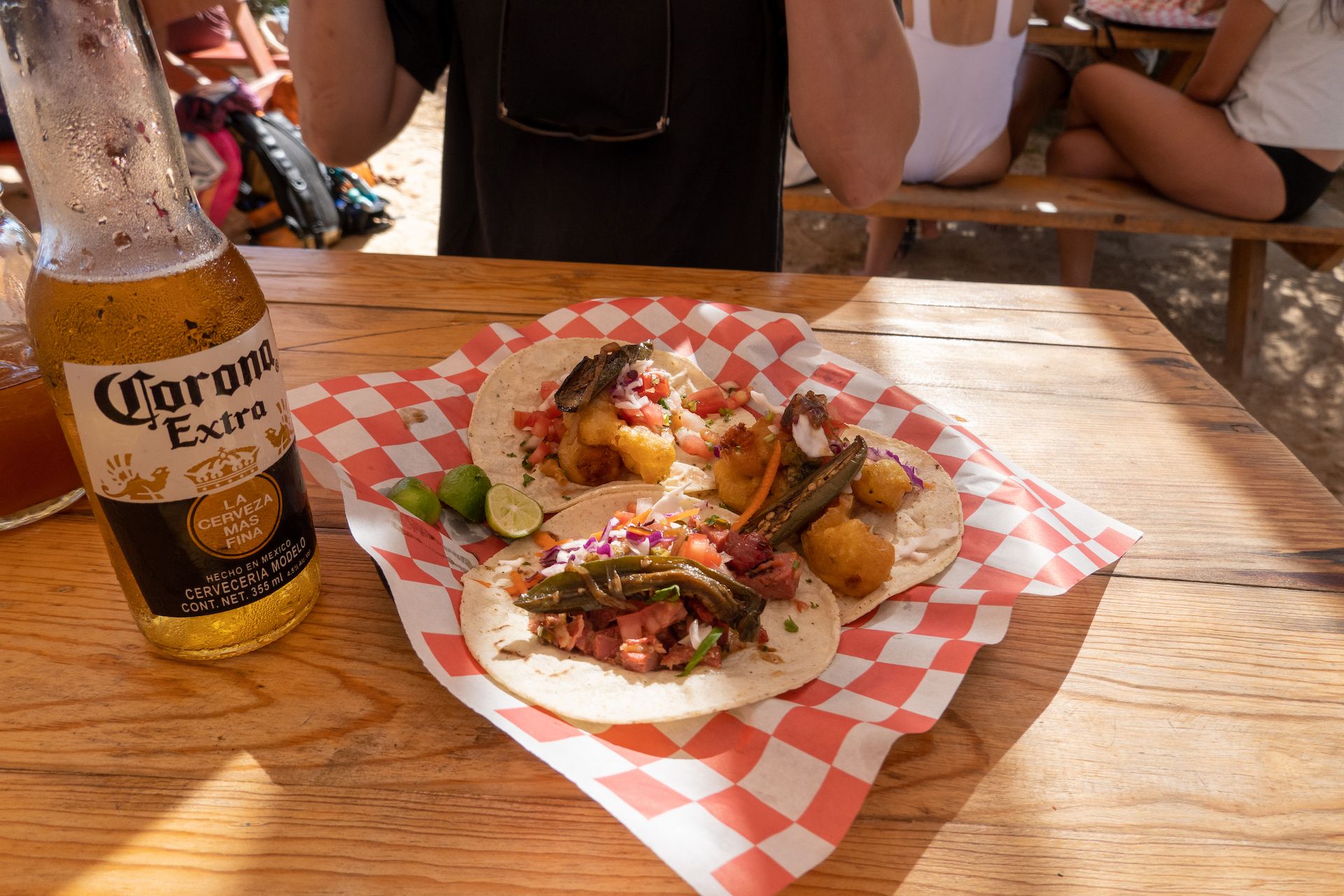 Well deserved smoked fish and shrimp tacos after our tour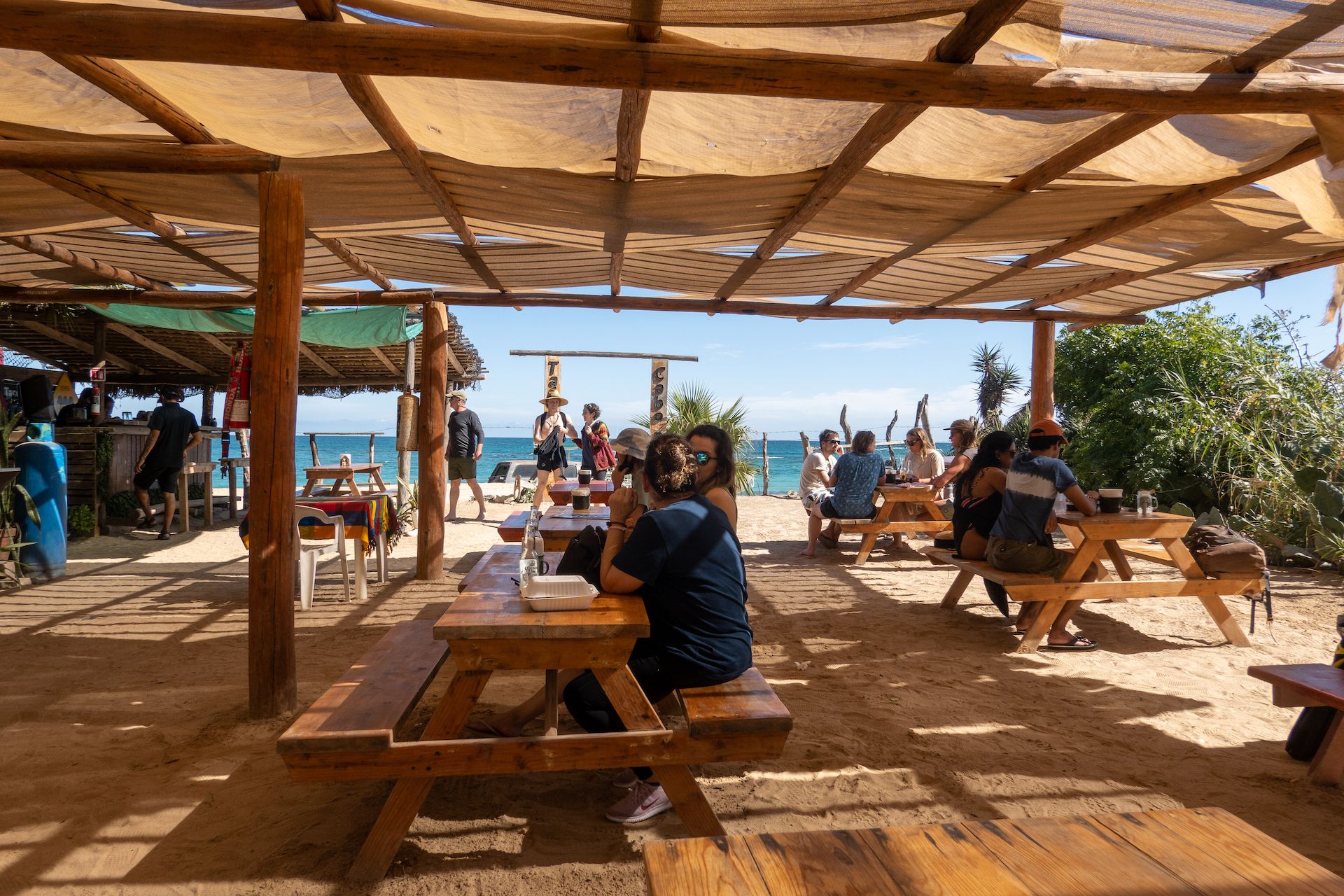 Local restaurant Tacos & Beers in Cabo Pulmo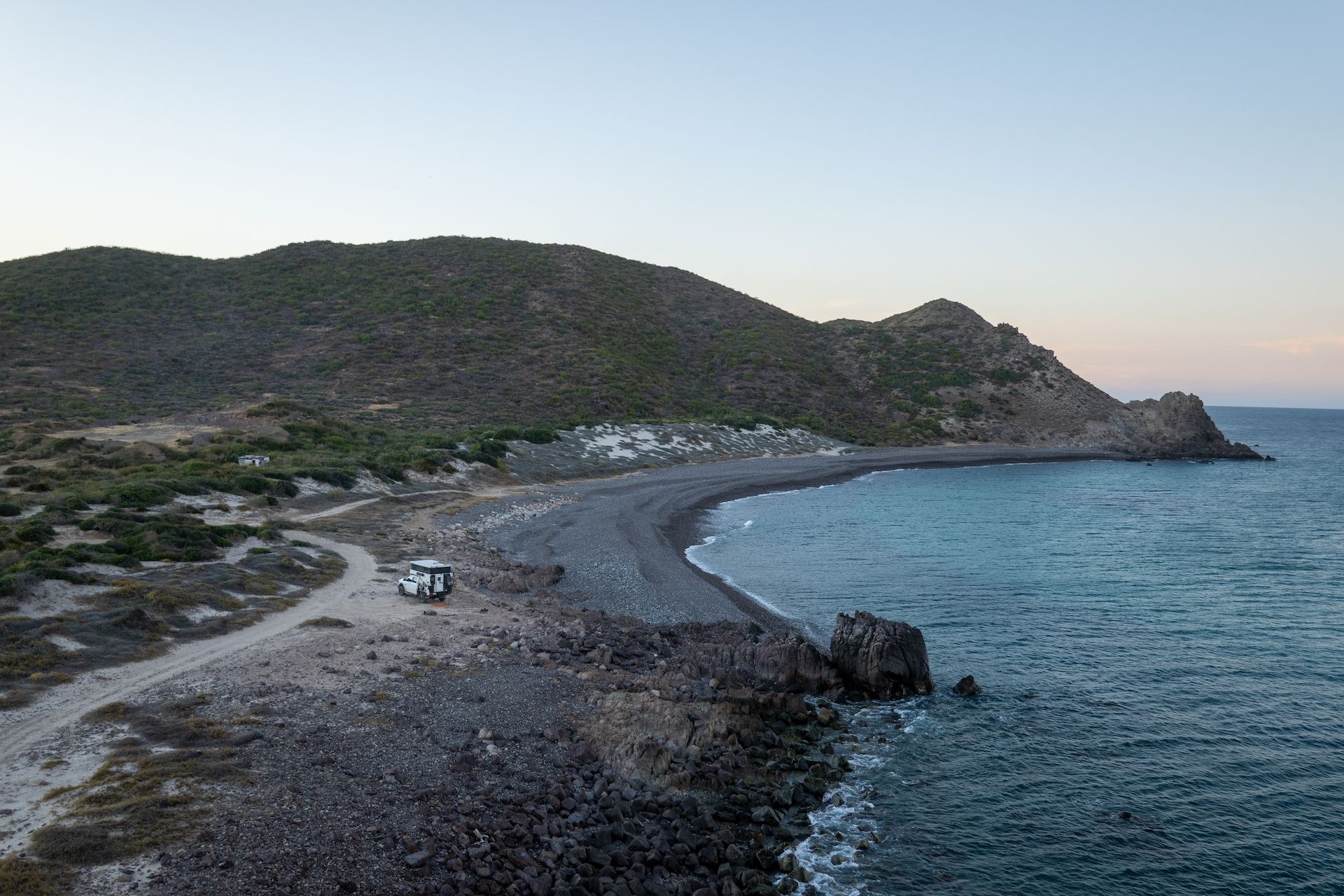 Our private beach for the second to last night in Cabo Pulmo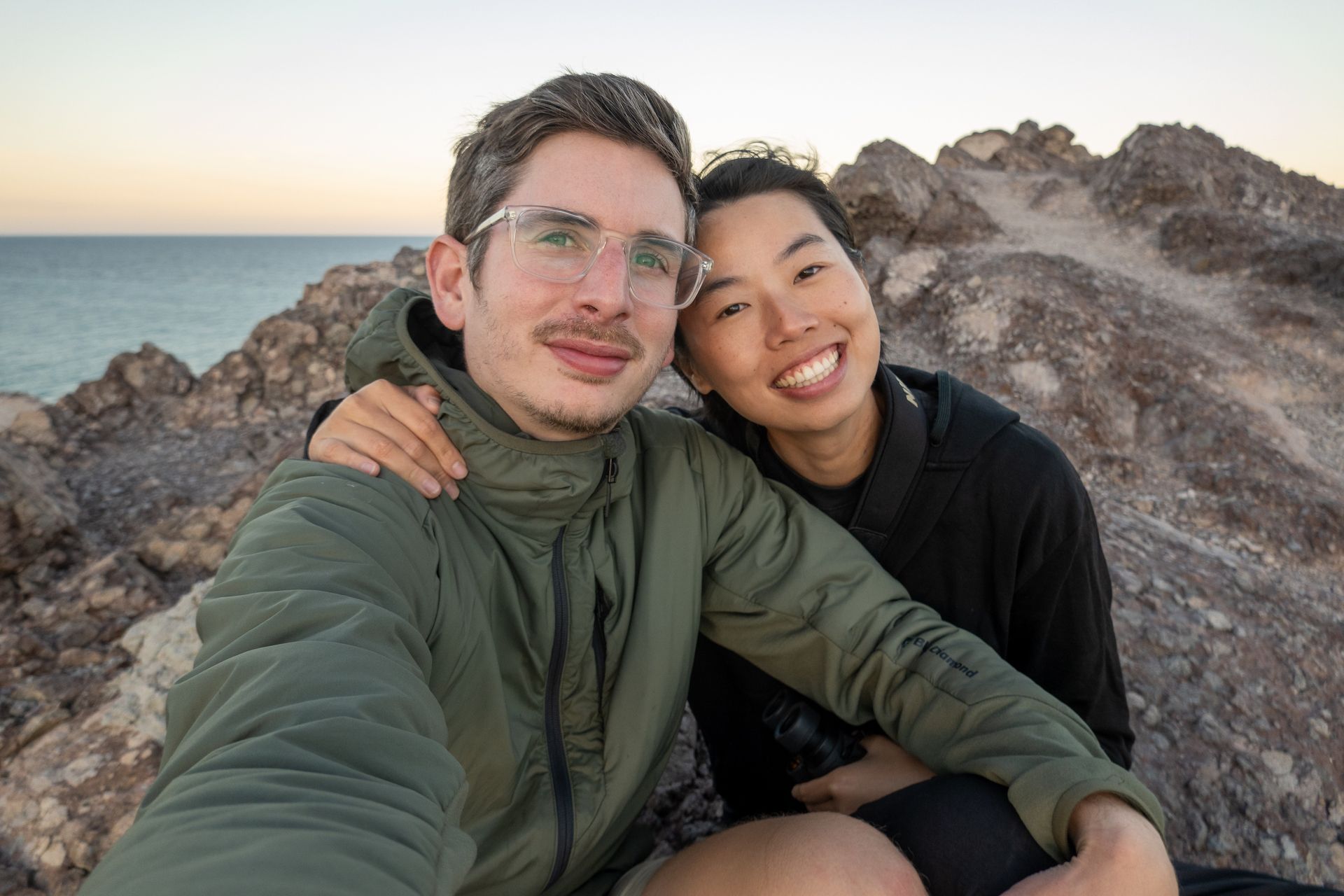 Ending an exciting week with a selfie at sunset. See you next week!
---