Overlanding Baja - Week 5
January 16, 2022
We went inland away from the sea, saw our friends off in La Paz, and came back out to the Gulf of California to visit La Ventana, one of the most known spots for kiteboarding and windsurfing in the world. If the last week was an action-packed drama, this week was a thriller… Victor got sick, and did he catch COVID?!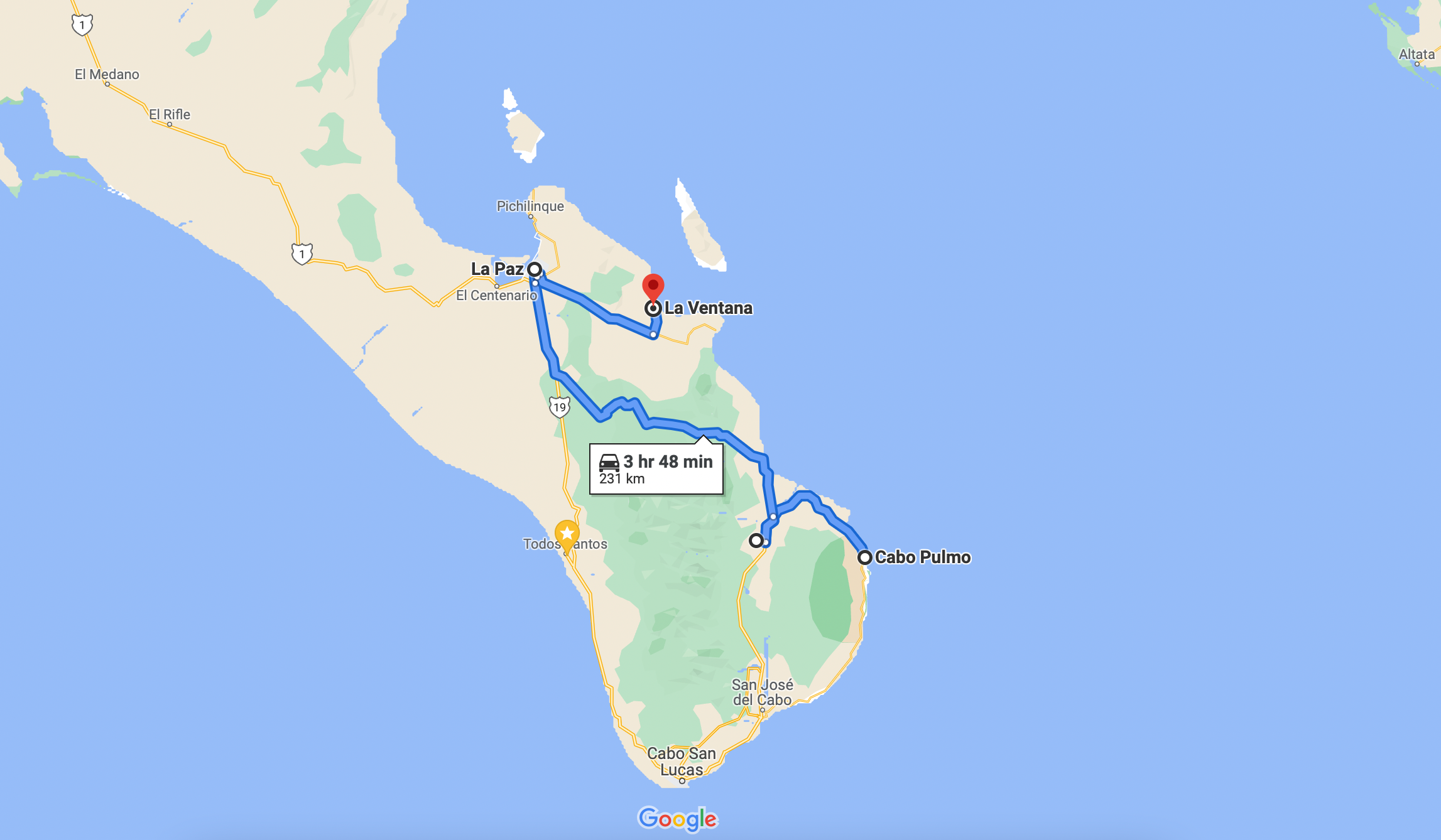 Our fifth week in Baja.
Monday: Cabo Pulmo to Santiago (1h / 50km)
Since we started this blog, we've slowly settled into a rhythm of finding a quiet spot with good wifi on Sundays to write our post. Last Sunday was no different. After publishing the blog post, we camped at the beach in Cabo Pulmo and when the new week arrived, we took off to Santiago.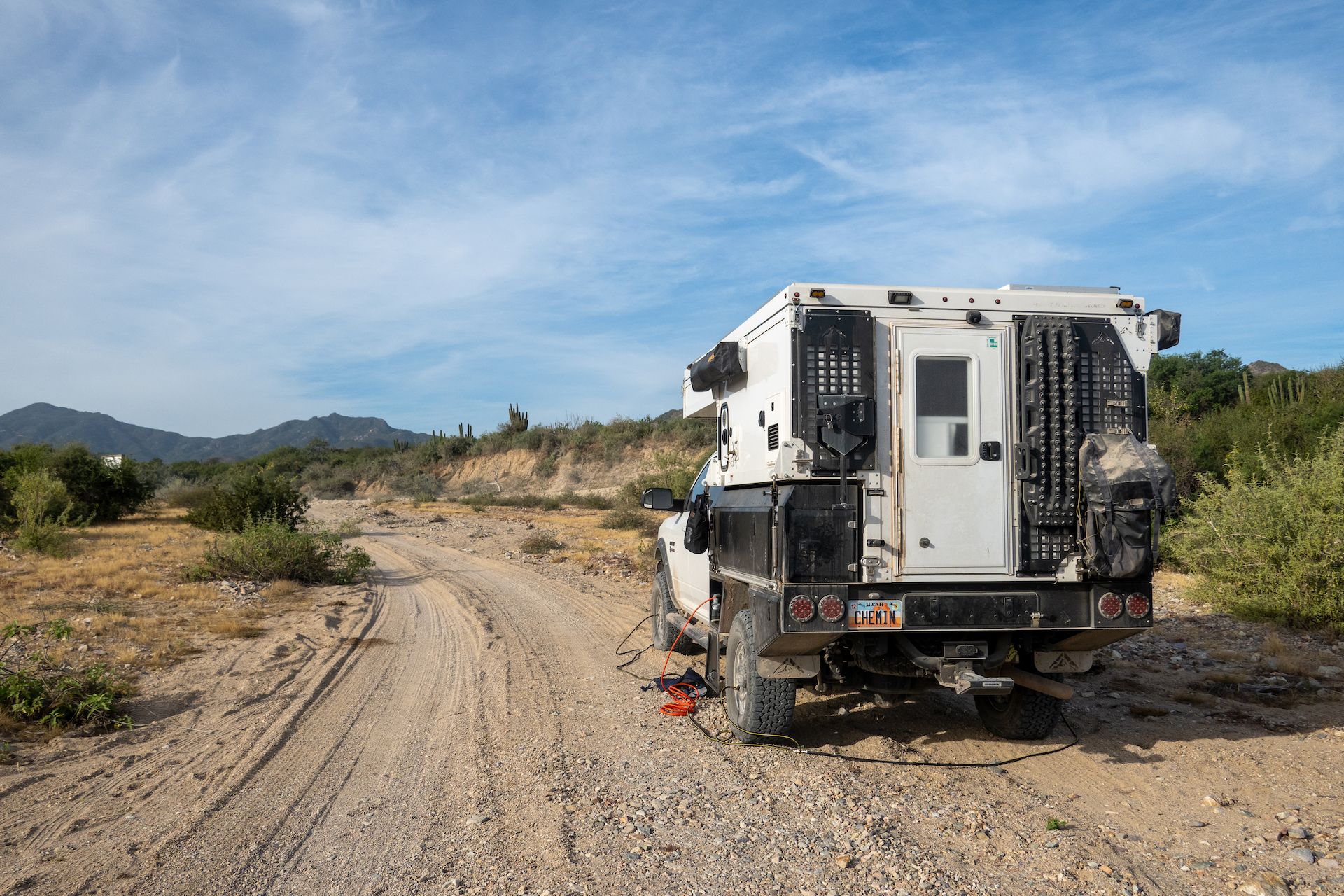 Airing up our tires after a few days driving on sandy roads in Cabo Pulmo
Santiago is a small village a short hour away from Cabo Pulmo. It was established for missionary purposes in the early 1800s, and is tucked in the beautiful Sierra de la Laguna mountains. For us, it was not only exciting to see dry, hilly landscapes after many days by the sea, but also a break from the strong wind that frequents the coasts in Baja California Sur at this time of the year.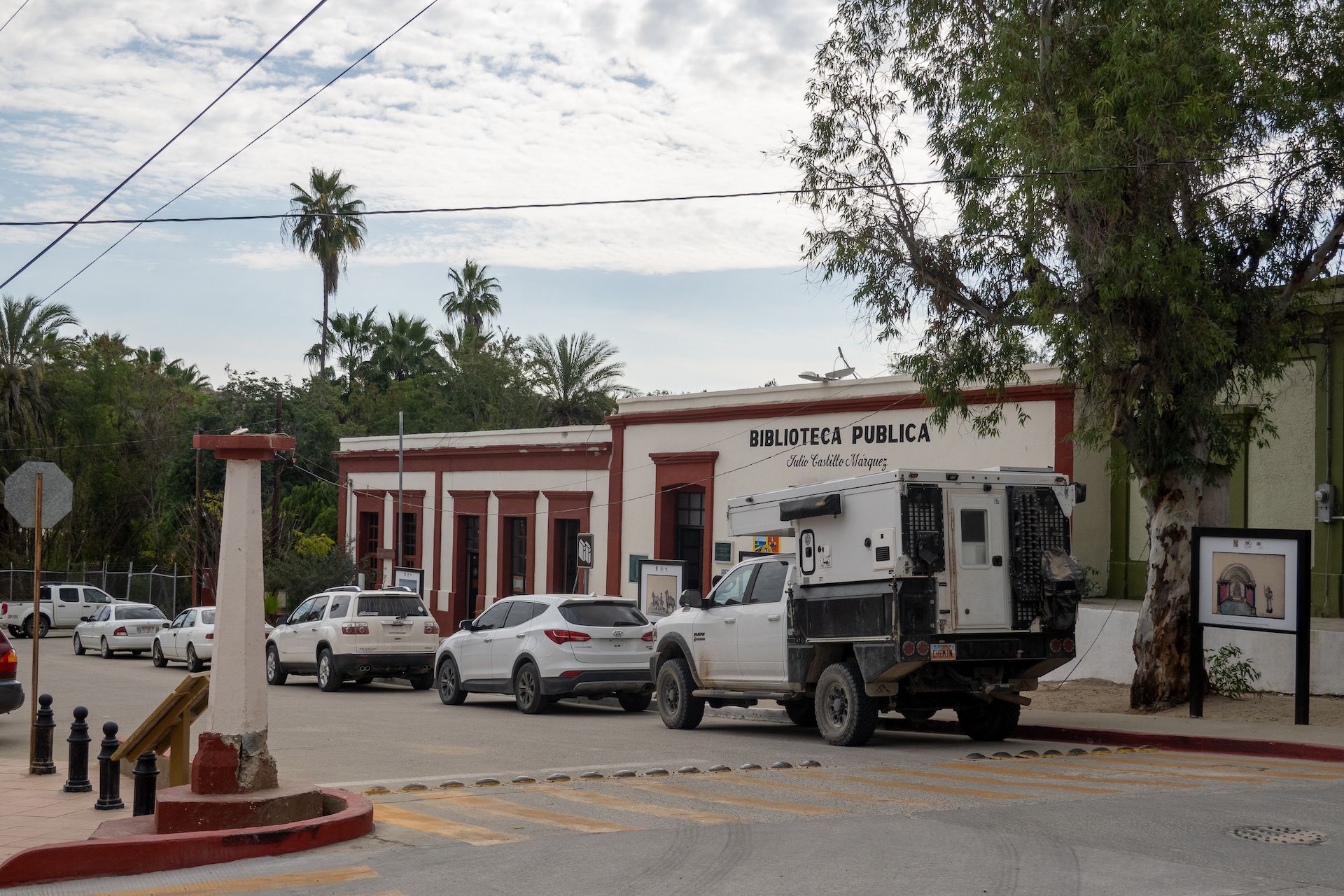 Parked in Santiago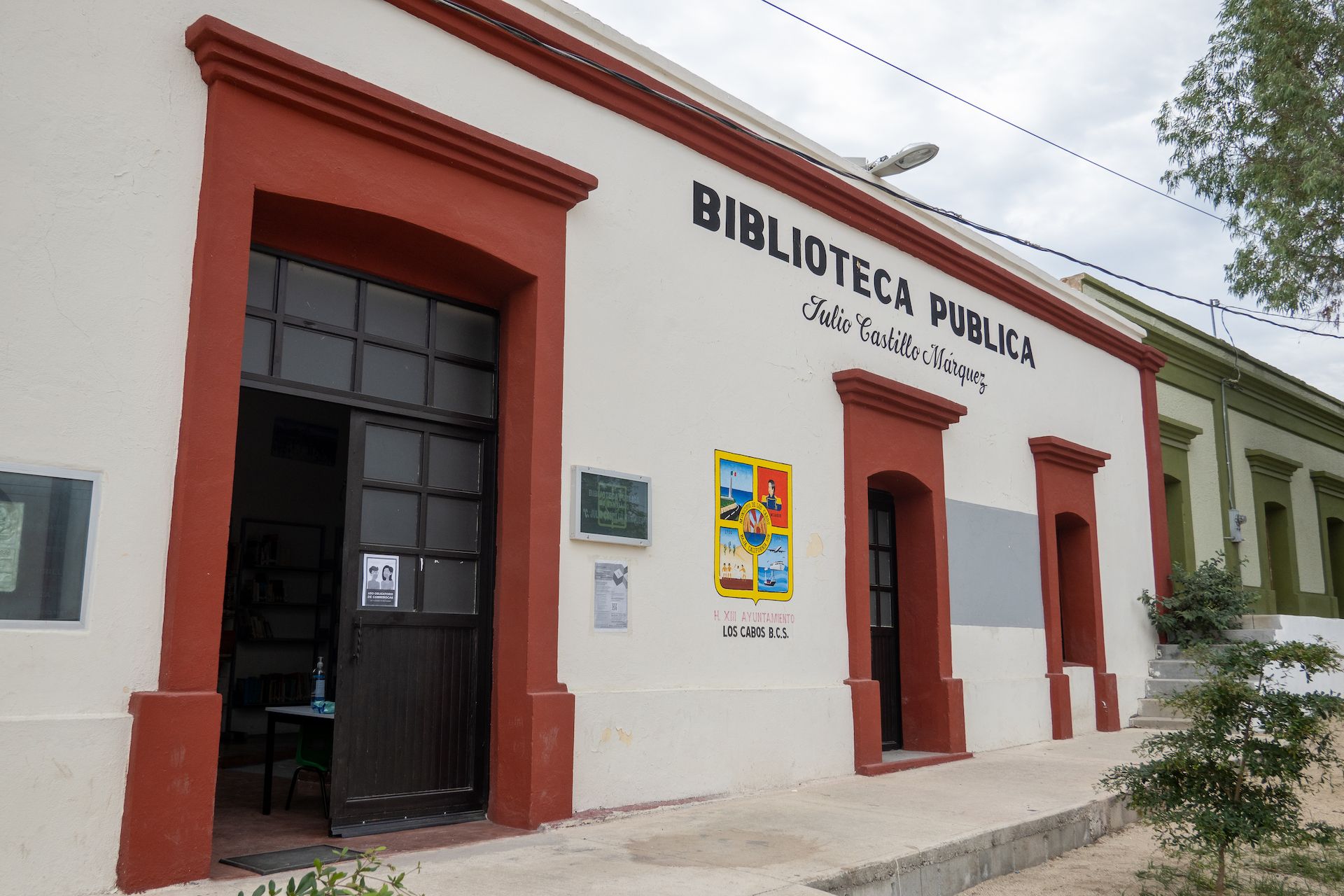 The local library in a beautiful colonial building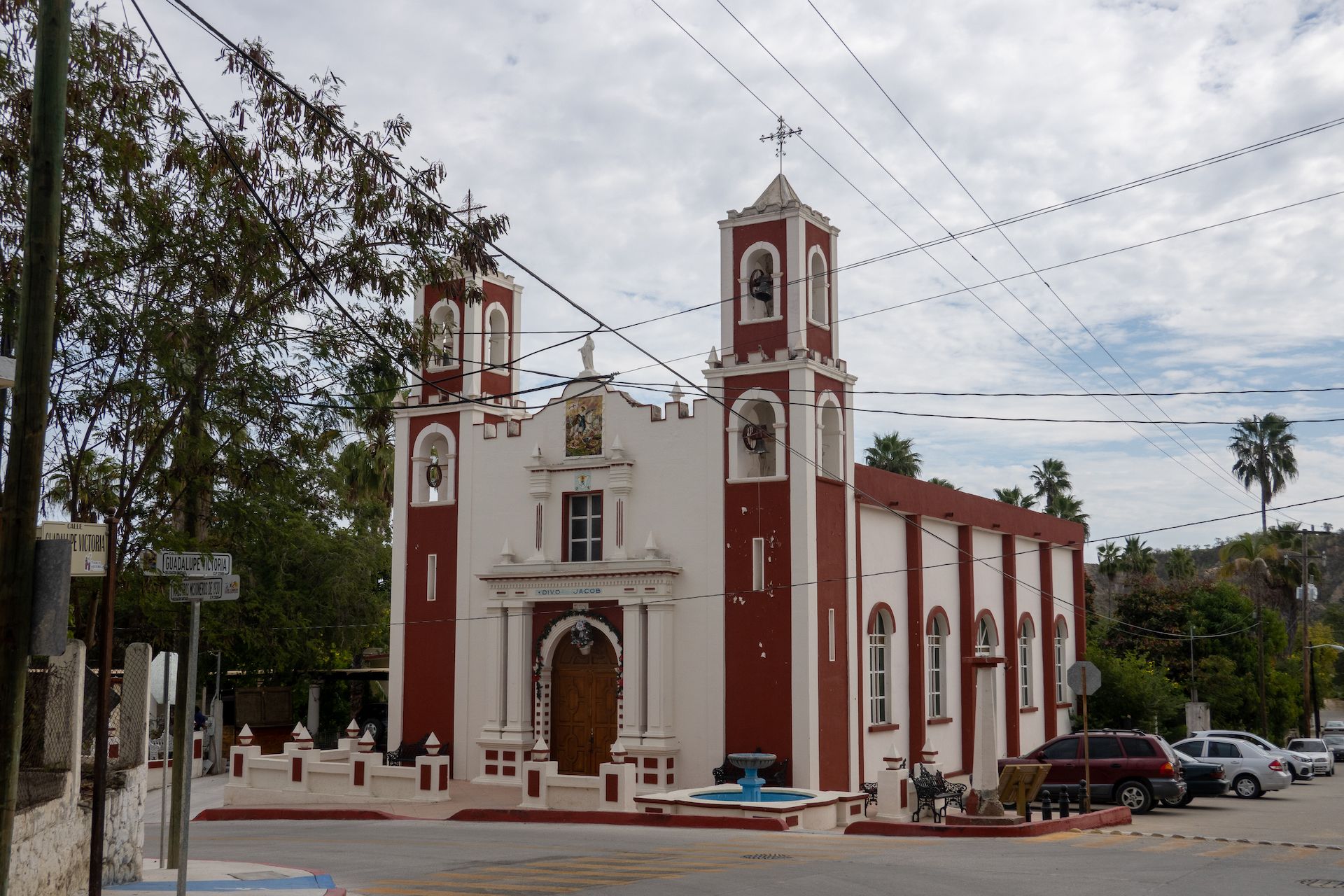 The Mission of Santiago
Our destination was Rancho Ecologico Sol De Mayo, which is also the access point for a popular hike to a waterfall in Cañón de la Zorra. The cabins at the ranch are elegantly decorated, and we were in need of a hot, indoor shower. So we took a room for the night, and checked out the waterfall in the afternoon.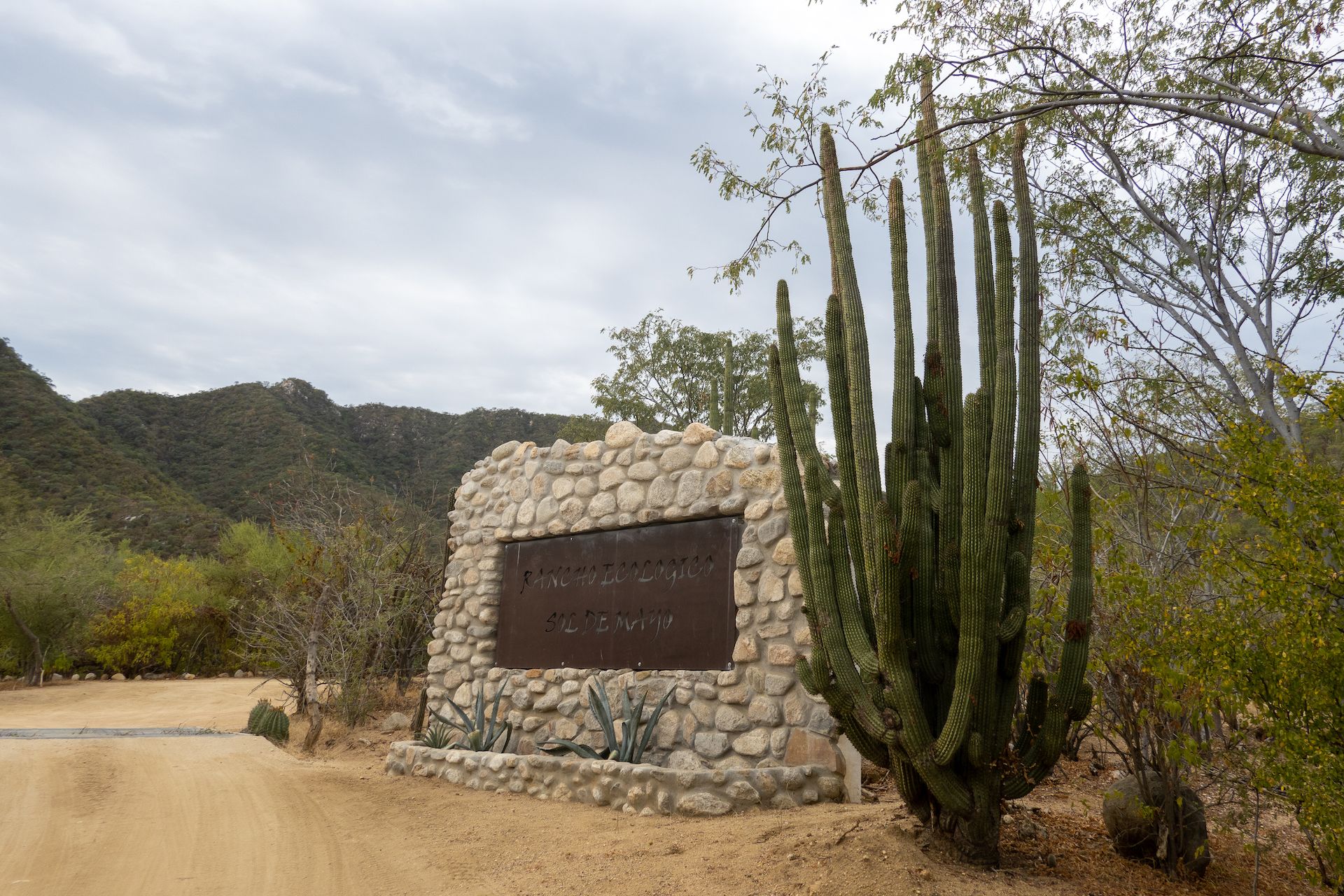 Arriving at Rancho Ecologico Sol de Mayo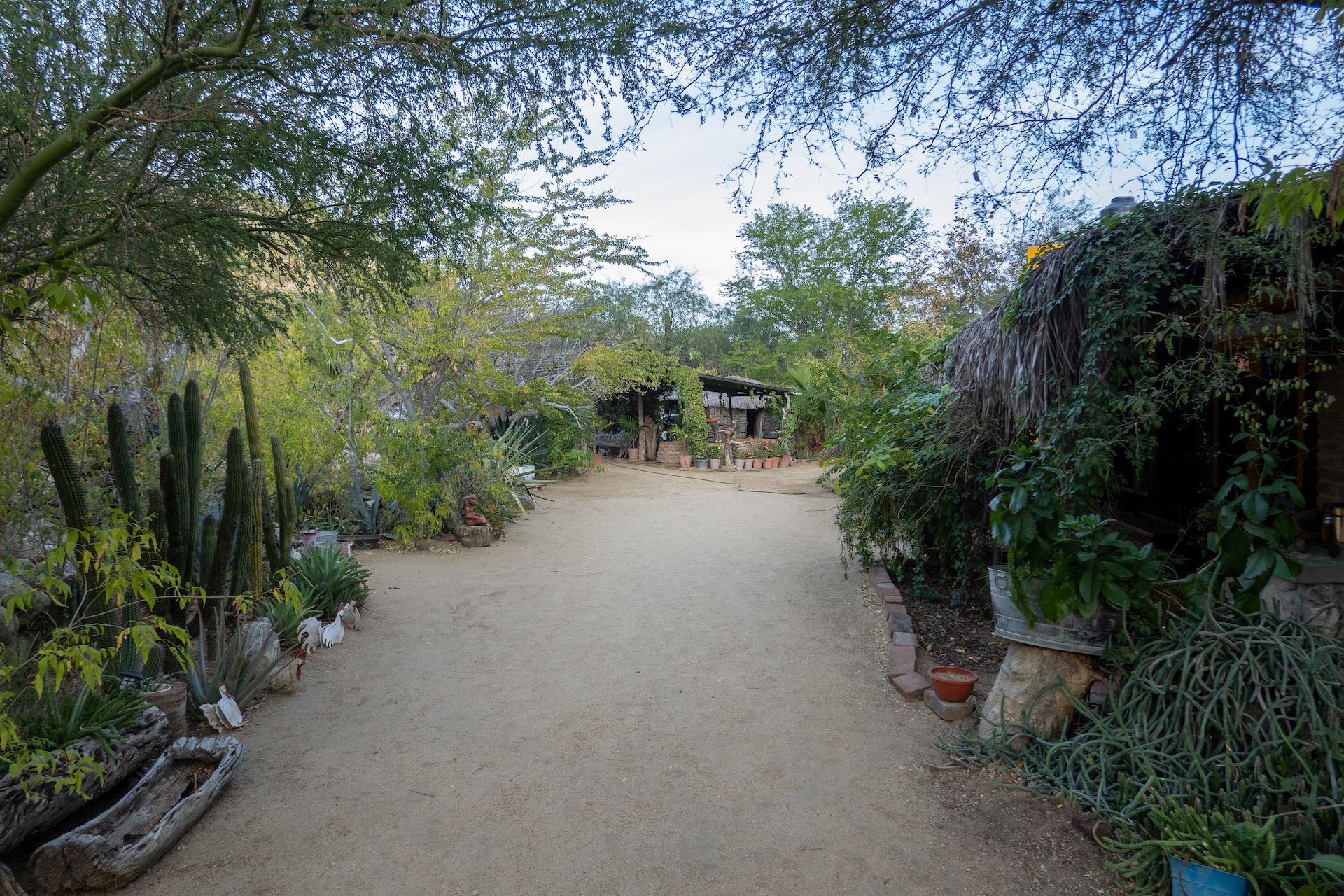 Greeted by a lush garden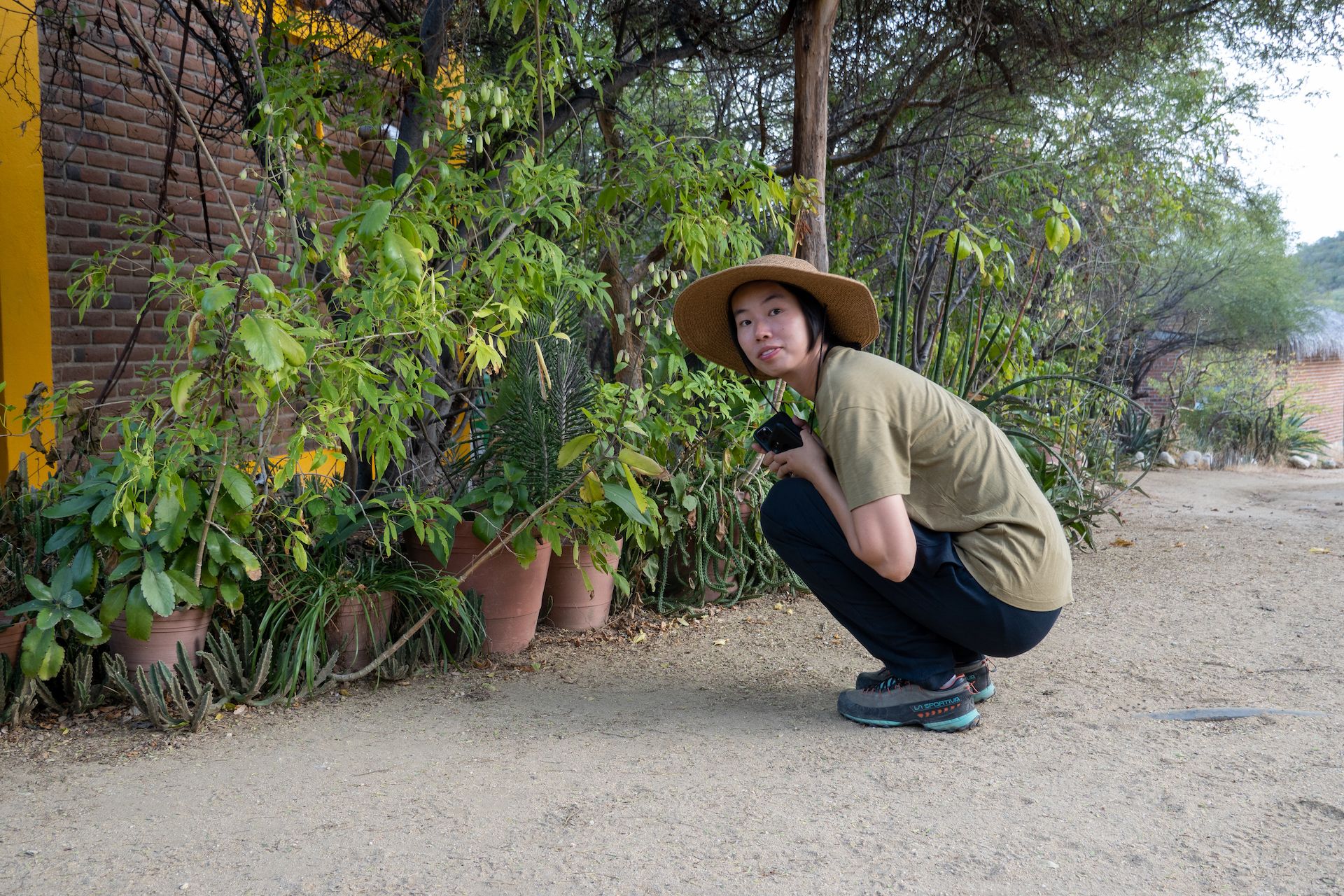 Observing the plants and flowers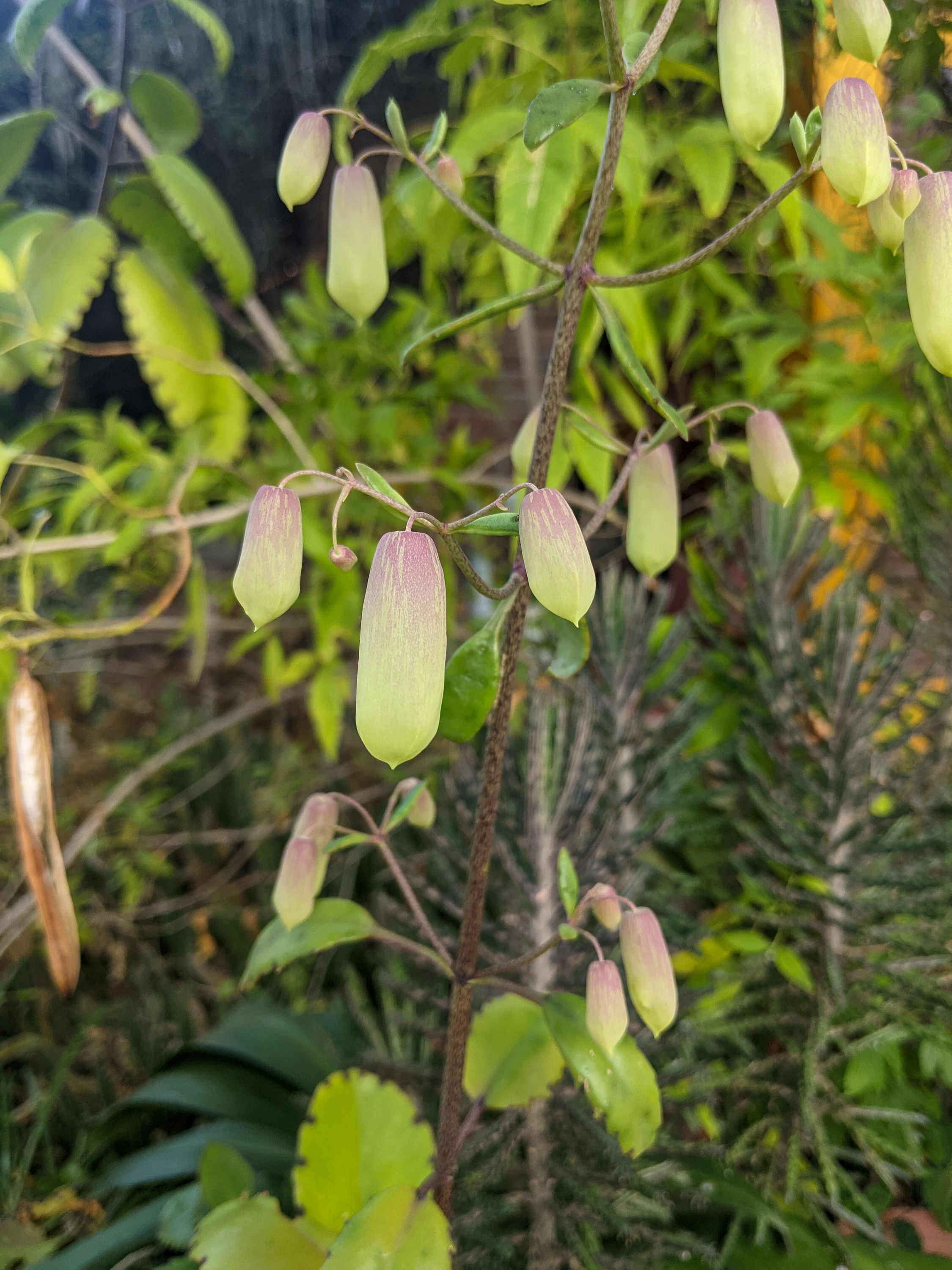 Close up on the plant Kuan was looking at.
The rancho rescues a lot of animals including these cute little turtles.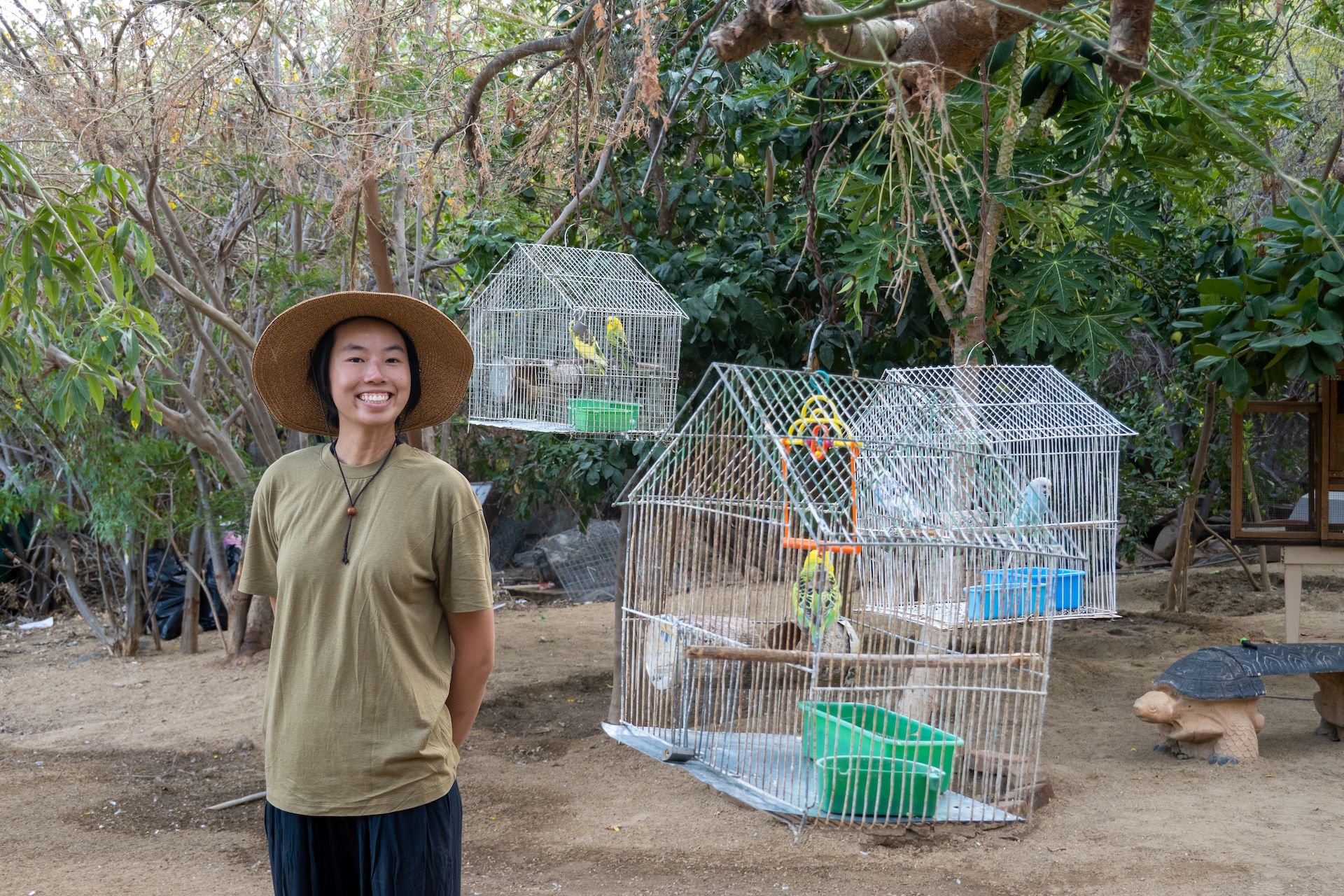 Colorful birds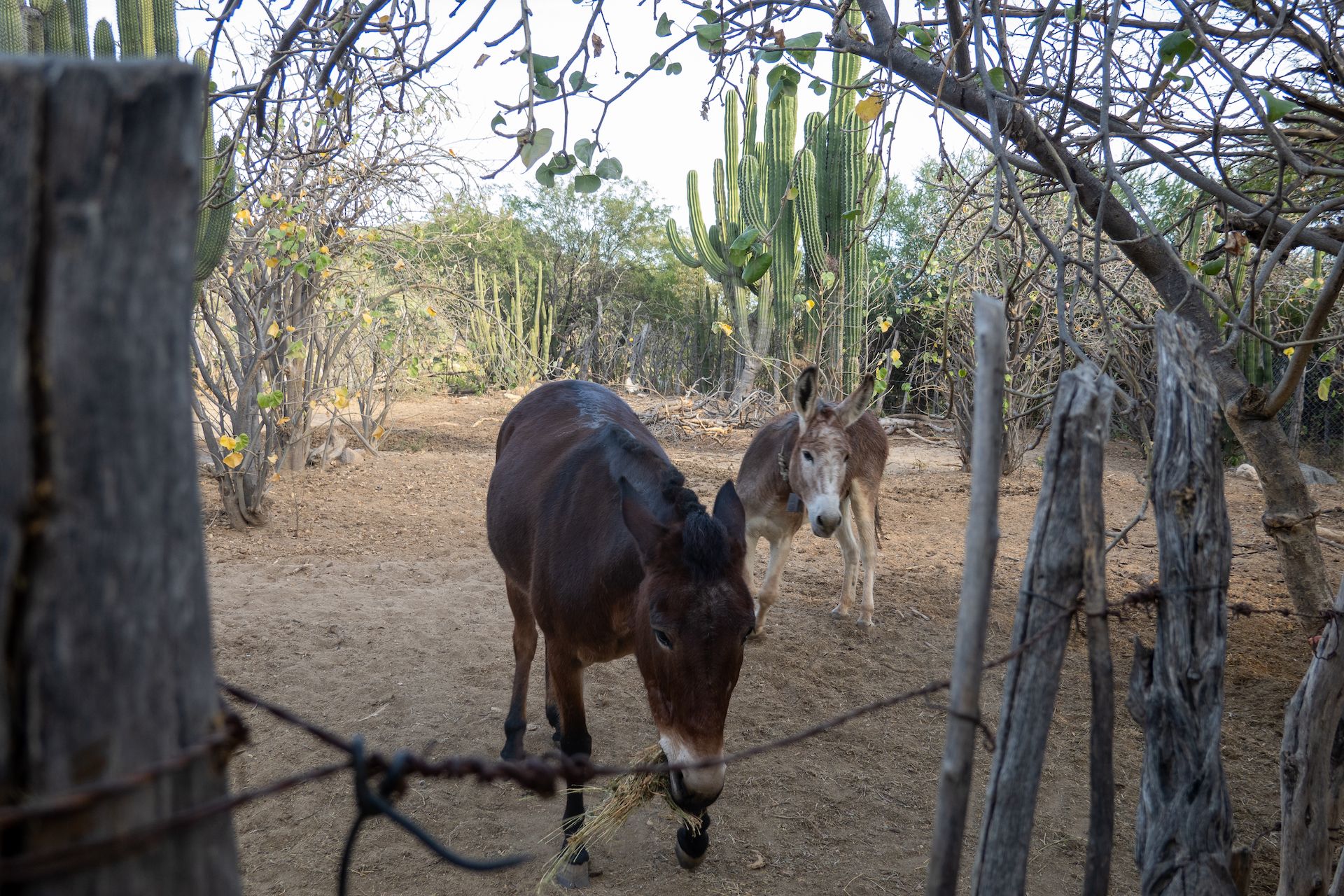 Burros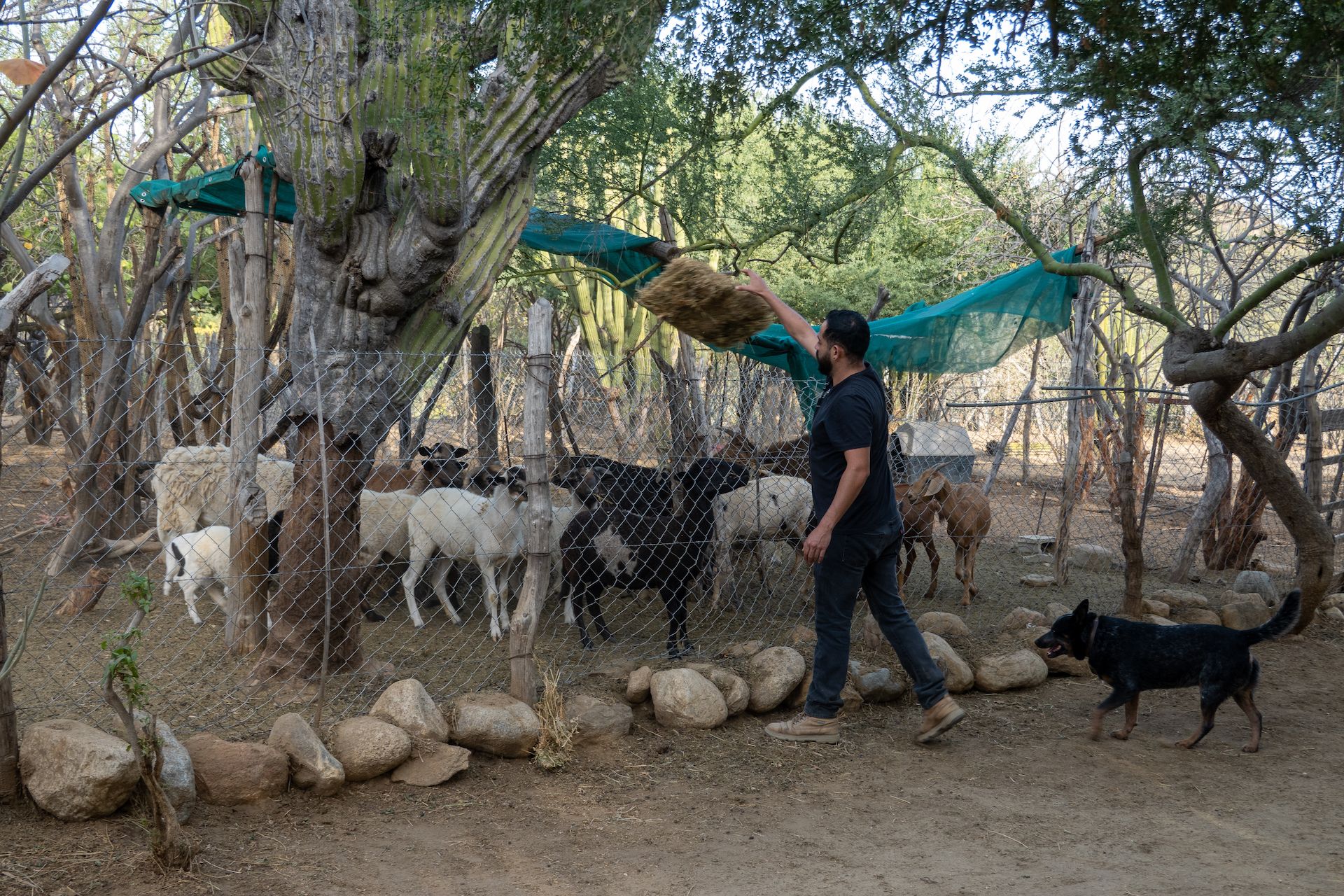 The caretaker feeding the goats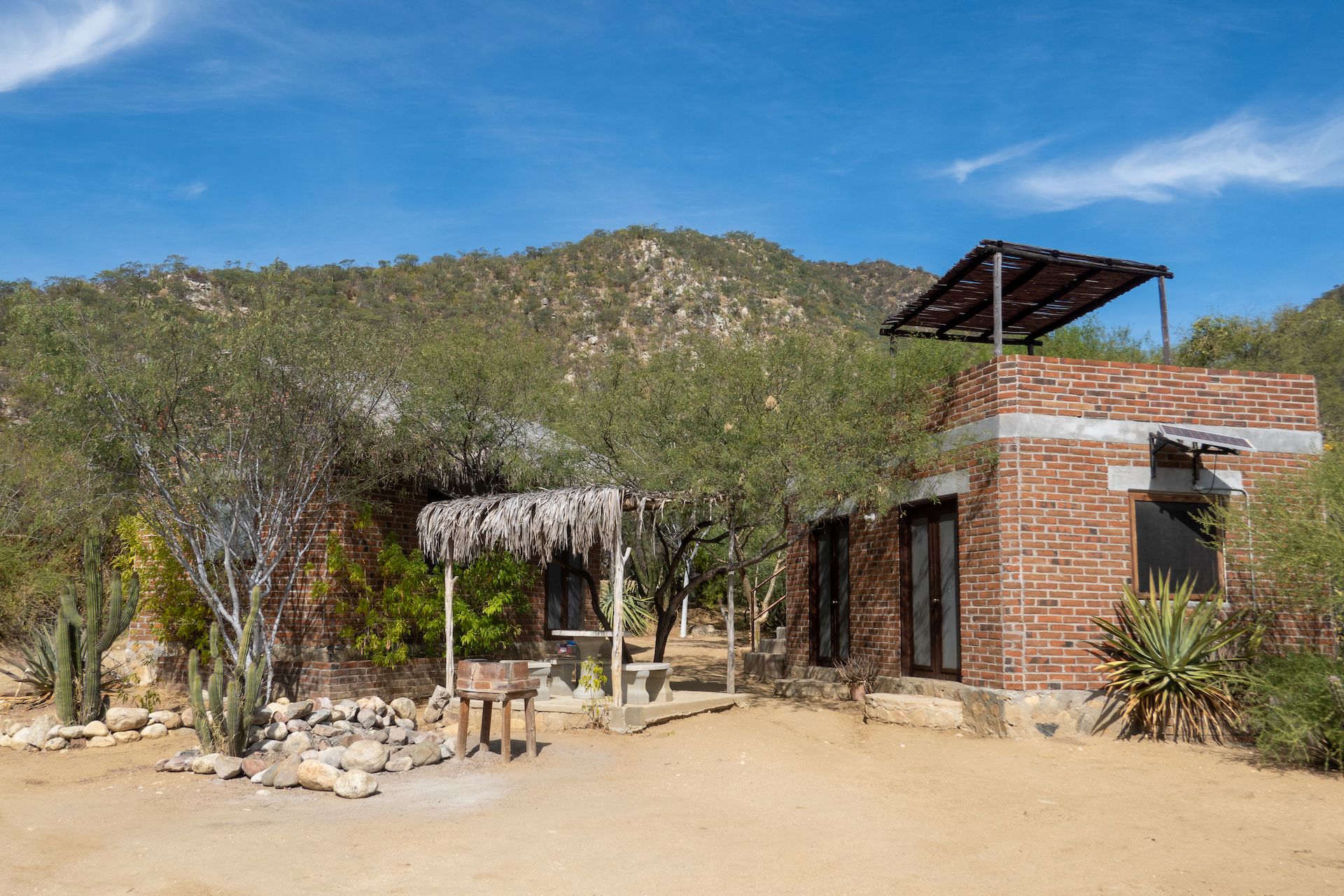 Our little casita (left) with its detached kitchen (right) and outdoor patio (center)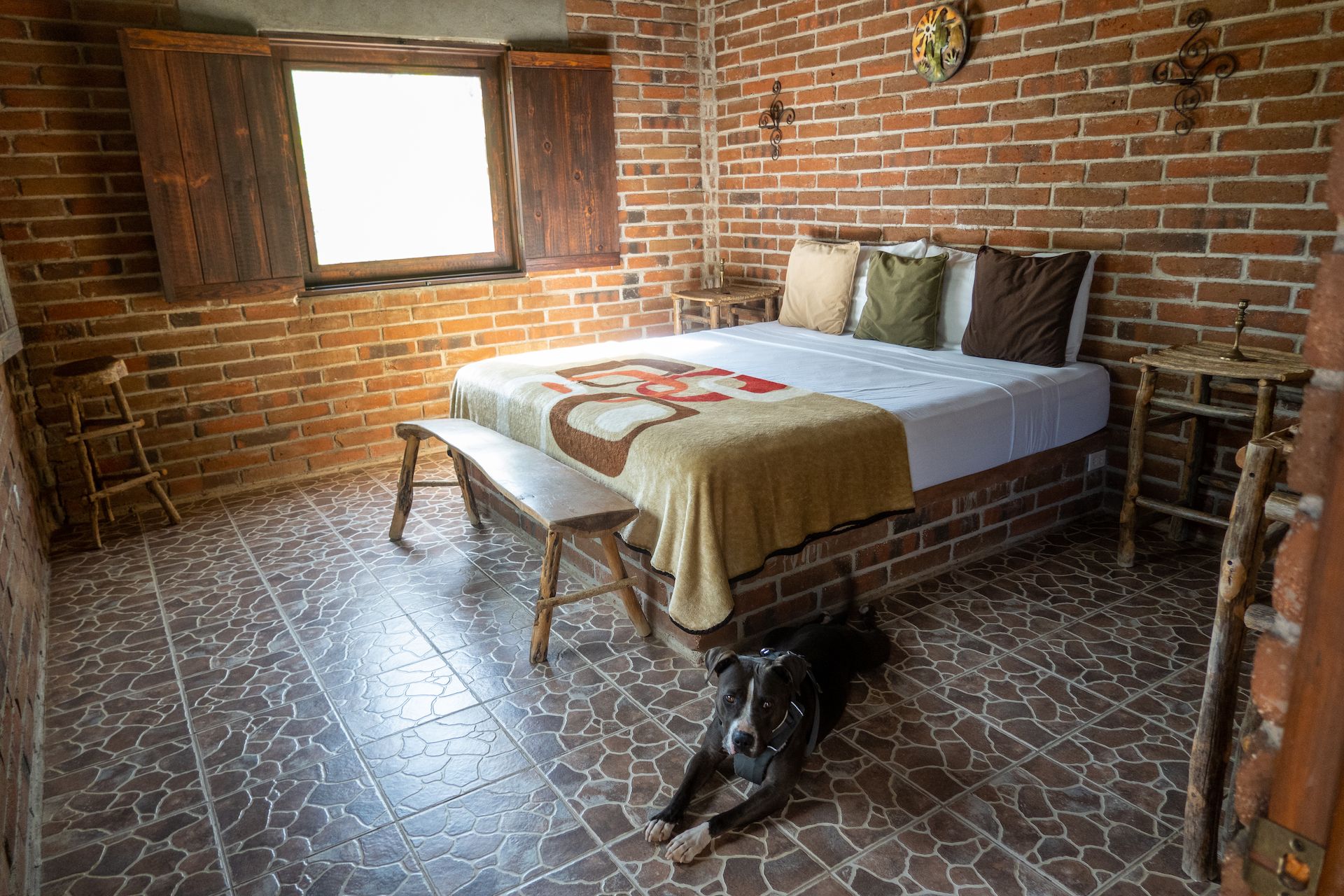 You can tell someone was very happy to be in the cabin. And yes, she ended up taking half of the king size bed at night.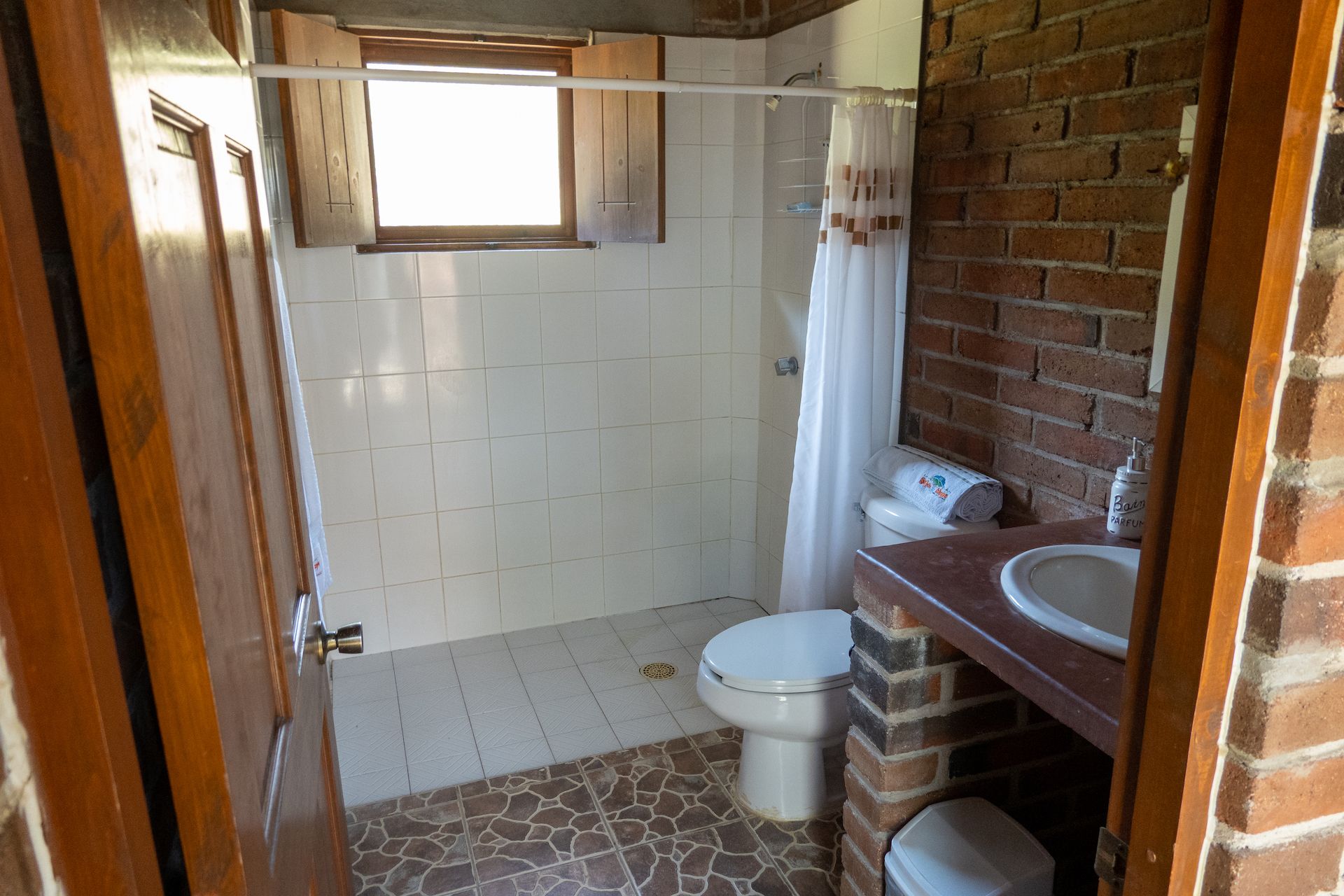 A private and clean bathroom: Yay!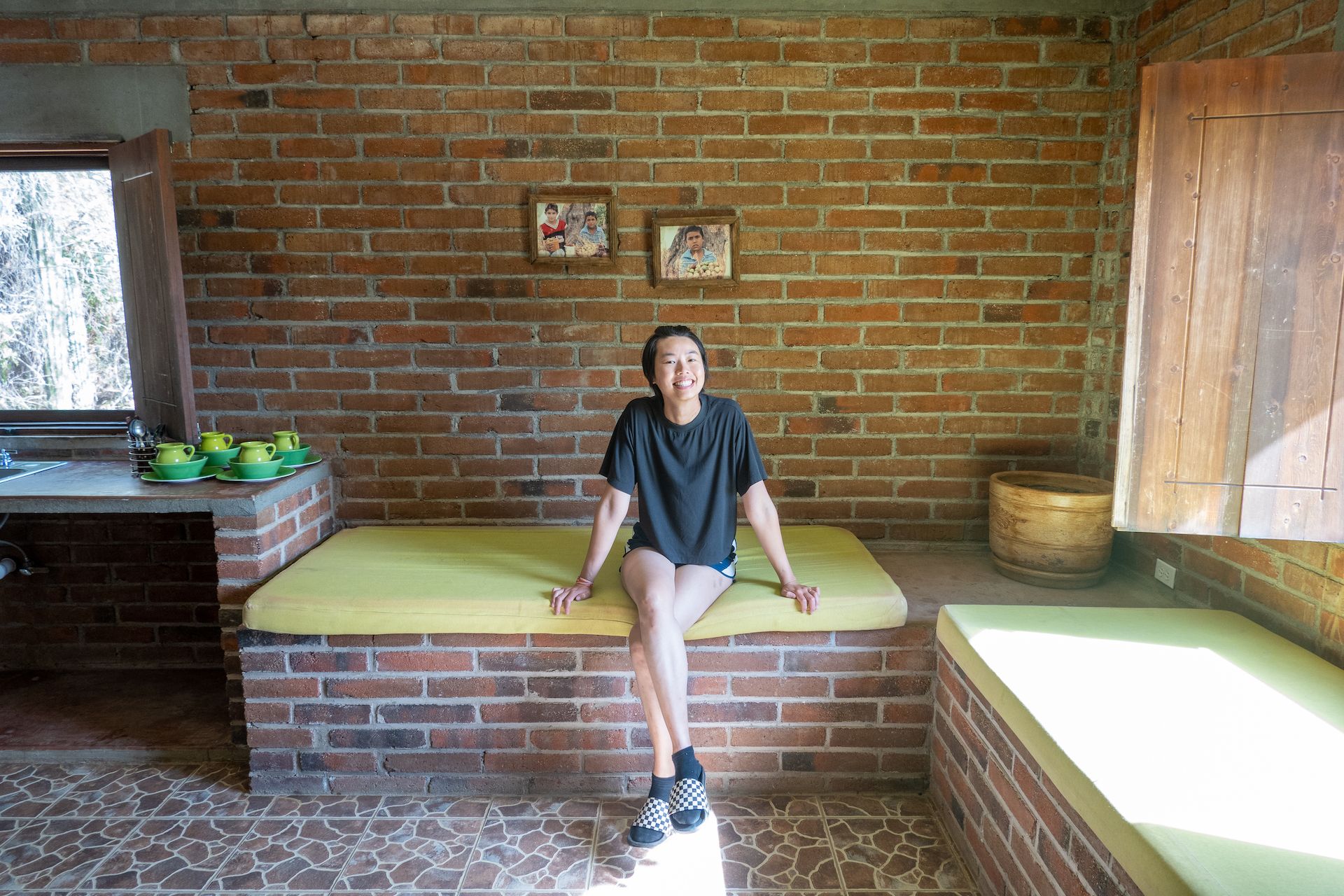 Simple but cozy kitchen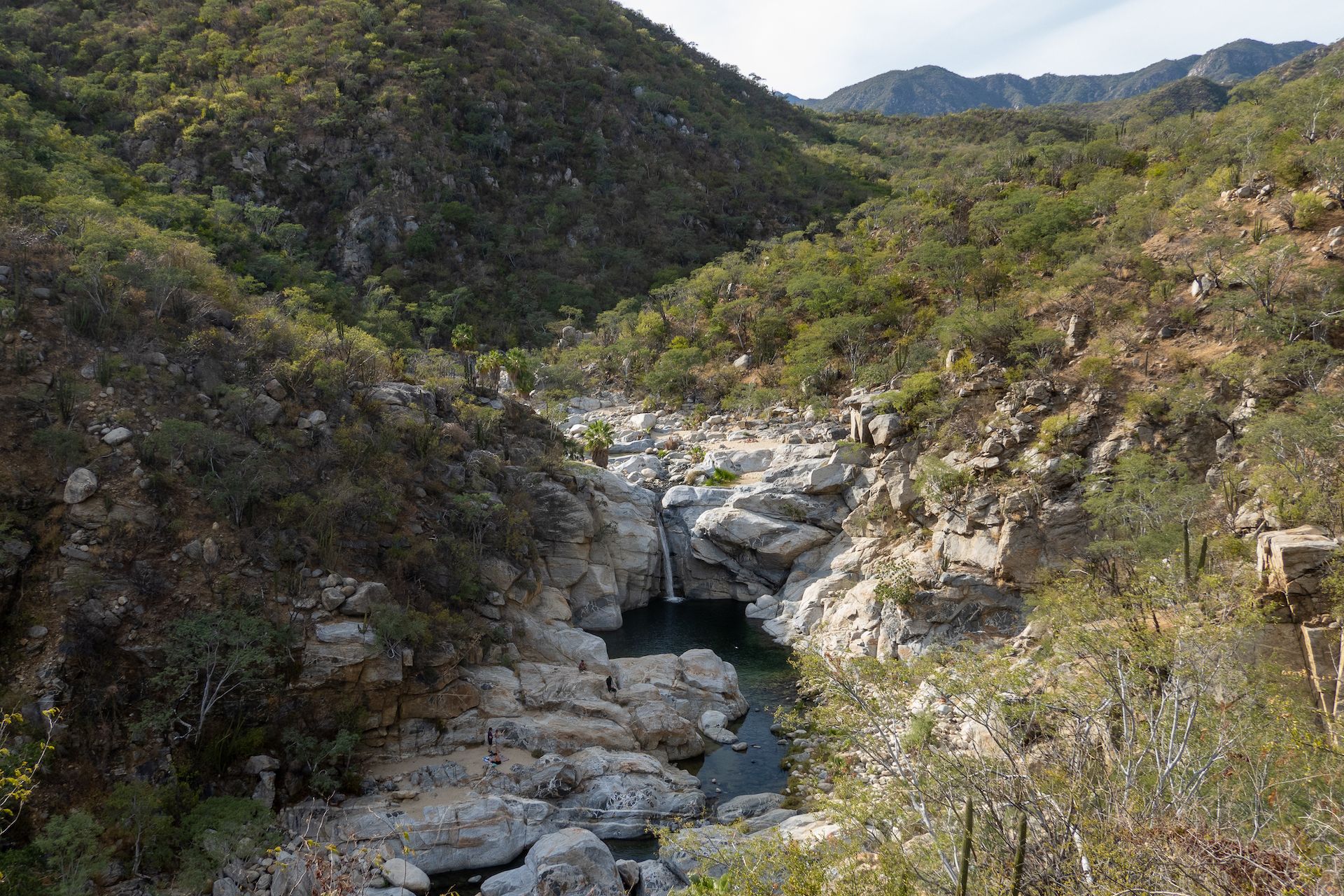 Hiking up to the waterfall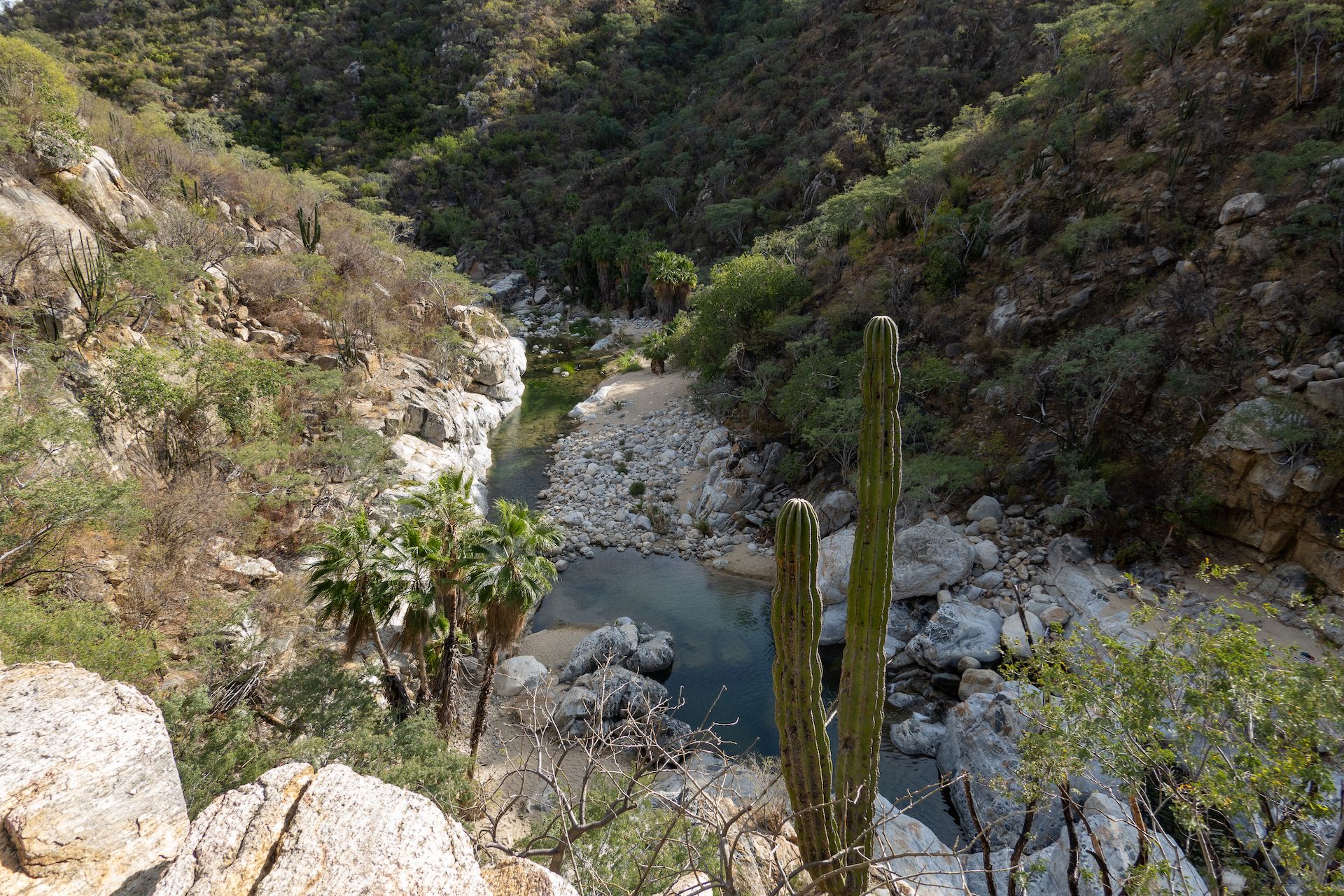 Looking back at the canyon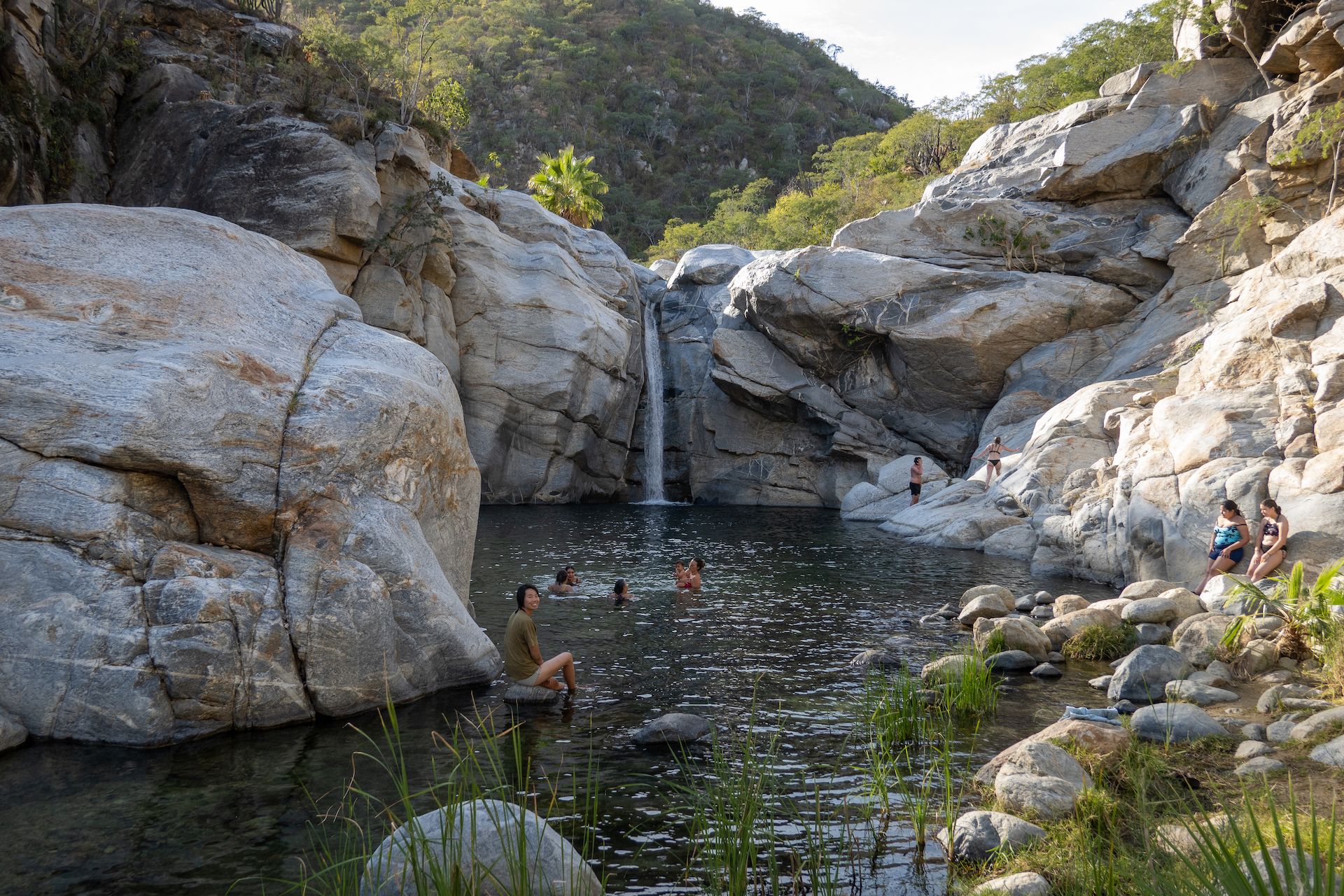 Kuan enjoying the cool water on the 30C/90F day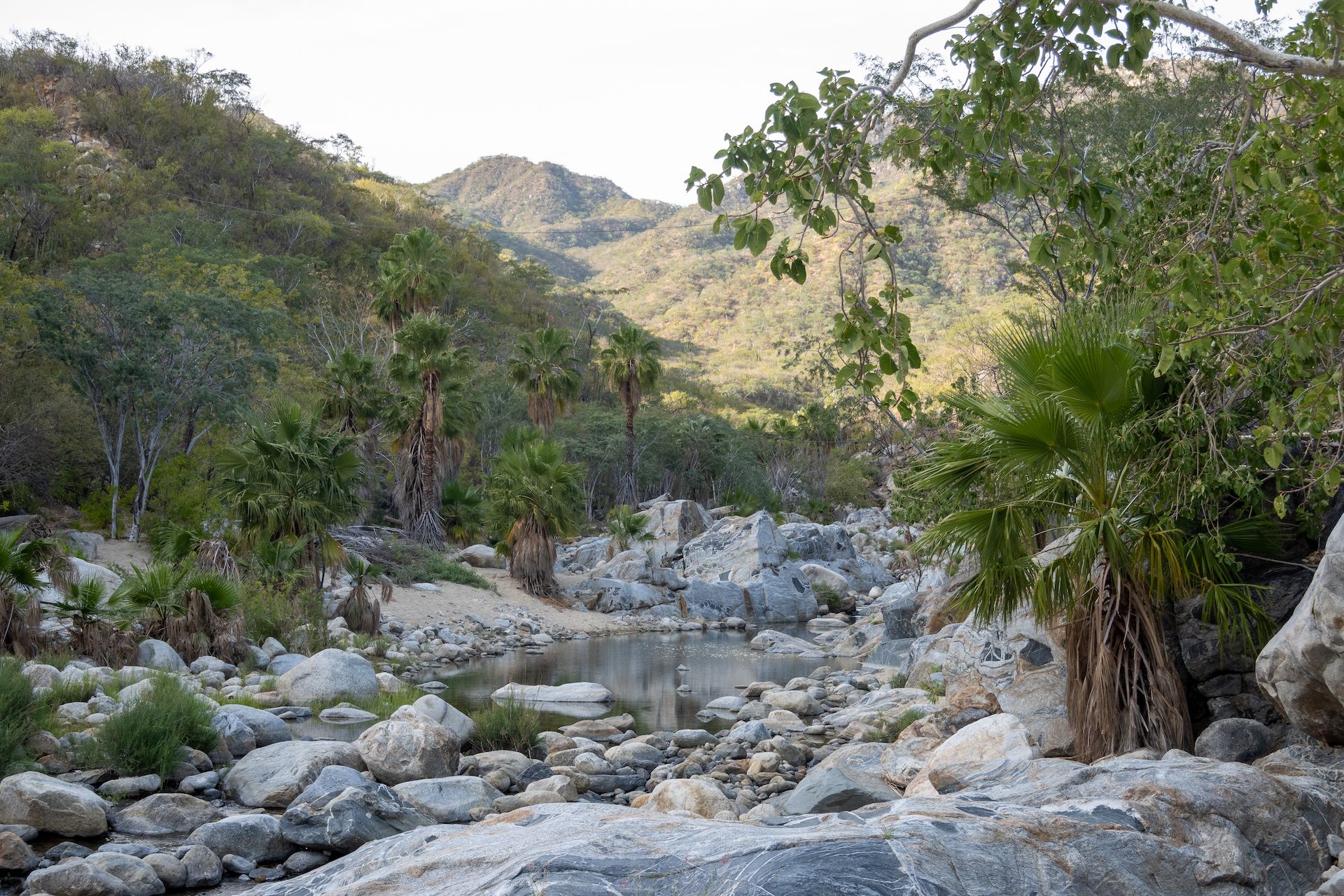 We hiked past the fall to find beautiful and luxuriant vegetation.
Those palm trees are big!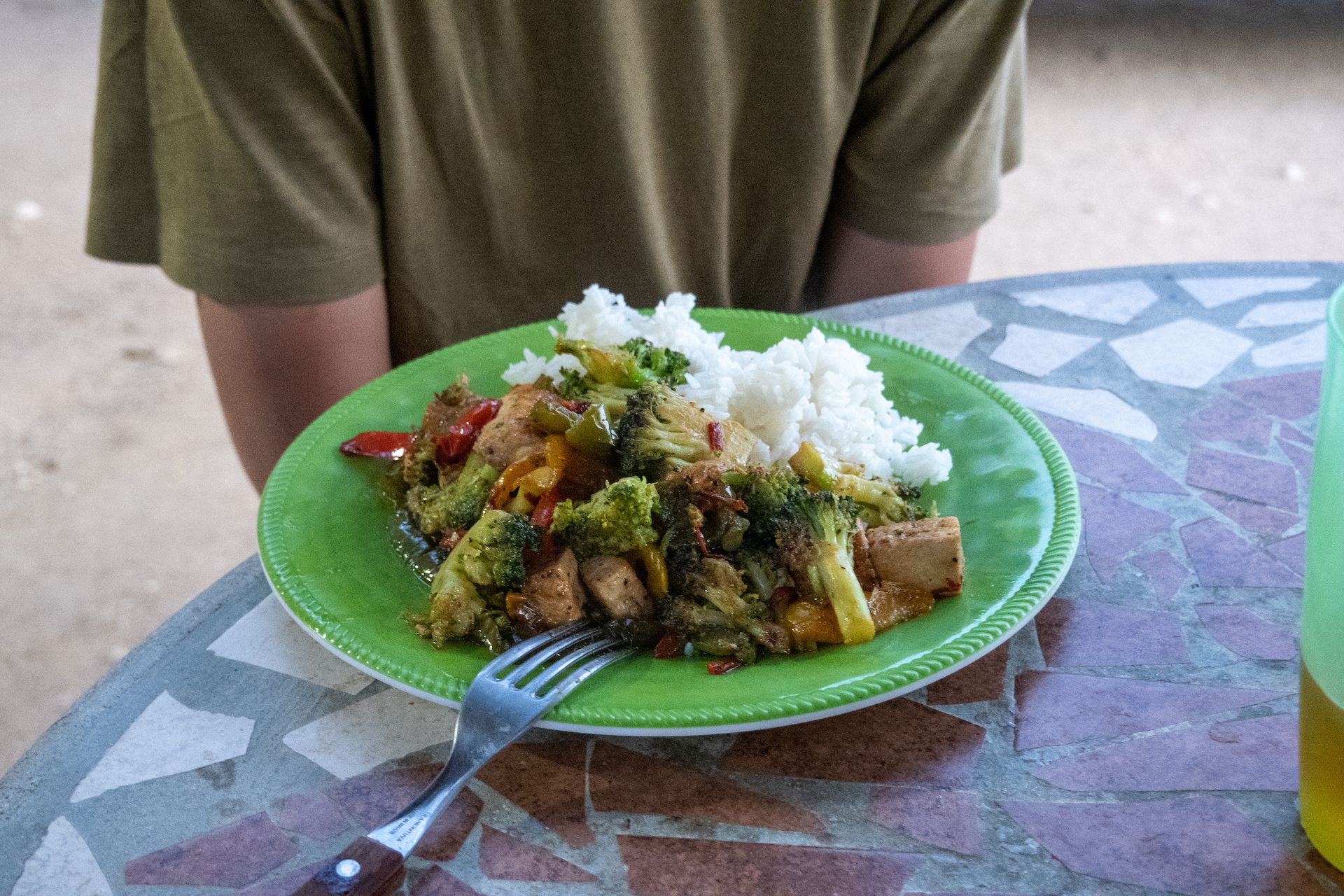 Kuan cooked her famous rice, tofu and vegetable stir fry. Delicious!
Tuesday: Santiago to La Paz (2h / 140km)
After a delicious breakfast of chorizo and eggs scramble, accompanied by the bleating and braying of the farm animals, we left the ranch to head to La Paz to see Beth & Will one last time before they ferried to mainland Mexico.
We stayed at the Peace Hostel, one of the only hostels that are overlander-friendly in the city center. Once we parked our rig, we were able to walk to restaurants and shops nearby.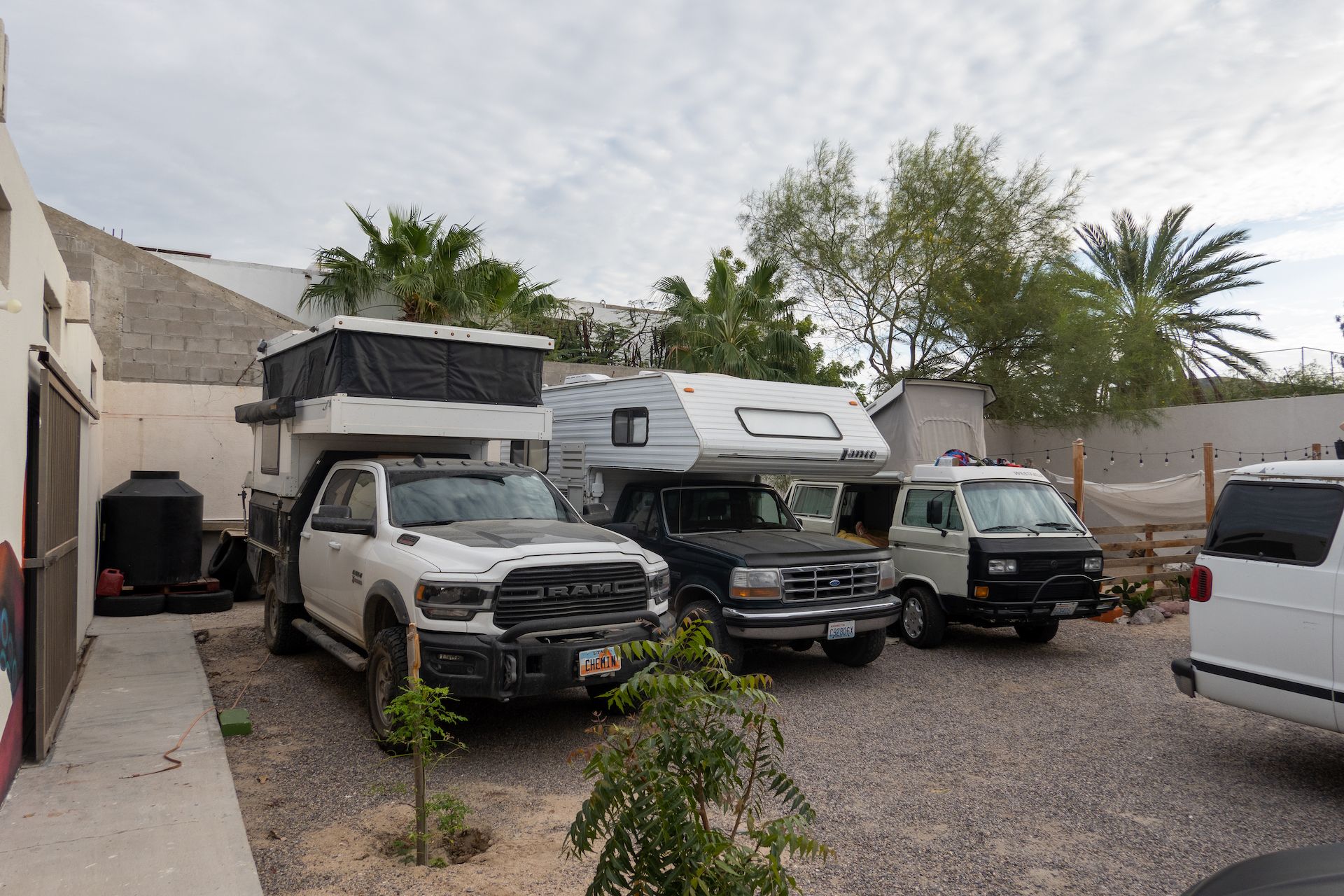 Camped (cramped?) at the Peace Hostel next to Francine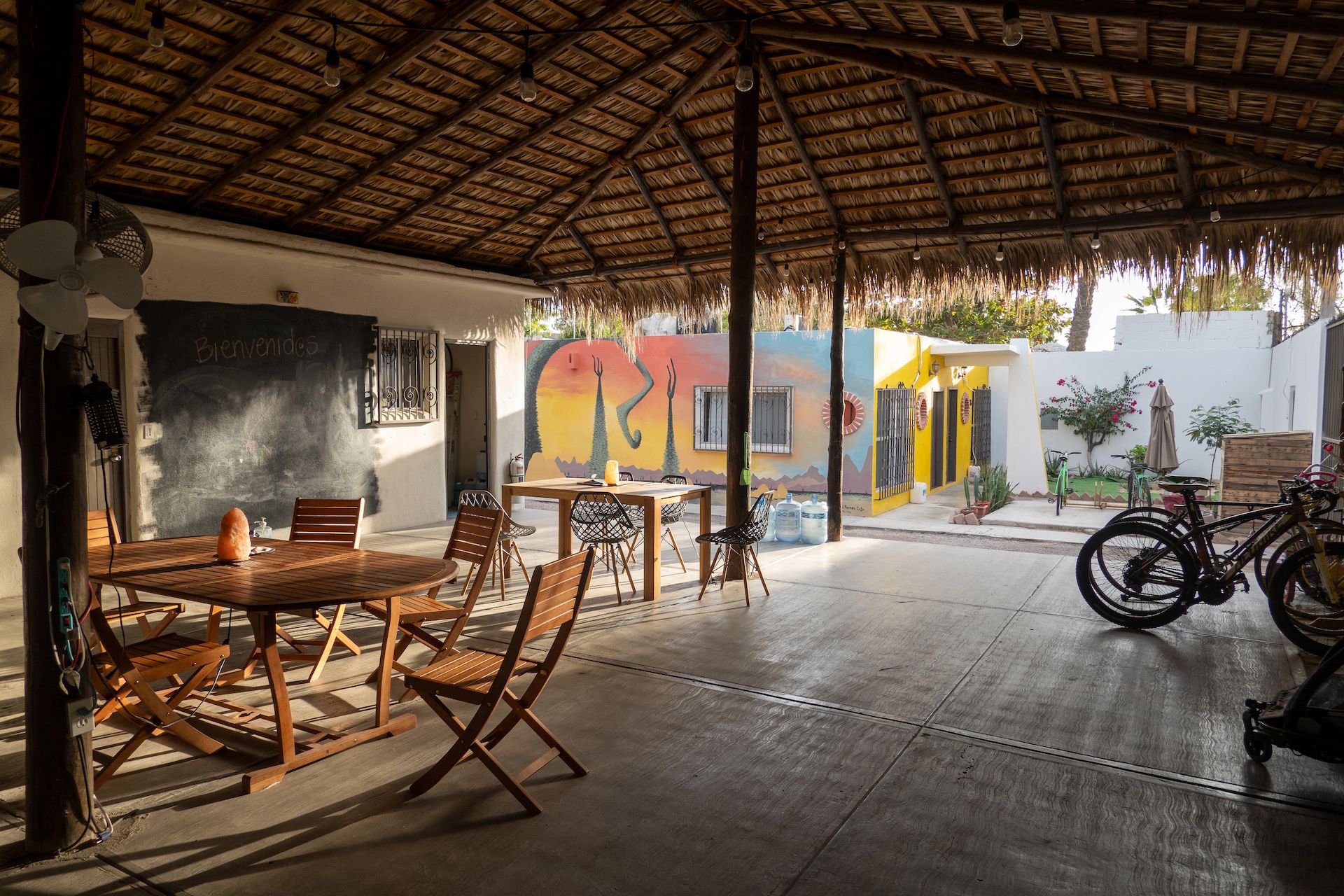 The common area of the hostel where we met a Mexican writer and an American singer who claimed that he was trained by Frank Sinatra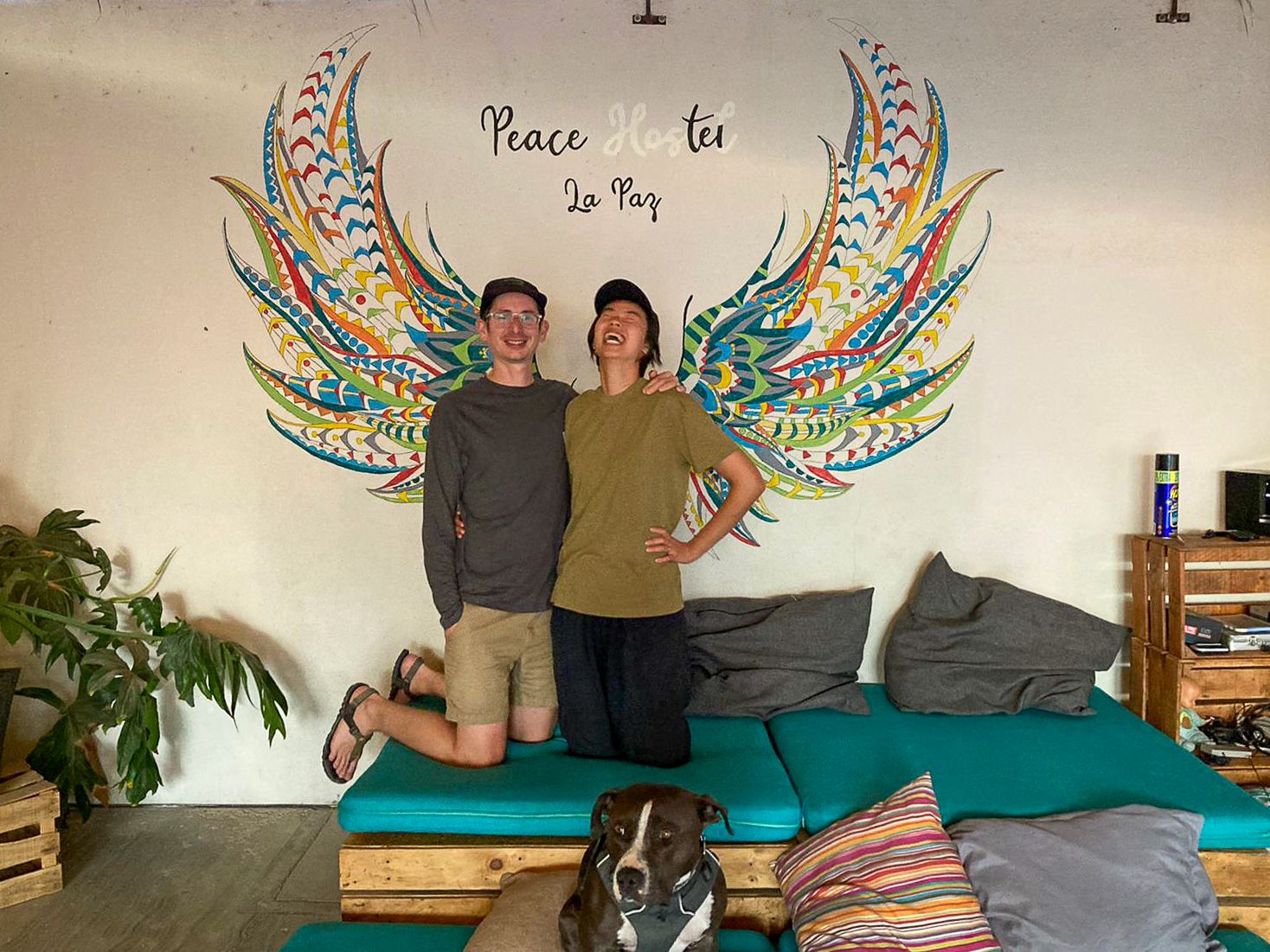 Silly family portrait photographed by Beth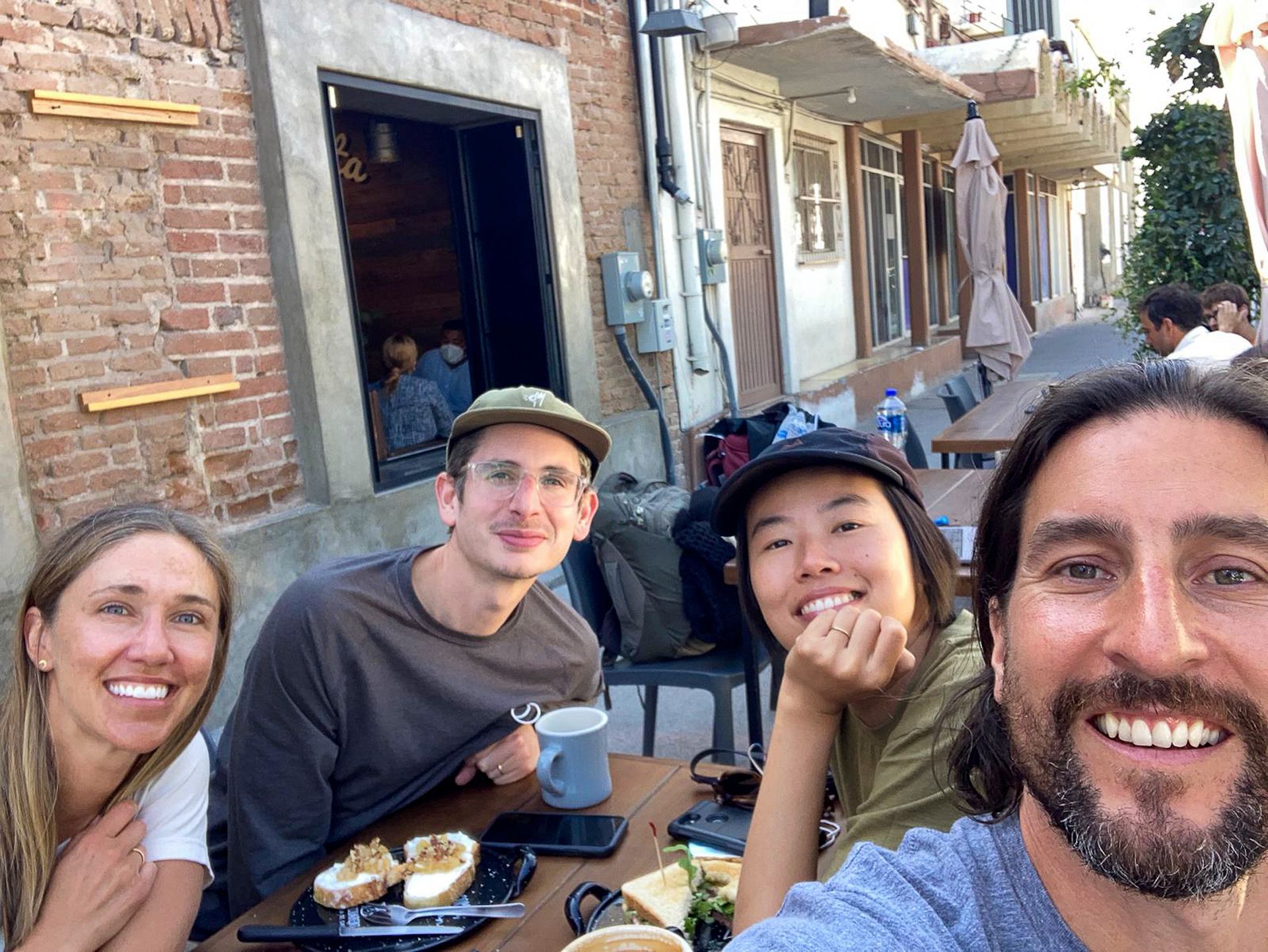 See you soon, Beth & Will!
Wednesday: La Paz to La Ventana (40m / 50km)
La Paz has a small-town vibe, despite being the largest city in Baja California Sur. In the morning, we checked out a few stores and galleries that feature local artists and handmade goods, and stumbled upon the studio of Daniel Amora. He welcomed us into his space, and shared his amazing work with us. It is getting to know the locals like Daniel and hearing their stories that makes us feel closer to a place.
Street of La Paz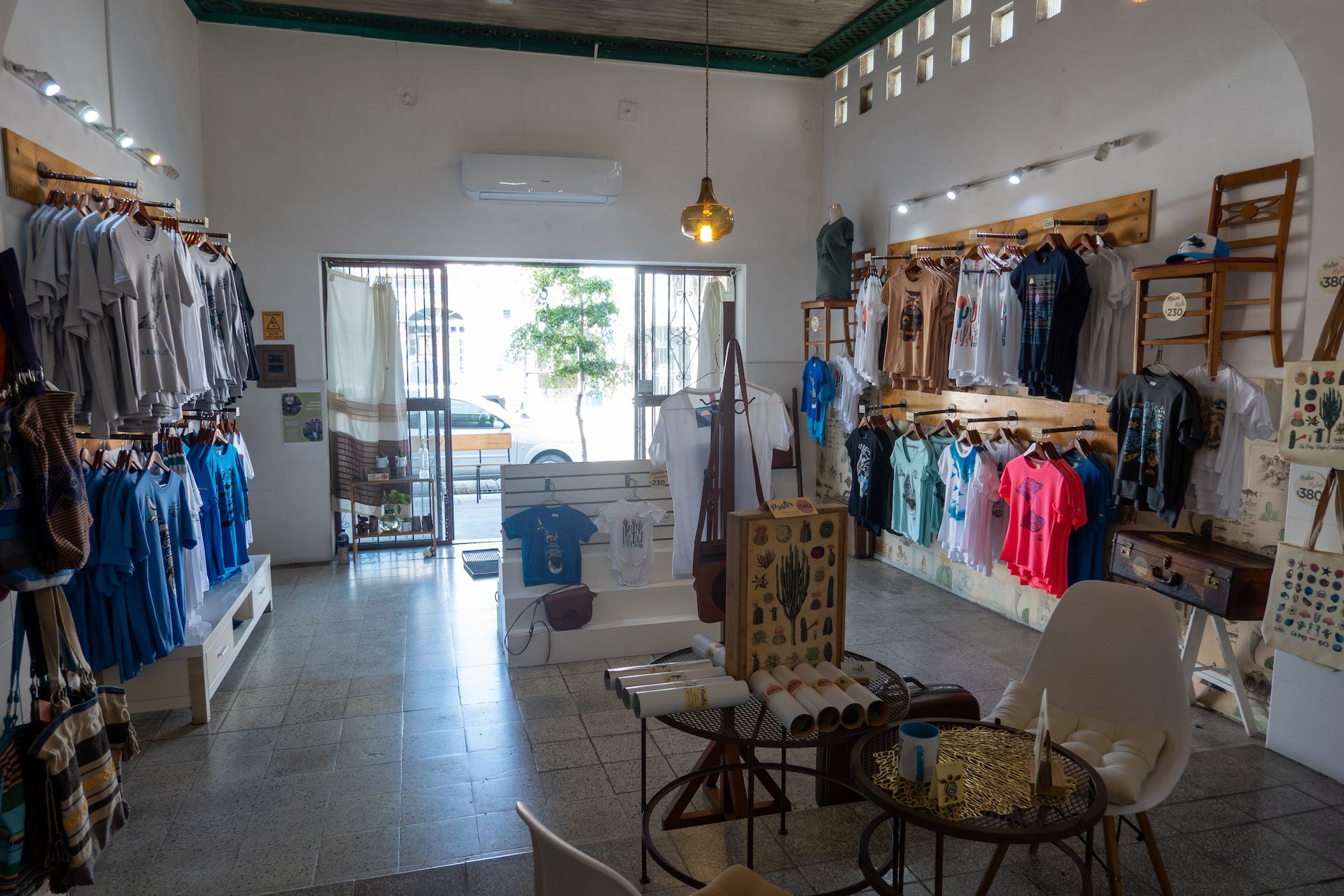 Souvenirs shop with locally made items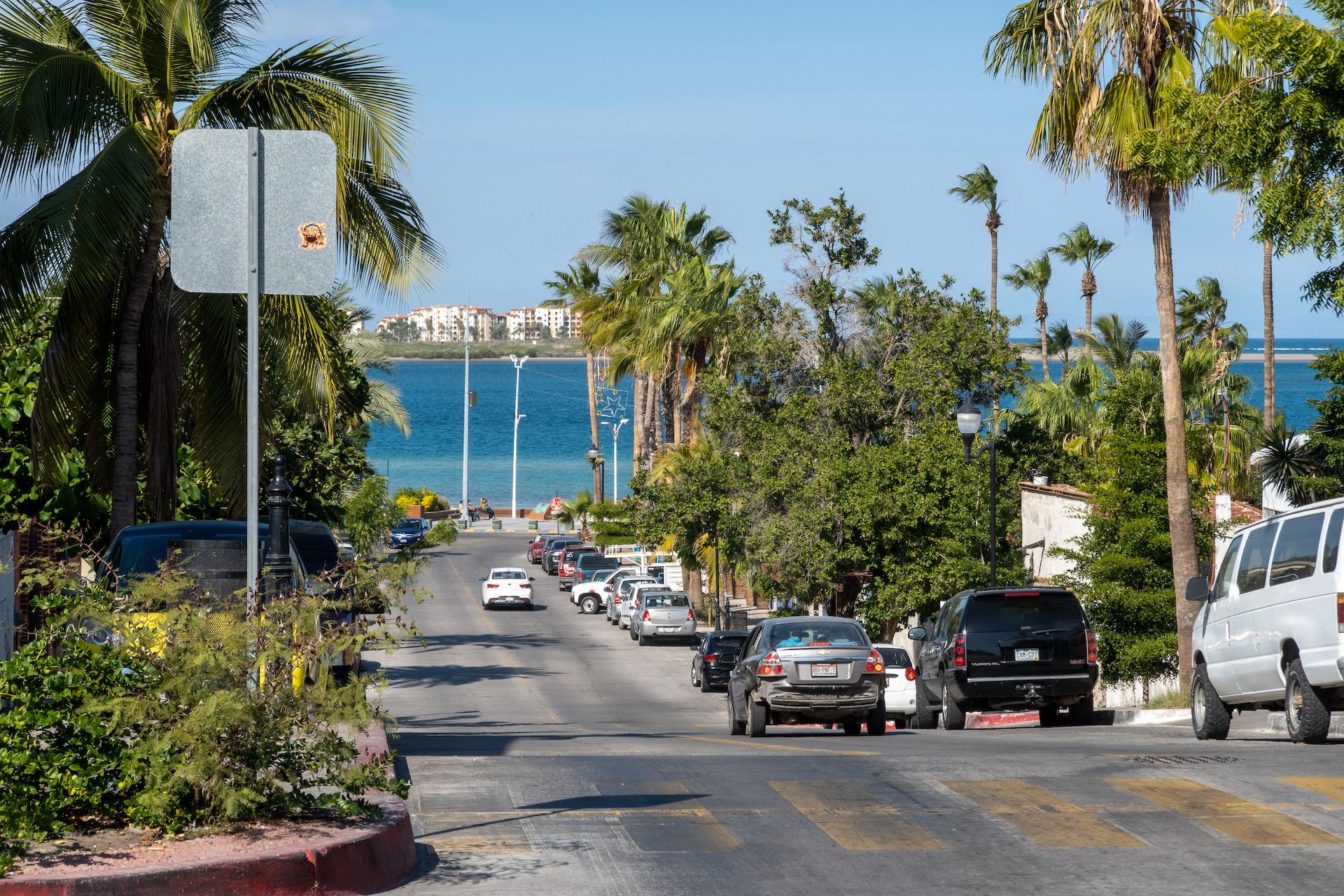 Street of La Paz overlooking the Sea of Cortez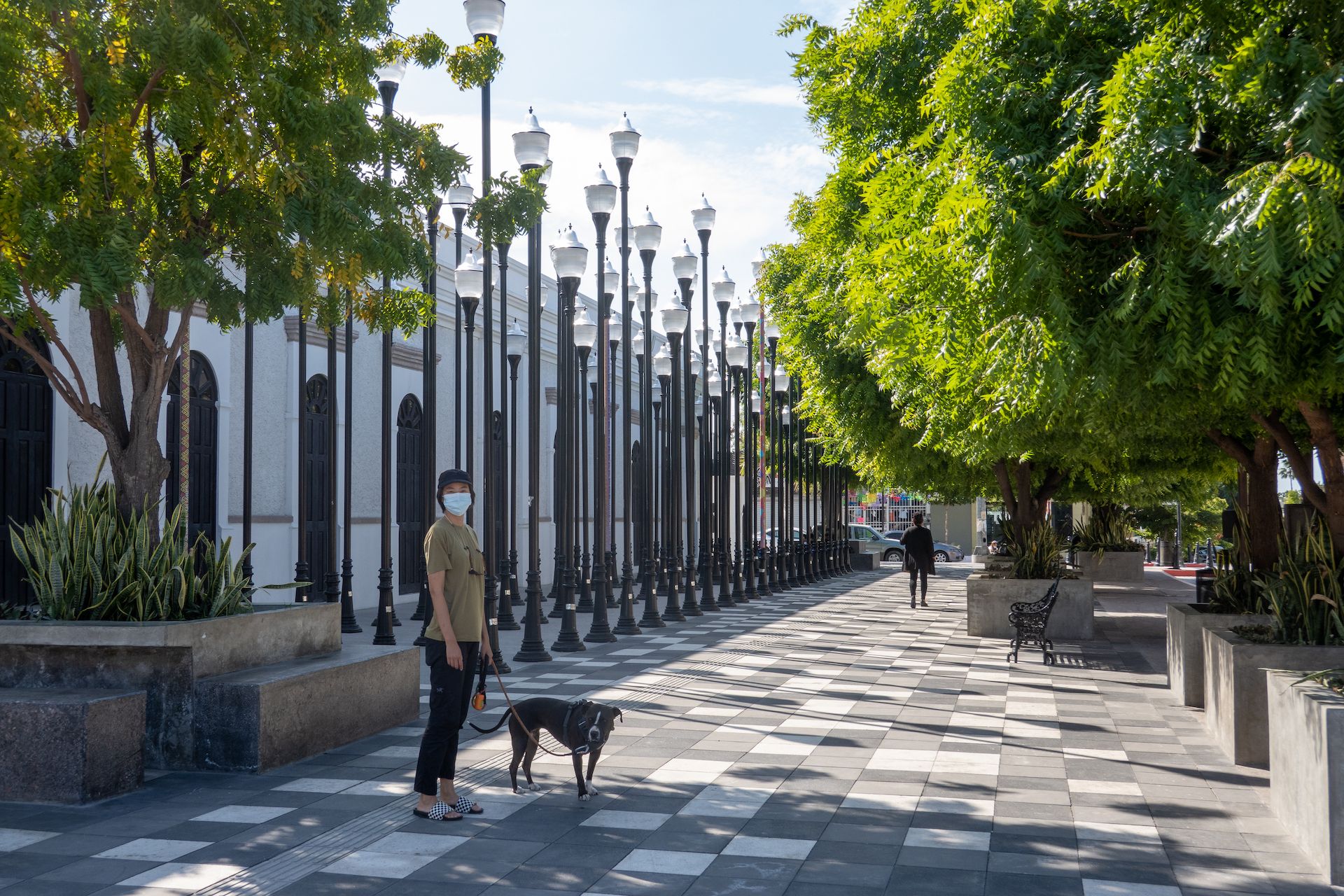 Behind the National Museum of Art, the only art museum in Baja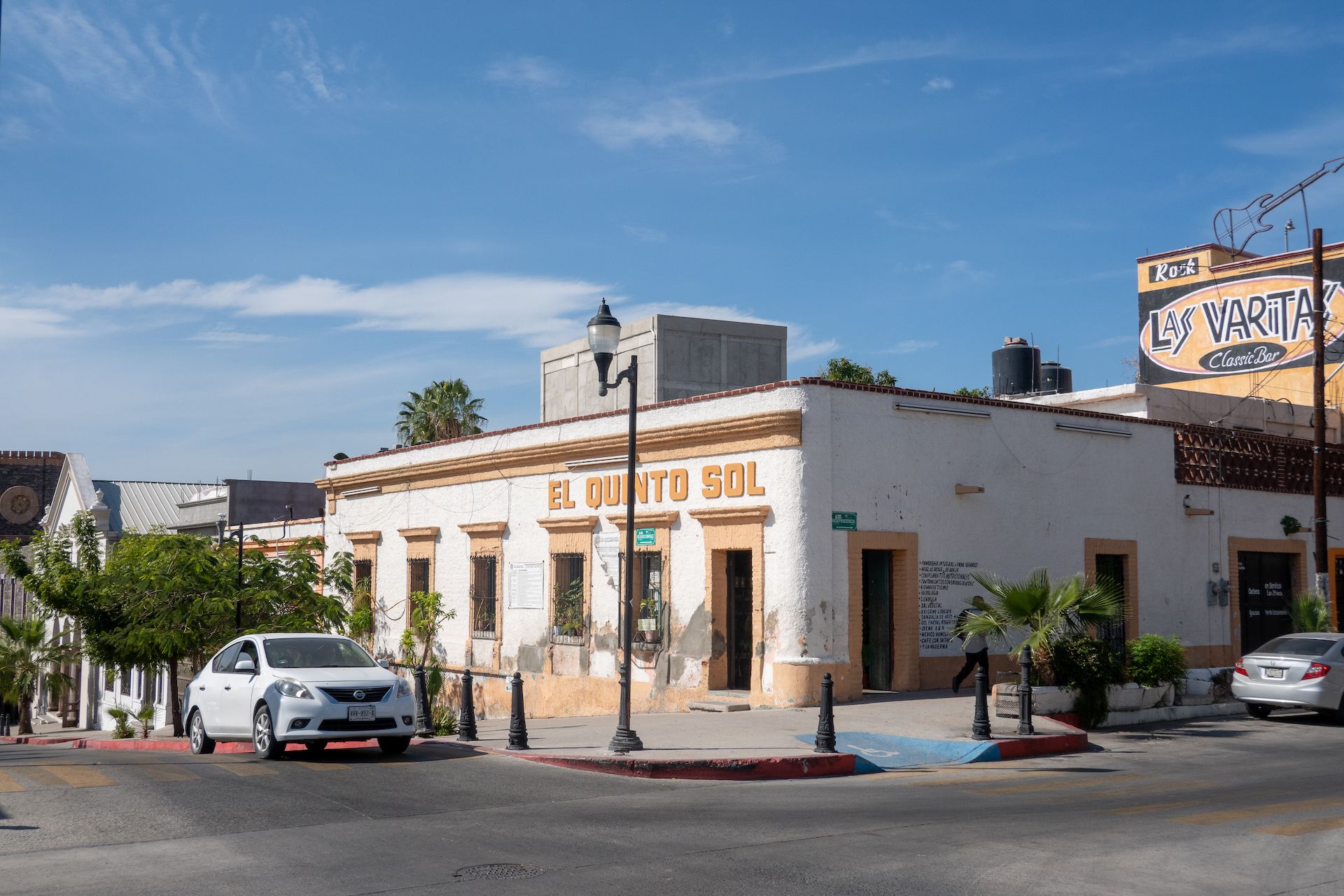 Street of La Paz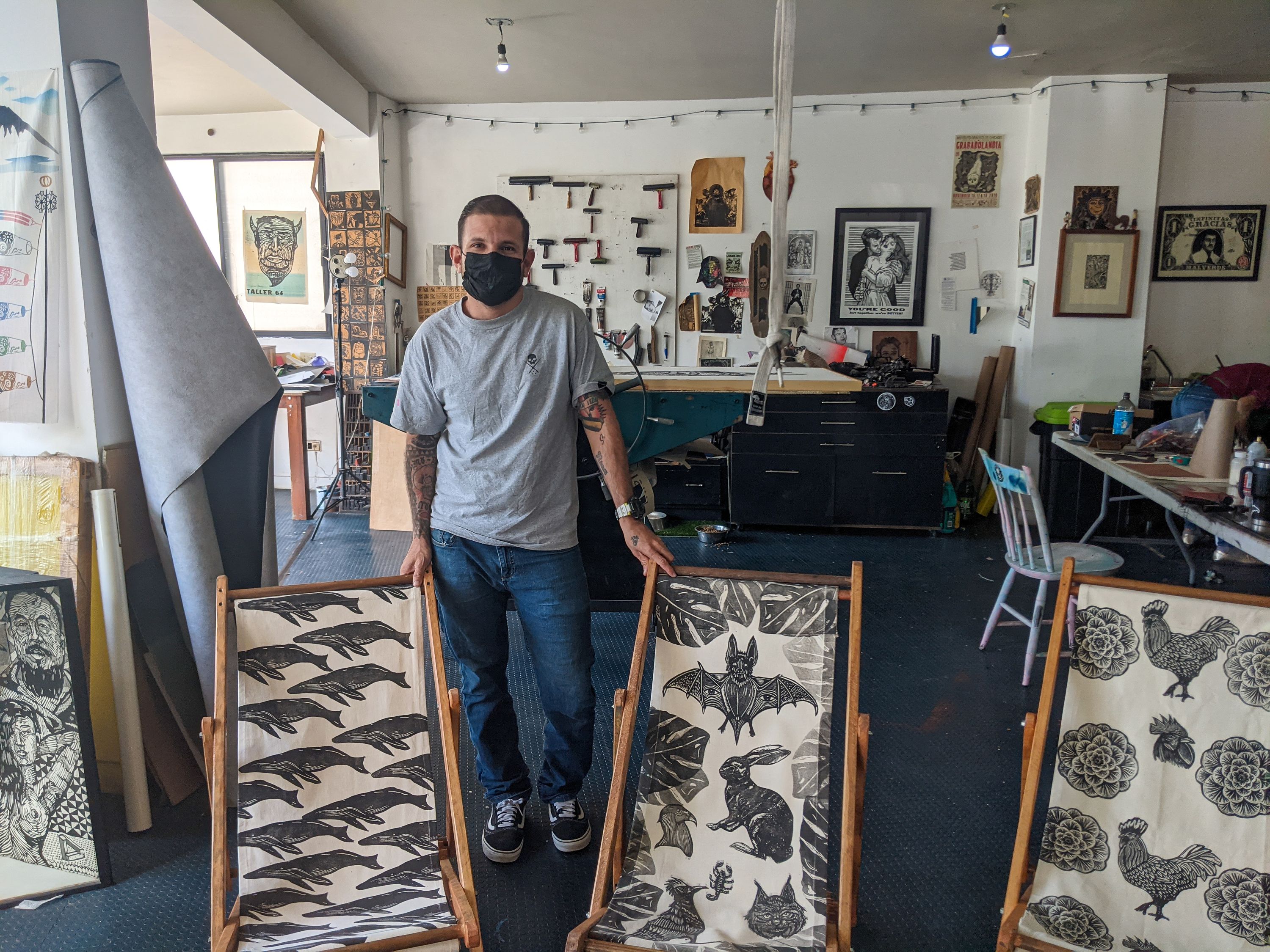 Daniel Amora in his studio. He designed and printed the fabrics for the lounge chairs, whose bodies were made locally by a woodworking family.
In the afternoon, we made our way back to the Gulf of California. La Ventana is a windsurfing and kitesurfing destination, and we were excited to check it out. We stayed at Palma Azul, a private campsite two blocks away from the beach, and shared the space with Cheryl, Chris and Eva whom we met a few times during our trip.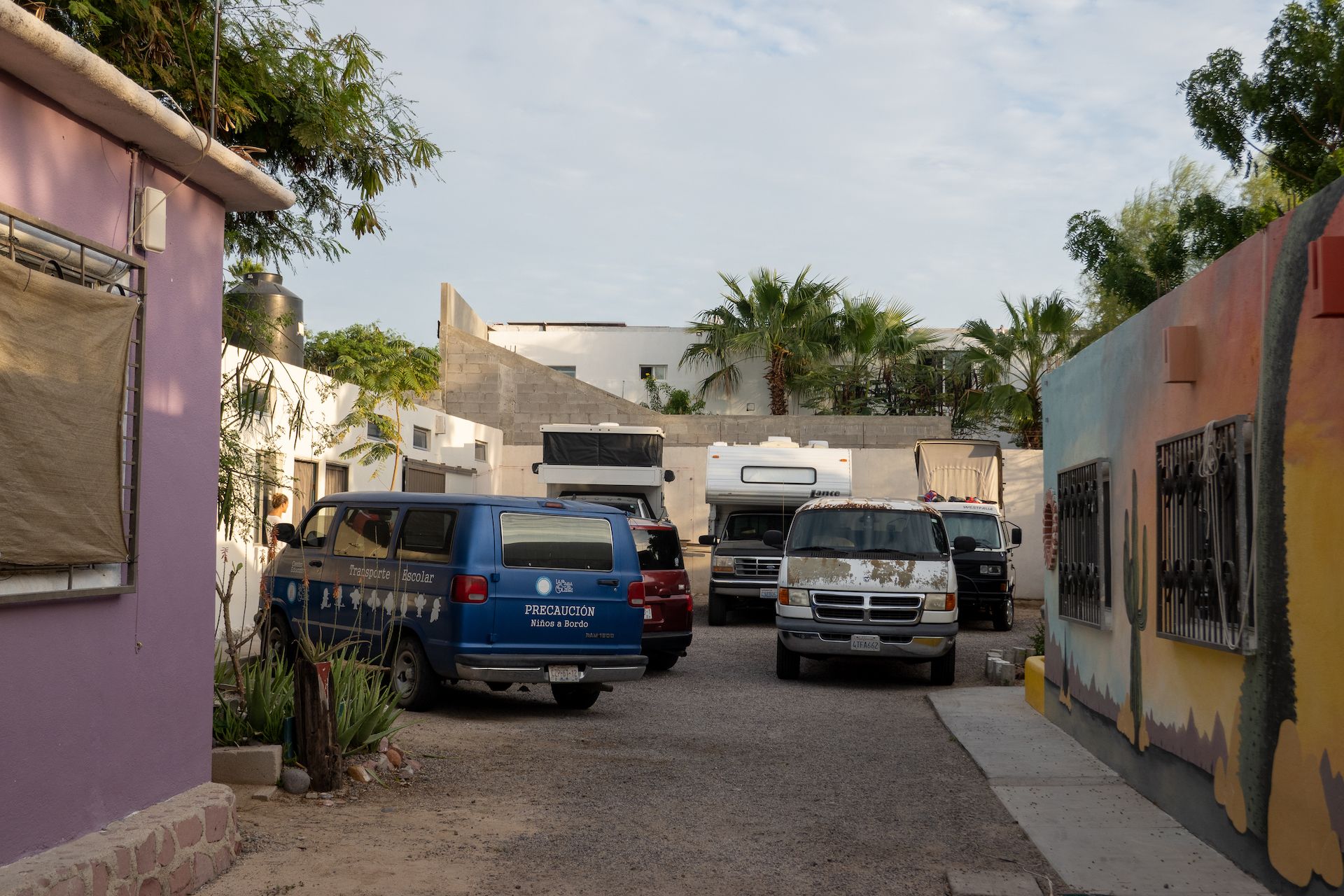 Leaving the hostel was not easy and it required several people to move their cars.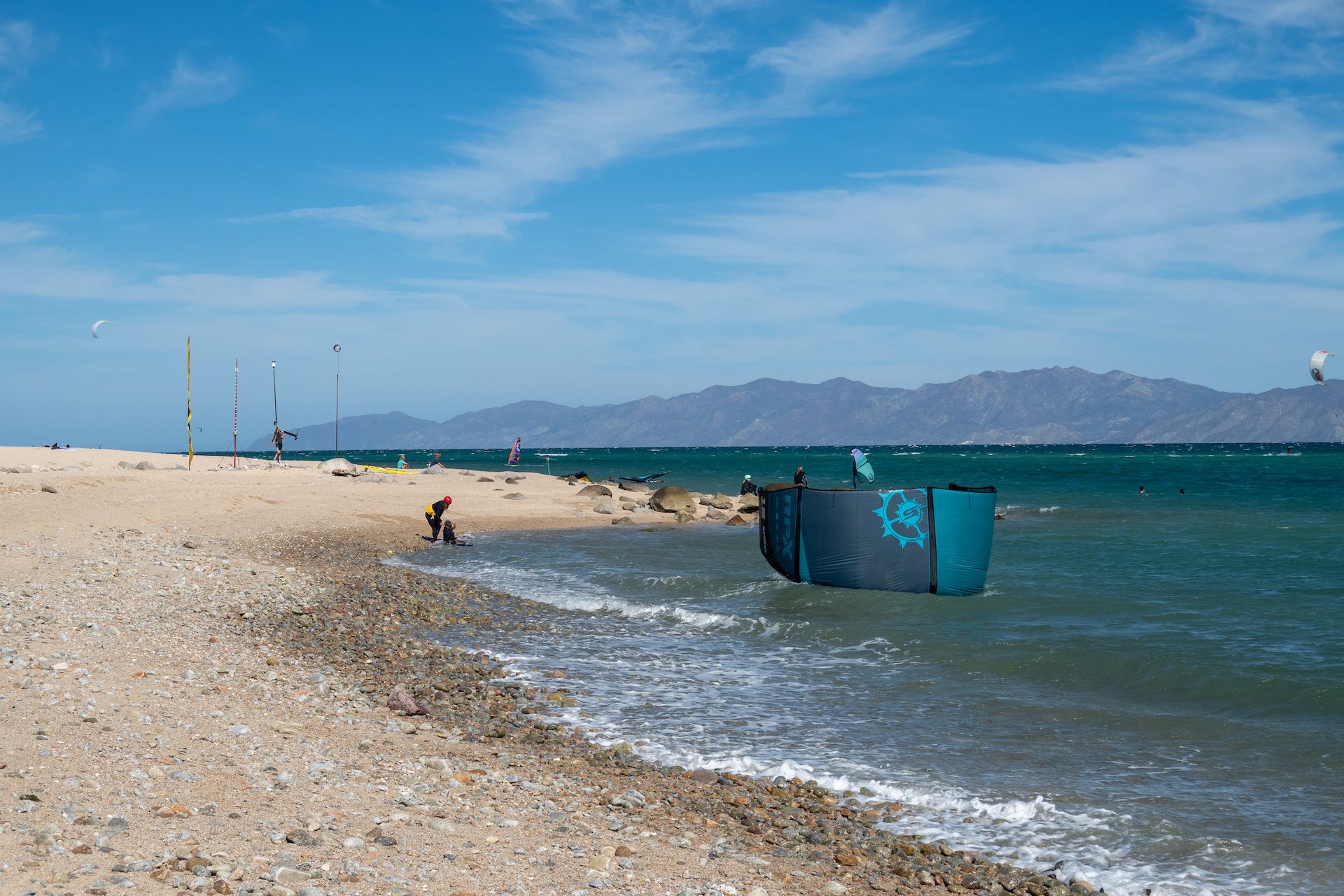 Perfect conditions for kite surfing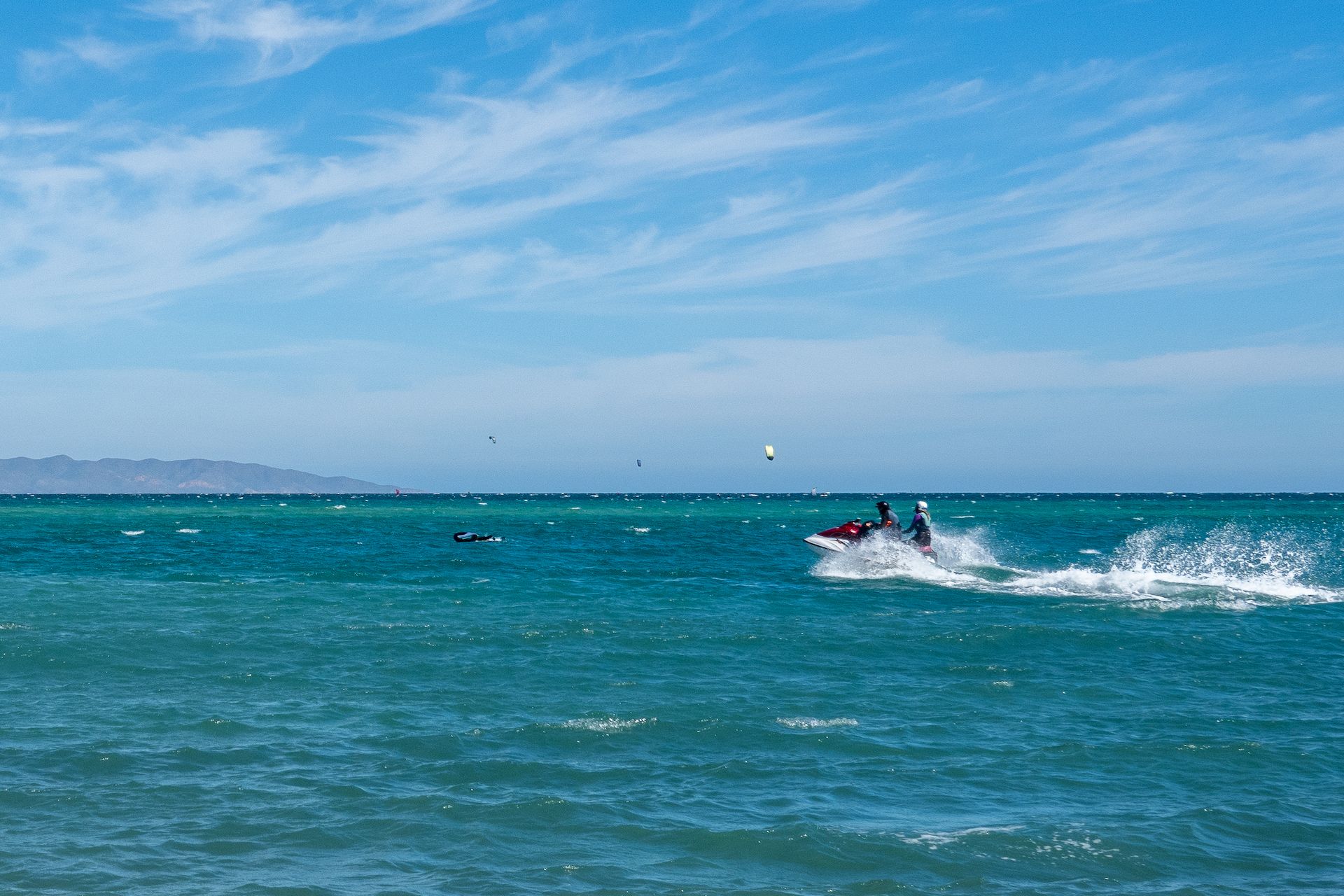 Jetskis and kites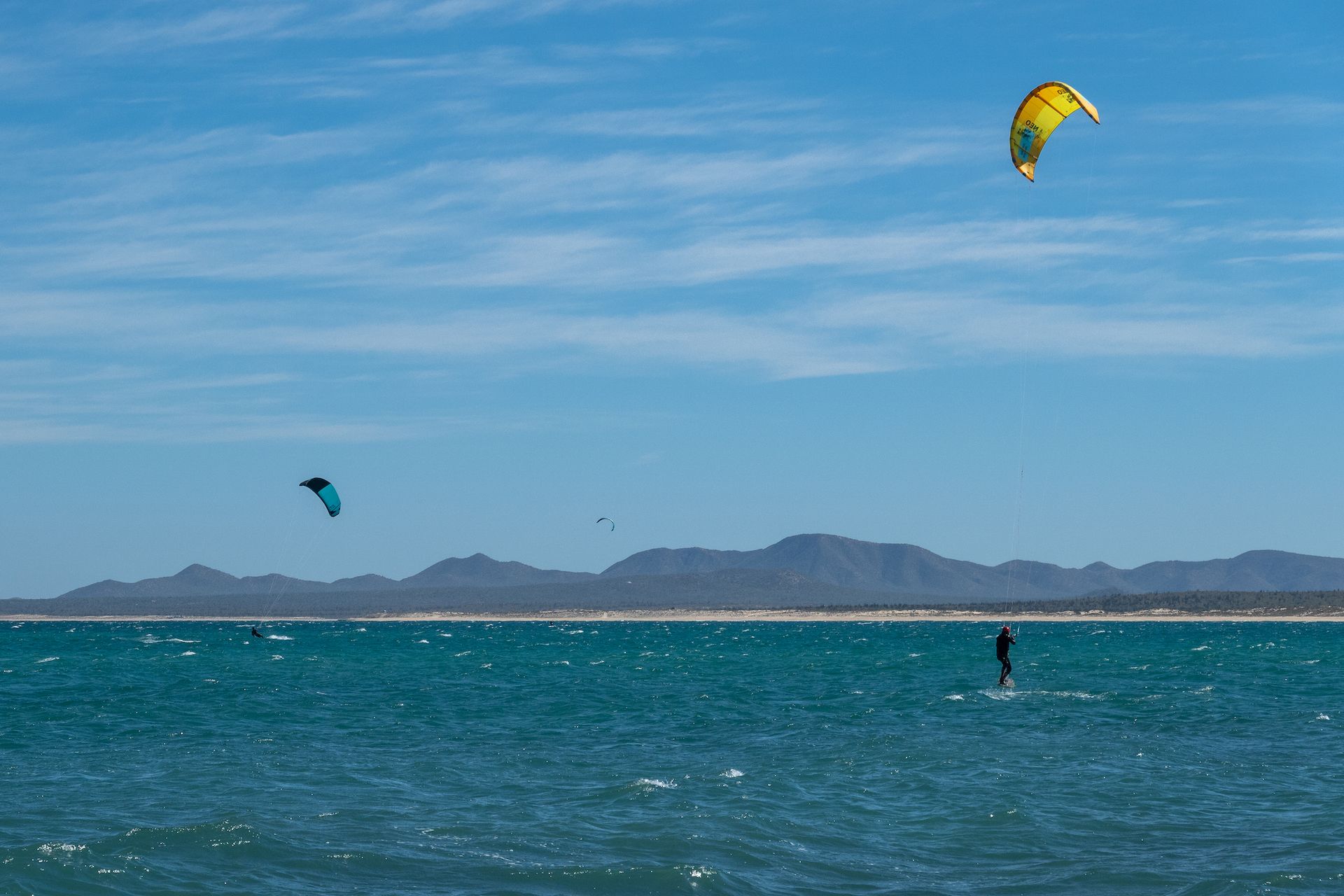 Kite surfers as far as the eyes can see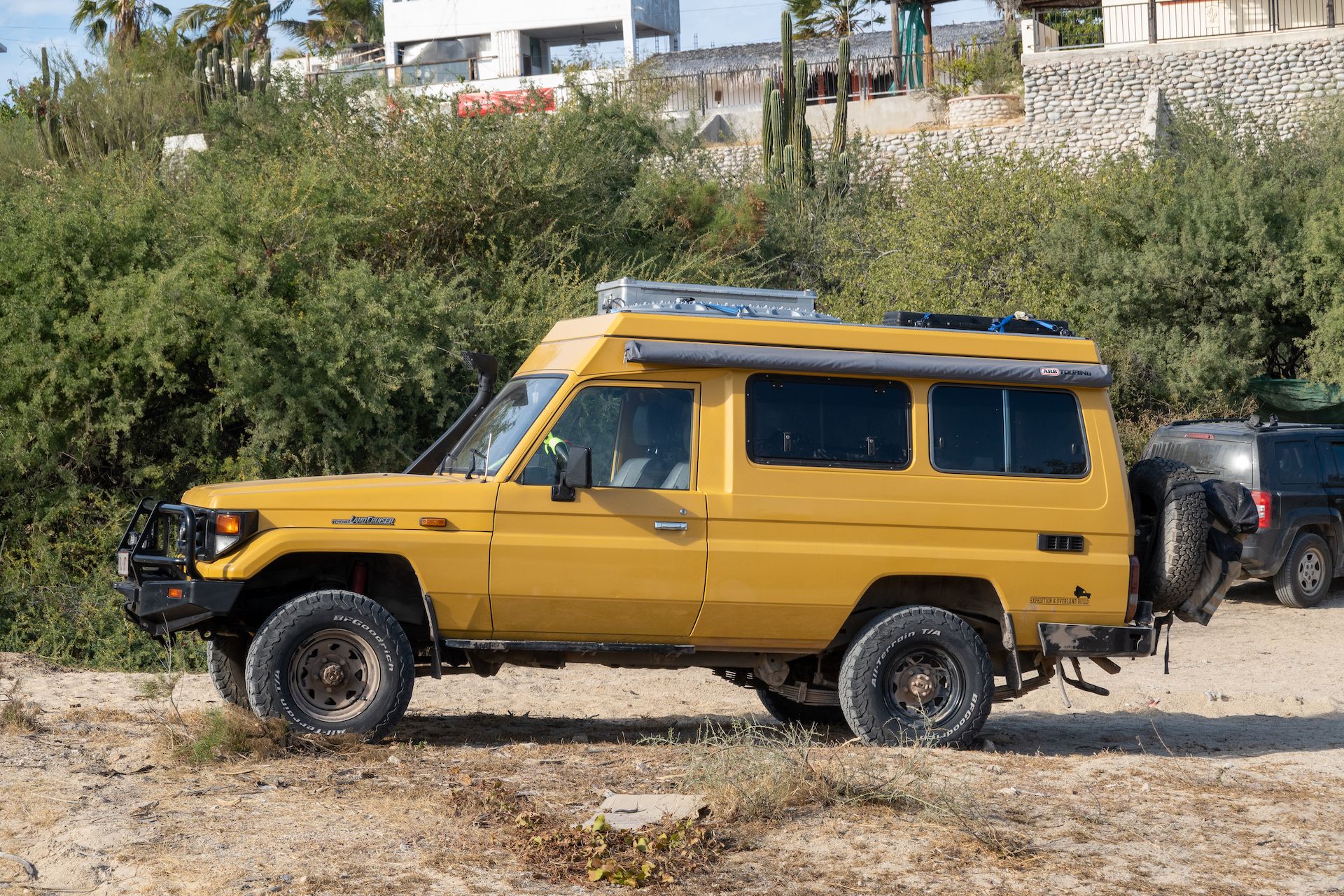 A beautiful yellow Troopy from Belgium in La Ventana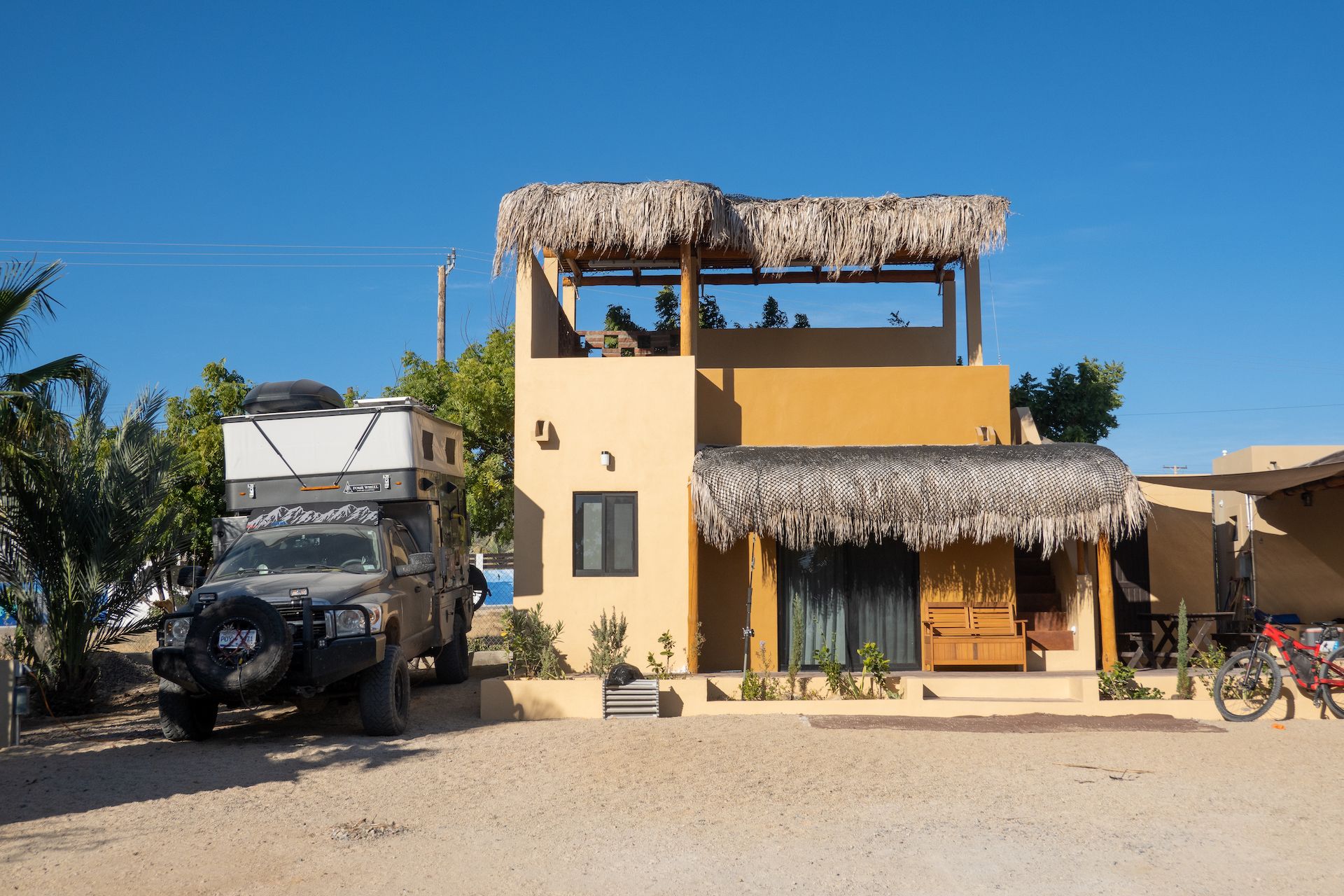 Camping with our friends from Salt Lake City at Palma Azul
Thursday: La Ventana
It's funny to call where we stayed a campground, as it is the backyard of our host Heady's house in La Ventana. It's big enough for 2 or 3 small rigs (yes, our rig is on the small side), and with the spacious outdoor cooking palapa and a few hammocks, it felt very much like our own backyard. In the evening, we had dinner by the beach with Cheryl, Chris and Eva and the dogs. You can follow their adventures on Instagram @travels_with_tikaani.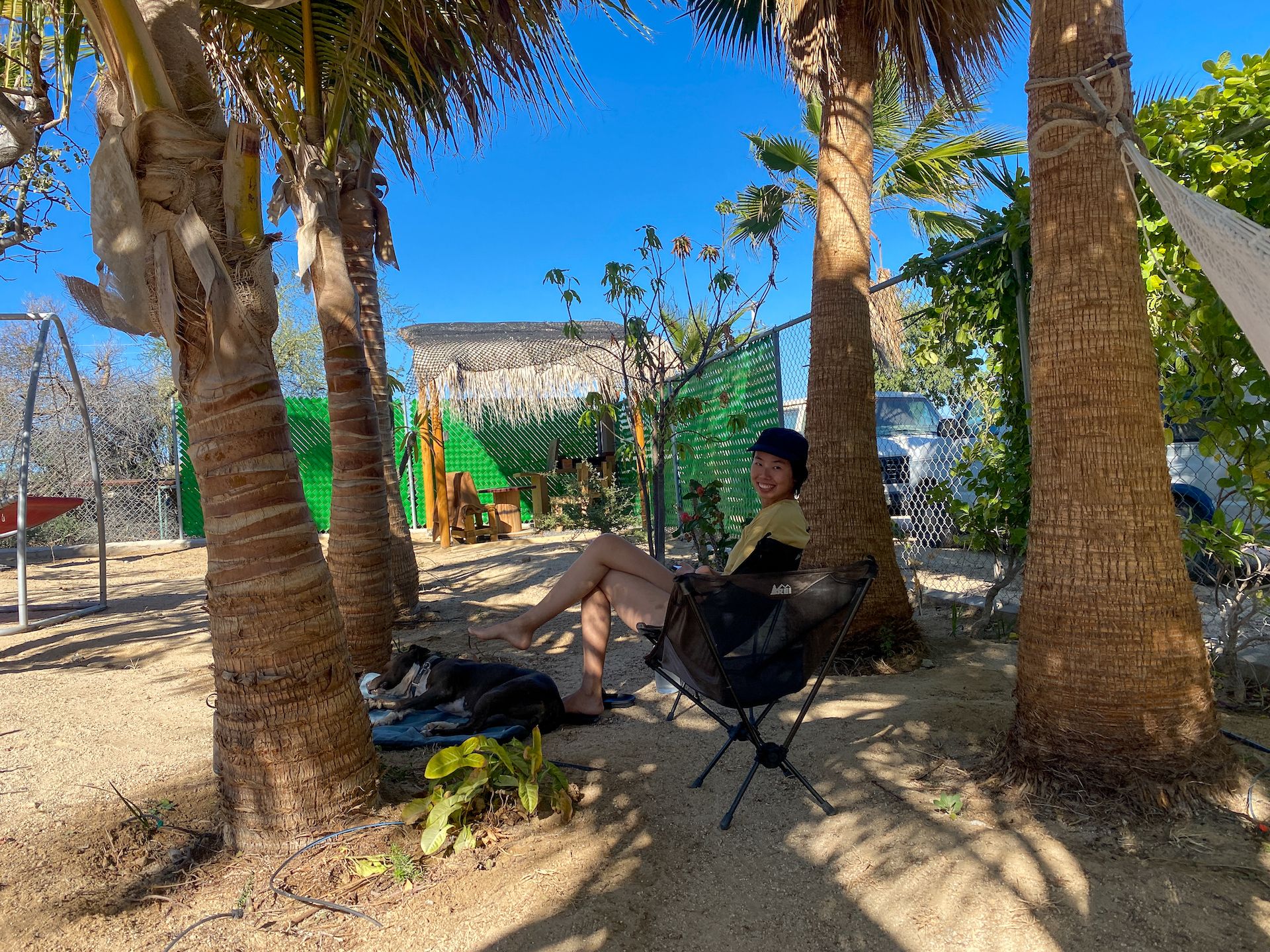 Chilling at Palma Azul!
Friday: La Ventana
Victor woke up with a fever this morning, so the crew at the campground was on high alert. Chris biked to get a COVID test in the village, and Cheryl gave us her last take-home kit so Victor could take a test without leaving the truck. How grateful we are to caring friends in Baja! Fortunately, neither Victor or Chris tested positive for COVID, so we didn't feel the need to quarantine. Rest, however, is required.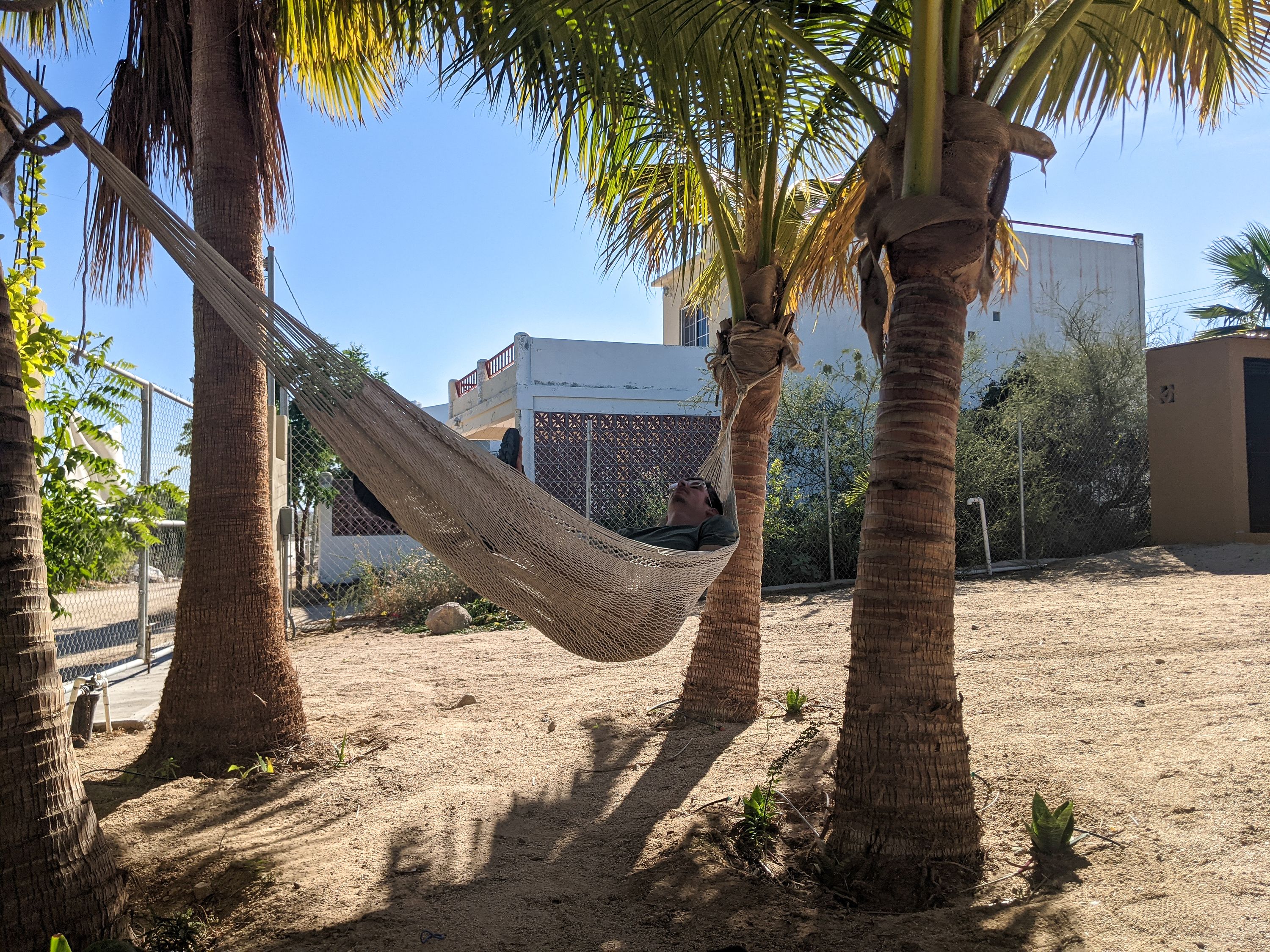 How Victor spent his sick day
Saturday and Sunday: La Ventana to La Paz (40m / 50km)
We decided to take two more rest days in La Paz to take advantage of the laundry facility at Campestre Maranatha, so Victor can fully recover and be ready for the next adventure!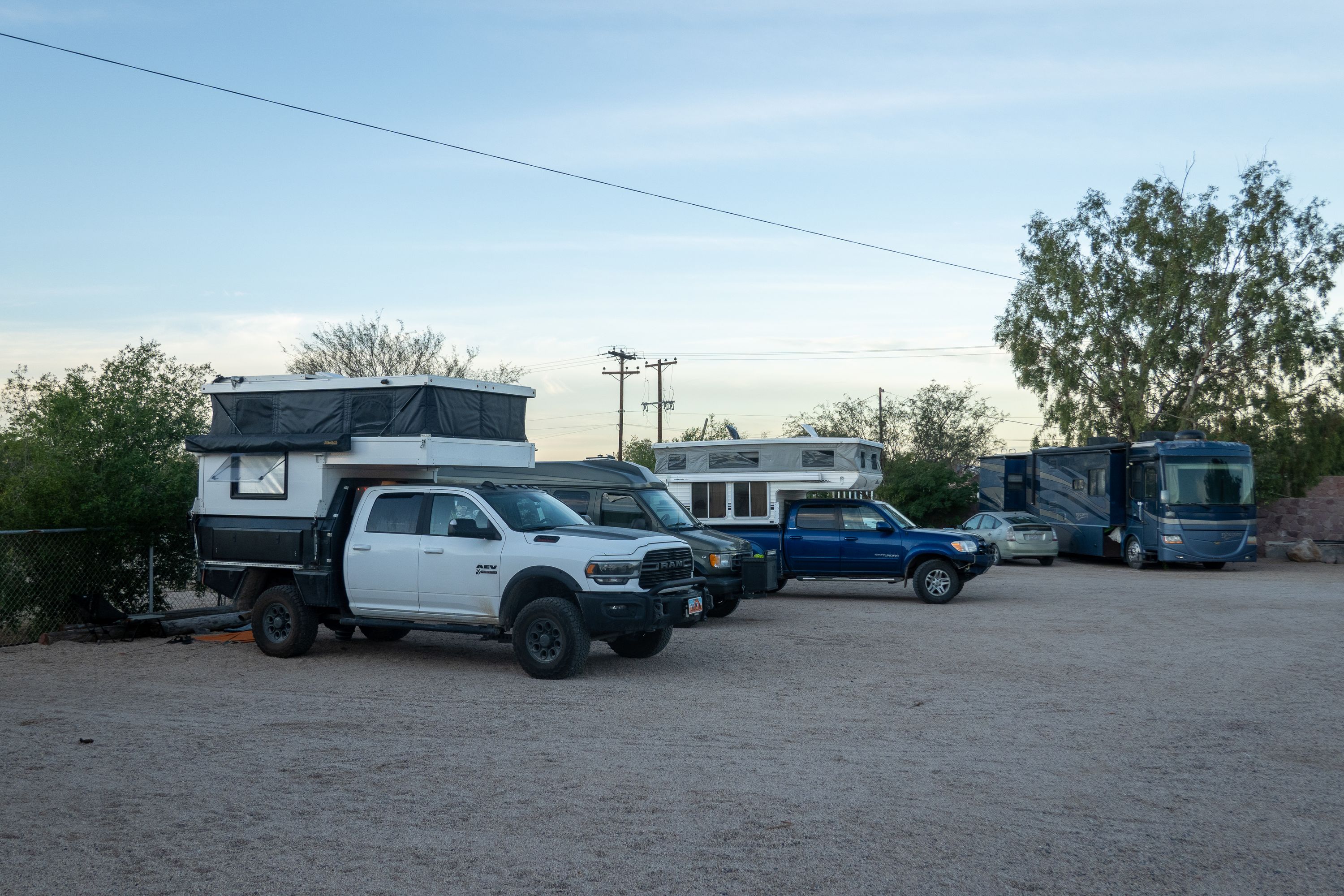 The crowed but comfortable Maranatha RV Park of La Paz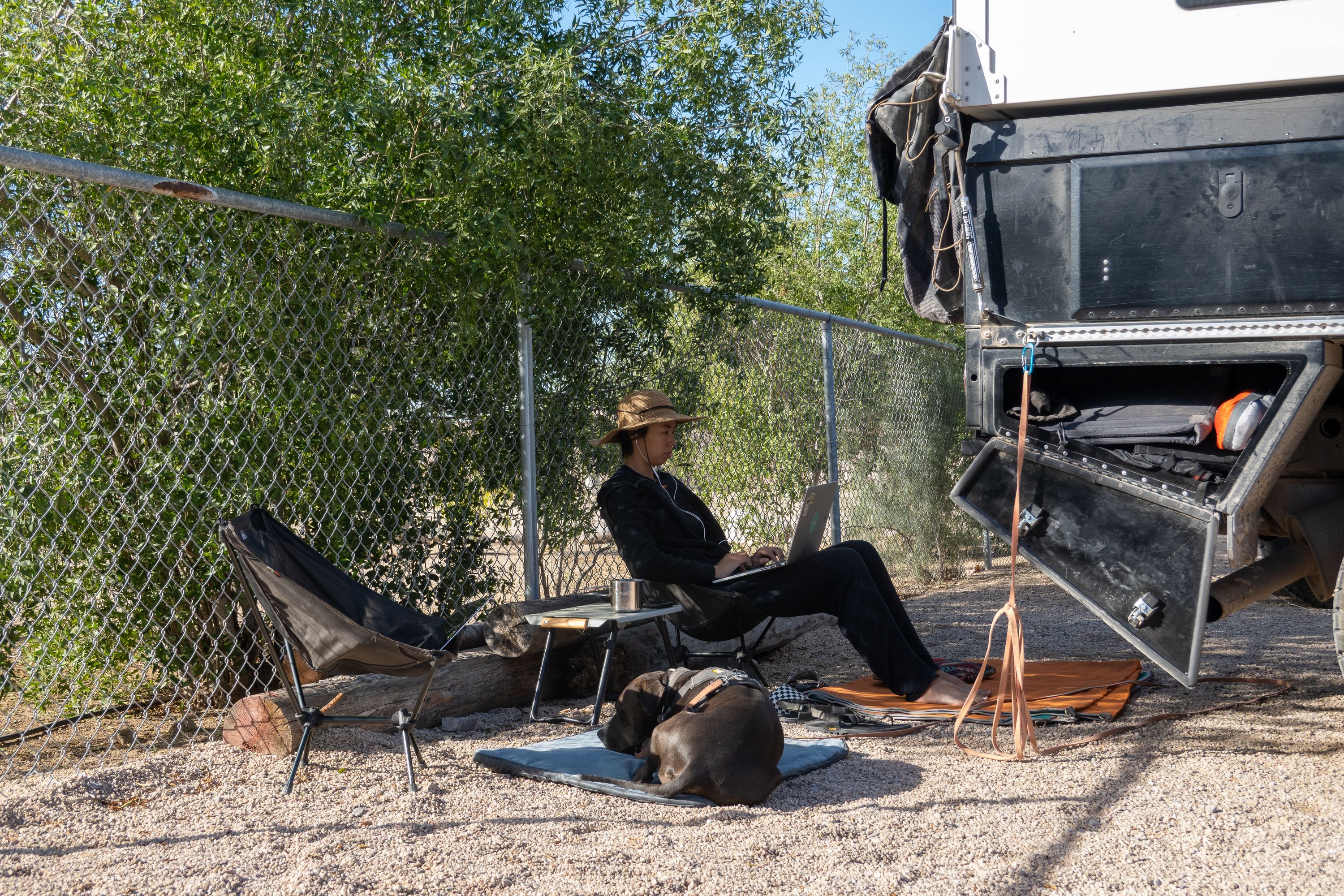 Kuan working on our blog post in the shade of the truck on a Sunday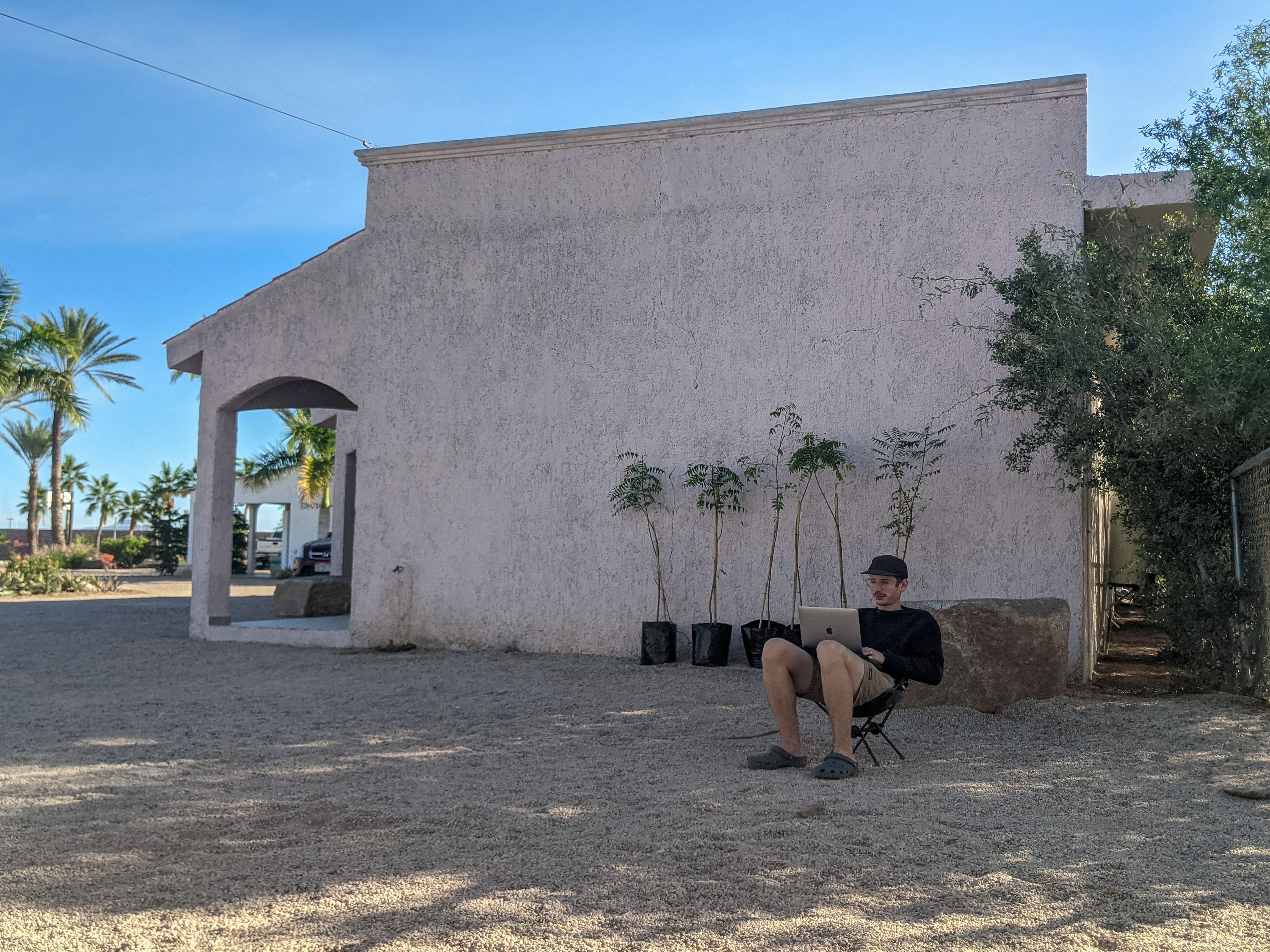 Victor working on our blog post in the shade of the little casita next to our camp spot
As of today, Sunday January 16, Victor is still resting but feeling much better! We are hoping to resume our adventures tomorrow.
Hope you are safe and well. See you all next week!
---